Use lace trim, paint, glitter and Mod Podge to make a DIY lace crown. These are perfect for a princess party or just for dress up!
Skills Required: Beginner. This is a very easy project, even if you don't have prior crafting experience. It's relatively simple to re-size and personalize.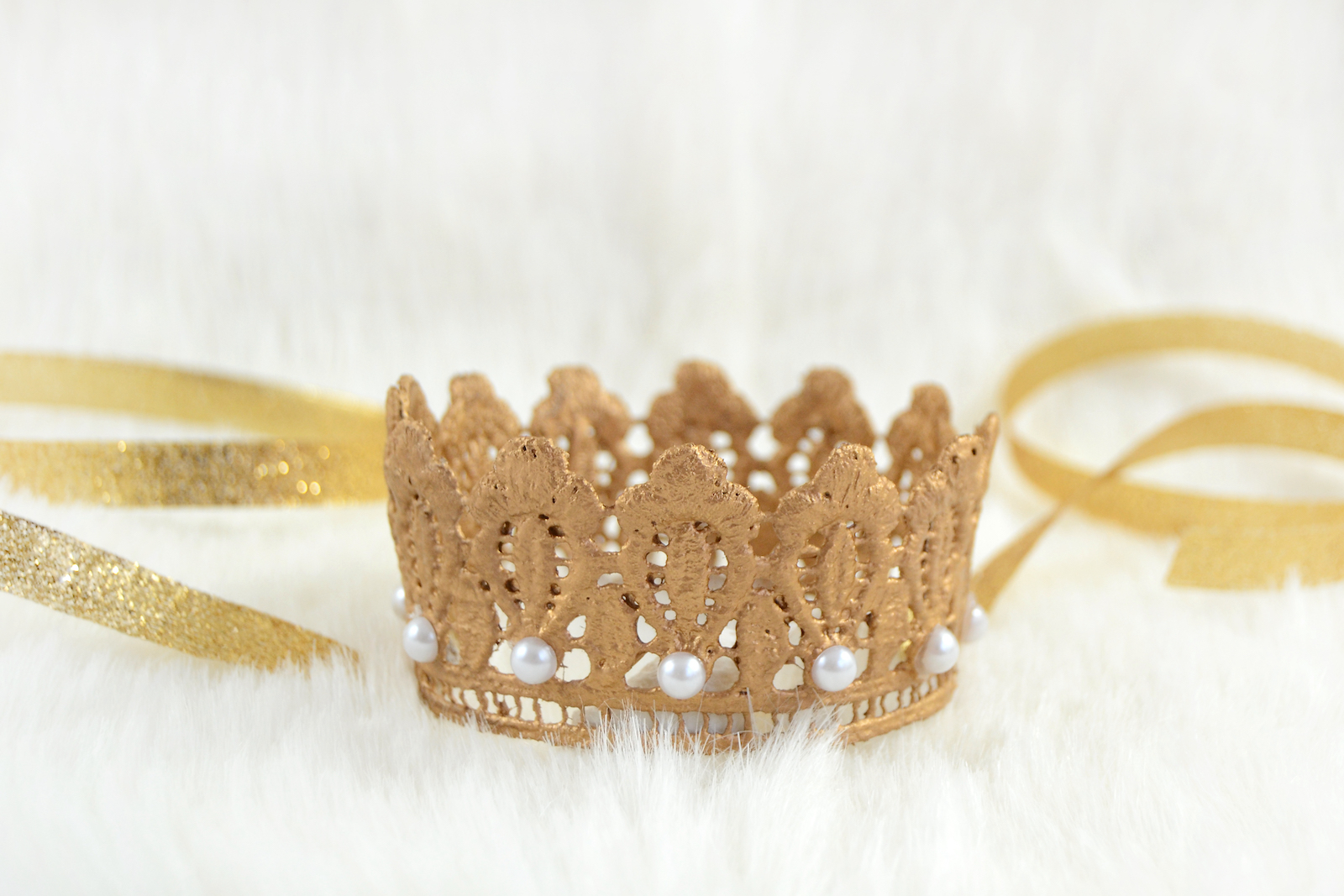 I don't know much about being a princess, so crowns are out of my wheelhouse a little bit. I grew up with four brothers, and it also didn't help that my mom dressed me like a boy. I'm talking short haircut, overalls, and rain boots.
That's sort of the kids' uniform of the Pacific Northwest, but I think it was all blue, too. And I don't really mind – I'm not complaining.
There are a few "girly" things I think I missed out on as a child. One of those being lacy crowns and a princess party. Isn't this DIY lace crown wonderful?
It is so easy to make with Mod Podge. And you don't need fancy lace either – just the kind you would get in the trim section of your fabric store. You can add glitter or Sparkle Mod Podge to make it super awesome.
How to Make a Crown with Lace
A DIY crown is a very easy craft idea, and the thought behind it is simple. You're going to use Mod Podge to stiffen the crown. In this project we used Mod Podge Hard Coat, but you can use other varieties as well. Gloss, Matte, Satin, or Fabric Mod Podge would work just fine.
You can also use fabric stiffener if you have it available. The process will be slightly different as you will first decide on the item you want to use as your form (like a cup) and wrap with plastic wrap. You'll then soak the lace in stiffener and wrap on the form and let dry.
Your DIY lace crown is going to be more "sturdy" if you use Stiffy. It really depends on how permanent they are and how long you want them to last. In most cases, regular Mod Podge is going to be just fine.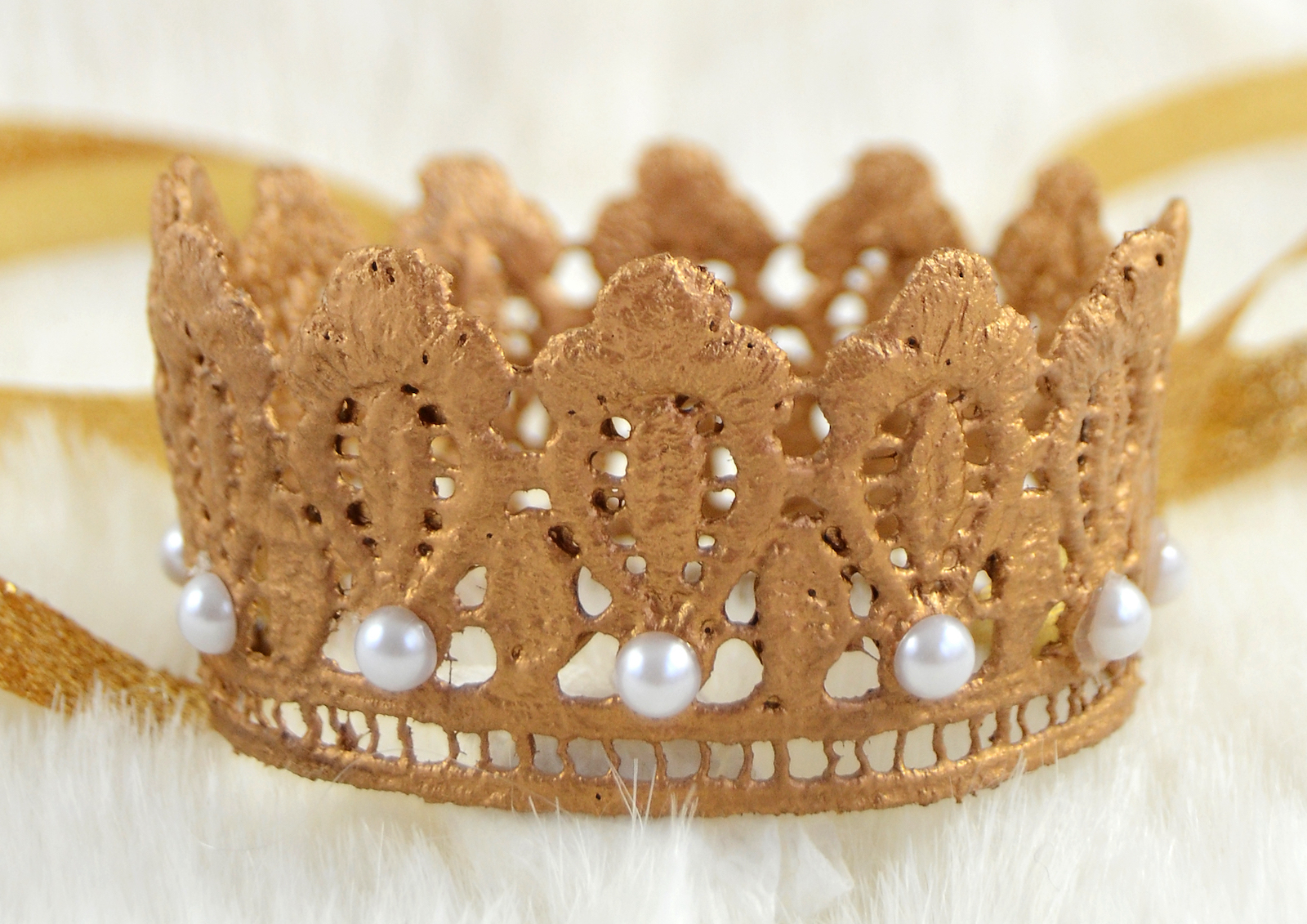 These pearl lace crowns are just the perfect accessory for a newborn or children's photoshoot – and for a fraction of a cost of how much it is sold online, you can create one (or a few) for yourself for photo props! See how easy it is to make these lace crowns below.
Gather These Supplies
If you use a cup, obviously the crown is going to be smaller. You can use a larger item for wrapping if you like to make the crowns larger. I wouldn't make them huge, but that's up to you. They are meant to be small and sit on the top of someone's head!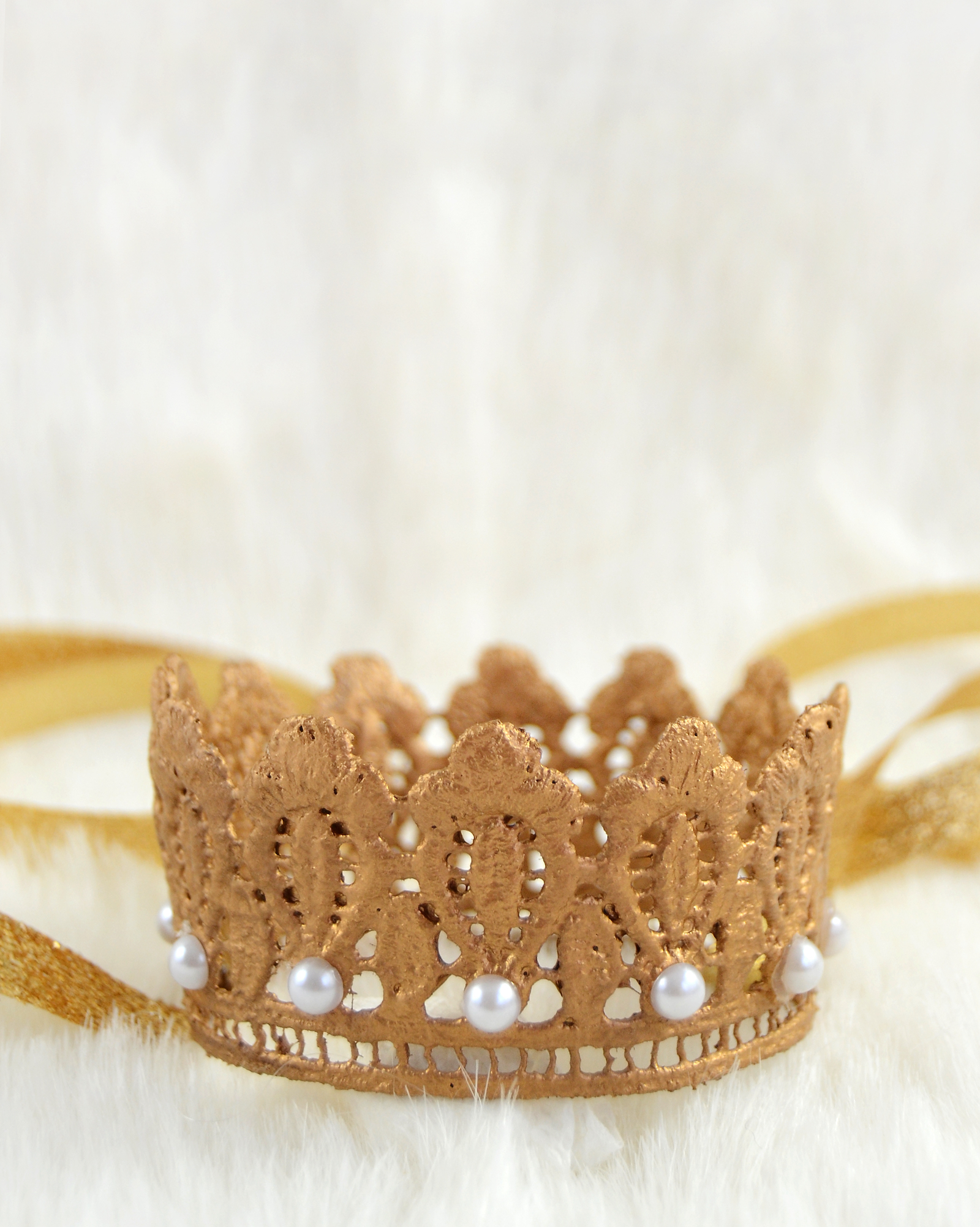 Get the printable how to card for this craft below!
Yield: 1 crown
DIY Lace Crown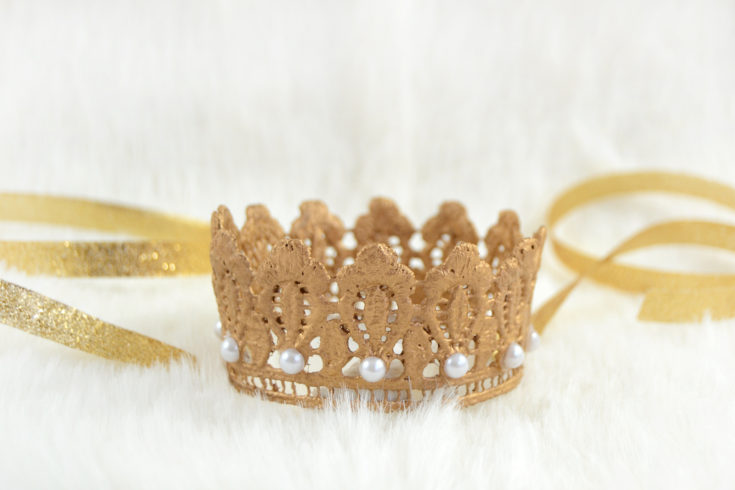 Learn how to make this unique princess crown using lace and Mod Podge! Perfect for a princess party or just for dress up.
Materials
Cotton lace
Mod Podge Hard Coat
Parchment paper
Gold acrylic paint or gilding
Flat-back pearls
Plastic cup
Headband or ribbon
Tools
Scissors
Paintbrush
Hot glue gun and glue sticks
Instructions
To measure the lace, you'll use a plastic cup (a jar also works). Wrap the lace around the widest part of the cup before cutting.
Apply Mod Podge to the cut lace on a non-stick surface, such as parchment paper. Apply a good amount of medium on both sides of the lace, and make sure to sop up the excess Mod Podge to avoid it pooling into the holes in the lace. Let the first coat dry.
While the first coat is drying, wrap the plastic cup with parchment paper. Apply a second coat of Mod Podge to the lace (following step 2's instructions), and then wrap the lace onto the plastic cup and let it dry. This will create and hold the crown shape for your lace.
Once it is dry, you can leave it as-is or paint with a color. I used a gold leaf color for mine. Paint several coats inside and out and let dry.
To further embellish the crown, glue down some half-back pearls onto the lace crown and let it dry. If you want to brush Mod Podge mixed with glitter onto the crown for a little sparkle, you can do that at this time as well.
Finally, attach the crown onto a headband or ribbon and you are done! Tie the ribbon under your chin or a child's chin to secure.
---
Now that you know how to do it, you'll want to make a bunch and decorate them in different ways. Another idea: make these for a princess birthday party and ask the kids to decorate them – I'm sure that will be a blast!
Did you enjoy learning how to make a crown? I'd love for you to check out these other ideas: