This cute DIY canvas art made with plastic animals is such a fun and easy idea! Mini canvas art like this is perfect for a nursery, kids' room, or craft studio. You can complete this project in five simple steps.
Skills Required: Intermediate Beginner. It's not difficult to paint canvases, but you are going to have to cut your mini animals. If you want children to do this project, they'll need help. I'll give you details on that below.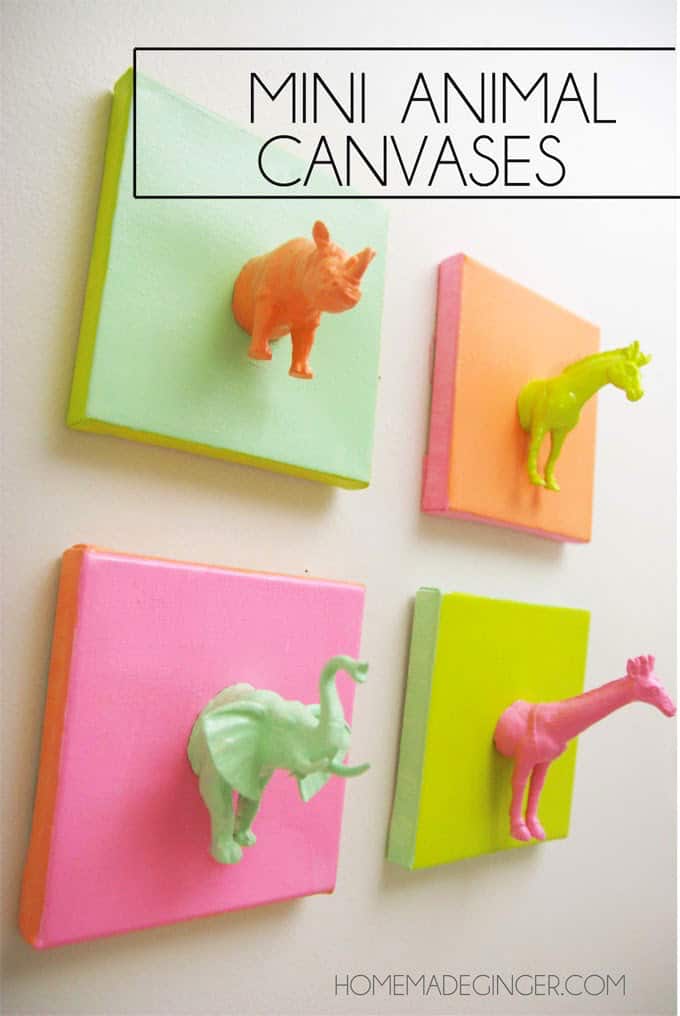 Hello everyone! This is Megan from Homemade Ginger and I'm so thrilled to be a contributor for Mod Podge Rocks. I have a really fun and playful mini canvas art project to share with you all today. It uses plastic animals, which is pretty fun.
This DIY canvas art project is perfect for a nursery or kid's room and would also be a great gift idea! All the materials to make these canvases with mini animals were very inexpensive and I absolutely love how they turned out.
DIY Canvas Art with Plastic Animals
If you're wondering what we mean by "mini" canvases, the ones used in this project were 5″ x 5″. You could probably go a little smaller if you wanted to (either 4″ square or 3″ square) but I wouldn't recommend going much larger unless you are going to put multiple plastic animals on one canvas.
That's always an option if you can't find small canvases – get a larger canvas and line the animals out in a grid, kind of like specimen art. That would be a fun project as well!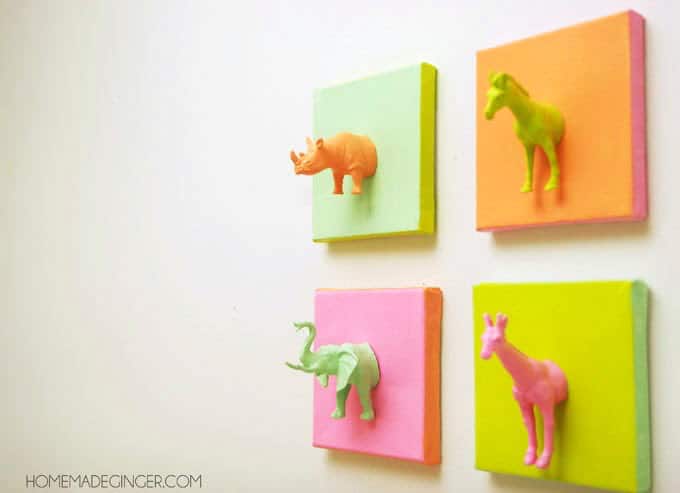 Cutting Plastic Animals
I used a heat knife for this project, which cuts a lot of stuff very easily, including craft foam. I love mine and use it all the time! If you don't have a heat knife (and a lot of people don't), then you're going to have to rely on a little arm strength to cut the plastic animals.
I recommend using a utility knife or hacksaw to cut through the animals! Most of them (including the ones I used) are hollow in the middle, so it's not as hard as it looks. However, it does take a minute. Please be careful and guard your fingers! This project isn't worth losing a limb 😀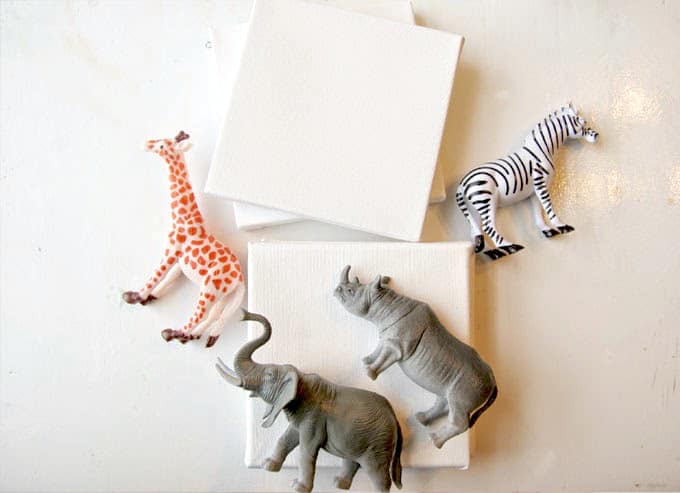 Mini Canvas Art
Gather These Supplies
Acrylic paint – white for priming; other colors of your choice for painting
Canvases (I used 5 x 5 inch ones)
Heat Knife or Utility Knife
Super Glue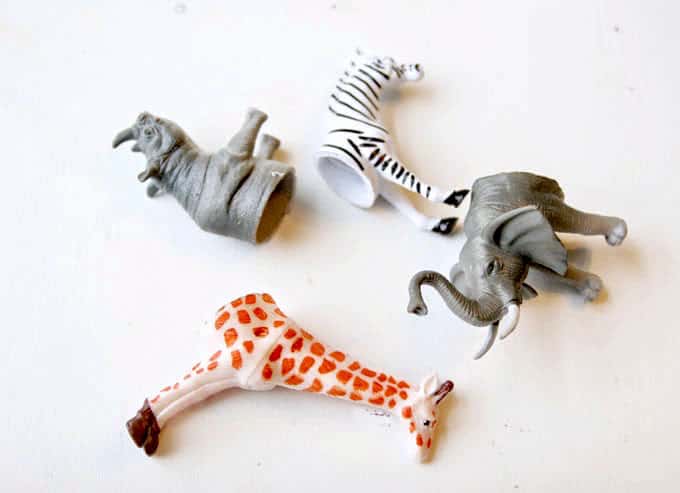 Step One
Begin by cutting your animals in half. I found mine at Dollar Tree. I was happy to find ones that were a slightly larger size than the typical tiny ones. To cut them in half, I used a heat knife. As I mentioned above, you can also use a utility knife or hacksaw.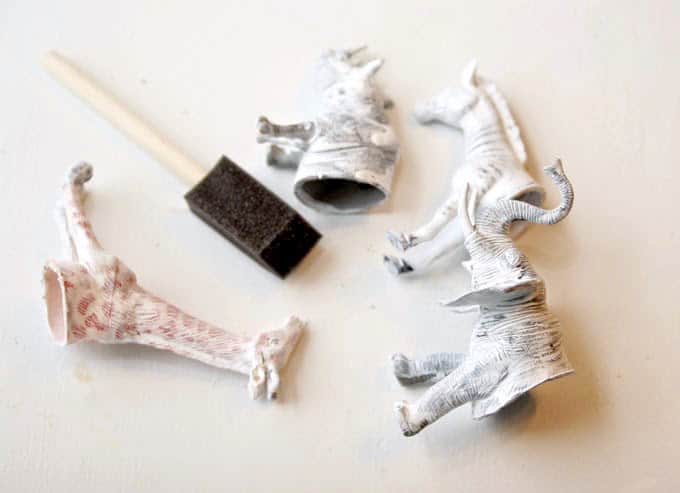 Step Two
This is probably optional, but I decided to paint a coat of white primer on my animals. I figured it would save me from a few coats of the acrylic paint down the road, and it did. It also makes the neon colors show up a bit brighter!
Step Three
Once the primer is dry, paint your animals and canvases with acrylic paint. My animals all required about three coats and the canvases needed about two coats. To make it go faster, I used a hair dryer in between coats to cut down on drying time!
This is where you can get fun and creative with your mini canvas art: use boy colors, light pastels for girls, or neons. Anything goes!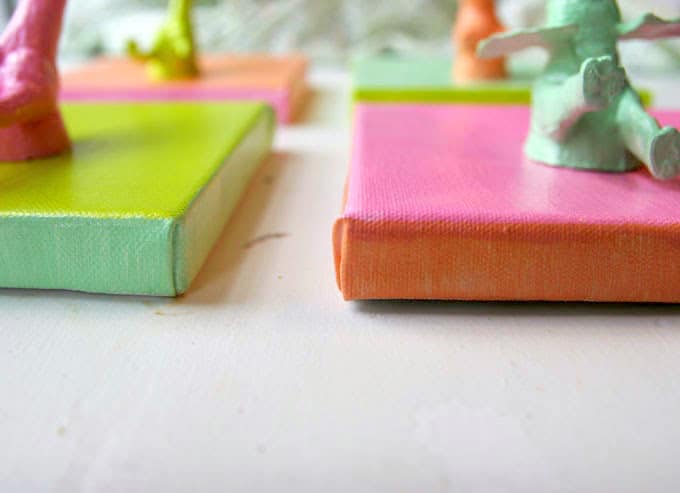 I painted the edges of the canvases in opposite (but coordinating) colors to make it even more interesting and fun!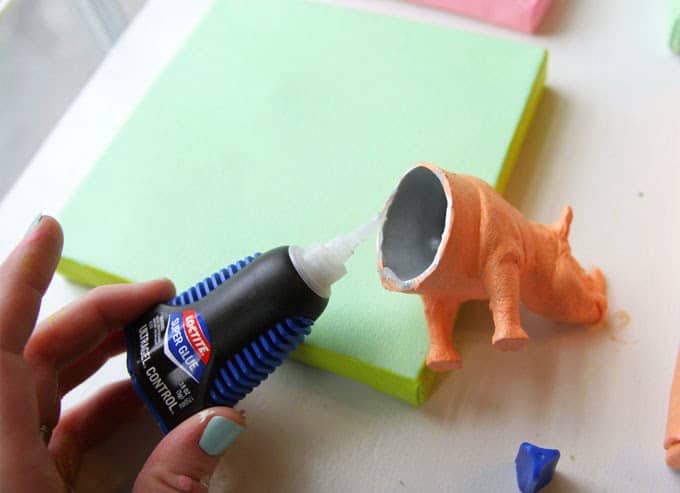 Step Four
Once everything is dry, use a small bead of super glue (or something else that provides a tight bond) to attach your plastic animals to the center of the canvases. I decided to give everything a coat of glossy Mod Podge so that the mini animals and canvases both had the same shiny finish.
You can skip this step, but it will seal the paint on the canvases, so I recommend it. If you don't want the gloss look, feel free to go for matte or satin.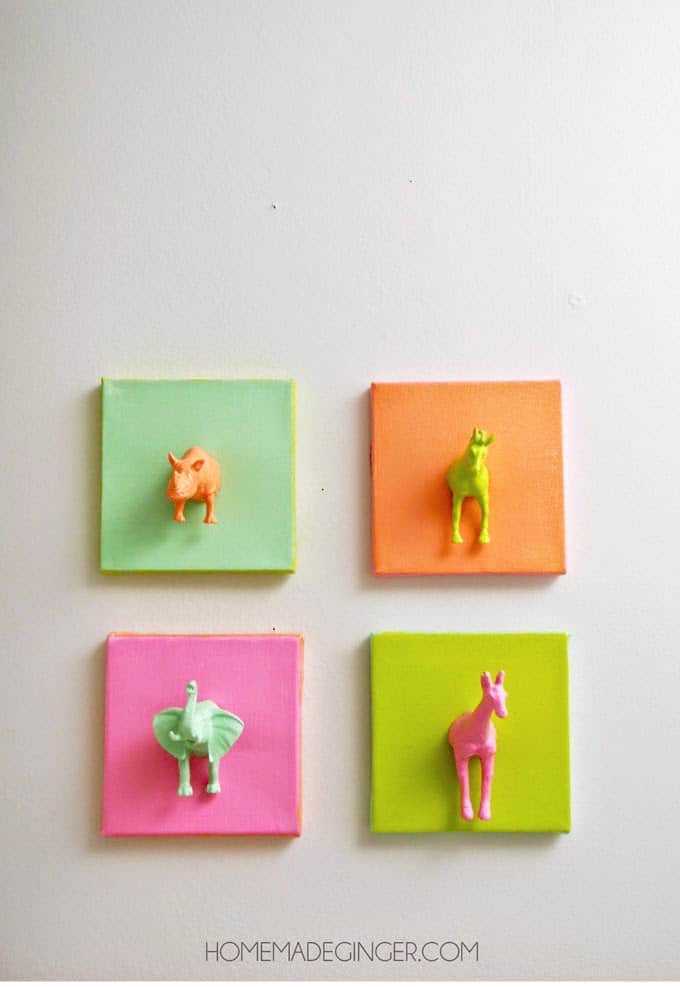 Step Five
Hang and enjoy! You can hang these with regular picture hooks, if you have the canvases that include the sawtooth hangers on the back (you can also put them on).
My personal choice for hanging is Command Picture Strips. Nothing shows, and then I can easily remove them from the wall at a later date if I want to change out the art.
I love how these animal canvases look in my daughter's nursery. I'm considering using the back ends of the animals to add even more canvases.
I'm also glad that I painted the edges of my mini canvas art in different colors. It just adds a little something extra and looks fantastic in person.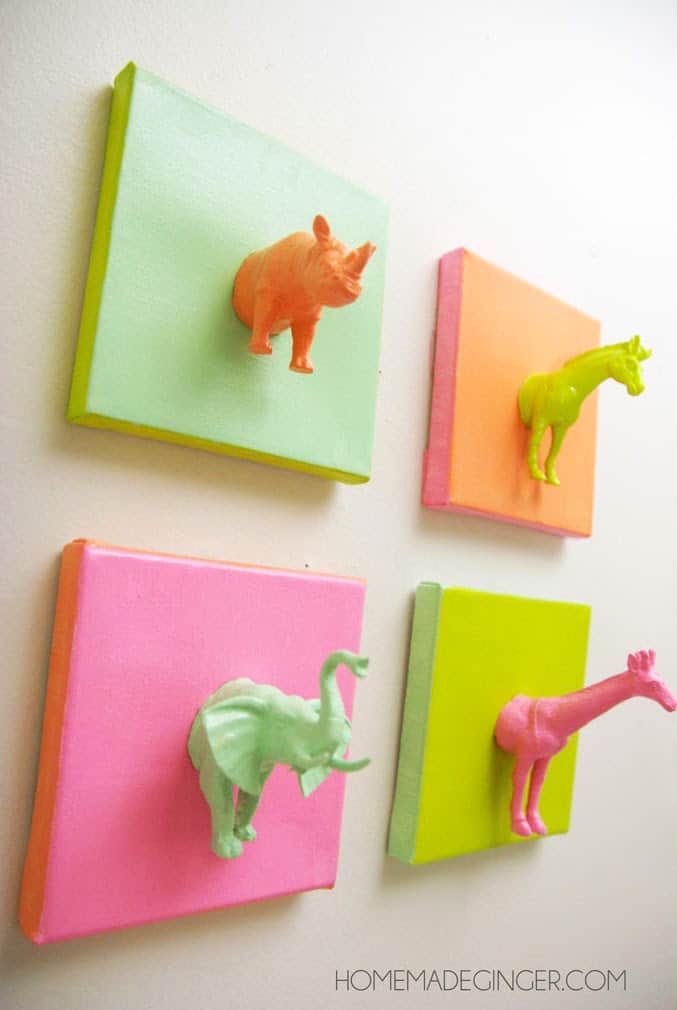 I hope you will try out your own version of this DIY canvas art. What do you think – would you put mini animals on your wall? Let me know in the comments!
If you love this canvas art project, you might also love these other ideas for decorating your walls: