Learn how to make coasters with Mod Podge and dollar bin supplies! These DIY coasters are great for beginners, and also make great gifts.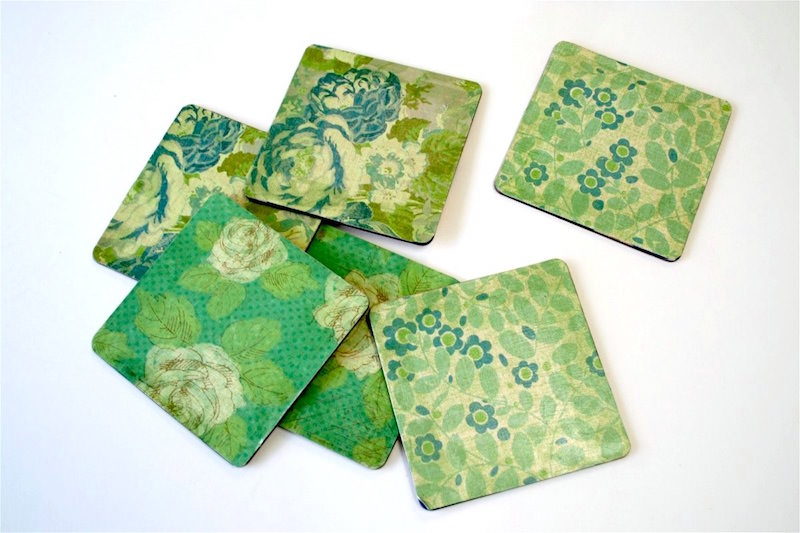 I'm always perusing those bins at the front of Target where things are $1 – and I know I'm not the only one. I can spend $50 easily at "Tar-jhay," just from shopping those bins. How about you?
Awhile back I found coasters in those bins, and decided that I needed some coasters for my place . . . but I didn't like the pattern that the surface came with (I don't use hairspray, but I do drink coffee! You'll see what that means in a minute).
How to Make Coasters
Learn how to make coasters using my method below. You can use this method to decorate surfaces that are wood or tile – or even thick cardboard like mine. Mod Podge works with them all.
In addition to the surface, you're going to need some paper or fabric with a pretty design. I recommend using a thicker paper or fabric, especially since the surface is thick cardboard. You want to add as much rigidity as possible.
Let's dig into the project!
DIY Coasters
Gather These Supplies
$1 coasters
Scrapbook paper – one or two sheets in your favorite patterns
Clear sealer (like Minwax Polycrylic or Engine Enamel)
Sandpaper or emery board
Paintbrush
Pencil
Alcohol ink and paper towel (optional)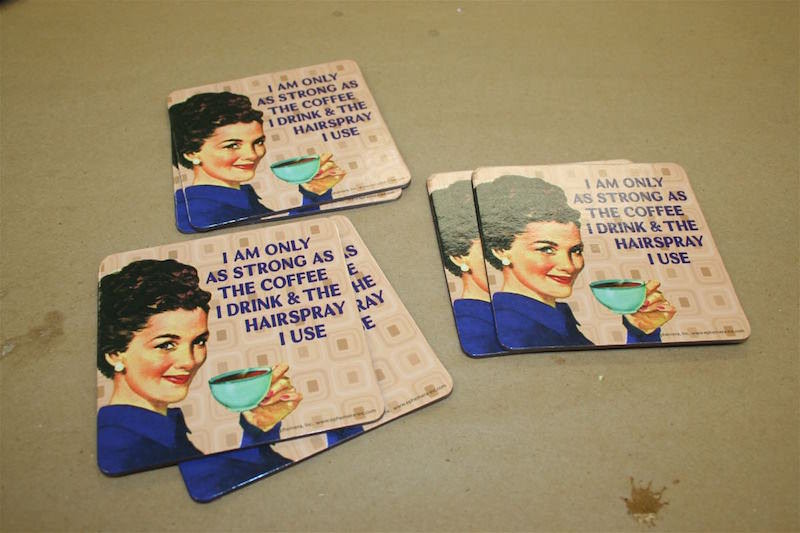 Here are the coasters – cute, funny even, but not really my style.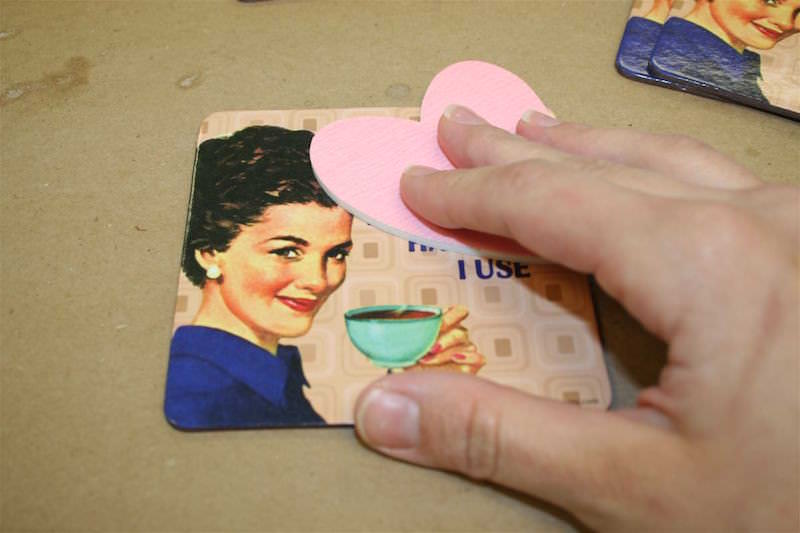 Whatever machine made these coasters put a plastic-y coating on the top of them. I sanded it off so that the paper and Mod Podge would stick better. If you use wood, do the same. If you use tile, try to get the tiles without the clear coat on the top.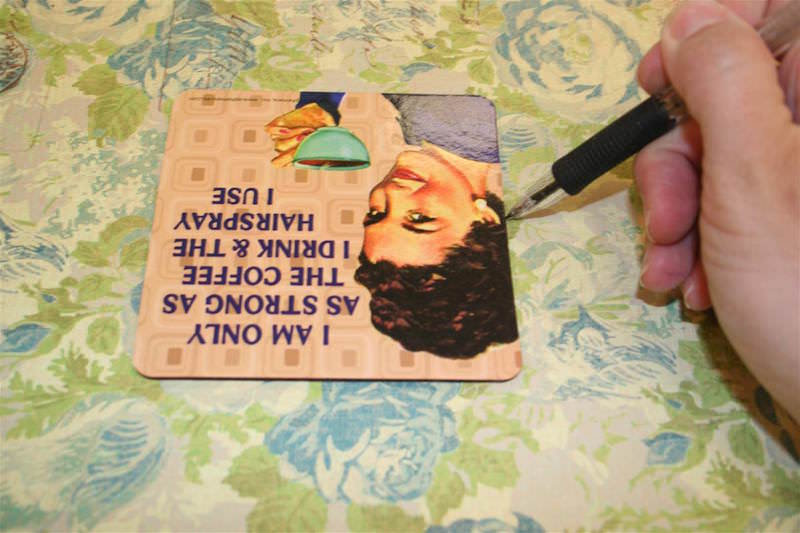 Trace your coasters with the pencil directly onto the paper and cut just inside the line.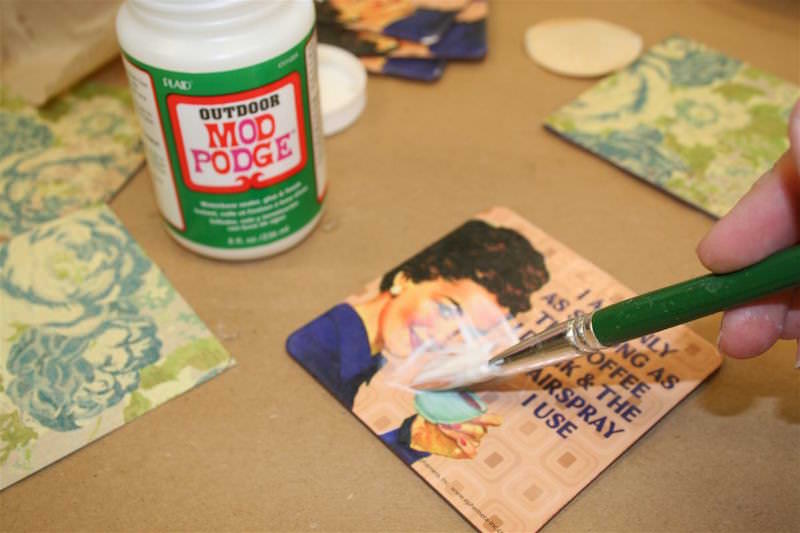 Add a medium layer of Mod Podge to the coaster and then lay the paper down and smooth, smooth, smooth. Keep smoothing until all of the bubbles are removed and let dry for 15 – 20 minutes.
You don't have to use Outdoor Mod Podge. The reason I did is because my coasters are thick cardboard and I wanted them to be more protected.
We're going to waterproof the DIY coasters in this tutorial, so if you are using wood or tile, you can use regular Mod Podge (or your favorite formula).
Update: this post was created before Dishwasher Safe Mod Podge was developed. You can now use Dishwasher Safe Mod Podge on this project (you won't be able to wash these since they're cardboard, but it will provide more protection). Learn more about Dishwasher Safe Mod Podge here.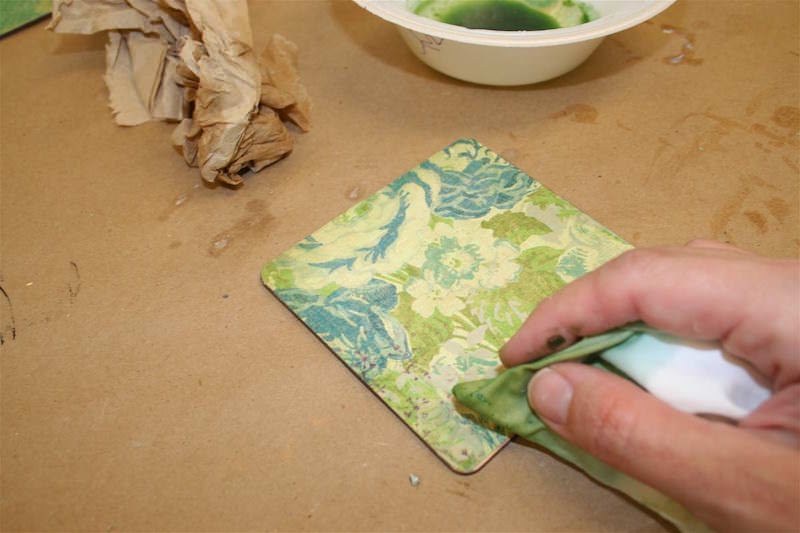 At this point dipped a paper towel into some green alcohol ink and darkened the edges to add a little flair. It's up to you. You can paint on them now or add additional papers on the top too!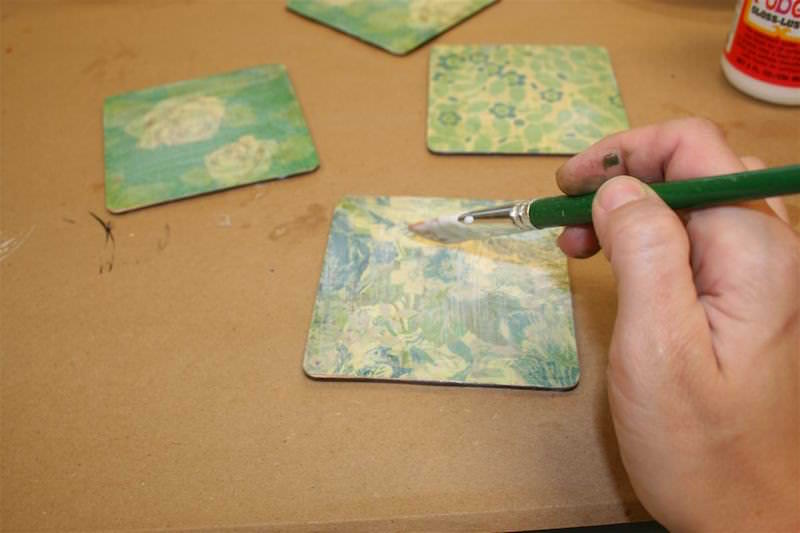 Once the coasters were dry, I rounded the edges using the scissors – then I painted a coat of Mod Podge over the top of the paper. Let dry and give another coat.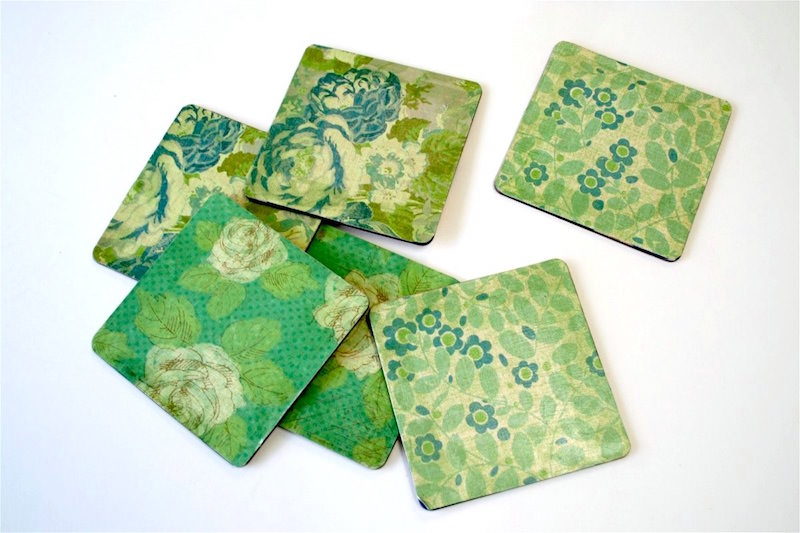 To finish your DIY coasters, if you didn't use Dishwasher Safe Mod Podge) you must add a brush-on waterproof sealer (or spray, but I find the brush-on works best for coasters). You can also use Engine Enamel spray.
That way drinks that sweat won't make the coasters stick to your glass. Then you're done! Coasters for $1? Yes, please.
If you like these DIY coasters, here are some other options you should check out!