Learn how to make colored mason jars with Mod Podge! These tinted mason jars are such an easy craft idea – you don't need experience to do it.
Skills Required: None. Even if you've never crafted before, you can make these tinted mason jars. You're simply adding food coloring to Mod Podge and pouring in the jars.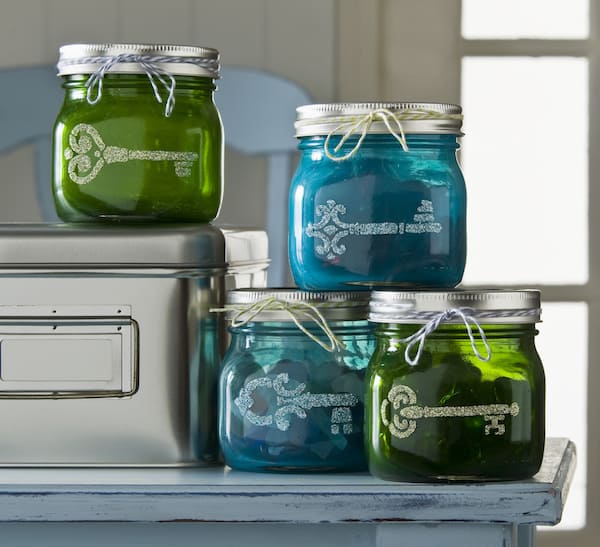 It's something I've always wanted to try and finally did: colored mason jars! Have you heard about this cool technique? You can easily dye glass using Mod Podge and food coloring.
How to Tint Mod Podge
It's really easy to tint Mod Podge and turn it into any color you like. You can do it with food coloring or paint (we did it with paint here).
The only difference is how translucent (semi-transparent) the Podge remains after you dye it. As you know, Mod Podge dries clear.
Adding food coloring or acrylic paint is going to make it somewhat translucent as opposed to completely clear. Food coloring keeps the Mod Podge pretty close to clear.
Acrylic paint is a little different in that it has more pigment and isn't as watery, so it makes the Podge even less clear (more translucent). Just something to think about as you decide on your project.
Here's how you tint Mod Podge:
Add some Mod Podge to a small container (a piece of Tupperware works great).
Put a couple of drops of food coloring or paint into the Podge. Stir.
Apply with a soft bristled brush, spounders, or foam brush to a clean surface. Let dry.
That's it! You can play with the combination of color and Mod Podge a bit before you decide on your final tint. Just remember: you can always add more, but you can't take it away. So start with just a few drops!
Colored Mason Jars
I wanted to try making some tinted mason jars for storage with these pint sized (mini) mason jars I found at Jo-Ann.
I coupled the colored Mod Podge with my peel n' stick stencils (the keys) and some baker's twine. Then I added a chalkboard sticker after that. You'll find a lot of ways to customize this project.
You can have cute storage in minutes. Here's how I easily decorated the Mod Podge mason jars above.
Mason Jar Storage
Gather These Supplies
Mason jars – pint sized
Food coloring
Glitter – colors of your choice
Baker's twine – colors of your choice
Scissors
Paintbrush
Chalkboard stickers – small round (optional)
Start by washing your mason jars with mild soap to clean them, and then let dry. Trust me on this one. I didn't wash a jar and added the colored Mod Podge, and it didn't cling as well (my bad).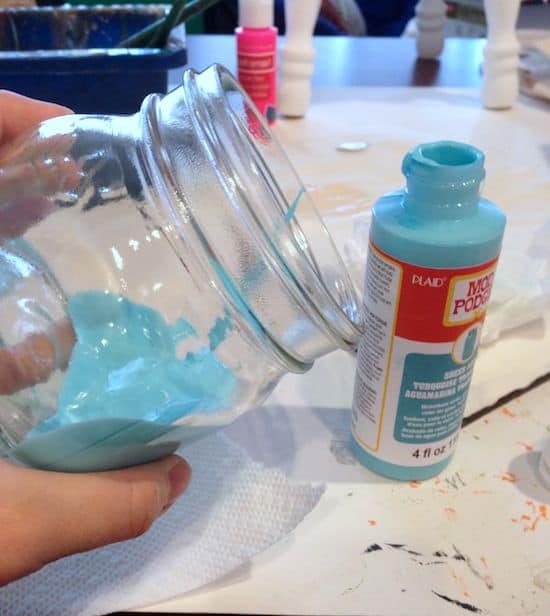 Start by adding about two tablespoons of the Sheer Color of your choice into a jar and rolling it around to coat. This can take several minutes.
If you find that you need to add more, add about one tablespoon at a time and continue rolling the jar around until the entire inside is coated.
Tip: shaking the jar over a trash bin can help remove excess Mod Podge and also help coat the inside. Just be sure you don't shake too hard and explode the Mod Podge everywhere (um, haha).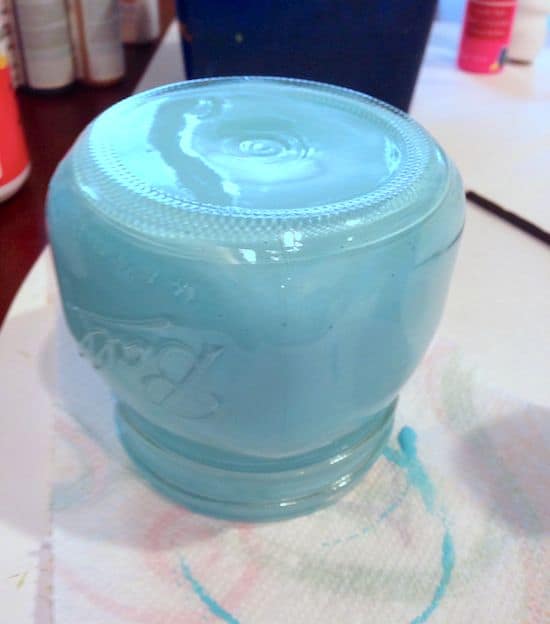 Repeat with the remaining jars. When you are done coating them all, place them face down on a paper towel for several hours to let the excess Mod Podge drain out.
When the jars have completely drained, turn them right side up to let the jars dry completely – this will take overnight. I kept moving the jars around on the paper towel as well, just to make sure they didn't stick.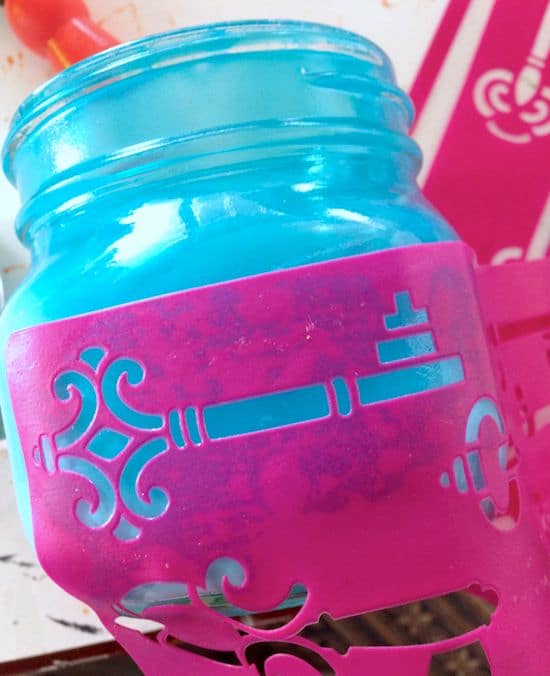 Choose your design to place on the fronts of the mason jars. I put a different key on the front of each jar. Carefully peel the stencil from the backer sheet and smooth down flat on the jar surface, making sure to center your design.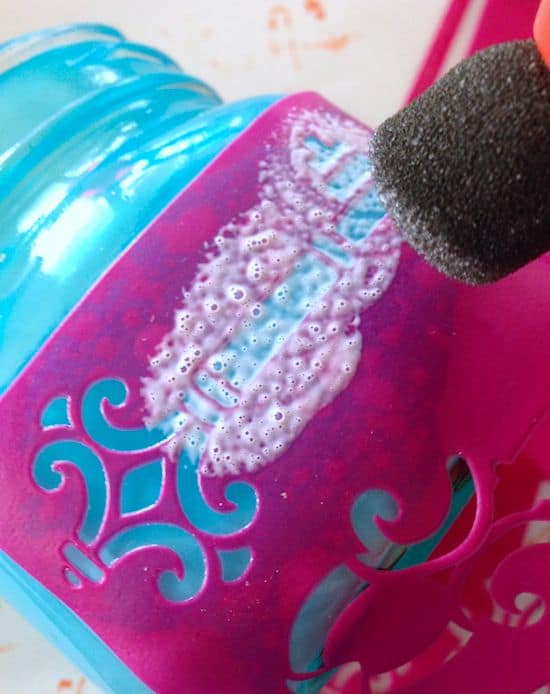 Use the spouncer to add Mod Podge to the stencil. Use a medium layer of Mod Podge and work quickly, since Mod Podge dries quickly. Completely cover the key.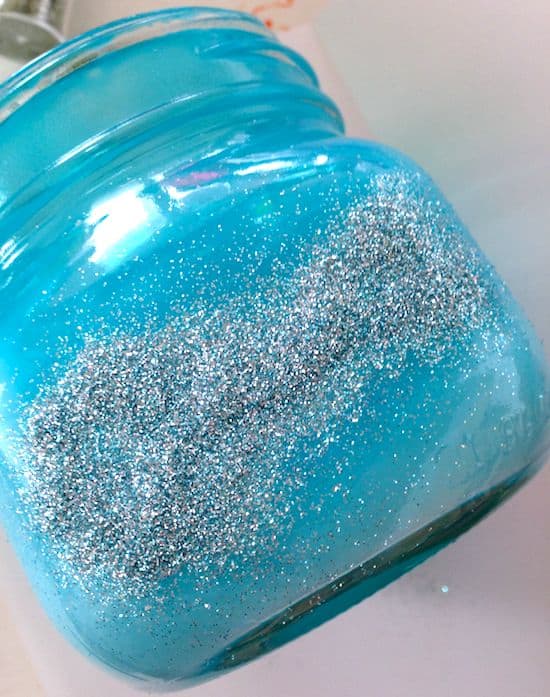 Peel up the stencil and pour the glitter on top right away.
Tip: pour the glitter onto the jar over a piece of paper so that you can pour the excess back into the original container.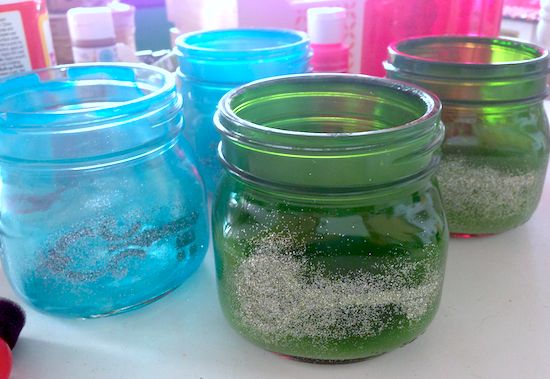 Repeat with all the jars, then let dry. Remove excess glitter using the paintbrush (lightly brush it away).
Replace the lids on your jars and cut baker's twine to wrap around each lid. Tie in a bow.
Place a chalkboard circle on top of each jar in the center so that you can write the contents on the lid. Can you believe these stickers? I love them.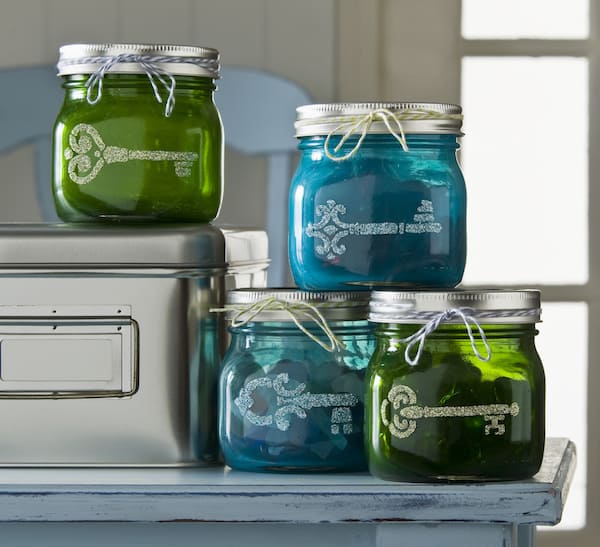 If you exclude dry time, these colored mason jars took just a few minutes to decorate. I love them and I want a whole rainbow!
Looking for more Mod Podge mason jar crafts? Click on the image below!