This DIY lazy susan is so cool – it was created from a planter saucer! Use any images you like. This is perfect for your dinner table, for a party, or for a cabinet.
Skills Required: Beginner. You'll be printing images, cutting to fit a tray, and then adding resin on top. The biggest skill you need for this project is patience in the drying time!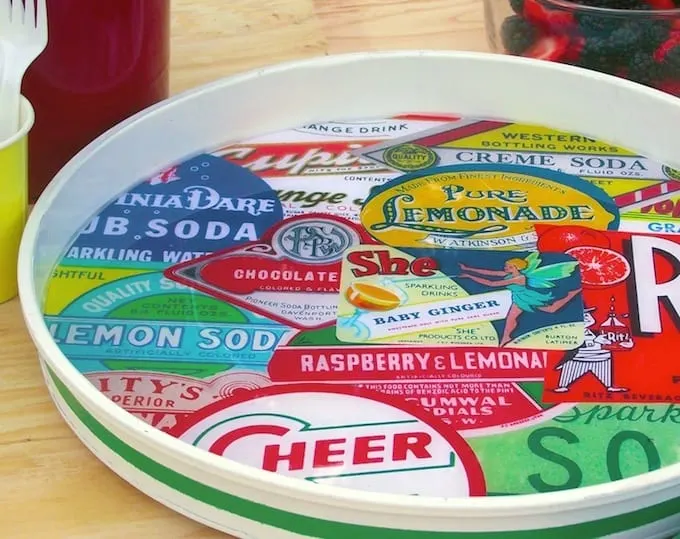 Man Podger David had a great idea to turn a simple planter into a DIY lazy susan for summer parties. It's such a great project that I'm sure you'll want to duplicate the technique for other home decor pieces. If you like resin crafts, keep reading for his tutorial!
---
So, you know me by now – I'm always wandering around Home Depot looking for things to make into other things. For this decoupage project I had in mind that summer is here, along with outdoor parties.
When I saw some big, metal planter saucers (you know, the kind you put under a pot to catch water and protect the floor) on sale I thought, "hmmmmmm . . . lazy susan?"
This DIY lazy susan turned out to be easy and pretty fun!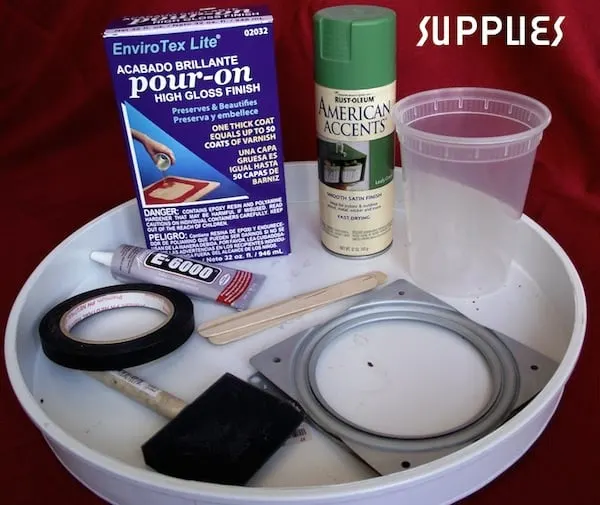 Make a Lazy Susan
Gather These Supplies
Metal planter saucer
Laserjet printouts of vintage images
Newspaper or 2 sheets of paper
Foam brush
Envirotex Lite (to make it all waterproof and stuff)
Plastic straw (not pictured)
Stirring sticks
Plastic cup
Lazy Susan mechanism (also from Home Depot)
Sandpaper (not pictured)
Glue – I used E-6000
Scissors
Pencil
Spray paint (optional)
Painter's tape (optional)
My tray was white and I wanted to keep it that way, but thought a snazzy green stripe would be fun. I sanded the edge of the tray, cleaned it, and taped off the stripe (and anywhere else unwanted paint might get).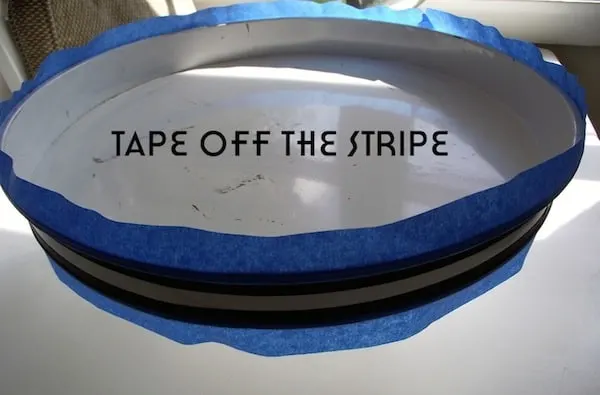 Then I gave the saucer a couple of coats of spray paint to create the stripe on my DIY lazy susan. I then removed the tape before the spray paint had dried.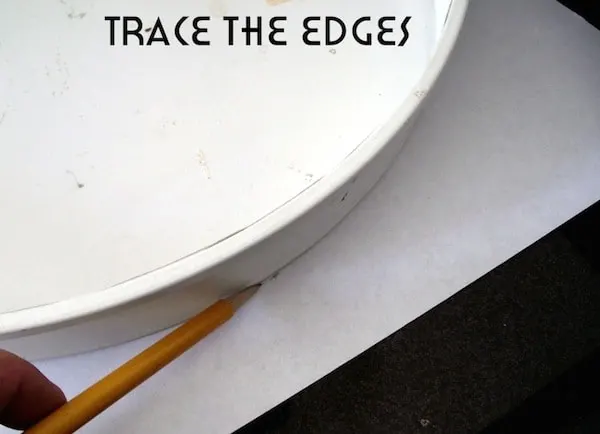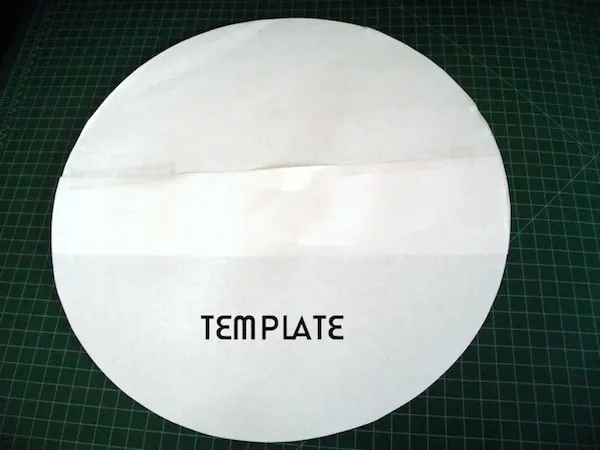 My tray was BIG (16" wide). To make a template for the inside, I traced the edges of the tray onto two large sheets of paper and then taped them together. You could also use newspaper.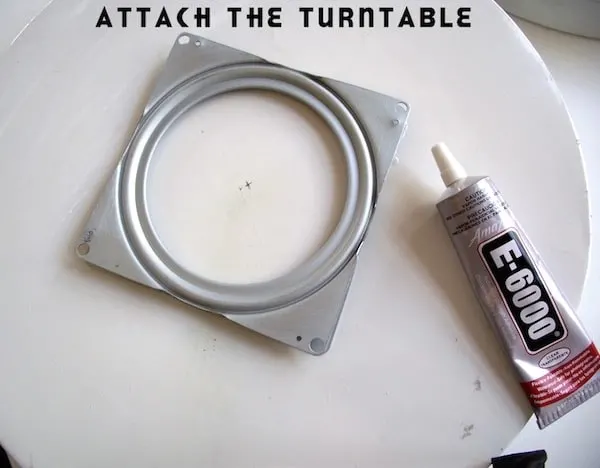 Next up, I attached the turntable using the E-6000. Glue following the directions on the package and set aside to dry. While that dried, I gathered my images.
I used graphics I had on hand, but you could easily use scrapbook paper or wrapping paper or anything that appeals – just test it to make sure it holds up to the Mod Podge.
I laid out the design in MS Word, but I didn't want to have to cut out and paste each image. Instead I printed them out in sections on 11 x 14" legal paper and then cut each section out.
Once they were all cut out I reassembled them, placed my template on top and traced the outline of the circle. Then I cut accordingly. I did a "dry fit" to make sure all was good (and made a few minor adjustments).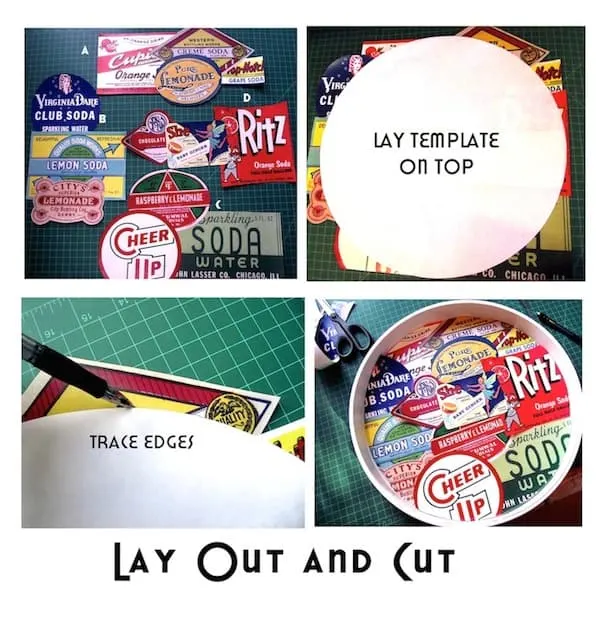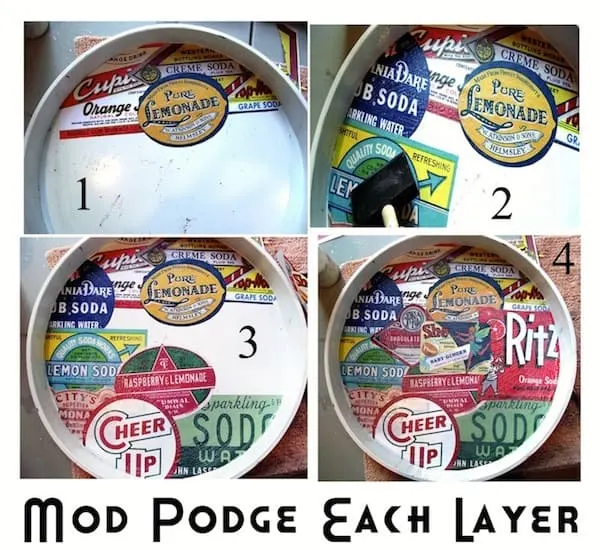 After that it was easy to Mod Podge the layers into place. After the layers dried, I sealed them with another coat of Mod Podge and set my DIY lazy susan aside to dry overnight. (This step is key – make sure you get the whole thing covered as the Envirotex will discolor any paper it comes in contact with).
The next day I poured the Envirotex – closely following the directions on the box. I've used Envirotex a lot and, when you do exactly what they say it comes out great and when you improvise . . .well, not so much.
TIP: You have to blow on the poured resin to pop any air bubbles. I've discovered that if you blow through a plastic straw it works beautifully! After giving the tray plenty of curing time (72 hours), we were ready to go.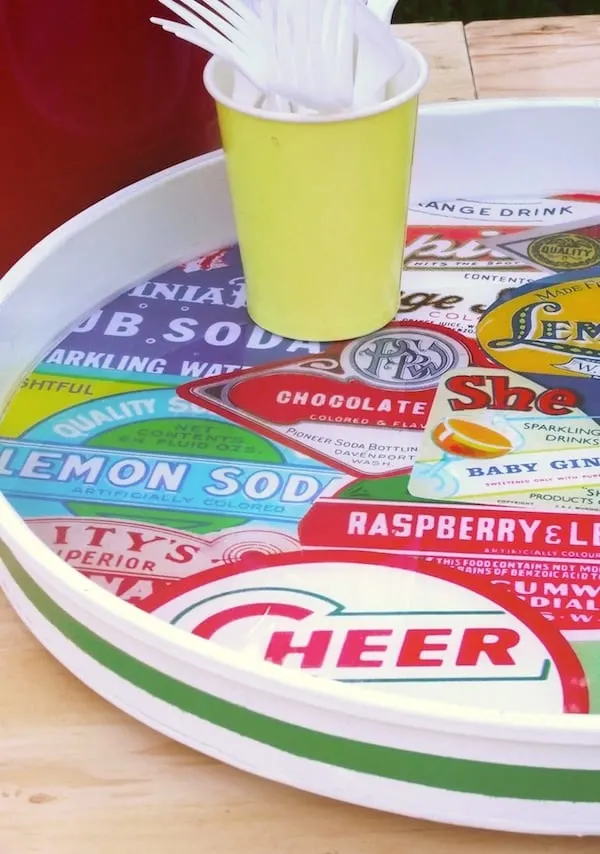 And there you go. A fun, festive, custom, BIG DIY lazy susan!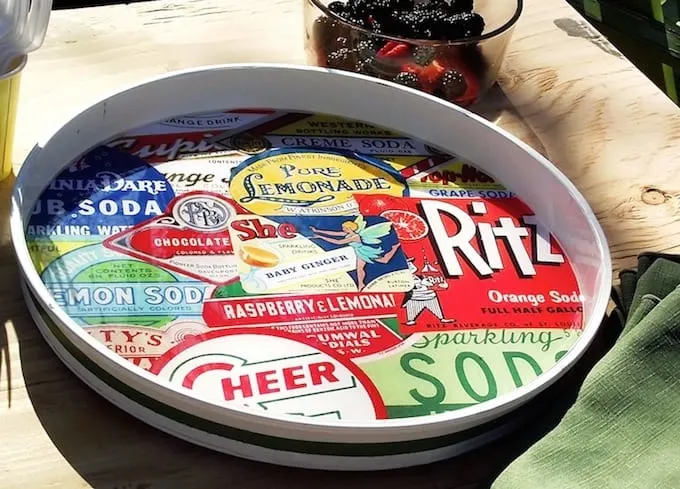 Yield: 1 tray
DIY Lazy Susan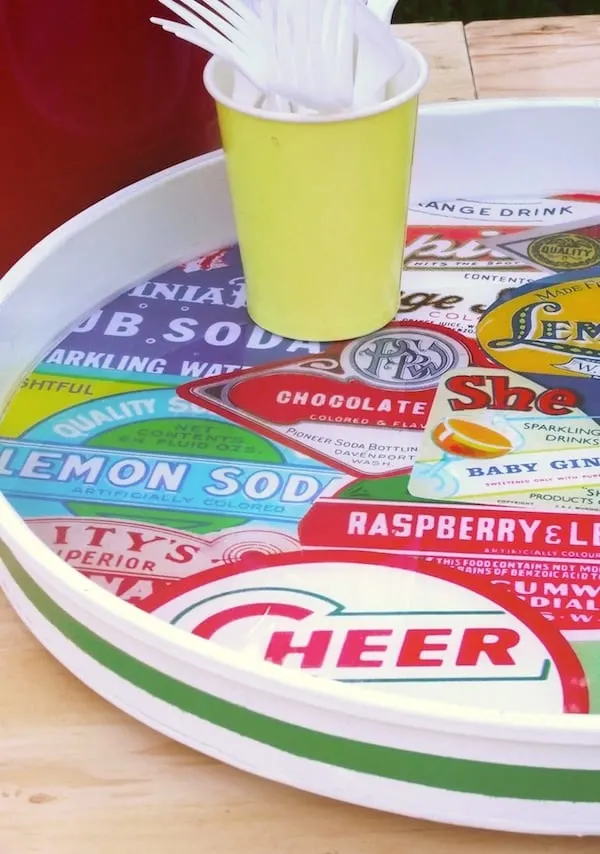 Learn how to make a lazy susan with a planter tray from Home Depot! You can use any graphics to customize.
Total Time
3 days
1 hour
45 minutes
Materials
Metal planter saucer
Mod Podge Gloss
Envirotex Lite kit
Plastic straw
Lazy Susan mechanism
Sandpaper
E-6000
Spray paint (optional)
Painters tape (optional)
Tools
Foam brush
Pencil
Scissors
Instructions
Clean your tray with mild soap and water and let dry.
Use painter's tape to section off a line to make a stripe (optional). Spray with several coats of spray paint, remove tape, and let dry.
Make a template for the inside of the tray using newspaper or paper and a pencil. Cut out with the scissors and set aside.
Attach the lazy susan mechanism to the bottom center of the tray with E-6000; let dry.
Print out all images you would like to use on a laserjet printer. Cut out and assemble them into a collage (you can tape if needed).
Place the template on top and trace the outline of the circle. Cut out with scissors. Fit in the tray and trim if necessary.
Mod Podge the images into the tray, layering as necessary. Seal thoroughly, making sure to get all edges. Let dry overnight.
Mix the Envirotex Lite according to package instructions. Pour into the tray.
Pop air bubbles by blowing on the surface of the resin with a plastic straw (don't touch the straw to the surface).
Allow tray to fully cure for approximately 72 hours before using.
Notes
If you only have an inkjet printer, I'd try to get laserjet images printed to make sure you have no bleeding. If you don't have that option available, be sure to spray the inkjet images on both sides with clear spray sealer and let dry before using.
---
If you enjoyed this DIY lazy susan, I'd love for you to check out these other ideas: