Use Mod Podge and fabric to make these decorative light switch covers, turning them from boring to fun in just a few minutes.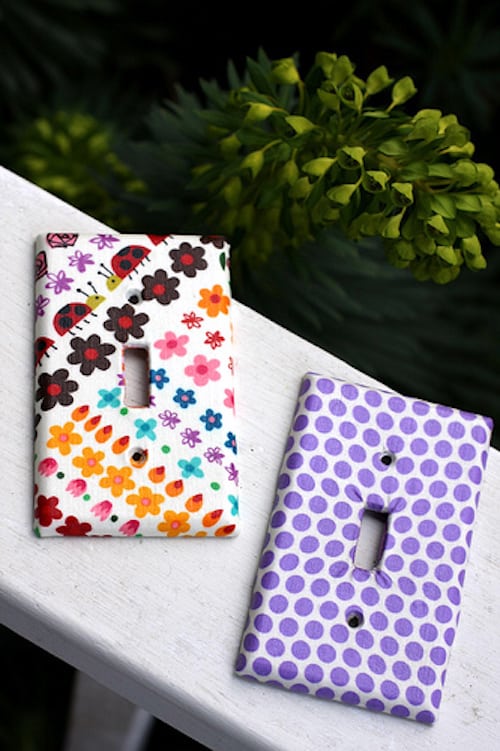 I haven't posted switchplates in quite awhile, and I get asked about how to make decorative light switch covers all the time. Kathy from Pink Chalk Studio posted her fabric switchplates, and she outlines a pretty great process for making them.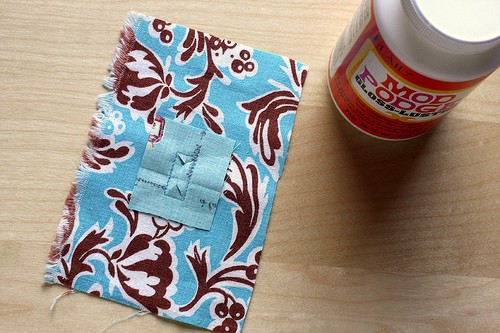 One thing she noticed was that standard way of cutting a slit for the switch and folding back wasn't working for her . . . so instead she sewed on a facing that she pushed through the hole.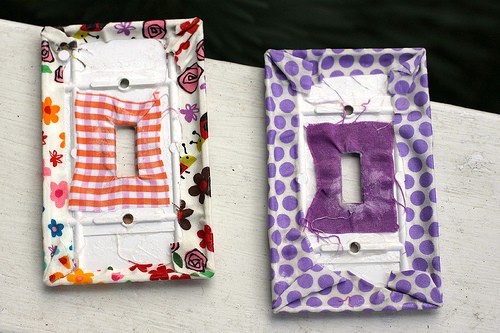 This gave her an extra piece on the finished back that you see above. If you have sewing skills you might choose to finish the same way that she did!
If you are a beginner looking for a project (AND you want to cute-ify your home) then this is your project. It's also a great stashbuster for paper or fabric.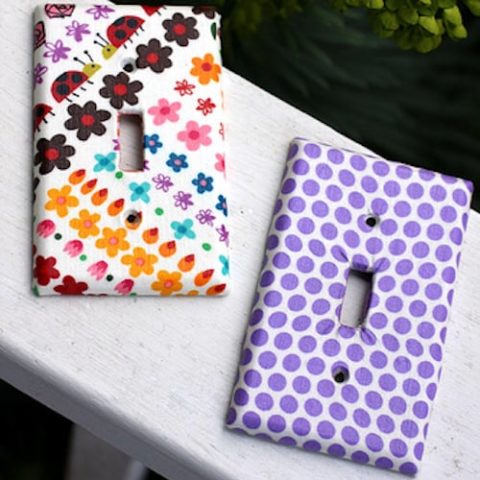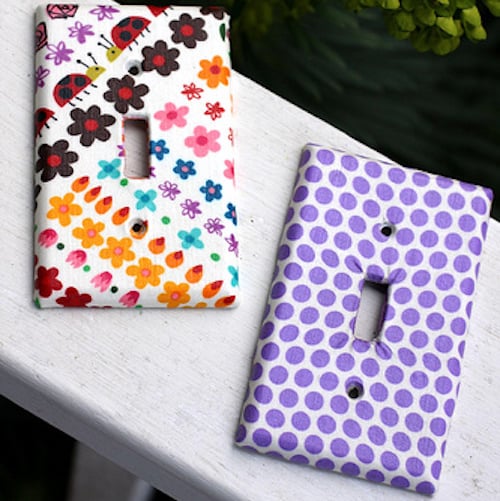 Decorative Light Switch Covers
Turn plain outlet covers into something fabulous with fabric and Mod Podge.
Materials
Light plate & outlet covers
Mod Podge Matte
Fabric
Clothespins
Waxed paper
Rubbing alcohol
Tools
Sharp scissors
Sponge brush
Brayer (optional)
Water soluble pen
Instructions
Clean your light plate covers with rubbing alcohol. Set the screws aside.
Trace your outlet and/or light switch cover onto the wrong side of your fabric.
Cut out each tracing with an additional half inch of space between the outer edge of each tracing and the edge of your fabric piece. Also cut out tiny holes for the screws, switches and electrical outlets.
Rinse off the pen lines in the sink and pat your fabric dry.
Paint a layer of Mod Podge on your plate covers. Line up your fabric cutouts and place wrong side down.. Be careful to get the screw holes just right.
Add Mod Podge on the edges and fold the fabric over. Trim the fabric with scissors if necessary.
While the edges were drying, apply a generous layer of Mod Podge over the outside of the front of the plate cover.
Use clothespins to hold the fabric in places on the edges if needed. Remove the clothespins before the Mod Podge dries, after the fabric has settled. Let the plates dry completely.
Replace the outlet covers with the screws.
Notes
Tip: If you get bubbles between your fabric and plates, a brayer is helpful for ironing them out.
---
Check out additional Mod Podged switch plates here. We also have a complete tutorial for making your own decorative light switch covers. Just click on the image below!