Learn how to make resin jewelry using a kit as well as dried, pressed flowers! You can make the most beautiful gifts with this DIY tutorial.
Skills Required: Advanced Beginner. I recommend having some experience with resin if you're going to play with colors or mixing. At least try one sample project or piece before attempting a final piece.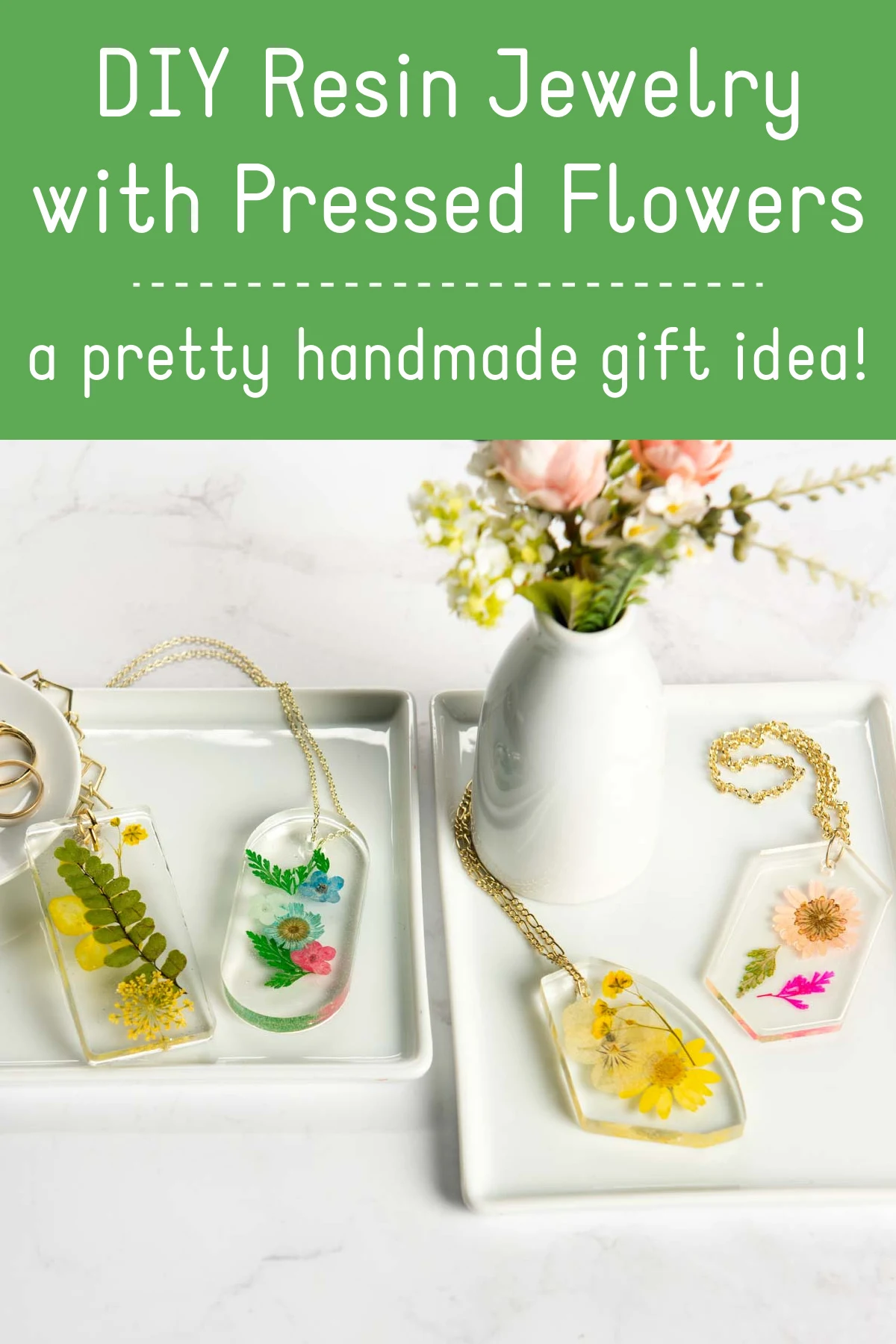 Do you know there are five times more internet searches for "dried flower crafts" this year than there were five years ago? Of course you don't . . . but I looked it up, and it's true.
The reason, as far as I'm concerned, is because dried flowers are timeless. And you know what else is timeless? Jewelry. And when you combine the two? You can make some beautiful (and timeless!) resin jewelry.
And that's what I'm going to show you today!
By the end you'll be making necklaces, earrings, bracelets, rings, hair accessories, pendants, and much more with epoxy resin. People love this type of jewelry because it's pretty, lightweight, and great for selling or gifting. Add the flowers and you'll have some classic pieces you'll always wear.
Making Epoxy Resin Jewelry
If you're a regular crafter, I think you'll find it's pretty simple to use resin to make jewelry – easier than you might think. Before we jump into the project, I want to talk a bit about the process and go over some FAQs. I'm hoping these help you so that your project turns out great the first time!
Is resin a good material for jewelry?
Yes, it's a great material for jewelry because it dries crystal clear and is very durable. Also resin is easy to use compared to some other materials you could use (like metalworking, for example).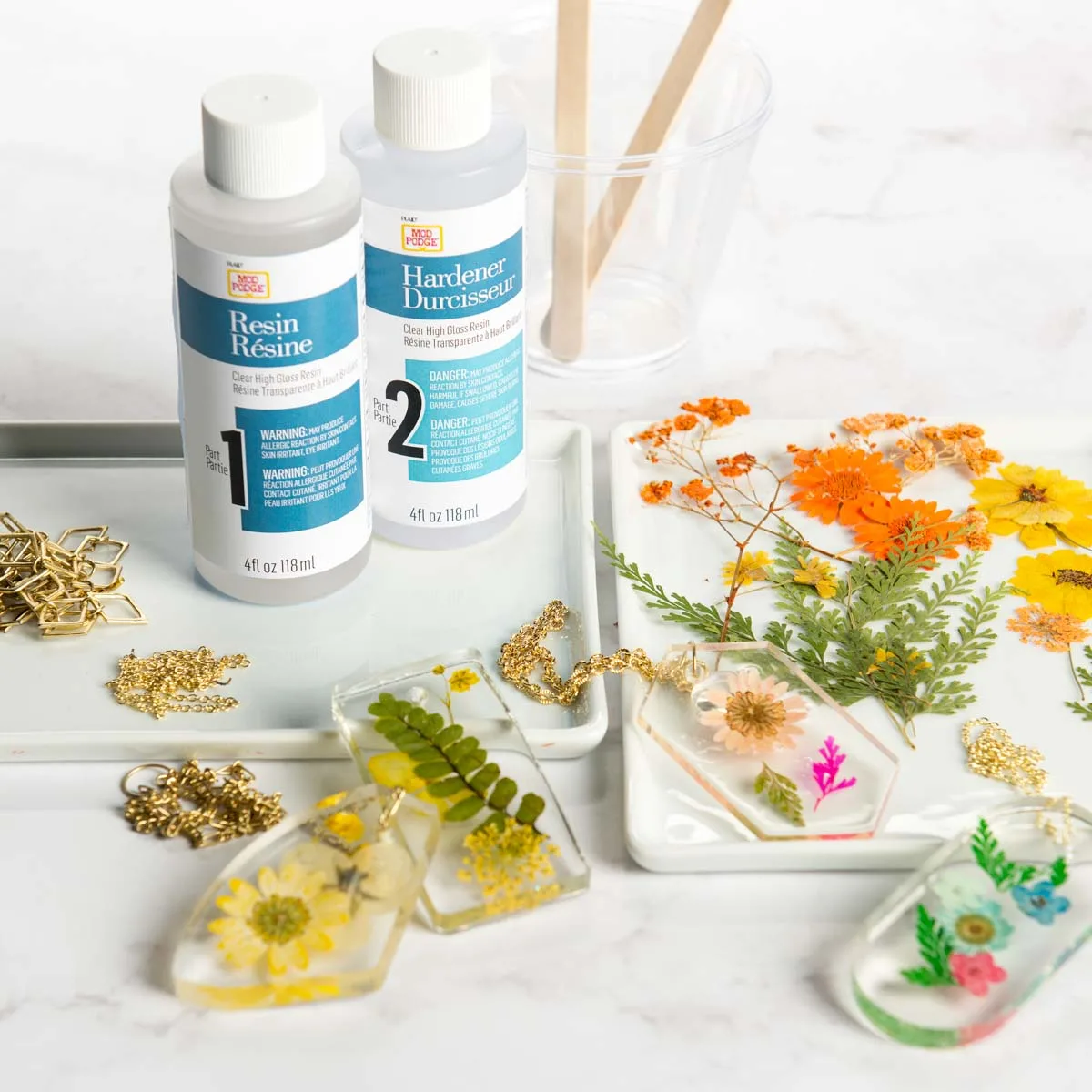 Is resin jewelry expensive to make?
In the crafting world, yes, resin is more expensive than other supplies. You will also need to buy casting molds or bezels, and the jump rings and chain.
An 8 oz. two part epoxy resin kit is usually around $20, but you can usually make around four to eight pieces of jewelry with one kit. Sometimes more! It's worth it if you intend to make several pieces (to sell or gift) or do with a group and divide up the cost.
Does resin jewelry break easily?
No, it's very durable. But that doesn't mean it can't break at all. You'll want to be careful as you would with any nice piece of jewelry . . . especially with smaller edges or details.
The bigger concern is scratching – resin can scratch (but not easily). If it does, and it's not too deep, try wet sanding it. You can use 400 grit sandpaper, then 600, 800, 1000, and 1500 . . . until it's smooth.
You might need to apply polishing compound if it's not crystal clear. Which is not cheap! You might want to have some compound on hand if you're selling your pieces. But otherwise, try to avoid scratching if possible.
Is resin jewelry toxic?
In liquid form the resin components can be toxic, because some people are sensitive to the fumes. That is why I have safety equipment listed in the supplies. Having said that, when the jewelry is made and fully cured, it is safe and not toxic.
What type of resin do you use to make jewelry?
You'll want to use clear epoxy resin. Plaid Crafts has Mod Podge Resin, and I find it really easy to use. It has a superior lightfastness quality and dries to a hard, clear gloss finish that the leading products do not have. MP Resin is also FDA certified food safe, has low VOCs, and is made in the USA.
But it's up to you! The craft stores have quite a few brands, so be sure to read the packaging to find out what is best for your needs. I don't like buying it online if it's not made in the USA, personally.
---
Are you ready to dive into the project? I'm going to show you how to make a dried flower resin pendant, and you'll use this method for other pieces as well. Here we go!
Gather These Supplies
Pressed Flowers
Respirator
Gloves
Cups
Craft Sticks
Large Jump Ring
Necklace Chain
Torch or Lighter
Jewelry Pliers
You're going to make this resin pendant in four simple steps. There's a bit of time involved for drying and curing so allow yourself a 24-hour period to complete. There's a video in the post that shows you how to do it as well!
Mix the Resin
Mix your clear casting resin according to package instructions. Typically it's a 1:1 ratio of resin to hardener. You'll use crafting sticks to be sure and scrape the sides and mix thoroughly.
Pour Into Molds
Fill the pendant mold(s) of your choice with the resin, approximately halfway up the side. Let it sit for one hour and use your torch or lighter to remove any bubbles. Tip: you can also exhale lightly on surface to remove bubbles as well.
Add the Flowers and More Resin
Press the flowers of your choice into the resin. It might help to use tweezers, as the flowers are delicate and you want to place them carefully.
Pour the remaining resin over the flower and fill up the mold. Remove any bubbles. Wait five minutes and check for bubbles again (and remove!). Let your piece dry for 24 hours and then remove from the mold.
Add the Findings
Use your jewelry pliers to add the jump ring and necklace chain to your necklace pendant. Your project is complete.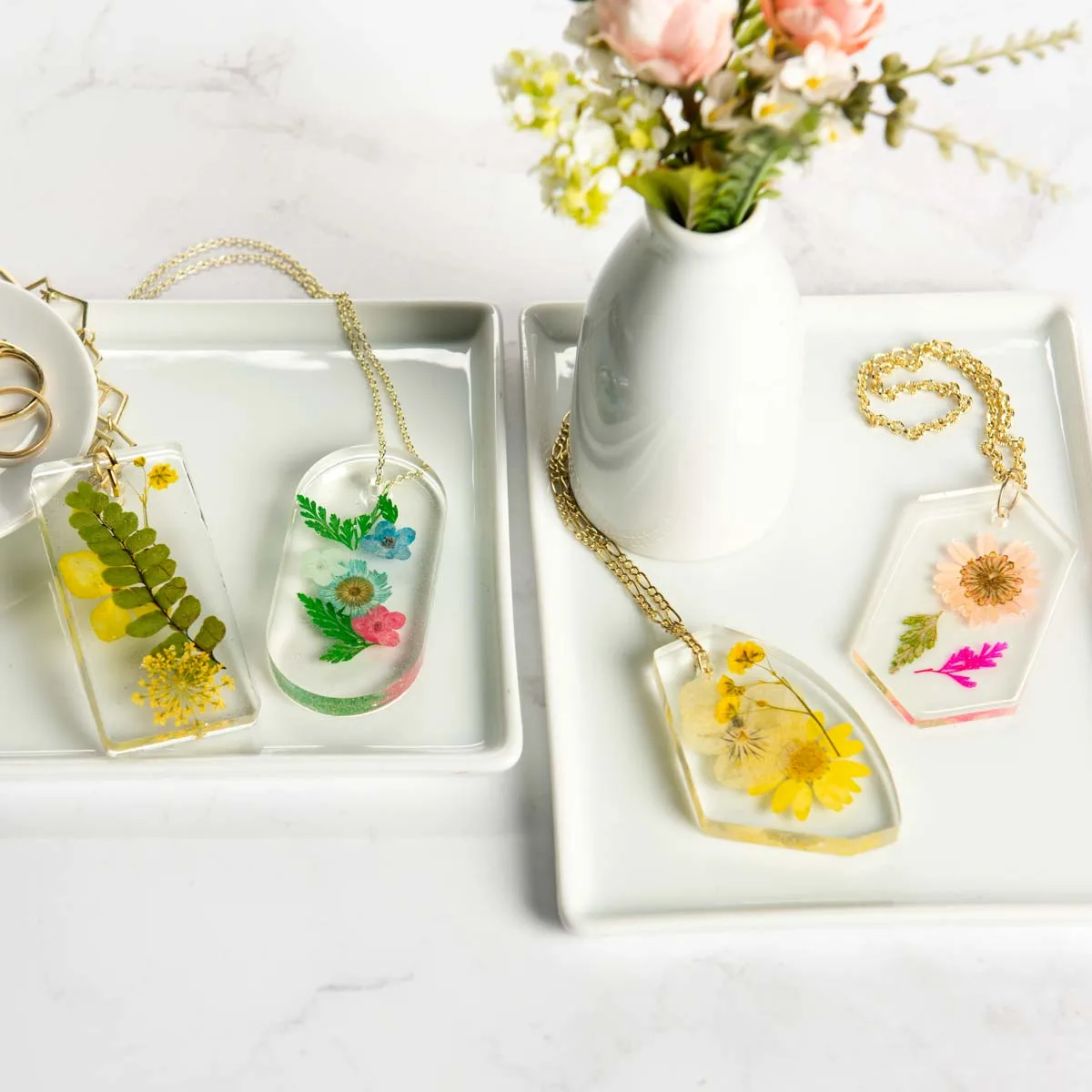 Get the printable how-to card below!
Yield: 1 pendant
Resin Jewelry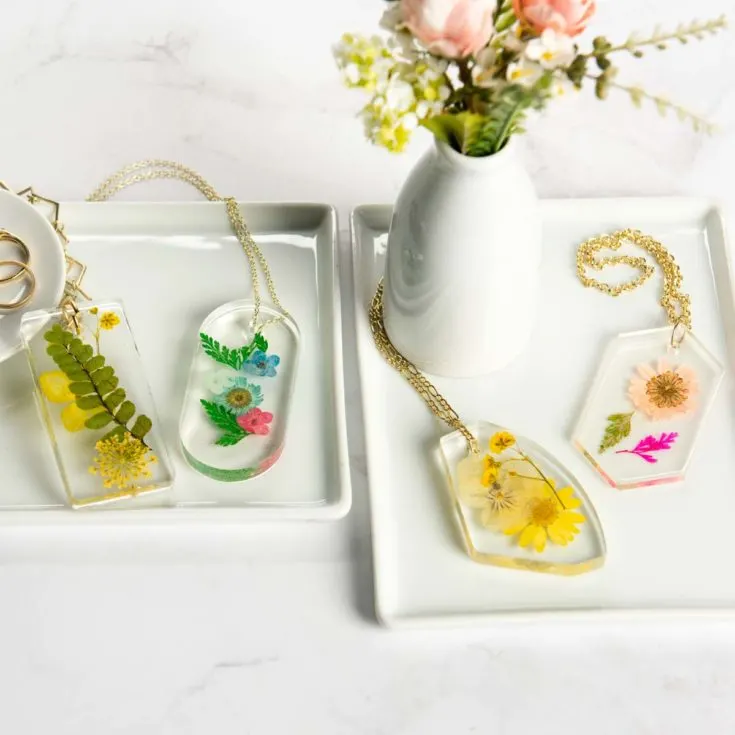 Learn how to make a resin necklace using this simple tutorial. This pendant is beautiful to make for selling or gifting!
Active Time
1 hour
30 minutes
Total Time
1 day
1 hour
45 minutes
Materials
Epoxy resin
Dried flowers
Cups
Craft sticks
Large jump ring
Necklace chain
Tools
Pendant molds
Respirator
Gloves
Torch
Jewelry pliers
Instructions
Mix clear resin according to package instructions and pour a thin layer into the mold. Allow it to sit for an hour. Use torch to remove any bubbles.
Press the flowers into the resin. Pour the remainder over the flower and fill up the mold. Use torch to remove any bubbles. Allow 24 hours to dry.
Add the jump ring and necklace chain to the pendant using the jewelry pliers.
---
If you enjoyed this jewelry making project, I hope you'll love these other posts too: