Make these DIY glitter resin coasters for home decor or gifts! These are unbelievably sparkly, plus they are waterproof and food safe.
Skills Required: Advanced Beginner. I recommend having some experience with resin if you're going to play with mixing glitter. At least try one sample project or piece before attempting a final piece.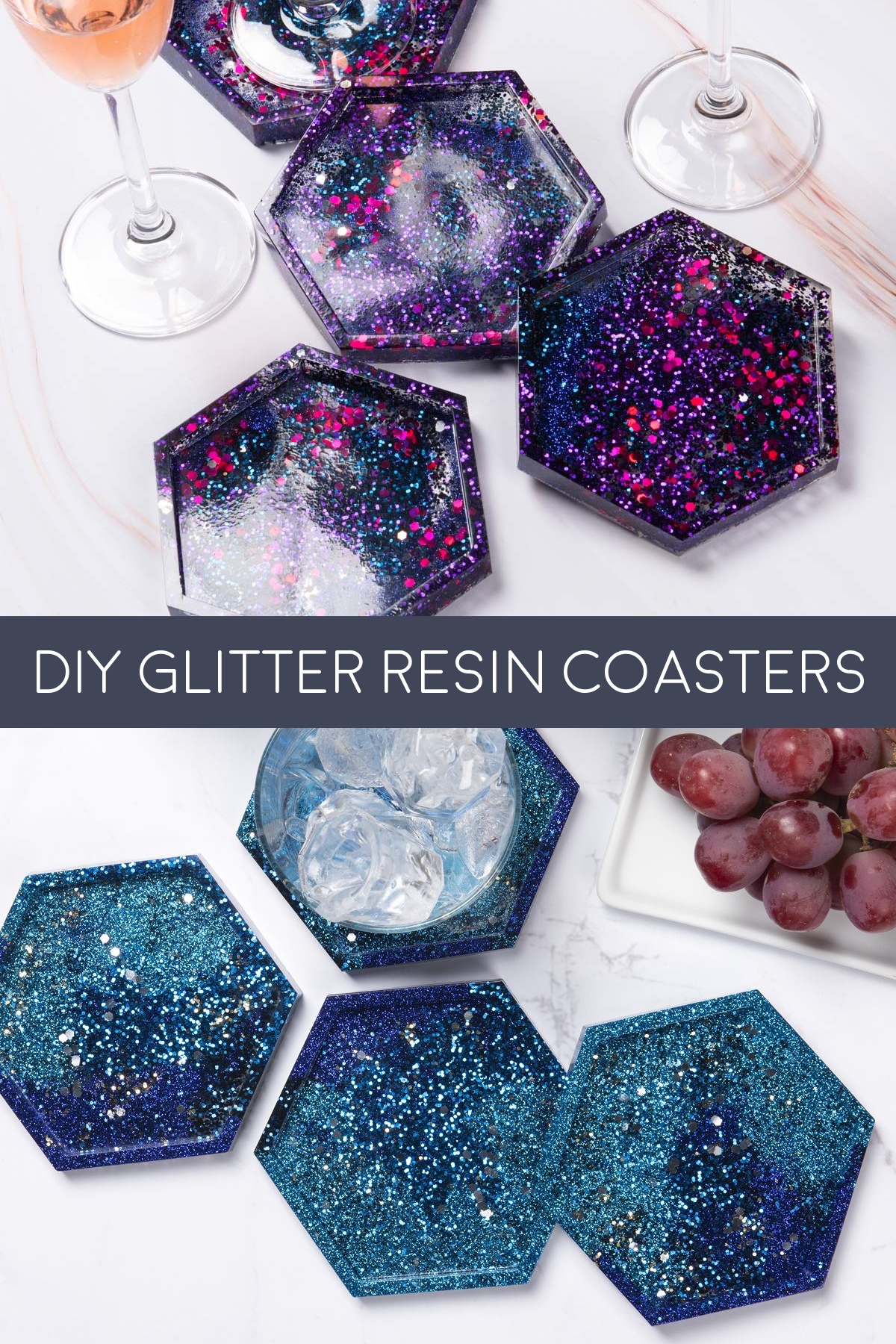 If there is something that we love doing around here, it's making DIY coasters. They're relatively simple (making them great for beginners) and also perfect for home decor, gifting, or selling.
Coasters are also great for special occasions! They add a bit of flair or a special touch to a party. If you haven't tried glitter coasters, we're about to take that idea and kick it up a notch:
glitter resin coasters.
I'm REALLY excited to share this idea with you. It's super cool. You're going to add it to your craft list, including handmade gifts for the holidays. Trust me on this one (also, they are super customizable!).
These coasters are made in four simple steps. You're going to mix the epoxy resin, then add in the glitter. Then you're going to pour into the molds and remove bubbles. That's it! When it comes to resin crafts, these are super easy.
Note: these coasters are completely waterproof and food safe because they use Mod Podge Resin. Make sure to check the box of whatever product you buy to verify these details.
Before we dive into the crafts, here are a few FAQs about this project! I highly suggest reading these, especially if you've never worked with these materials before.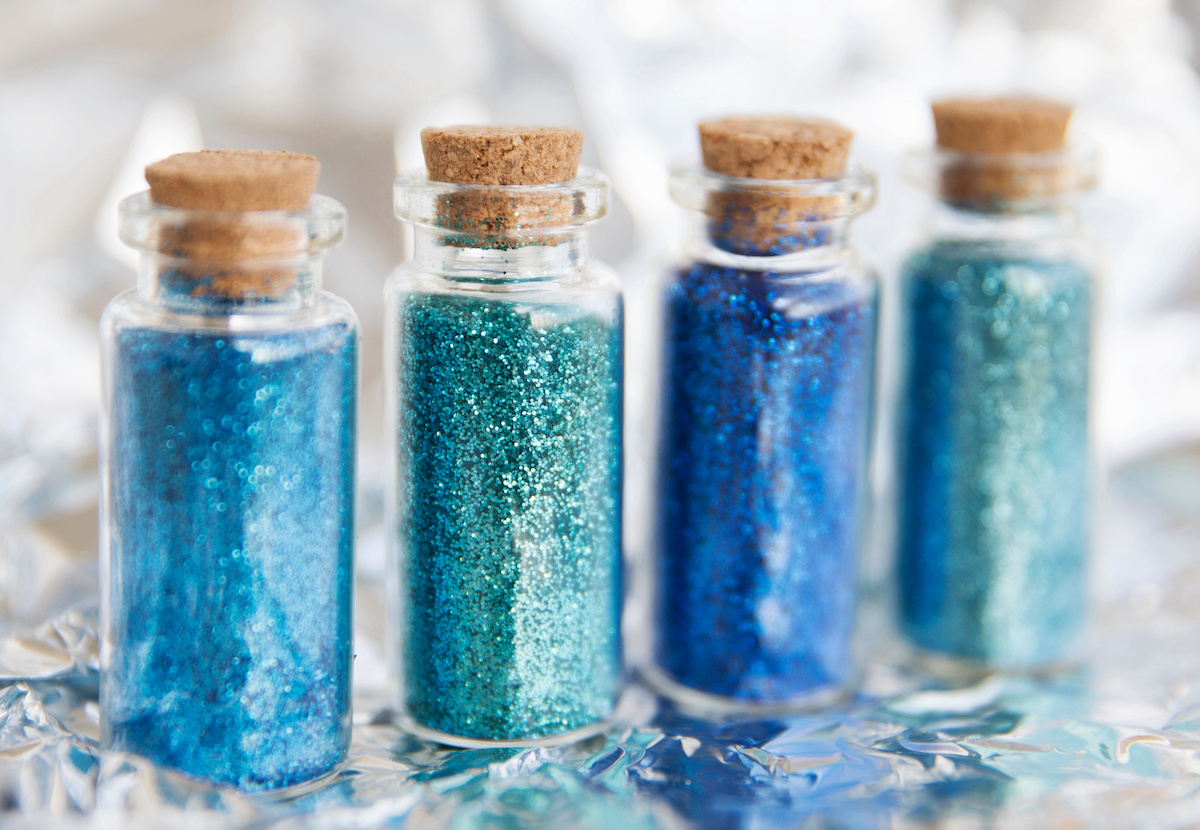 Can you put glitter in resin?
Absolutely! You can use fine, regular, or chunky glitter in epoxy resin. You can also mix sizes. You'll want to use a high quality glitter in your project so that none of the color bleeds off.
If you want to get technical, polyester glitter is better than plastic in terms of quality. Polyester glitter is lighter too, and doesn't sink as much (see next question).
Does glitter sink in resin?
It can. Extra fine glitter sinks less than chunky glitter because it weighs less. Also plastic glitter (inexpensive) weighs more than polyester. I would invest in high quality polyester glitter for this project.
There are two options if your glitter sinks. First, you can add more glitter, dispersing it more through the resin. OR you can apply a first layer of resin, THEN the glitter in a second layer (see two questions down).
Can a resin project be decorated with paint?
Once resin has been completely cured, it can be decorated or embellished with paint, markers, ink, and more. Once decorated, it is recommended that the surface be protected by pouring a thin top coat of clear resin over the decorated surface.
Can I apply resin in layers, and how long should I wait between each layer?
Yes, resin can be applied to a surface in layers. The second layer can be applied once the first layer has set. This could be one to two hours, depending upon the humidity level and temperature in the room.
How can I thin out the resin mixture?
Place both parts into a warm water bath of 80°F, but be aware that the working time will be less than 20-30 minutes.
---
Are you ready to get a tutorial on how to make resin glitter coasters? Check it out below!
Yield: 1 set of coasters
Glitter Resin Coasters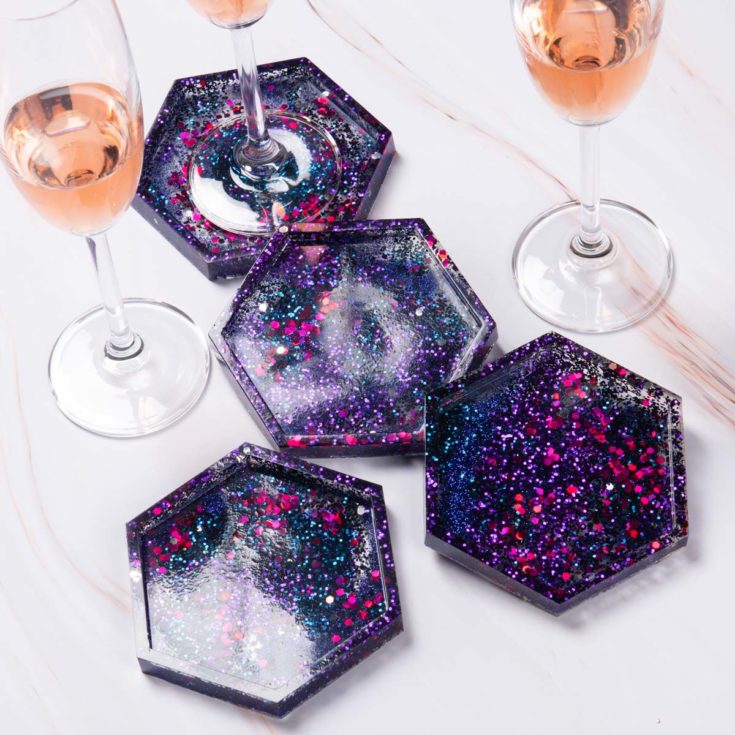 Learn how to make glitter resin coasters perfect for home decor or gifting. These are easy to make!
Total Time
1 day
45 minutes
Materials
Clear epoxy resin - 8 oz.
Silicone coaster molds
Cups for pouring and mixing
Craft sticks or other stir sticks
Drop cloth
Clear bumper feet
Glitter
Tools
Gloves
Respirator
Timer
Butane torch
Instructions
For one coaster, mix 2 oz. of product in a 1:1 ratio of hardener and resin. Mix for three minutes, scraping the sides and bottom of the cup.
Split evenly into three cups. In one cup, add a pinch of a blue glitter; in the second, add a pinch of a different blue glitter; in the third, a pinch of another blue glitter.
Stir each cup slowly until glitter is completely combined with the epoxy resin.
Pour each mixture into the coaster mold slowly, in a swirling motion, only pouring a little of each color at a time. Layer the colors and use a craft stick to gently swirl the colors together.
Let set for two minutes.
Remove any bubbles carefully using a butane torch. Leave for five more minutes and repeat.
Let dry for 24 hours and remove the coaster from the mold. Add clear bumper feet to the bottom of each coaster.
Notes
To do all four resin coasters at once, go ahead and mix 8 oz. of product. This would be if you have four silicone molds.
---
If you enjoyed this resin craft tutorial, please check out these other posts I think you are going to like: