You're going to love these easy Halloween crafts! These Halloween projects are fun, unique, and simple enough for adults or children. There are lots of quick Halloween craft ideas in this roundup as well!
Don't forget to scroll down to the bottom of the post to get a video that shows you how to do the glitter glasses in this roundup. You're going to want to adapt that idea to several holidays.
I'm not sure if you heard my squeal in your house, but I'm so excited to share this collection with you. Halloween is my most favorite holiday for a variety of reasons. I love the dress up, I love the candy, and I love the fact that there are minimal obligations. It's just so much fun.
(see all of our holiday crafts here!)
DIY Halloween Crafts
Before I introduce you to the Halloween projects, I want to give you a few tips for supplies – specifically paints and Mod Podge you should consider to get the best results. This is what I use after years of trial and error. These are my favorites!
You might be wondering which paint to use in your Halloween projects, because there are a lot of choices! Here's what I use, because I like to get the best coverage and bang for my buck possible:
Regular Halloween crafts (wood, paper) – FolkArt or FolkArt Multi Surface
Glass – FolkArt Multi Surface or FolkArt Enamels, oil based Sharpies for writing
Outdoor – FolkArt Multi Surface
Halloween kids crafts – Apple Barrel (it's a little cheaper than FolkArt and works great!)
All of these paints are waterbase, safe for kids, and you can Mod Podge over the top of them (or glitter, etc). They are made in the USA too which is important to me for paint.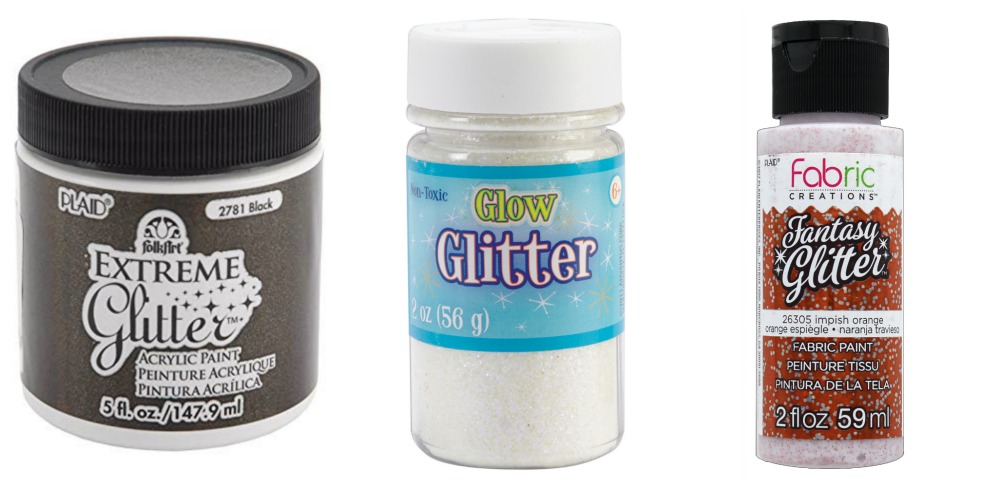 Special Supplies for Halloween Crafts
In addition to regular paints I listed above, here are some other Halloween supplies I use regularly and can vouch for:
FolkArt 3-D – I love the dimensional effects you can get with this paint, and it has a tip applicator
Fabric Creations – this paint is perfect for Halloween fashion crafts, and there are glitter formulas
FolkArt Extreme Glitter – I've used this formula for years. It's great over paint when you aren't decoupaging anything; it has great coverage and a colored base
Color Shift Paint – I wrote an entire article about this paint because I'm so obsessed with it. It gives you a nice metallic color shift on 3D objects (hello pumpkins and skeletons!)
Glow in the dark glitter or pigment powder – because, obvious reasons! I sprinkle it on everything
Mod Podge to Use for Halloween Projects
You'll find that the Halloween craft ideas in this article use a variety of Mod Podge formulas . . . if you click on each title, the tutorial will show you what was used. Having said that, use our formula guide to find the product that meets your needs, and see what the formulas look like here.
My personal favorites for Halloween are the Mod Podge Glow in the Dark as well as the Extreme Glitter Mod Podge (which looks FANTASTIC over black or purple!). I feel like Halloween is a time to let it all hang out, so why not?
Are you ready to get creative? Enjoy these 20 Mod Podge Halloween crafts – they range from easy to moderate, and there are a lot of options from skulls to pumpkins to vintage decor. Happy Halloween and have fun decoupaging!
Halloween Craft Ideas with Mod Podge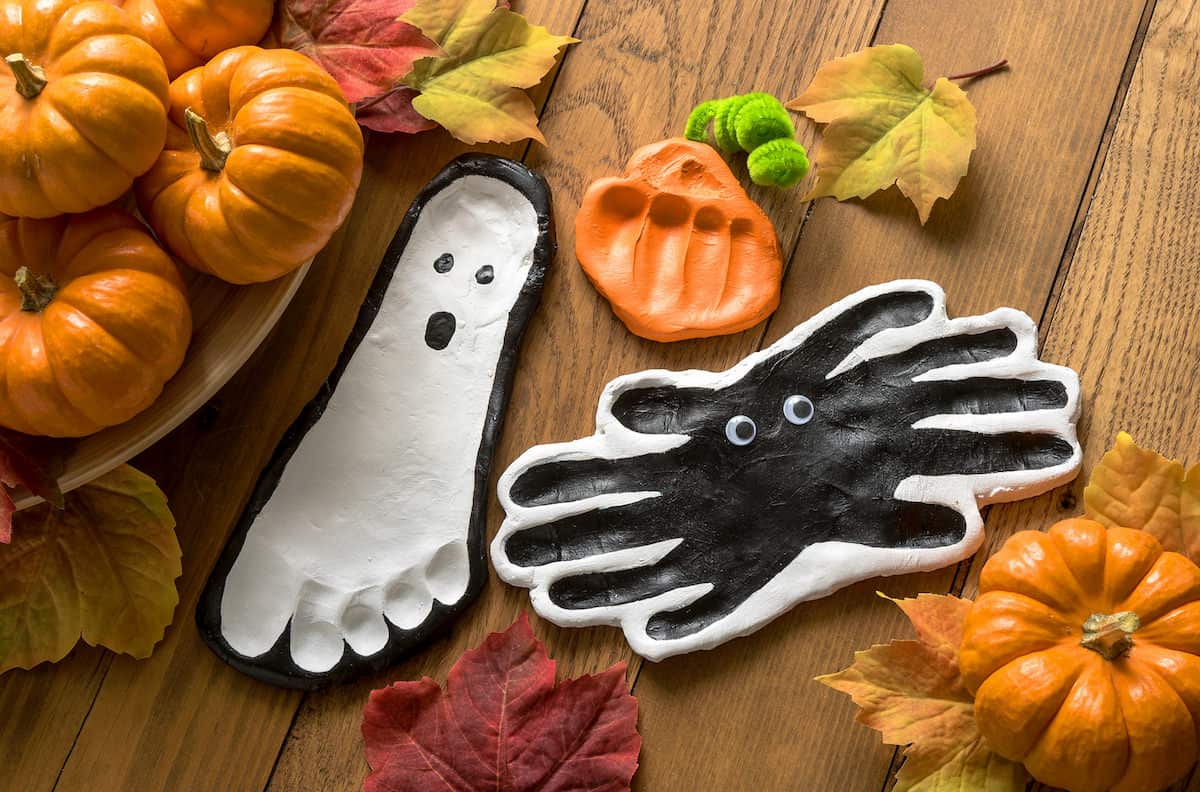 These handprint crafts are so fun for both adults and children to make together! Start making them with toddlers; they are perfect holiday memories to create year after year.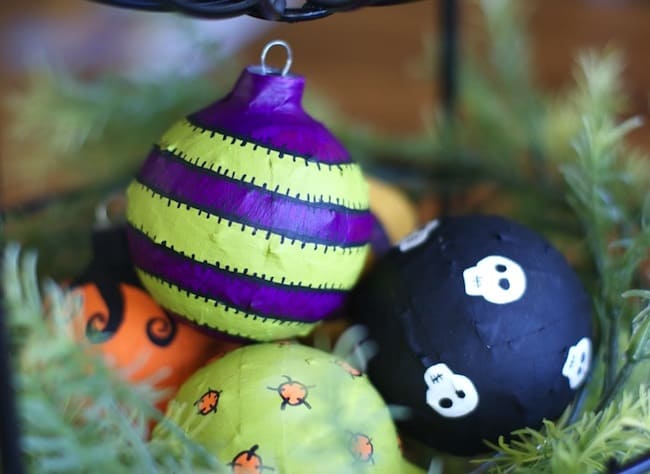 Turn old Christmas ornaments into unique Halloween ornaments! Wouldn't these be fun to decorate a black tree? This is such a fun and budget friendly Halloween craft.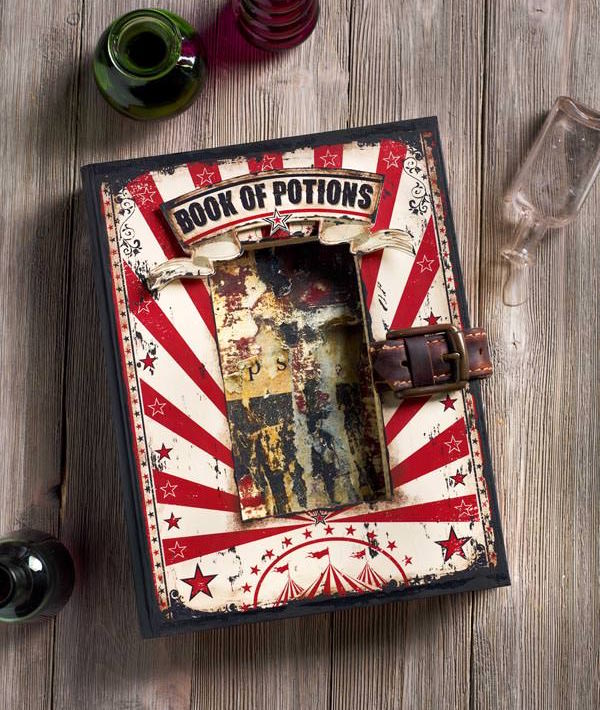 This mysterious book of potions is no mystery to make using Mod Podge and quirky paper print-outs! If you need an old book for this project, the library is perfect – they always have some that they are planning on throwing away.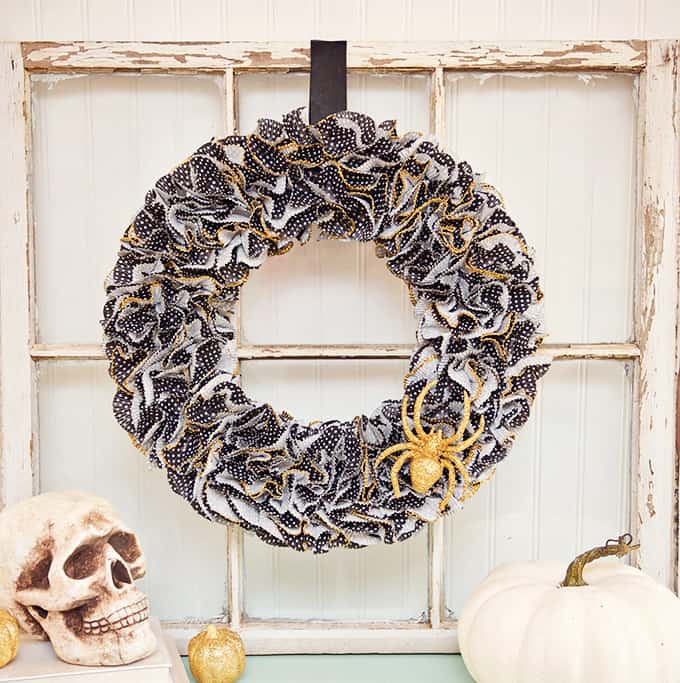 You won't believe how easy it is to make a Halloween wreath with cupcake liners. It only takes four simple steps to achieve success.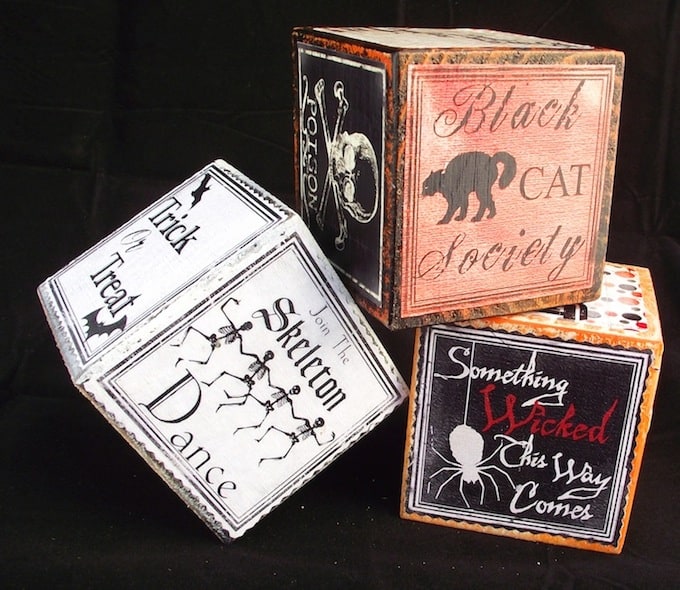 These vintage style Halloween blocks are perfect for farmhouse or rustic style holiday decor. They are so easy to make with wood scraps – and this post highlights resources for vintage graphics online.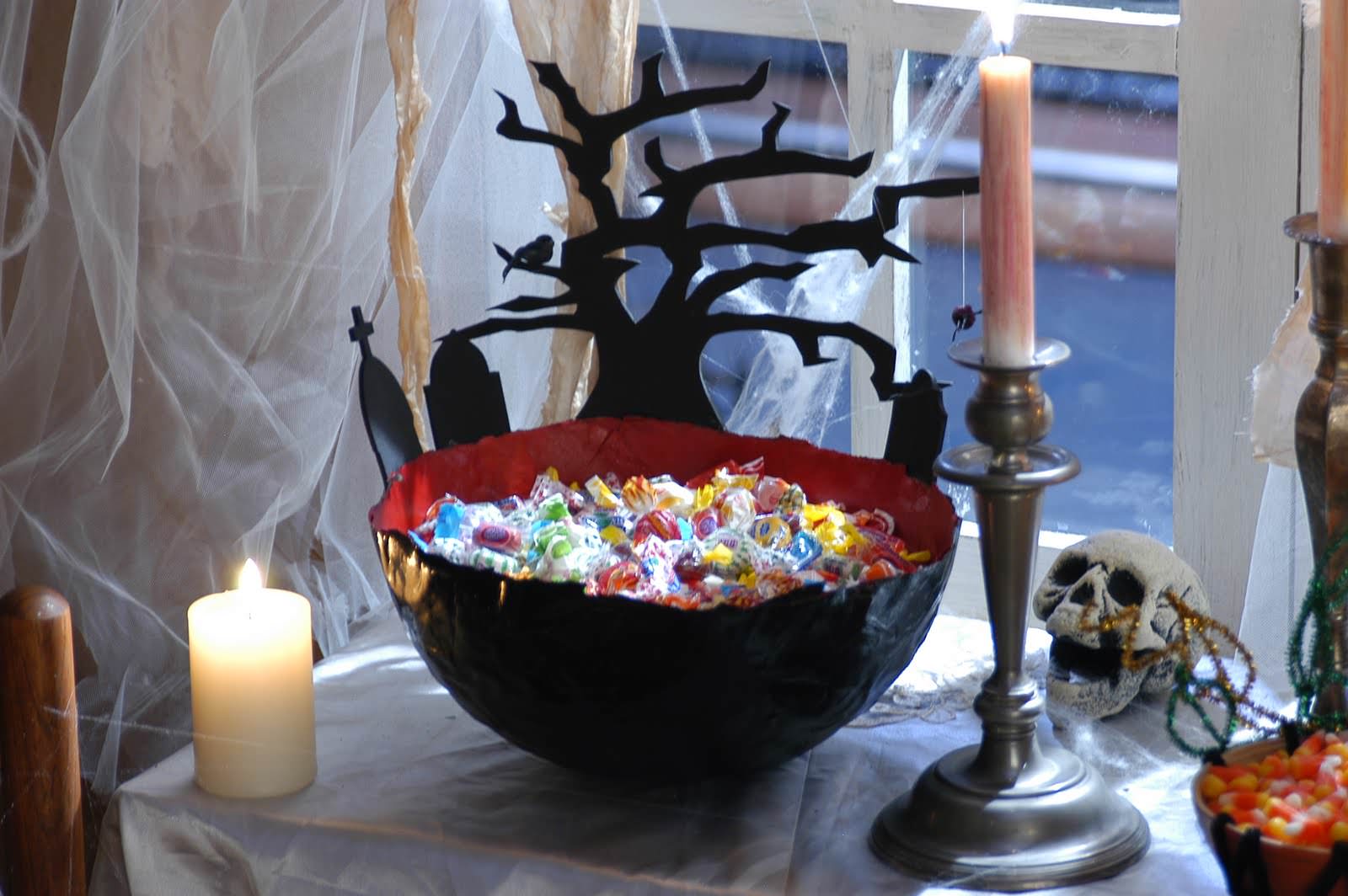 Did you know that you can make a bowl out of grocery bags? This Halloween candy bowl is one of my favorite Halloween projects! It's easy enough for the entire family. Get a free template for the silhouette tree and graveyard pieces at the blog post.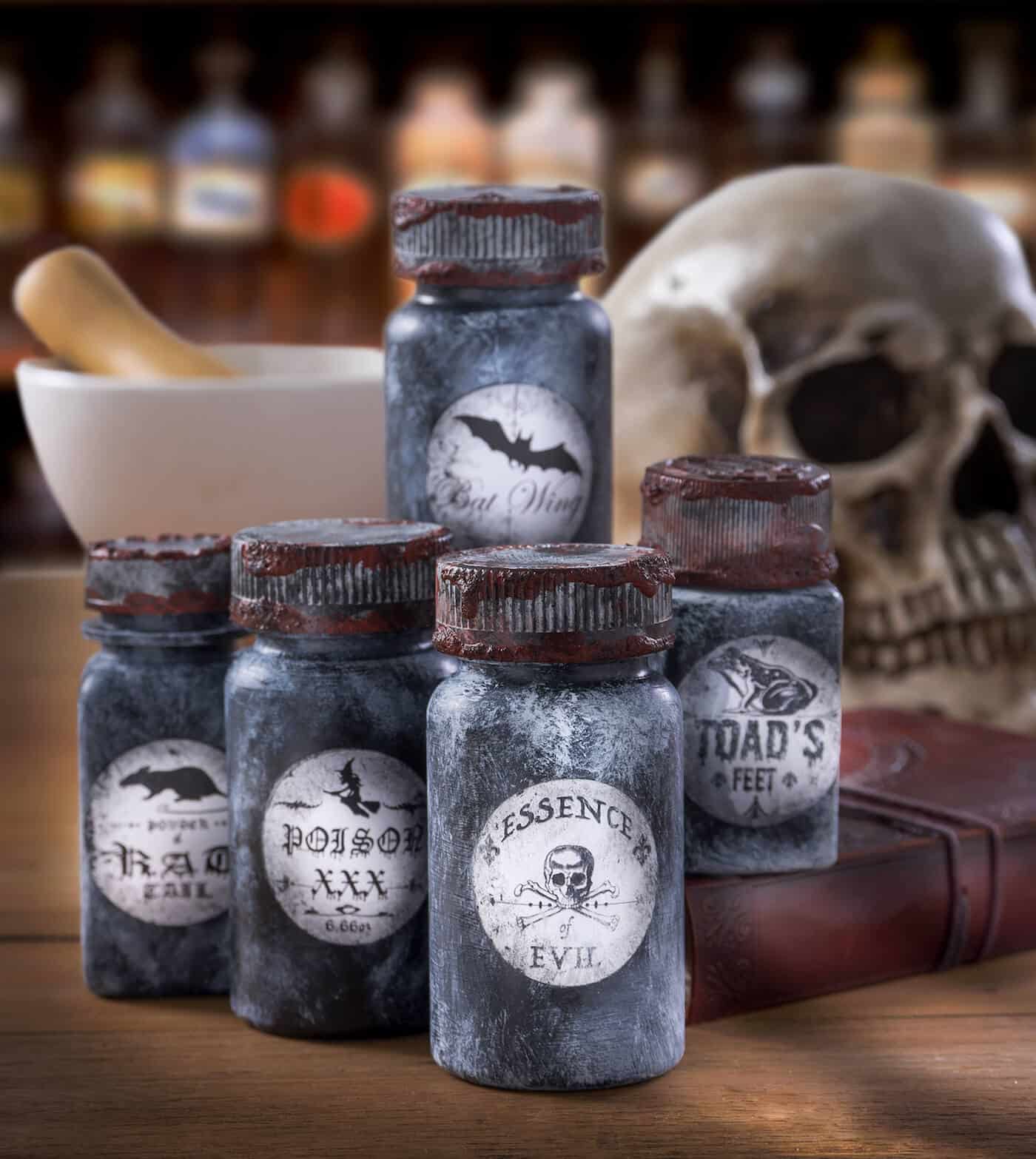 Learn how to make potion bottles out of old pill containers! This is one of those Halloween craft ideas that can be free or nearly free if you have a little paint on hand already. The free labels are provided in the post.
8. Glowing Mason Jar Lanterns
Save your jars from the recycle bin and make these Halloween lanterns! Use various colors of tissue paper with Mod Podge . . . and Emily provides a template for the faces (or you can paint them on).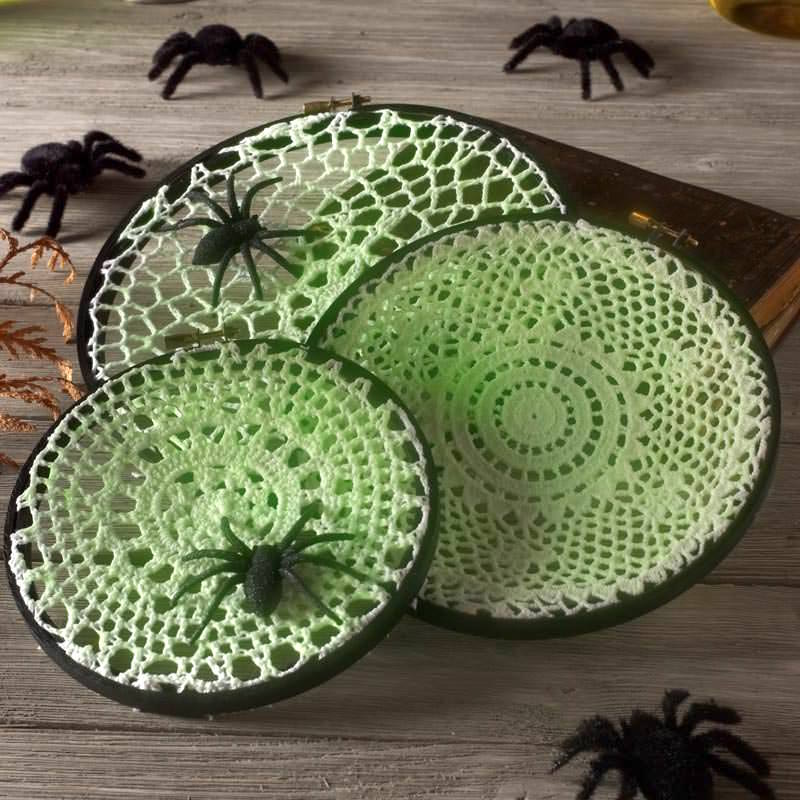 Transform a fun doily into a creepy spider web with Mod Podge Glow-in-the-Dark formula and embroidery hoops.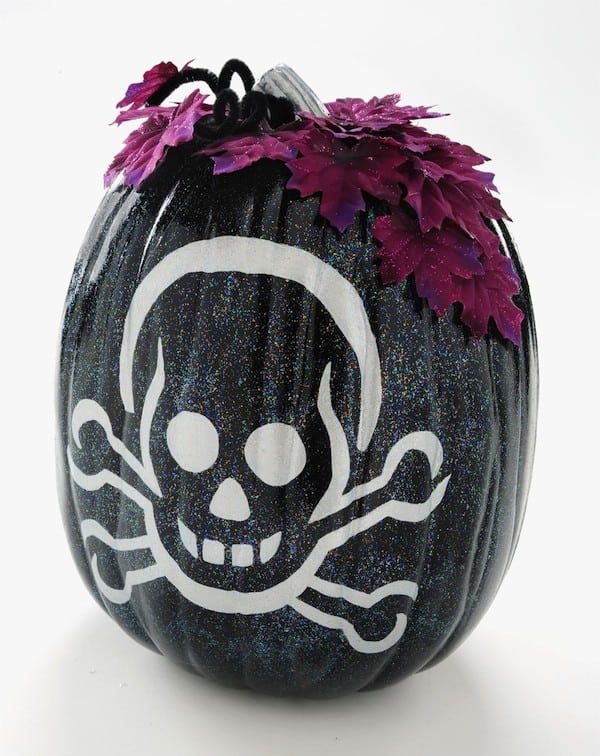 It's really easy to paint a pumpkin with any Halloween symbol you like using the technique in this post! Then you'll add Mod Podge Sparkle on top to complete the look.
Halloween crafts don't have to be complicated to be pretty! Add some gothic romance to your Halloween decor with Mod Podge Stiffy and black lace around flameless candles.
Learn how to make a Halloween centerpiece in only four simple steps! You can wrap just about any container and create a fun candle display for a party.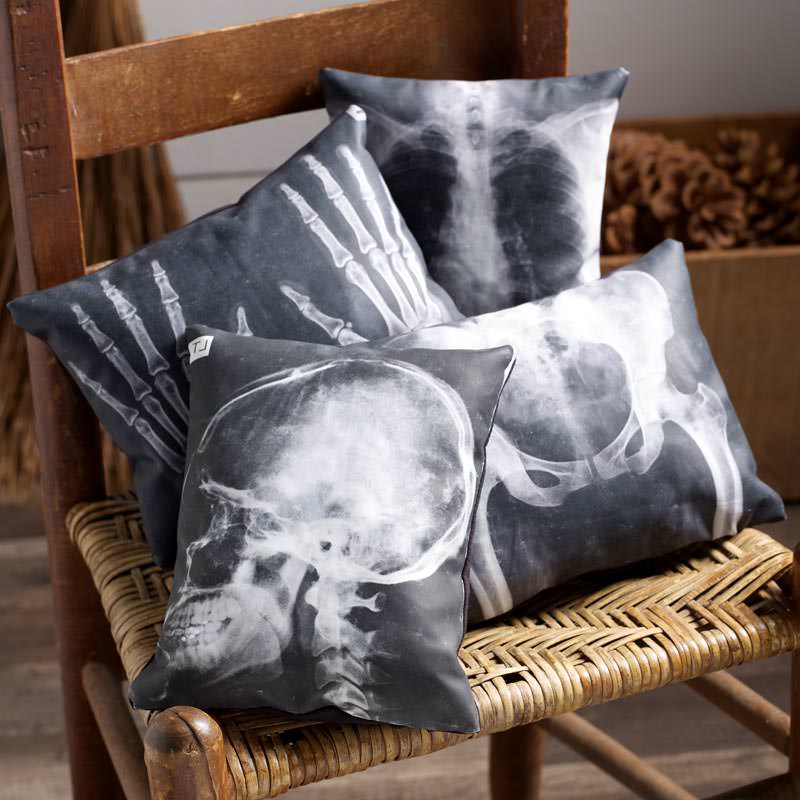 Use Mod Podge photo transfer formula to create some funky skeletal pillows that add gothic flair to your Halloween decor.
You'll need some cheesecloth for these mummy luminaries, but this is one of those Halloween crafts that the whole family can enjoy! Use inexpensive mason jars from the dollar store as your base.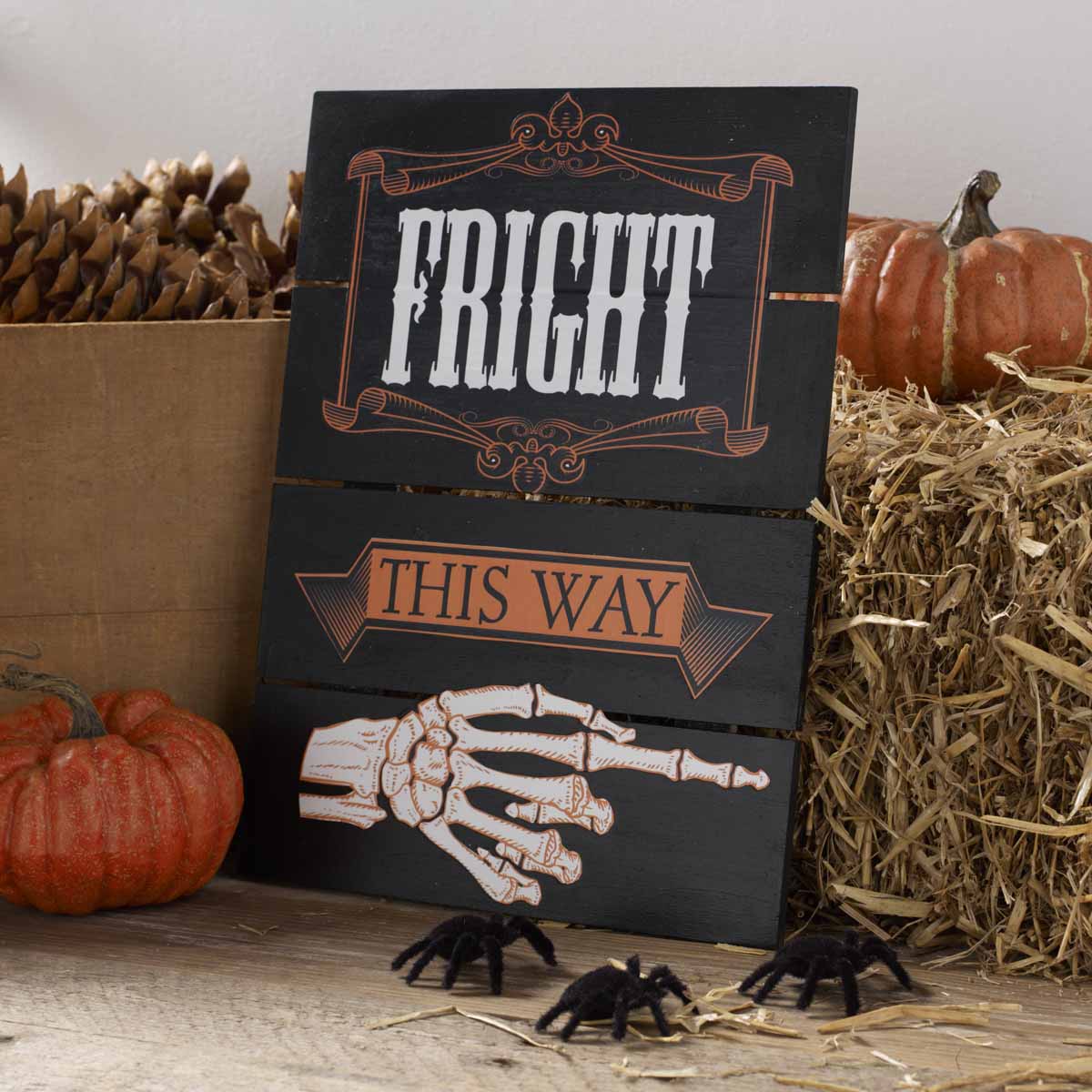 You can do this Halloween craft with one of those brand new craft store pallets (this one is 15 3/4″ x 11 3/4″), or you can refurbish a pallet that you find. Either way, this project is SUPER simple, especially because the artwork you see above is provided in the post for free. Simply enlarge it to the size you need.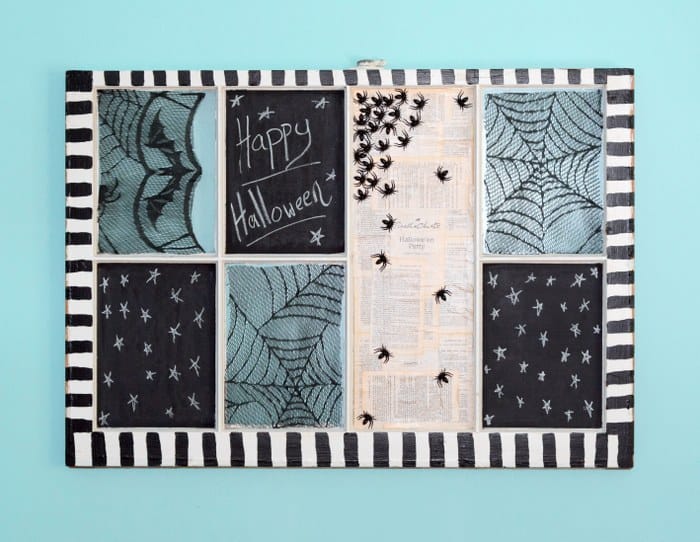 I can't decide if my favorite part of this Halloween window art is the book pages or the lace spiderweb table cloth! Either way, this project is so fun and whimsical.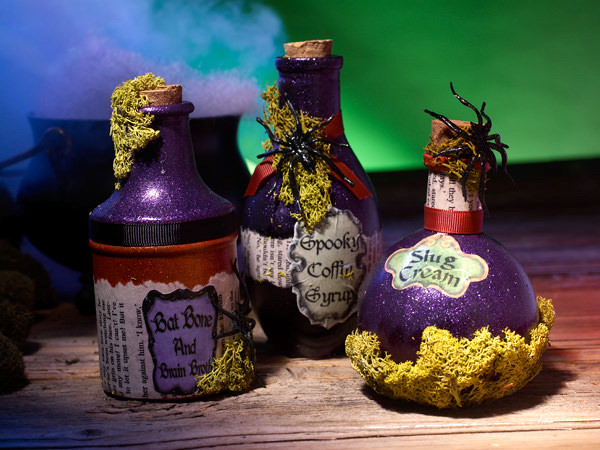 Project #7 showed you how to turn pill bottles into potion bottles – this project does it with recycled glass, book pages, and just a little more glitter! I'm loving the faux moss.
If you're looking for Halloween projects that can be adapted to other holidays, this is one of them. It's fun to make this canvas in Halloween colors, but I can imagine it adapted it to fall or Christmas as well.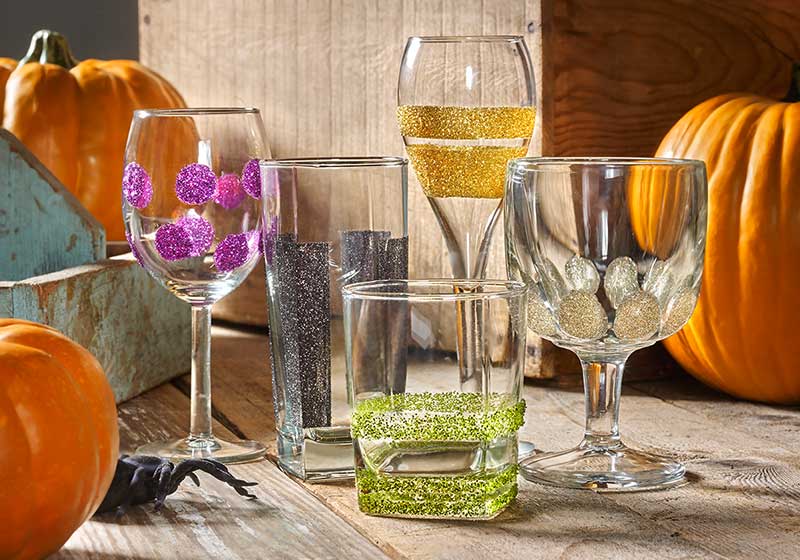 Dishwasher Safe Mod Podge is perfect for creating one-of-a-kind party glasses – along with Halloween colored glitter, of course.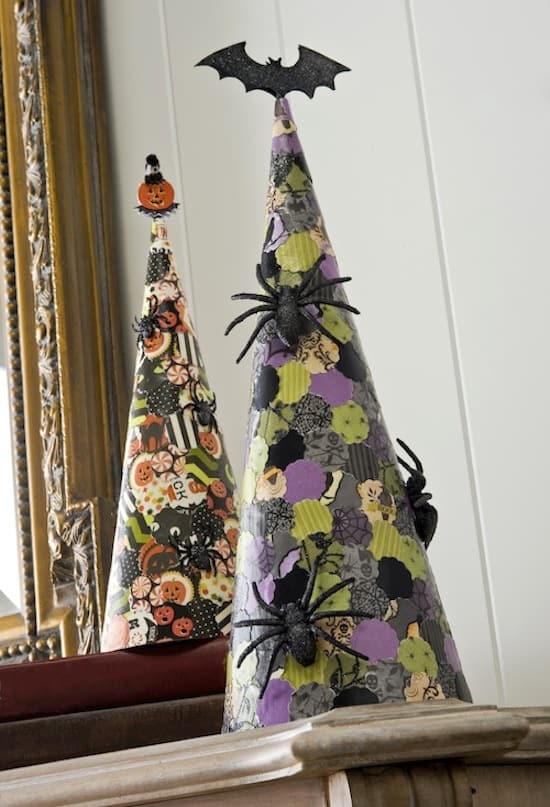 It's time for some Halloween crafts for the mantel, don't you think? That's where these paper cones come in! These would be perfect for something a little spooky, but you can make them any style you like depending on the paper you choose.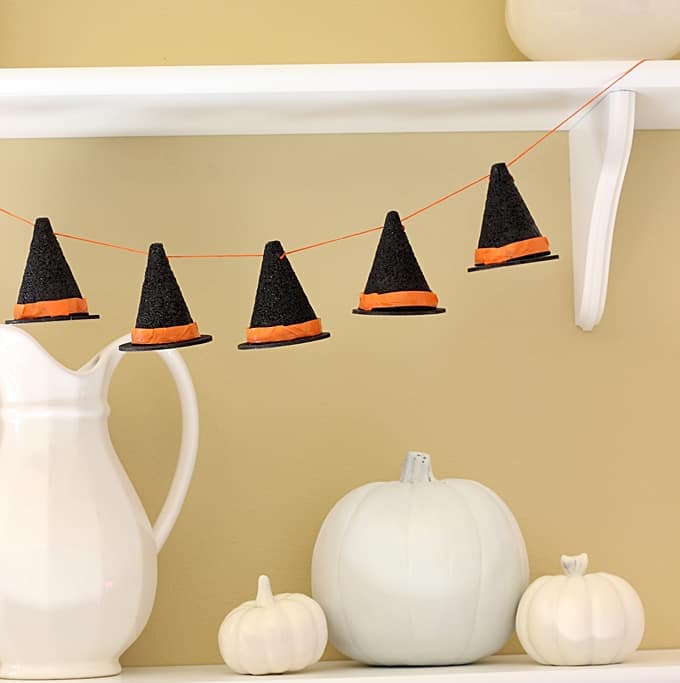 Use wood circles, foam cones, and paint to make the cutest little Halloween garland ever! It's made of little witch hats. Fun for kids too.
I love unique Halloween wall decor, especially when it involves glitter. I created this Halloween plaque with several items from my stash!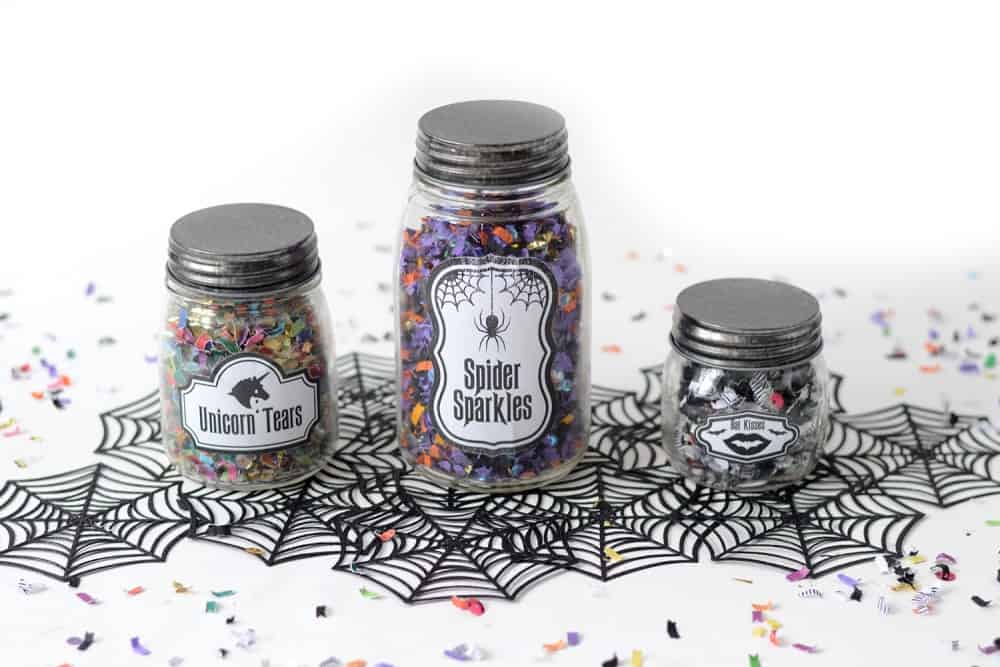 Halloween jars that glow in the dark make a perfect party favor for a holiday celebration (or spooky wedding). They make perfect Halloween party favors. Fill them with your favorite confetti!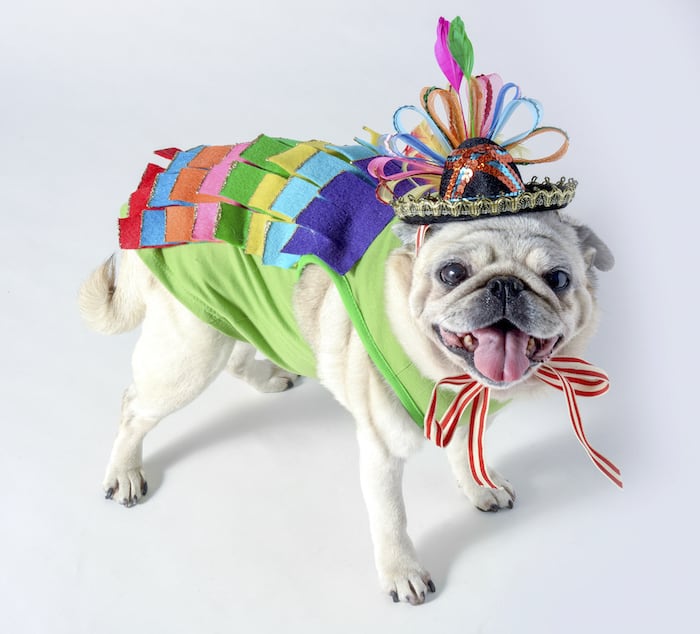 This piñata dog Halloween costume was so easy to create! I used simple supplies including rainbow felt with a doggy tee I already had. SO cute!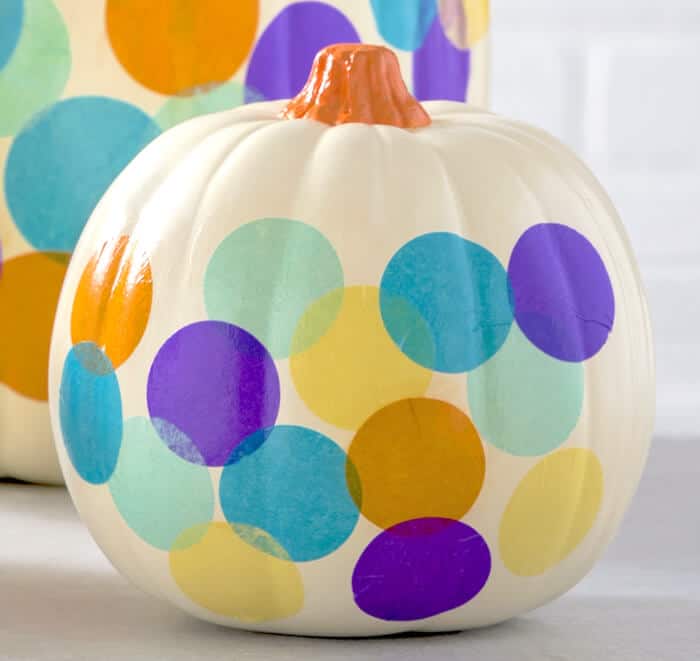 If you are looking for simple no carve pumpkin ideas, try this confetti option with Mod Podge. So easy even a kid could do it!
These monster themed Halloween napkin rings are fun for both adults and children to make! Perfect for a spooky soirée, holiday kids' craft, or other fun celebration.
This DIY Halloween decor is hilarious! It's so easy to put together this skeleton in candy corn display; you'll want to put this out every year.
Do you love Day of the Dead crafts? Use napkins to create these unique decorative luminaries! So fun for Halloween and beyond.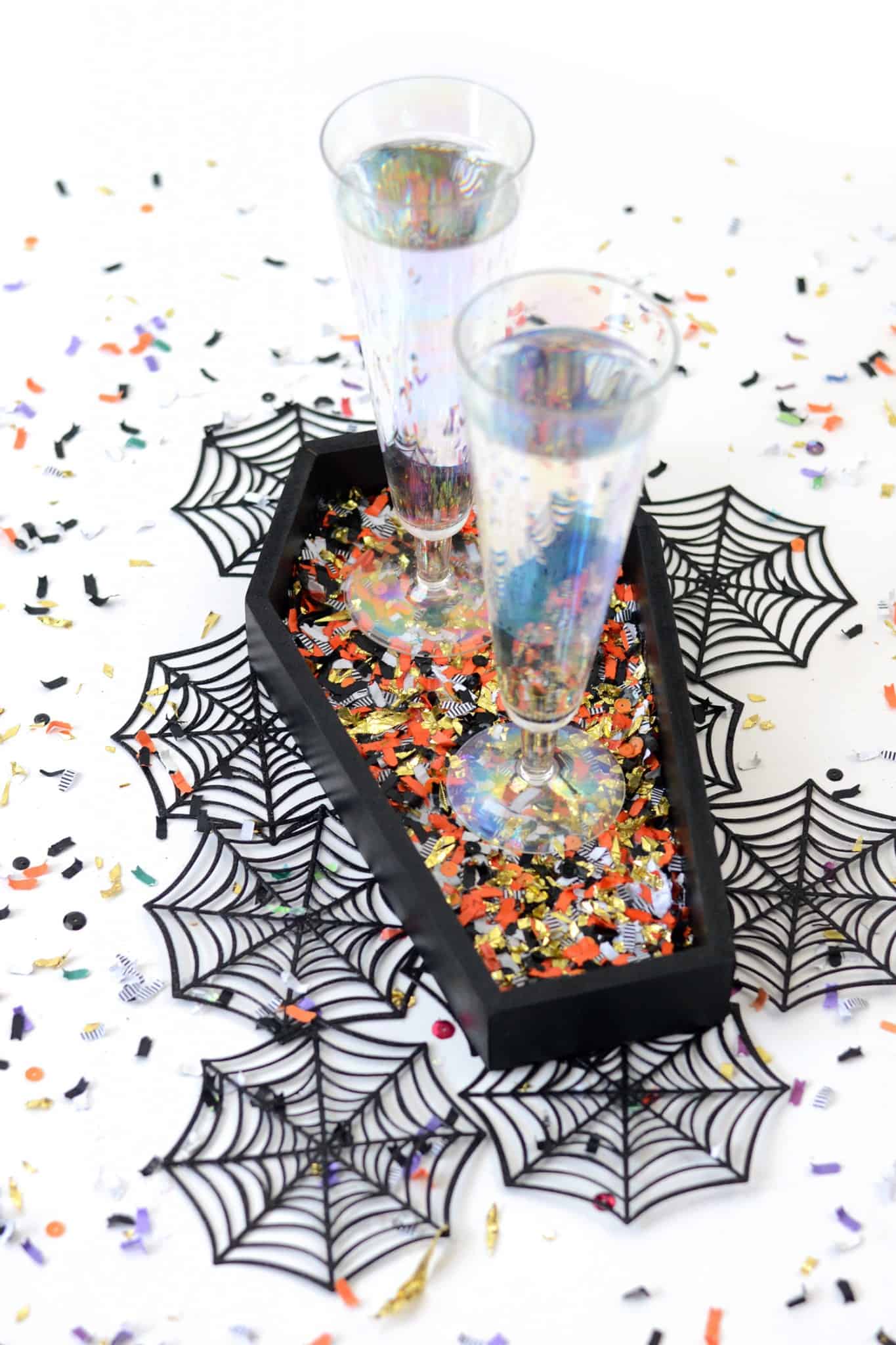 Spice up your Halloween table with this confetti coffin tray! It makes the perfect decoration for your next holiday soirée. And who doesn't love confetti?!
Use these unique Halloween gift tags to add to favor bags, candy, or even use as place cards for a holiday party! You can write on them, too.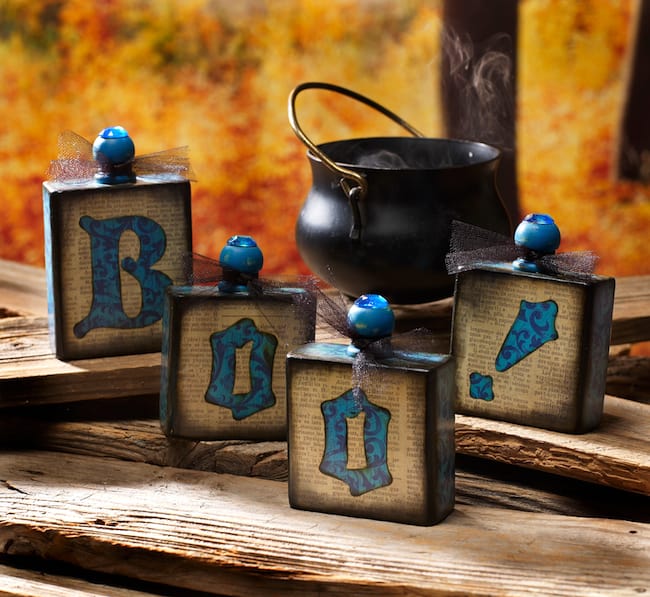 Use leftover scrap wood to make these fun Halloween blocks that look like potion bottles! You'll use scrapbook paper and Mod Podge to decorate.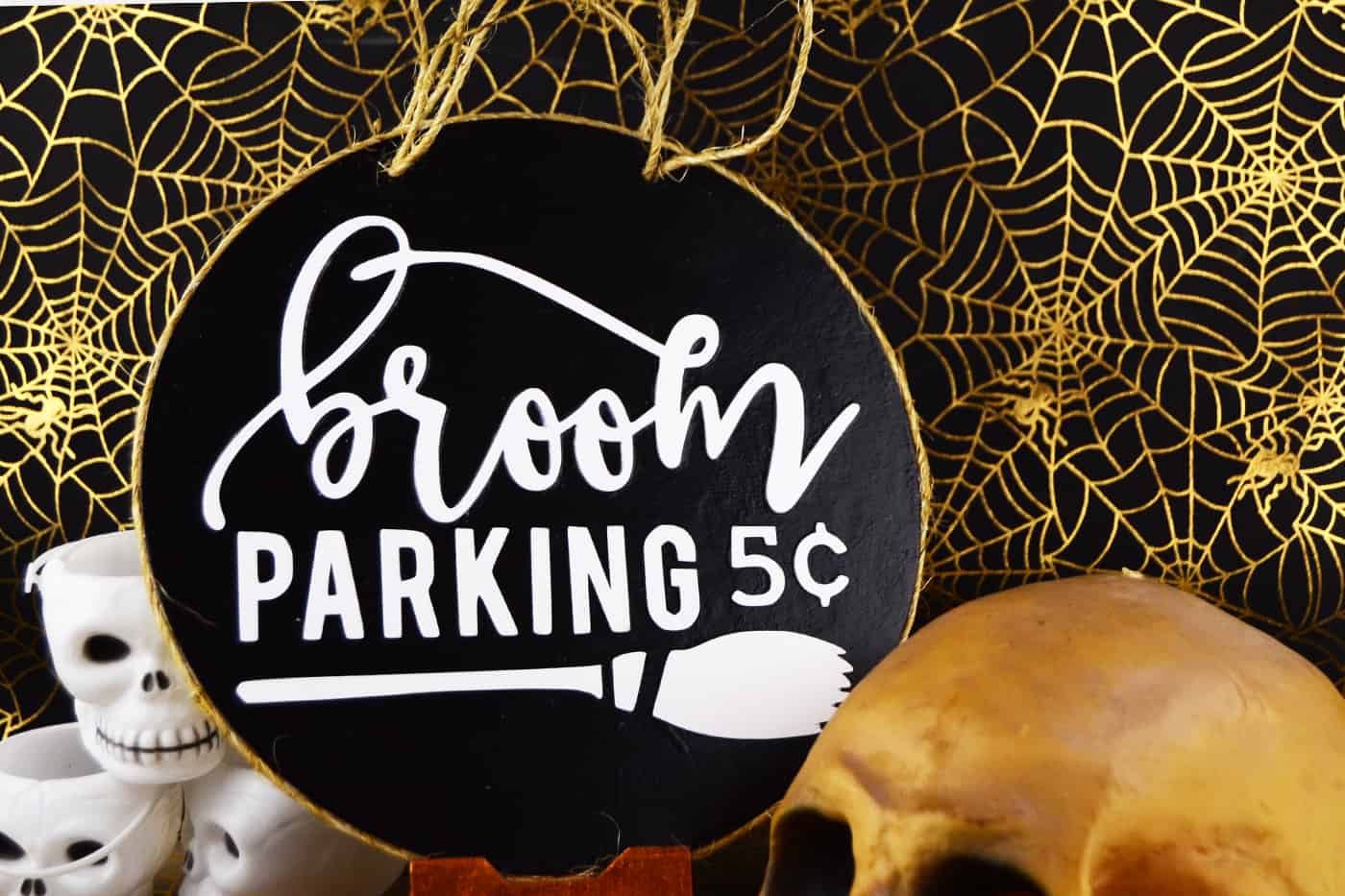 Learn how to make a "broom parking" Halloween sign that is perfect for a door hanger or wreath adornment! Get a free printable to make it EASY.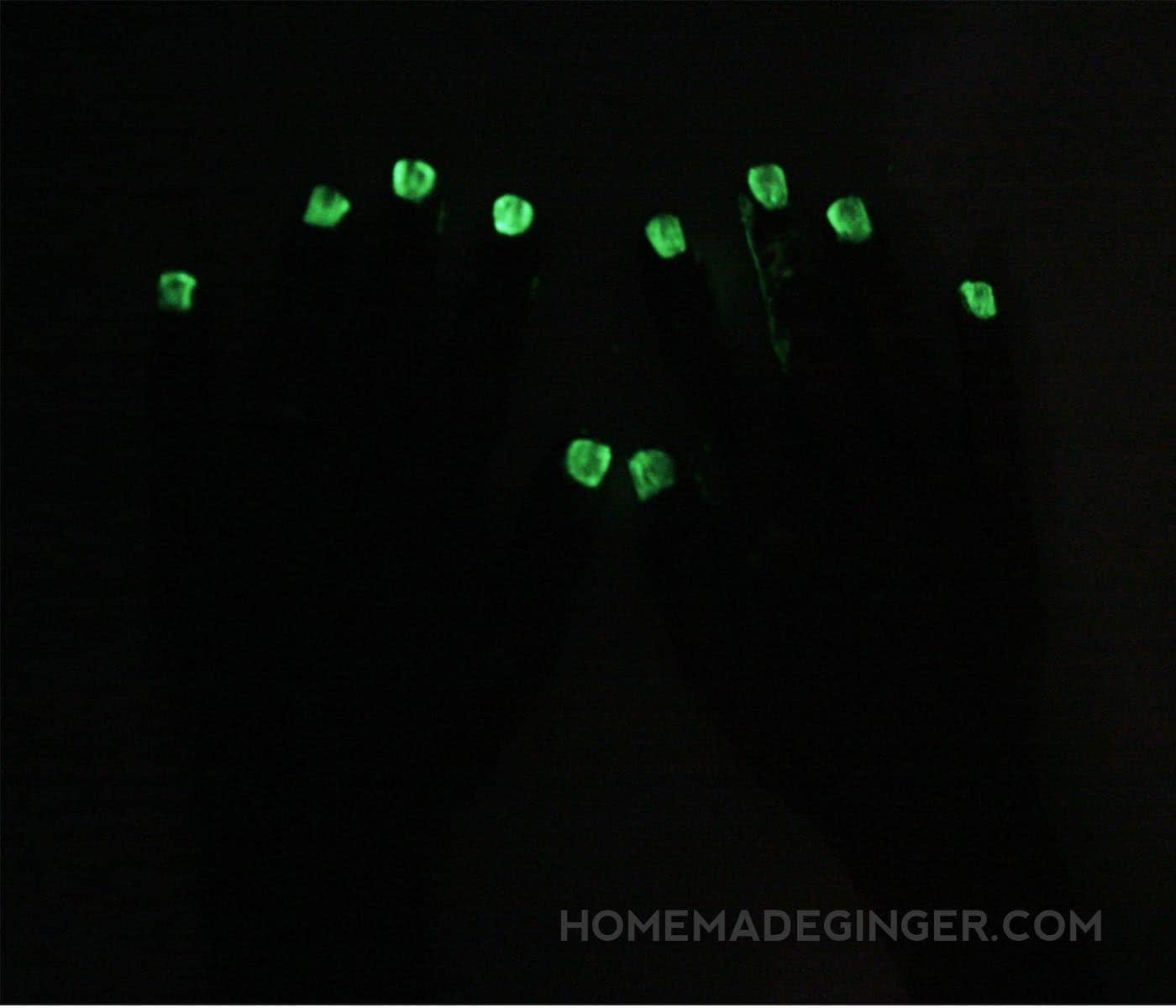 Learn how to make your own glow in the dark nails! You can give any color of polish the ability to glow when the lights are low.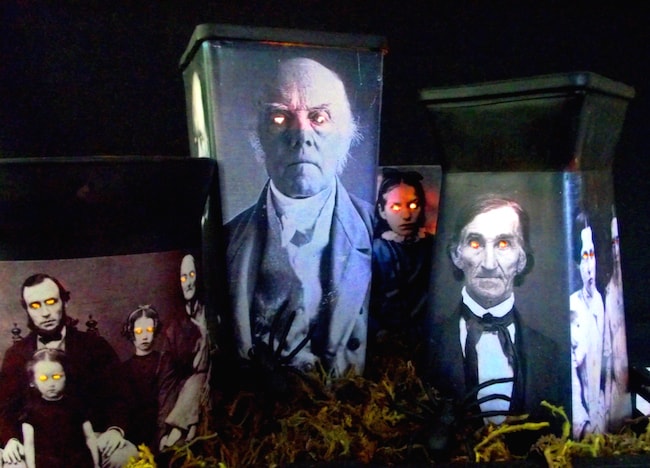 These spooky Halloween candle holders made with vintage photos and Mod Podge are fun holiday decor – and you can make them in minutes!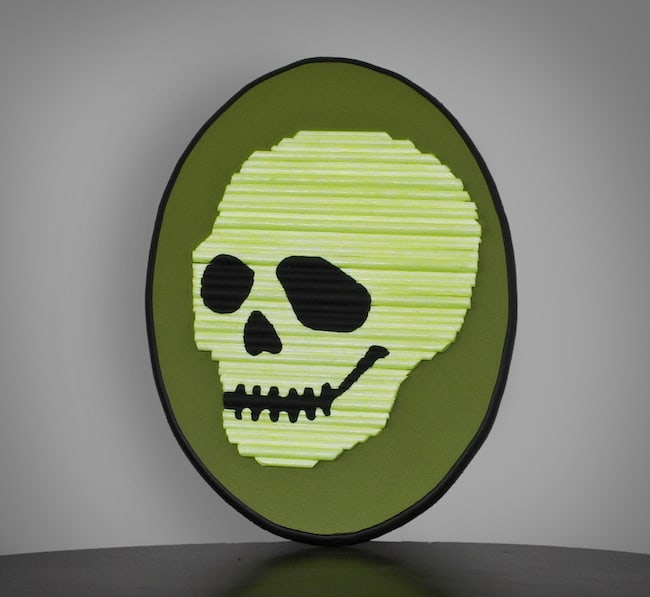 This unique Halloween skeleton decor is made using different sized dowel rods – AND it glows! So spooky and fun to make.
Make these mini Halloween decorations using $1 plaque and $1 birdhouses from the craft store. Very easy, colorful, and fun!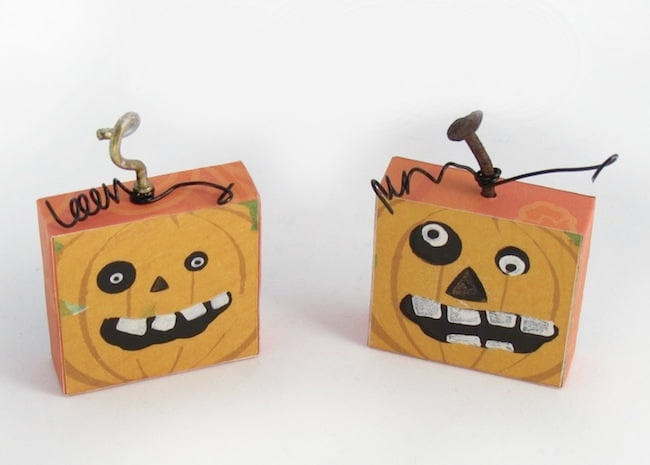 These DIY Halloween magnets are shaped like pumpkins! They are easy to make, and I love their silly faces and nail stems.
Make a unique Halloween skull decor display with a paper mache surface – this "Queen of Candy" is perfect for the season!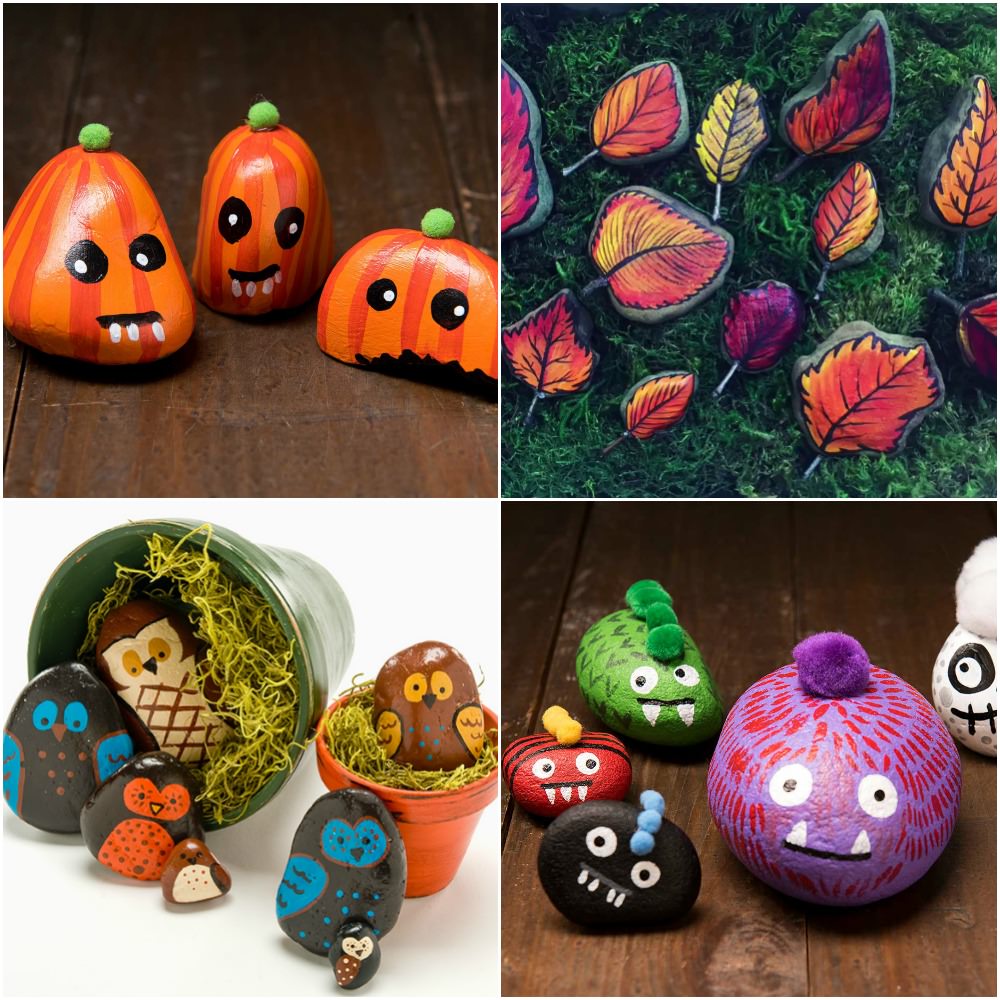 If you are looking for Halloween rocks to paint, here are four seasonal tutorials! Get pumpkins, leaves, owls, and monsters. Fun and easy.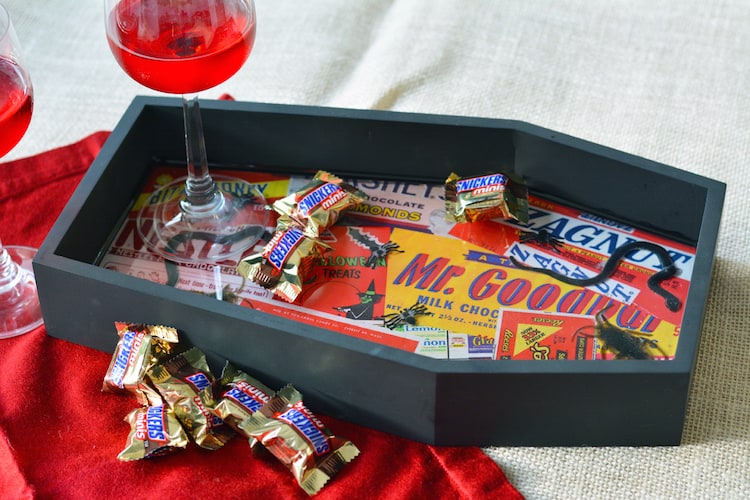 Turn a plain wood coffin decoration into a DIY Halloween tray covered with creepy crawlies! Perfect for surprising guests when they grab a piece of candy.
---
Do you enjoy these Halloween craft ideas? If so, let me know in the comments! I'd love to know your favorite Halloween projects using Mod Podge as well.
Are you ready to see one of these Halloween craft ideas? Learn how to make the glitter glasses (project #19!) below. Just press PLAY in the center of the video: