Get inspired with these 20 ways to Mod Podge canvas! Ranging from very easy to more intermediate, you'll love this variety of wall art ideas.
Are you looking for some great ideas for Mod Podging a canvas? I've pulled several together for you. The truth is, I love Mod Podging on canvas and making wall art. It's a blast, and so easy. I just have a few tips: 1) use enough Mod Podge; be liberal and 2) flip over and smooth from the back, inside the frame.
Besides that, you are good to go. Now enjoy these Mod Podge canvas projects – just click through the slideshow at the top or bottom right of this post to pick your favorite idea!
Doily Art
I created wall art using scrapbook paper doilies from the dollar bins at the craft store.
Get instructions here at Mod Podge Rocks
Photo Display
Use 12 (or more) of your favorite images to create personalized Mod Podge canvas art to hang in your family room.
Learn how to do it at Sugar Bee Crafts
Floral Patchwork
Create a unique floral collage on canvas using your favorite paper or fabric scraps.
See how it was made at Creative Passage
Love You
This photo strip canvas makes a great gift, and you can customize it with portraits of your pets, friends, or family members!
Get the instructions here at Mod Podge Rocks
Fat Quarters
Courtney used scraps from fat quarters and Fabric Mod Podge to make this easy wall art.
Find out how to do it at Sweet C's Designs
Mixed Media
Debbie will show you the easy way to get a mixed media effect – and the result is this beautiful bird canvas.
Learn how to make it at A Creative Life
Modern Collage
Create a cool collage for your wall using several 12 x 12″ canvases, paint and Mod Podge.
Bird on a Branch
Wall art is made super simple by adding a painted wood piece to a fabric covered canvas.
Find the step by step here at Mod Podge Rocks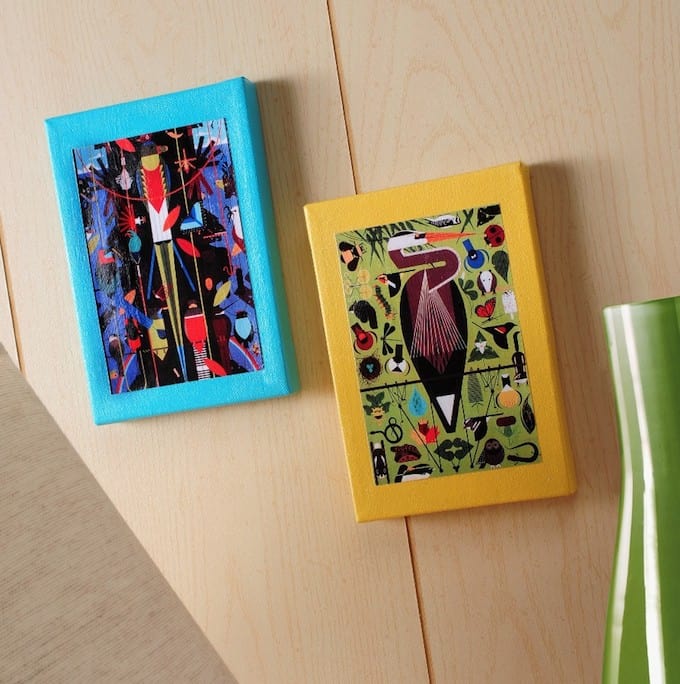 Charley Harper
I took a few copies of designs by my favorite artist and attached them to painted canvases – so easy!
Find out how I did it here at Mod Podge Rocks
Family Rules
Turn important family rules into a cute piece of wall art.
See how it was done at Feels Like Home
Monogram Art
Layer up wood elements and personalized items on the canvas for a dimensional effect.
Find out how to do it here at Mod Podge Rocks
Freehand Circles
Get this look with freehand circles from scrapbook paper.
Learn how to do it yourself at Spying on the Swinneys
Designer Inspired
This Mod Podge canvas art was inspired by a popular online store – it looks great and costs a fraction of the price.
Find out how to do it at Crafts By Amanda
Textured Art
Go crazy with paint, stamps, tissue paper and more to make a cool mixed media piece.
Learn more about the project at Kool n Krafty Mom
Colorful Animals
I love this idea – you can make scrap paper animals in the color of your choice. Perfect for a nursery!
See how it was done at Live Tres Chic
Coordinating Canvases
Pick your favorite collection of coordinating scrapbook papers and add them to canvases with Mod Podge to fill a wall.
Get more information at Better Homes & Gardens
Pear Canvas
I made this Mod Podge canvas art by adding a ton of patchwork fabric shapes to canvas with Mod Podge, then painting a fruit right on top.
Learn more about the project here at Mod Podge Rocks
Tissue Paper
If you have leftover tissue paper you won't be using for presents, turn it into wall art with Mod Podge.
Get the instructions at In My Own Style
Children's Art
Are you wondering what to do with all that art from your children? Add it to canvas and make a unique wall display.
Find out how to do it at Cheeky Kitchen
Mini Canvases
I always see those mini canvases at the craft store and wonder what I can do with them. This idea is so cute!
Learn more about the project at What's Scrapping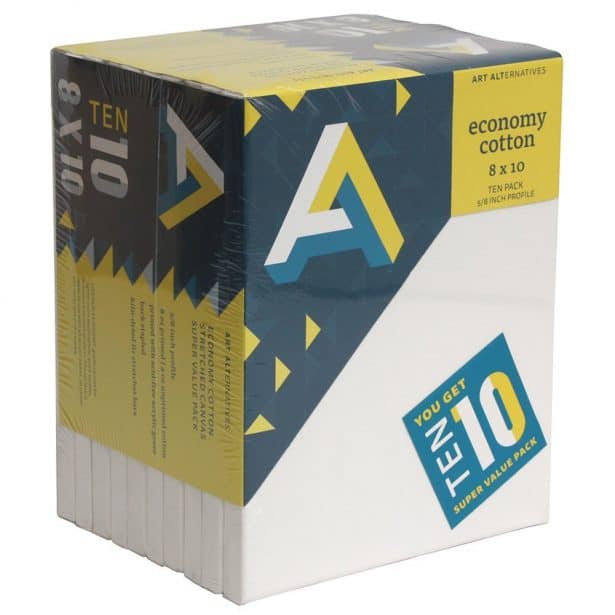 Ready to decoupage on canvas? Grab a canvas here and get started with one of these 20 ideas!