Are you a fan of inspirational quotes? Turn them into DIY quote art with the help of Mod Podge. They look great in collections!
Skills Required: Beginner. If you've never used Mod Podge before, I'd do a sample piece first before going straight into a project. Grab a $1 wood plaque from the craft store and practice to avoid wrinkles.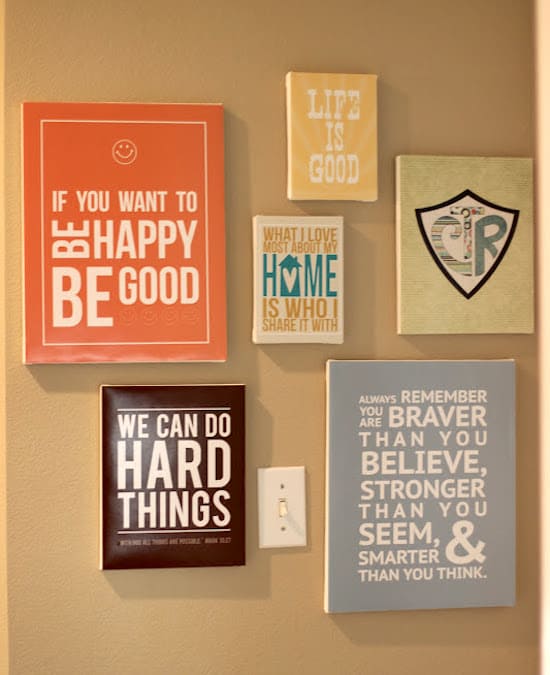 Sometimes you just need a wall of inspiration when times are tough. quote art wall, if you will. One of those walls that makes you feel good when you look at it and reminds you that you are strong and you can do the hard things . . . and that your life is good.
DIY Quote Canvas
If you're into inspirational wall art, this project is for you. It's really easy. You're just going to use Mod Podge and canvases to create your DIY quote art.
Getting the Prints
I recommend getting the prints produced on laserjet so you don't have any bleeding issues – like at Costco or Kinkos (there are tips for decoupage with inkjet in my FAQ here).
If you get to select the paper thickness, go for something a little thicker like cardstock. Generally speaking, the thicker the paper, the easier it is to decoupage.
Surfaces to Use
You can use regular canvases for this project – but I was thinking these quotes might look cool on wood panels as well. If you do choose to use regular canvas, you can see how I applied paper to canvas here.
---
Are you wondering where to get these fantastic prints as free downloads so you can make your own DIY quote art? Click on the links below. Then don't forget to visit the post from Pinching with Pennies to get more info!
DIY quote canvases at Pinching Your Pennies