Learn how to make a mixed media canvas with scrapbook paper and Mod Podge! This was a fun experiment with cute chipboard accents. So easy!
Skills Required: None. That's the best part about a mixed media canvas. You can wing it, and if you mess up, no one will notice. You can do this project even if you've never crafted before!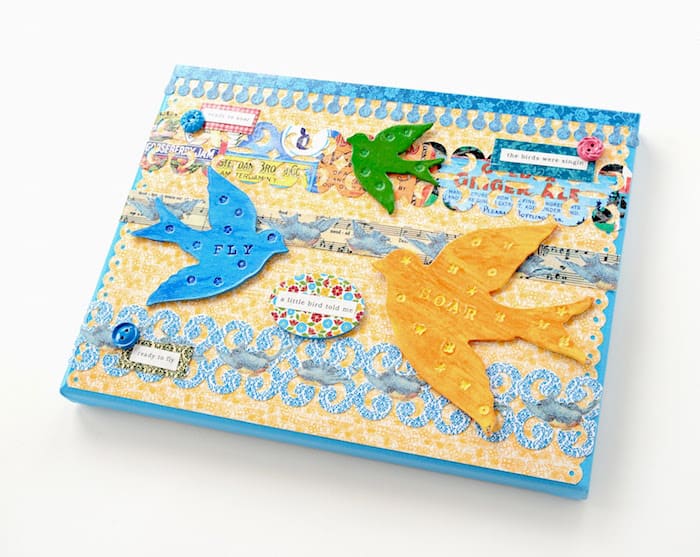 I'm happy to be celebrating week two with Melody Ross's great products from GCD Studios – available at Artsy Findings! This week I used her Artsy Urban line as well as the Chip Art.
Oh my gosh, I cannot rave enough about Melody's Chip Art! It is one of the most fun things I've EVER done in my years of crafting. I love banging with a mallet!
This tool set is all about embossing chipboard, and rather than listening to me go on and on, you should watch this video that explains everything.
Once I learned about this set, I had to create something with it, so here's my first attempt at a mixed media canvas using the Chip Art as well as Artsy Urban.
Now here's how I did it.
DIY Mixed Media Canvas Art
Gather These Supplies
Canvas – 9″ x 12″
FolkArt Acrylic Paint – Coastal Blue, Brilliant Blue, Medium Orange, Sunny Yellow, Bright Green,
Green
Chip Art
Artsy Urban Paper and Embellishments – I used one large sheet of 12″ x 12″, small pieces of two other 12″ x 12″ sheets, four borders and three buttons
Fiskars Edger
Flat Paintbrush
Craft Knife and Mat
Craft Glue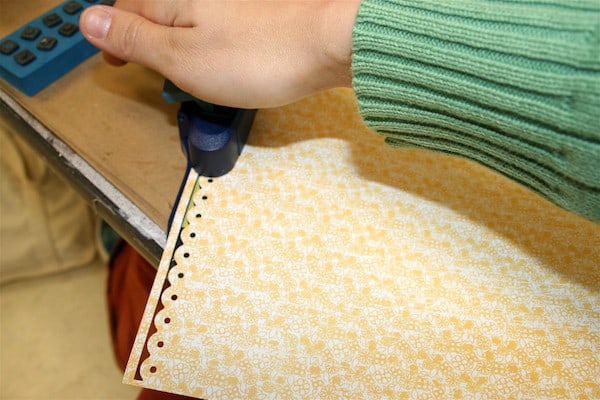 I always get my paper ready to Mod Podge first – call me neurotic; that's okay! I cut a 12″ x 12″ sheet to fit my canvas.
Then I used my Fiskars edging punch to make a pattern down both side of the paper. It's the little decorative touches, my friends. Once your paper is ready, set it aside.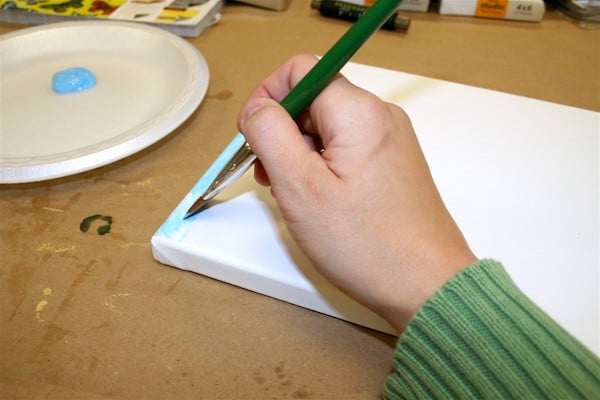 Paint the edge of your canvas with a base color – mine is Coastal Blue. You don't have to paint the center (as long as your papers are thick enough, which these are) because it won't be seen. Make sure you cover the edges well and set aside to dry.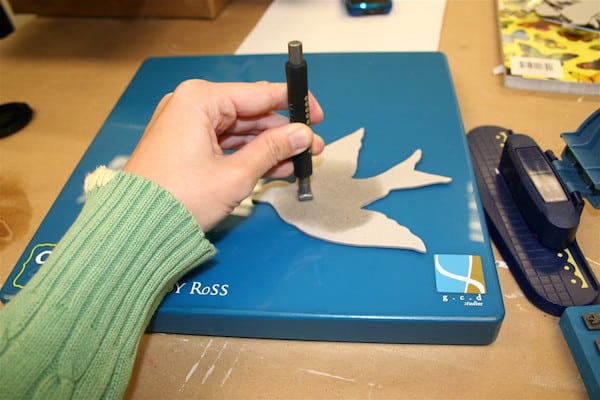 Now to the mallet! Used the birds chipboard pieces and then the mini shapes – I also put "Fly" and "Soar" in the middle of the two larger birds with the uppercase Sparrow font.
As I said before, you are going to want to watch this video to learn the entire process. Then you can play like I did!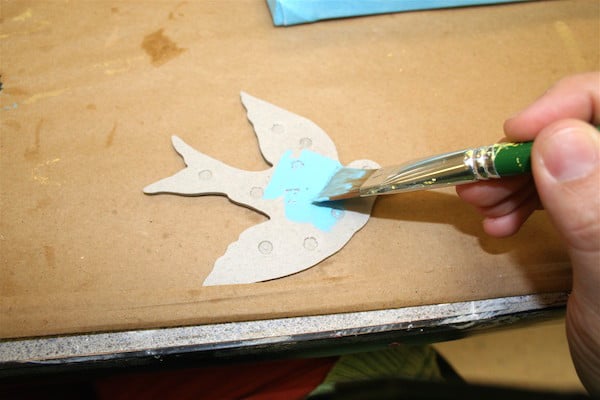 To get the fun distressed effect that I did, choose a color to basecoat your bird and let dry.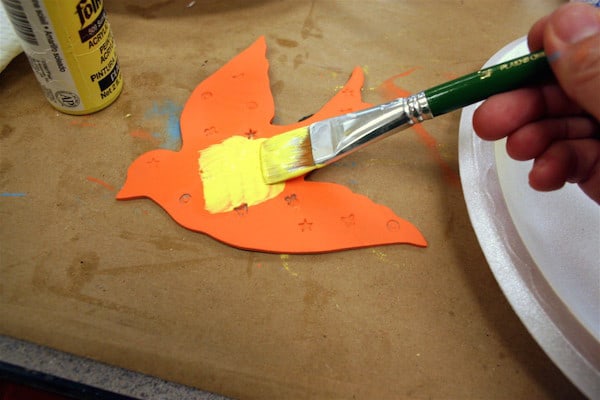 Mix your second color with some Mod Podge and paint over the top, making sure to really get that second color into the grooves (you want it to stick around).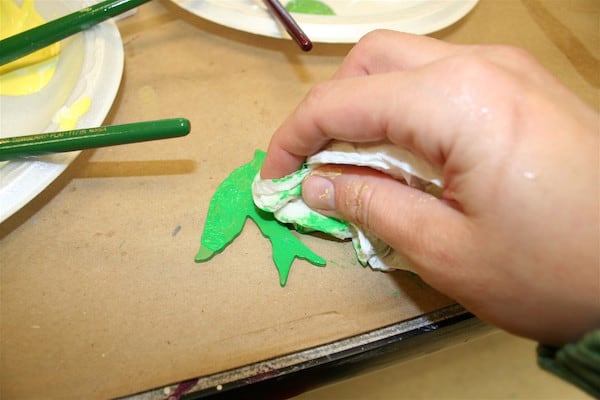 Before that second layer is dry, wipe it away. I didn't wipe it away completely, just enough to leave a faint layer and to get into the grooves. Set aside your chipboard embellishments to dry.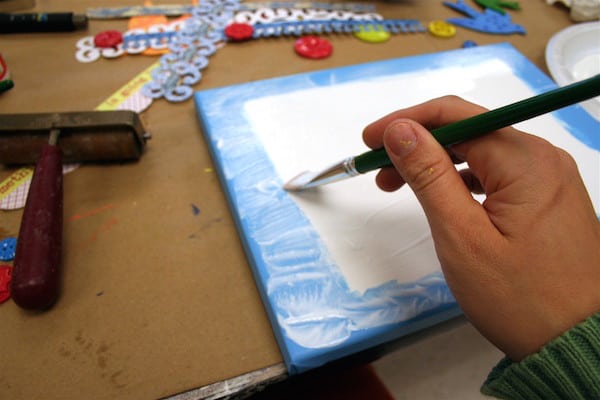 Back to the canvas! It should be fully dry. Time to Mod Podge on the background paper. Spread a medium layer of Mod Podge over the entire front of the canvas.
Lay your paper down and SMOOTH thoroughly. Wipe away any Mod Podge that comes out the sides with your brush. Allow to dry for 15 – 20 minutes.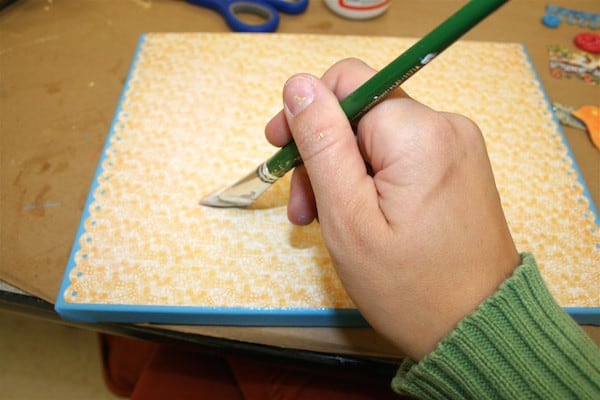 Cover the top of your paper with a medium coat of Mod Podge. Cover the sides of the canvas, too. Allow to dry.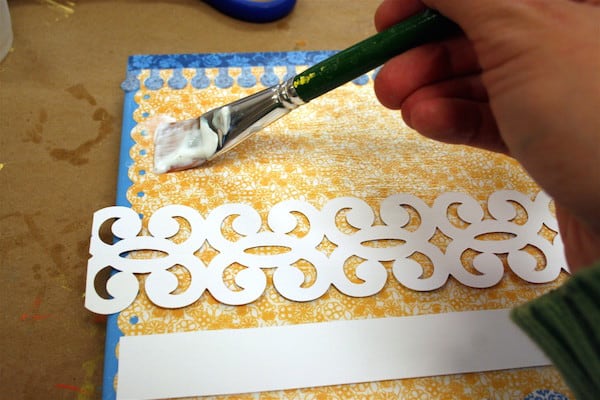 I didn't want to bore you with tons of pictures of the embellishment process, so just know that I trimmed my borders, adhered those with Mod Podge and then allowed them to dry.
Then I sealed them over the top with Mod Podge. I glued my birds down with craft glue, and then I added some words cut out of another sheet of paper, a chipboard piece in the center and some buttons. It took me awhile to like my mixed media canvas, but I really do. It's bright and make me happy!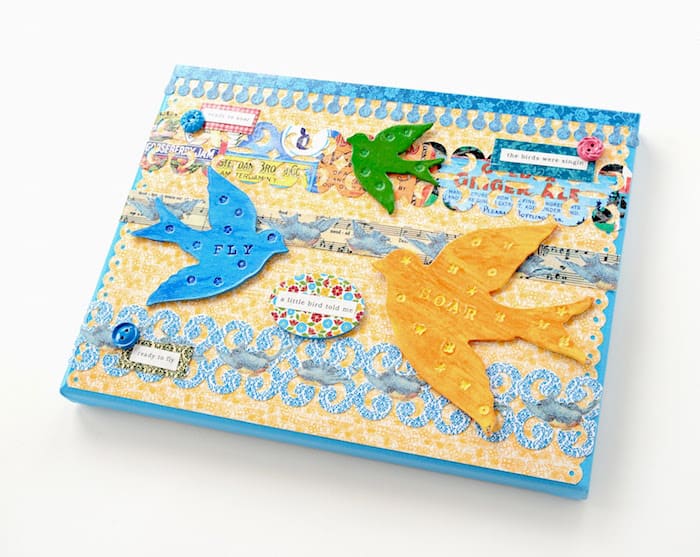 Love this mixed media canvas! What do you think? Will you give the products a try?
If you enjoyed this idea, I"d love for you to check out these other projects: