This Mod Podge DIY recipe holder makes the perfect gift! It's a great idea for the cook in your life, and so easy to make (and personalize).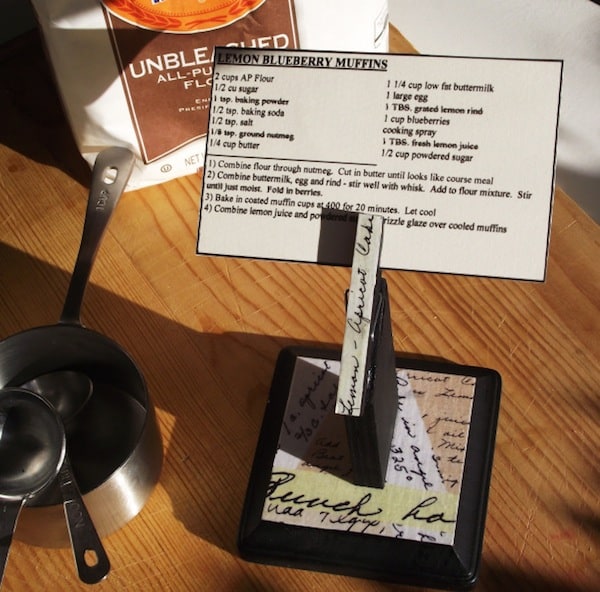 Man Podger David returns this week with a great gift idea for the person in your life who loves cooking – a DIY recipe holder. That would not be me. Ha!
I'm not a baker or a chef, but you know what – I want to be one day. I do love traditional recipes though.
My mom makes Swedish pancakes from my great-grandfather's recipe, and I hope one day she shows me how to make them. When she does, I'll use this recipe holder. Here's how to do it, from David.
---
DIY Recipe Stand
I have a sweet tooth.
Well, to be honest, I only eat dinner to justify having dessert.
My mom is an excellent baker. She even makes donuts. SHE. MAKES. DONUTS. PEOPLE!!!!! Seriously, you have no idea how good they are.
Mom has given me some favorite recipes carefully written out on index cards and, being me, I tend to send those flying into the sink or onto the floor whenever I use them.
So I came up with this little project to both honor my mom and to keep the cards safe and where I can find them.
I realize not everyone will want to use their mom's recipes for the design but this is a great project for using up any scraps of paper that appeal to you.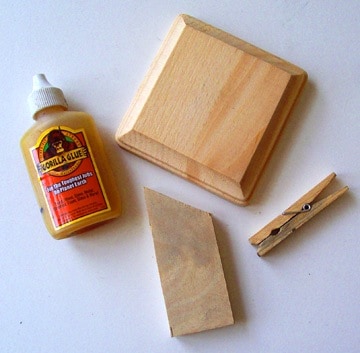 You will need:
Wooden base
Clothespin – whatever size appeals
Scrap piece of wood for the stem, preferably the same width as your clothespin
Saw
Paper
Mod Podge
Foam Brush
Rubber band
Glue (I used Gorilla Glue but any strong glue will do)
Drill
Two Screws
Paint
(If you're curious about my paper – I just scanned a couple of my mom's recipes, resized them a little, printed them out, cut them up to make a "collage" and then re-scanned the whole thing and printed it out).
Step 1: Cut the Stem
Mark and cut a 35 degree angle into your scrap piece of wood.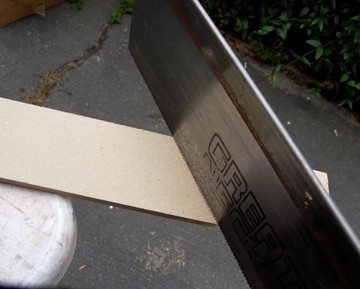 Then cut the piece so it measures 3 ¾" high.
Step 2: Sand and Paint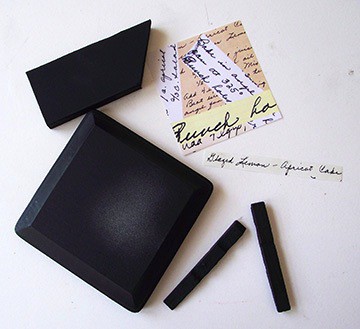 Lightly sand and then paint your base (I remembered this time!), stem, and clothespin.
You will need to take the clothespin apart to do this. Be sure to put the stupid little springy thing that holds the pin together somewhere that you'll remember.
If you do this you will save time and be able to skip Step 8: Where The Heck Did I Put That Stupid Little Springy Thing That Holds It Together.
I did not skip Step 8.
Step 3: Mod Podge!
Using Mod Podge, attach your paper to the base and the top of the clothespin – use dampened fingers to smooth out any bubbles. After they have dried, I like to add a finishing coat of Mod Podge.
Step 4: Drill Pilot Holes
After your sealer coat has thoroughly dried center your stem on it and, using a pencil outline where the
stem will go.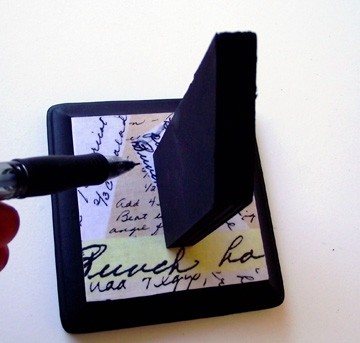 Next drill two pilot holes by drilling down through your base.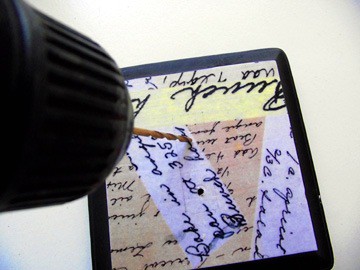 Step 5: Attach the Screws
Drill your screws up and through the base – making sure that they are at approximately equal heights.
Step 6: Mark the Stem
Gently press the bottom of the stem into the screws to mark where the screws will go and then drill shallow pilot holes there.
You're doing this because you're drilling into the end of the wood, and this will prevent the wood from splitting when you screw into it.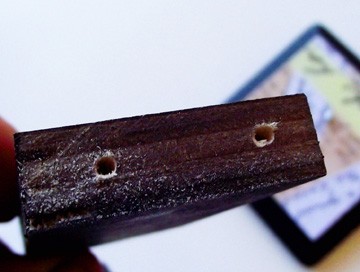 Step 7: Attach the Base to the Stem
Screw the base to the stem, making sure that the heads of your screws are flush with the bottom of the base (so it can sit flat).
Step 8, also known as Where the Heck Did I Put That Stupid Little Springy Thing
Reassemble the clothespin.
Step 9: Attach the Clothespin
Glue the clothespin to the stem and then use the rubber band to hold it in place to dry.
That's all to making your DIY recipe holder, besides letting it dry.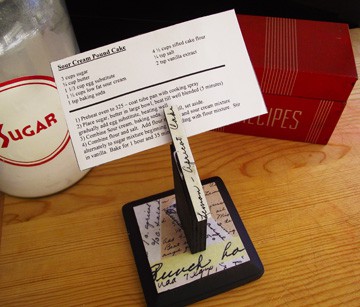 This DIY recipe holder is a versatile project. You can make it bigger or smaller depending on your need.
You could Mod Podge paper onto the stem, or leave it unpainted for a more natural look.
If you don't like using drills and such you can achieve the whole thing using just strong glue and a little patience while you hold it in place to dry.
---
I hope you enjoyed it and, as always, I will monitor the comments and if you have any questions or need any clarifications please don't hesitate to ask. I'd also love for you to visit some of my other favorite projects:
---
Thanks David – love this project, even if I don't cook (yet). To all of you, don't forget to visit David's Etsy shop here!