Learn how to make these cool Halloween potion bottles from old pill bottles! You'll get free printables in this post, too.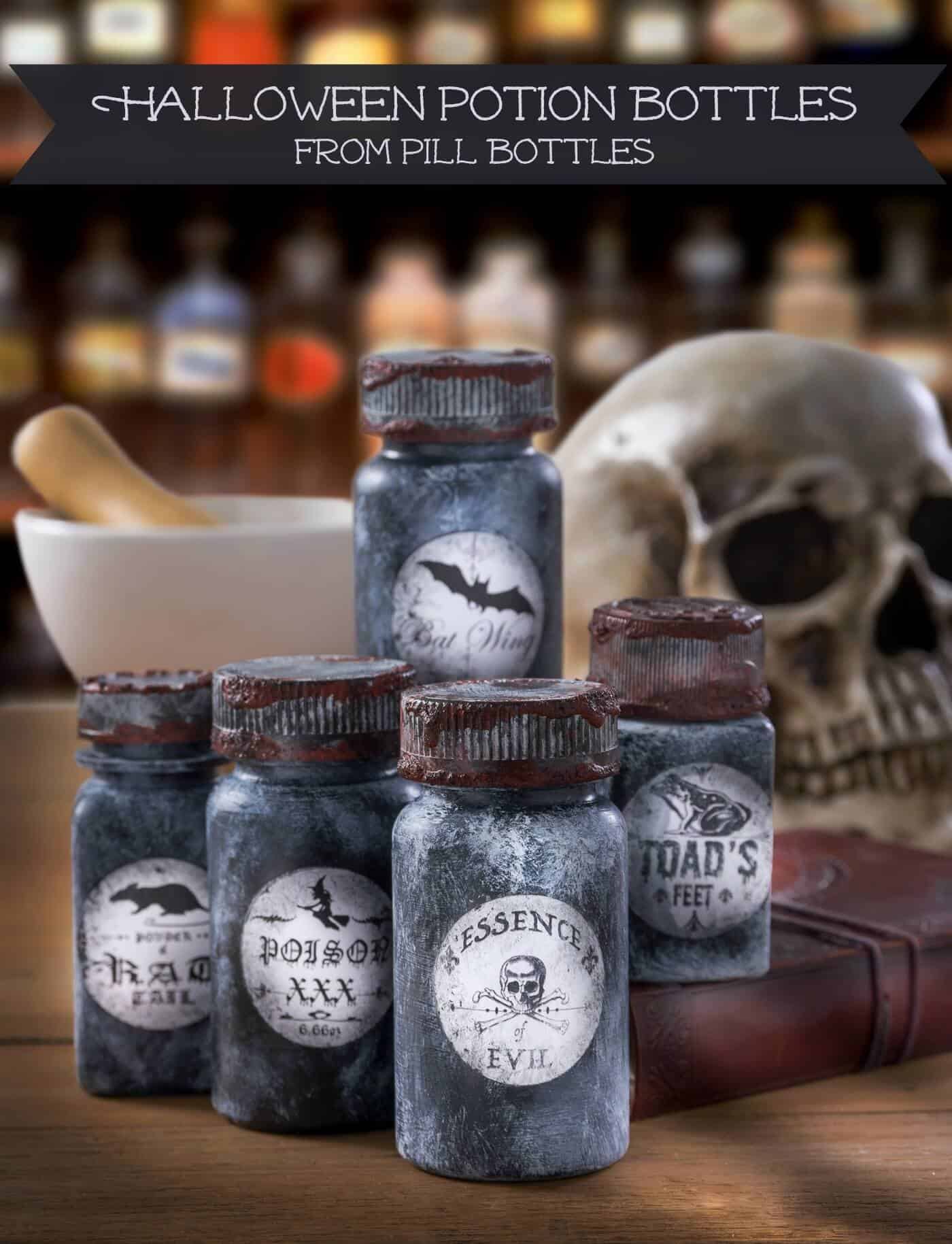 Steve saves everything. I'm not as big of a fan of saving things, but he can picture the use he's going to have for them. He takes pills for his heart condition, and as a TON of leftover bottles . . . which he's been saving for crafts for quite awhile.
For Halloween this year, he decided to create these recycled potion bottles out of those old pill bottles! And the real treat is that he created some printable labels you can use with your potion bottles! Fun, huh?
You just need to print these bad boys out, some paint, Mod Podge, and get your craft on. Learn how to make them just in time for the holiday below!
DIY Potion Bottles for Halloween
Gather These Supplies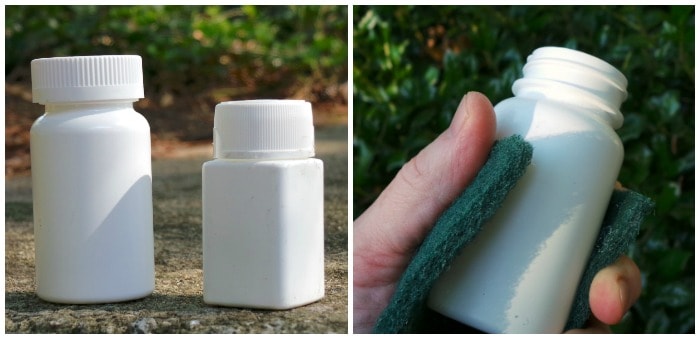 Here are the pill bottles that we started with on the left. The labels were very easy to peel off because the surface of the bottles were smooth. Having said that, the smoothness can cause a problem with paint.
You have two options: 1) use a spray paint made for plastics or 2) rough up the surface of your bottles before painting. I have tons of acrylic paint and don't enjoy necessarily purchasing something EVERY time I want to do a project – especially with the stash of paint I have!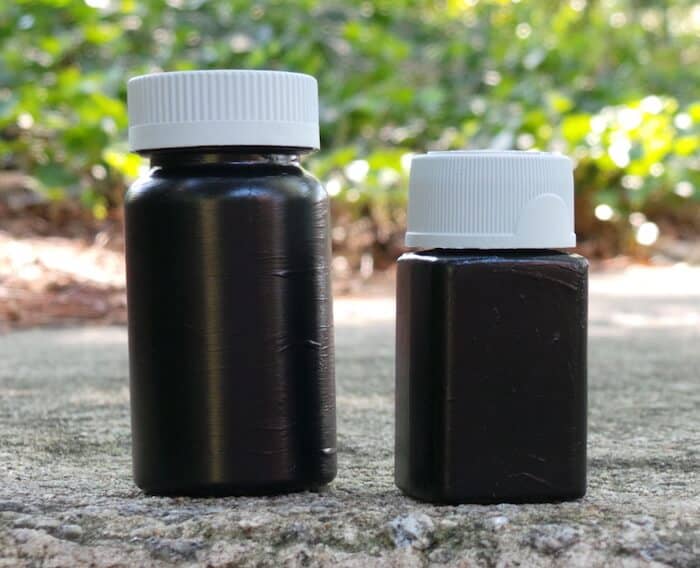 After the bottles are roughed up (or using the spray paint), add black to the base. Paint the lids medium gray. The lids don't need to be roughed up because they will probably have textured ridges and printed letters on the top. Let dry.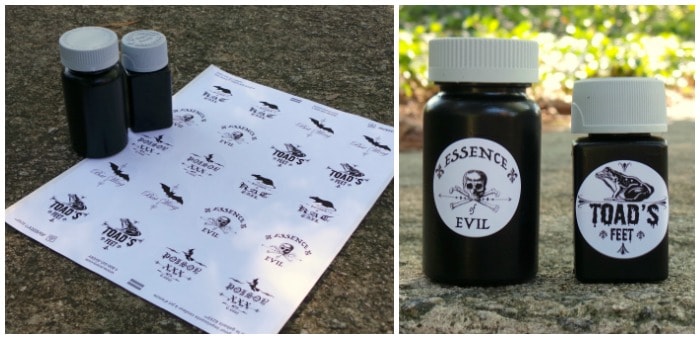 Print up your pill bottle labels printable sheet. If you choose the full sheet labels, you're going to need a 1 1/2″ circle punch as well. Also make sure to do a test if you purchased the 1 1/2″ circle labels . . . I can't guarantee your brand is going to work with our printable sheet!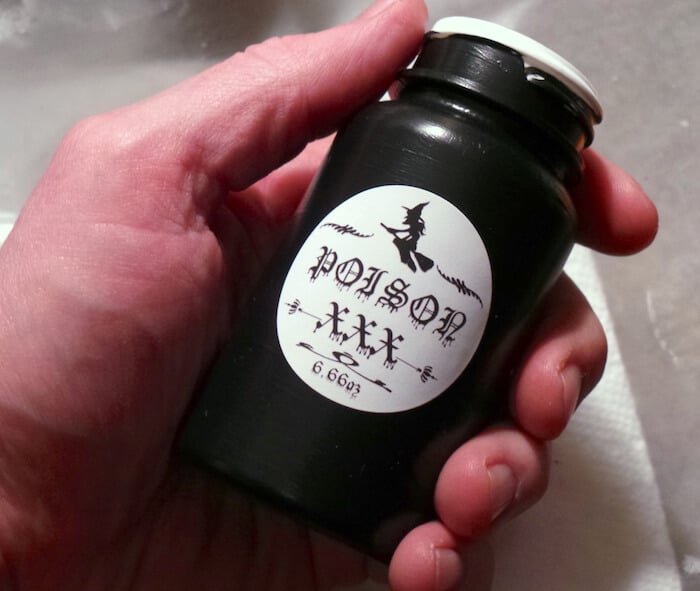 Brush your bottle with Mod Podge. This helps secure the label and even more importantly, keeps the paint from chipping on your bottle! You may have sanded or used spray paint, but an errant fingernail can chip paint off.
Use the Mod Podge for protection! You can also use the Antique Matte Mod Podge to add a little antiquing to your project.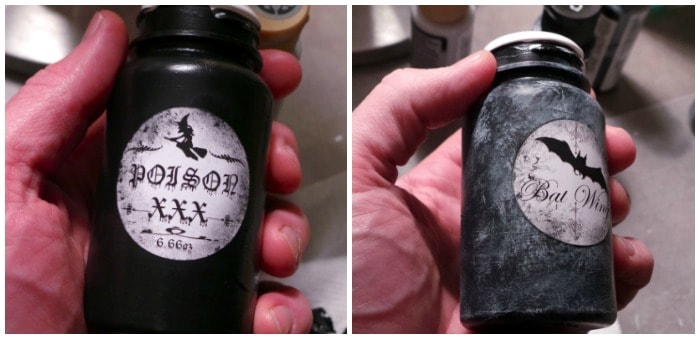 Start distressing with the medium and light gray shades. You'll brush randomly with a stencil brush. Just play around, layering as you see fit, even going onto the label.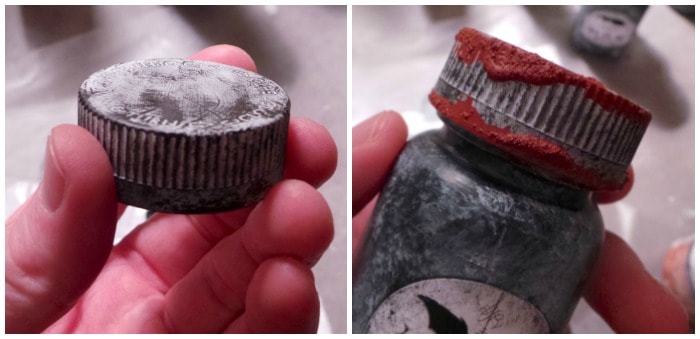 Do this with the lid as well. AND on the lid you'll want to add some of the FolkArt Painted Finishes – Rust. It gives texture and looks like blood/rust/some other identified substance. What a spooky touch!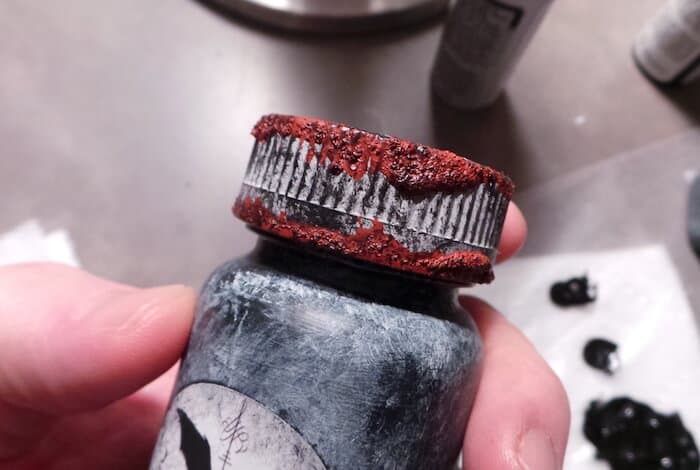 Finally, put a little black over the rust to age it even more. To finish, paint the entire bottle with Mod Podge to seal. Let them all dry.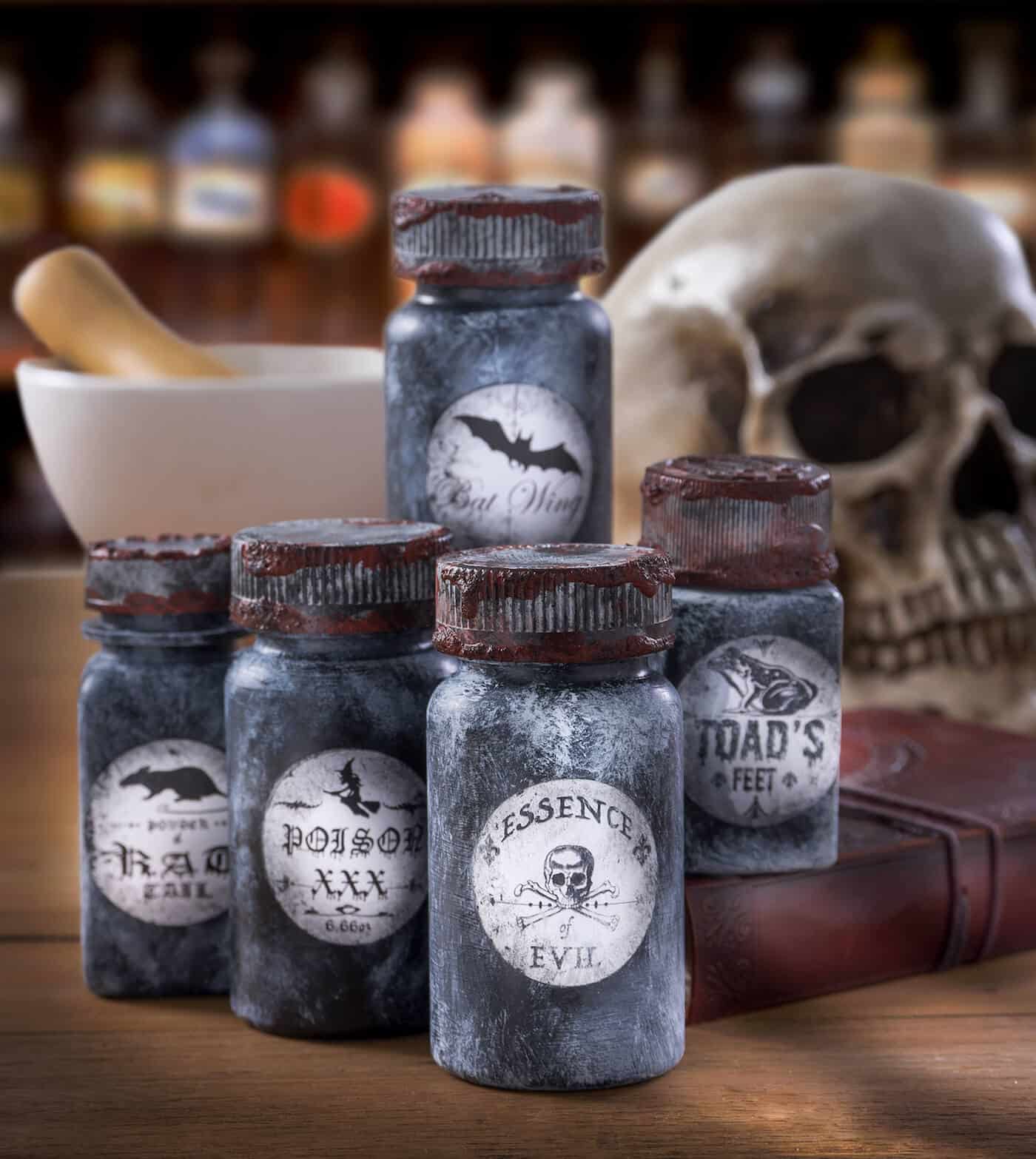 These potion bottles will make a perfect addition to a spooky display!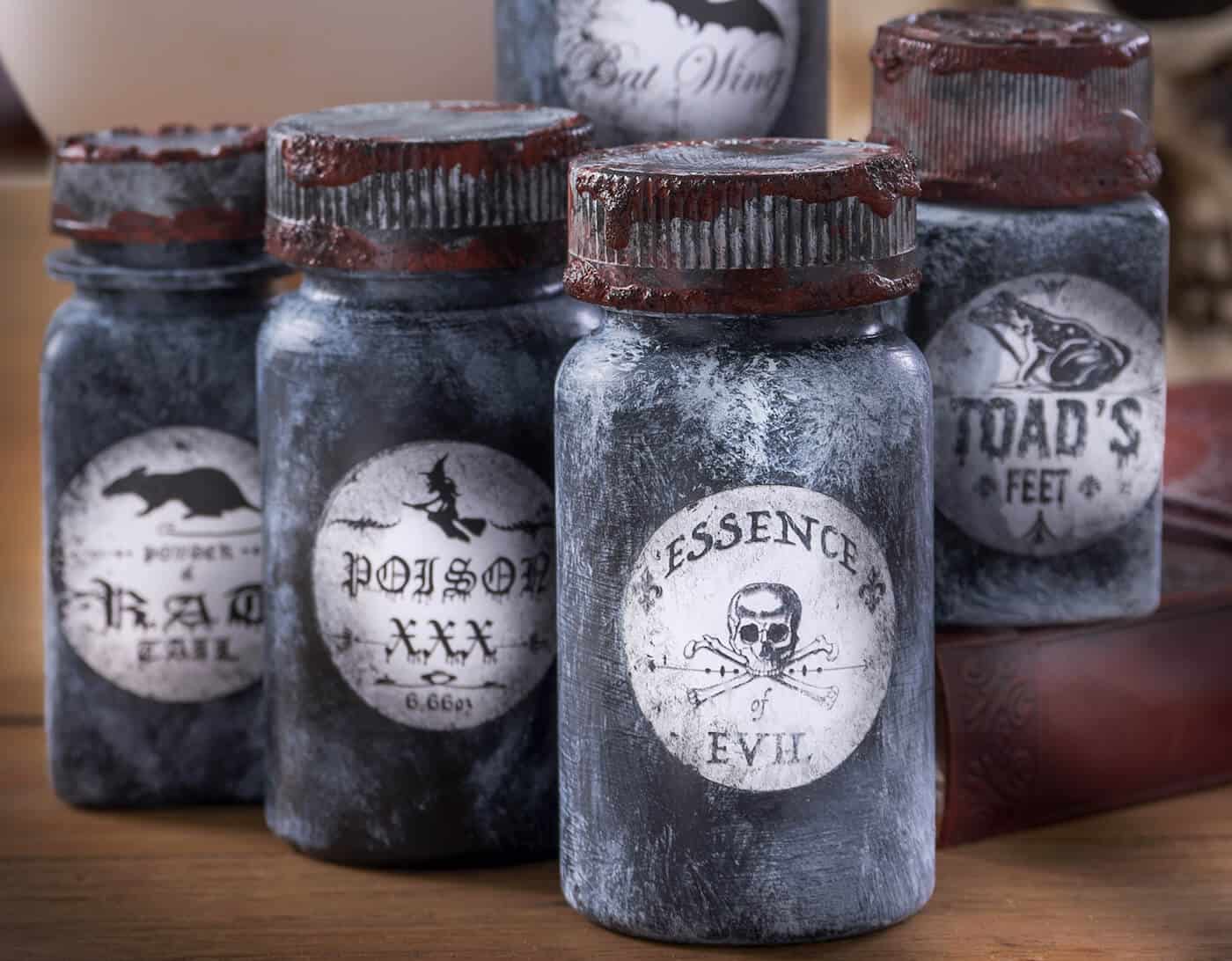 Are you partial to poison, toad's feet, rat tail, or essence of evil? Let me know in the comments! Happy Halloween!