Mod Podging with napkins has become really popular! Get 10 decoupage ideas using napkins – you'll love this collection of great ideas.
Have you ever tried decoupaging with napkins? It's time for you to try. These 10 decoupage ideas using napkins are the perfect place to start! Using Mod Podge with napkins can be a little tricky, but with a little practice and some patience you can have it mastered in no time.
I get asked my tips on decoupage with napkins, and I definitely recommend trying a test first using a cheap tile you can get from a home improvement store (they cost about $.50).
Peel the front layer of the napkin from the back layer, then Mod Podge down. Lightly brush or tap the napkin down so you don't tear it up. It's going to take some practice, hence the tile test!
Check out these 10 napkin decoupage projects below and let me know if you've worked with napkins before in your Mod Podge crafts – I'd love to hear what you've made!
Napkins can be decoupaged onto furniture, like drawer fronts and table tops. Sausha has this dresser but also some additional amazing decoupage ideas here.
These handmade coasters were made with party napkins. They are so colorful and fun – and 8 coasters cost less than $4! Find the tutorial here.
Love the texture of this picnic basket makeover! The napkins give it such a beautiful look. Learn how to make this project here.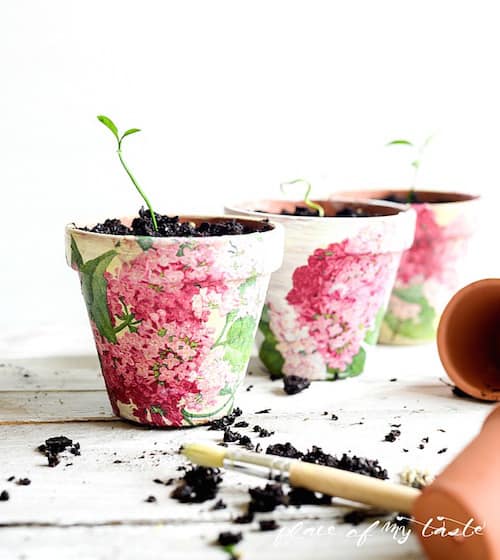 I can't wait for spring! Celebrate warmer weather with these terra cotta pots. Learn how to make them here.
Would you ever guess that you could do an entire chair with napkins? You can! Learn how here.
Wear these shoes to your next ComicCon! Perfect for the comic book or superhero lover in your life. Get the how-to here.
Turn an old globe into a pretty nautical themed display piece using coastal napkins. The full tutorial can be found here.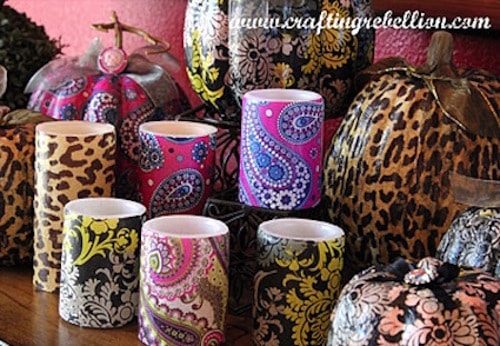 If you love Vera Bradley but don't love the price, you can get the look for less with decoupage and napkins. Battery operated candles are used in the tutorial here.
Make over a simple pendant lamp with some colorful napkins. Love how many different ways you could do this! Find out how to here.
Give your Easter eggs some flair like they've never had before – use paper cutouts and add them to the surface of the egg as shown above. Find the project at Martha Stewart here.
Let me know your favorite ideas for decoupage with napkins in the comments!