One of the most fun and easy Mod Podge craft ideas is DIY tile coasters. These ceramic coasters are great for home decor, wedding favors, or a unique gift!
Skills Required: Beginner. This is a perfect craft to try to learn how to Mod Podge. You'll be applying paper to tiles using Mod Podge and a paintbrush.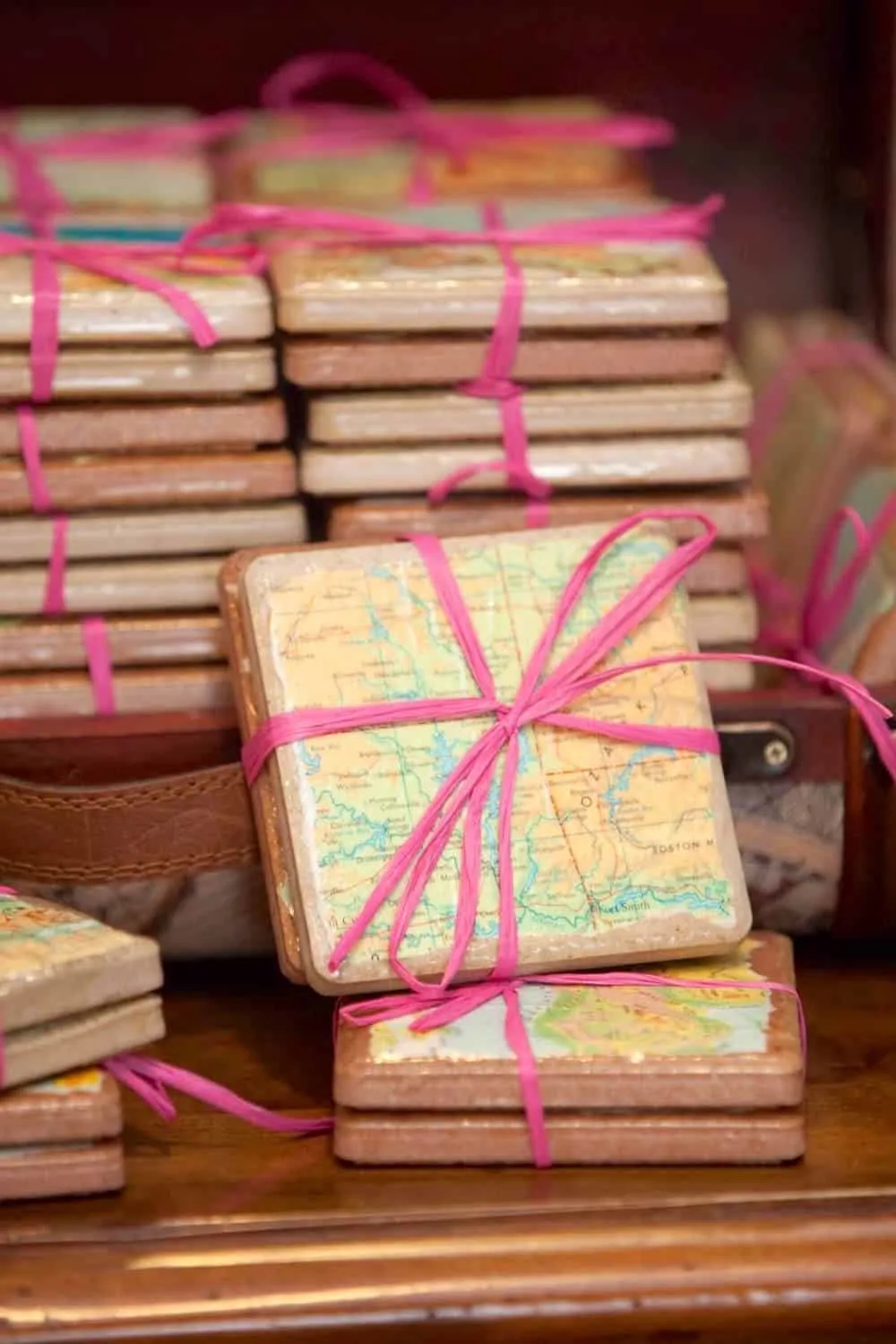 One Mod Podge project I never get sick of is handmade tile coasters. It seems like everyone puts their own little spin on the project, and each comes out looking great.
These ceramic coasters are no exception. How clever of Jessie to put cork on the bottom of her tiles so they don't scratch furniture. Totally a "duh!" moment for me right there.
I also like how she used polyurethane to seal her DIY coasters after Mod Podging her paper on, that way the Mod Podge wouldn't get sticky. Genius, I tell ya.
Making Coasters from Tiles
Before we dive into the tile coasters tutorial, I wanted to go over the four basic steps of making these. If you're ready for the how-to, scroll past this section. Otherwise, here are some tips and thoughts about the process and how to get started.
Select Your Surface
You can grab some tiles from Home Depot – they're very cheap! You can buy any type of ceramic tiles you like. Even the smooth ones will work (you might need a piece of sandpaper to key up the surface).
Of course you can also use wood, cork, or some other surface for your coasters. The process is the same.
Cut Out Your Design
Trim or tear your design to fit your surface. The design can be paper, napkins, tissue paper, fabric, book pages . . . there are a ton of options. For these tile coasters, we used maps.
Note: if you print anything out? Use laserjet images for tile coasters. Inkjet smears. OR you can spray both sides of the inkjet image with hairspray or spray sealer before Podging.
Mod Podge on Top
Apply Mod Podge to the tile, lay down your design, smooth. Then you'll let that dry 15 – 20 minutes before putting on a top coat (that's how you avoid wrinkles).
Seal it Up
Mod Podge is not waterproof. It's pretty close, but for really hot cups and then perspiration on wet glasses, you're going to need something stronger. You can use resin or spray clear Engine Enamel as a final coat.
Actually, you'll want to use a few coats of Engine Enamel as a final, and let dry before using.
Are you ready to dive into this project? Learn how to make these DIY tile coasters below.
Yield: 6 coasters
DIY Tile Coasters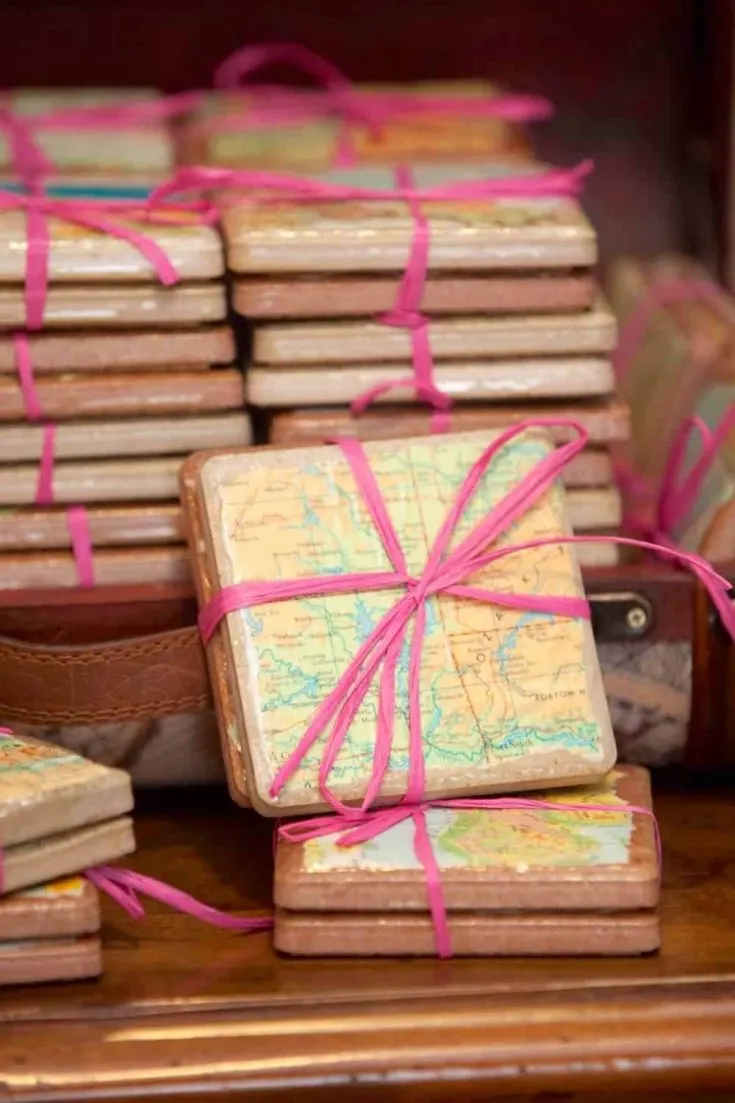 Learn how to make coasters using tiles from the hardware store! These ceramic tile coasters are so easy and make great gifts or party favors.
Materials
4 x 4 square tiles - 6
Mod Podge
Minwax Polycrylic
Paper - scrapbook paper, maps, etc.
Rolled cork with adhesive backing
Tools
Scissors
Paintbrush
Sandpaper (optional)
Instructions
Select your tiles and remove dirt and dust. If your tiles have a smooth cutting, sand with sandpaper to rough up the surface.
Tear or cut paper into a square that almost, but doesn't completely, cover the top of the tile.
Add Mod Podge to the top of the tile in a medium layer. Lay the paper down and smooth out flat with your fingers or a brayer. Do this for all the tiles and let dry for 15 - 20 minutes.
Use a brush to apply Minwax Polycrylic to the top of each tile to remove tackiness. Let dry and apply a second coat. Wait 3 - 4 hours to set.
Trim the cork to fit the bottom of the tiles and apply to avoid scratching your table surface.
Handmade tile coasters at Modern Vintage
---
PS – I've got a roundup of Mod Podge coasters if you are interested in projects just like this one.