Lately I've been seeing an influx of decoupage jewelry ideas, and I thought about it – I too love making Mod Podge jewelry! In fact, I've made quite a bit. Jewelry is fun to make because it's easy (I'm not talking fancy wiring here), it's relatively quick and you can use up items from your stash since it's small. I also love the gift-ability of it. And finally, you're about to get introduced to a really cool formula called Dimensional Magic (it acts like a resin but is non-toxic!). You're going to love it.  Ready for 20 Mod Podge jewelry projects? Scroll down to see them. Which one will you make first?
Mod Podge Jewelry Projects
Wood Bangles
Use paint, your favorite papers, microbeads and Dimensional Magic to make these fun and spunky bracelets.
Get instructions here at Mod Podge Rocks
Hoop Earrings
Makeover a couple sets of hoop earrings using bright colors of embroidery thread.
Find the how-to at Lines Across
Rice Paper
Mod Podge jewelry gets an upgrade! Use gorgeous rice paper with decoupage to make a beautiful bracelet.
Pinwheel Earrings
You just need small squares of scrapbook paper, and this tutorial will show you how to fold them into pinwheels.
Learn how to make them at Zest
Popsicle Sticks
Did you know that you can use water to turn popsicle sticks into bracelets? This tutorial is awesome.
Learn how it's done at Suzy's Artsy Craftsy Sitcom
Book Pages
Use book pages to decorate pendants, and Dimensional Magic to seal them.
Learn more about the project at Janet of All Trades
Paper Punch
Kim makes it very easy to create a bracelet using punches and your favorite scrapbook papers.
Find out how to do it at Vitamin C
Tiffany Inspired
Create a designer inspired lock necklaces for a fraction of the price.
Get instructions at Love Bug Living
Magazine Beads
Make a bracelet using materials you already have at home, including magazines.
The tutorial is no longer on Spoonful but you can get similar here.
Bib Necklace
Make a trendy statement necklace using Fabric Mod Podge and faux flowers.
Learn how to do it at Stars for Streetlights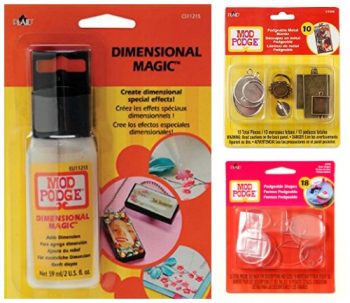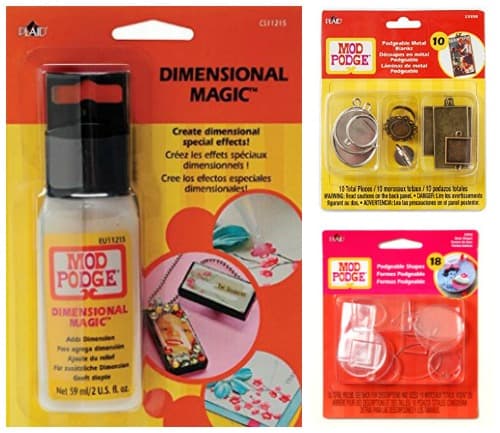 Are you ready to start your career making Mod Podge jewelry? Well, even if it's not a career, you'll need a few things. I highly recommend Mod Podge Dimensional Magic, Mod Podge metal blanks, and Mod Podge acrylic shapes. You'll love them, I promise.
Shrinky Dink
I used a stencil, Sharpie and shrinky dinks to make this unique pendant.
Find the step-by-step here at Mod Podge Rocks
Beaded Rings
These rings are super easy to make with microbeads and Dimensional Magic.
See how they were made here at Mod Podge Rocks
Wood Plugs
Make cute little earrings using wood pieces from the craft store along with fabric or paper scraps.
Get instructions at Oops! I Craft My Pants
Scrabble Pendants
Everyone loves making necklaces with Mod Podge and Scrabble tiles – and it's so easy!
Learn more about the project at A Creative Life
Mixed Media Necklace
Use your favorite scrapbook papers and embellishments to decorate bottlecaps.
Find how out to do it at Crafts Unleashed/a>
Ombre Pendant
Shannon used an old money clip to make a colorful and interesting decoupage pendant.
Get the how-to at Rosyscription
Beaded Pendant
This easy pendant is made using fabric and microbeads for the mini heart.
Get instructions here at Mod Podge Rocks
Initial Pin
This personalized pins are great for embellishing bags and purses, and also make perfect gifts!
Learn how to make it at Think Crafts
Washer Necklaces
You can make necklaces using simple items from the hardware store: like washers!
Learn more about the project at Your Homebased Mom
Washi Tape
Decorate a crown acrylic piece with washi tape and Dimensional Magic, then turn it into a bold pendant.
See how it was done at Dollar Store Mom