Make beautiful DIY beach decor with these unique tutorials! Get tons of ideas to decorate a coastal home, from wall art to candles and more.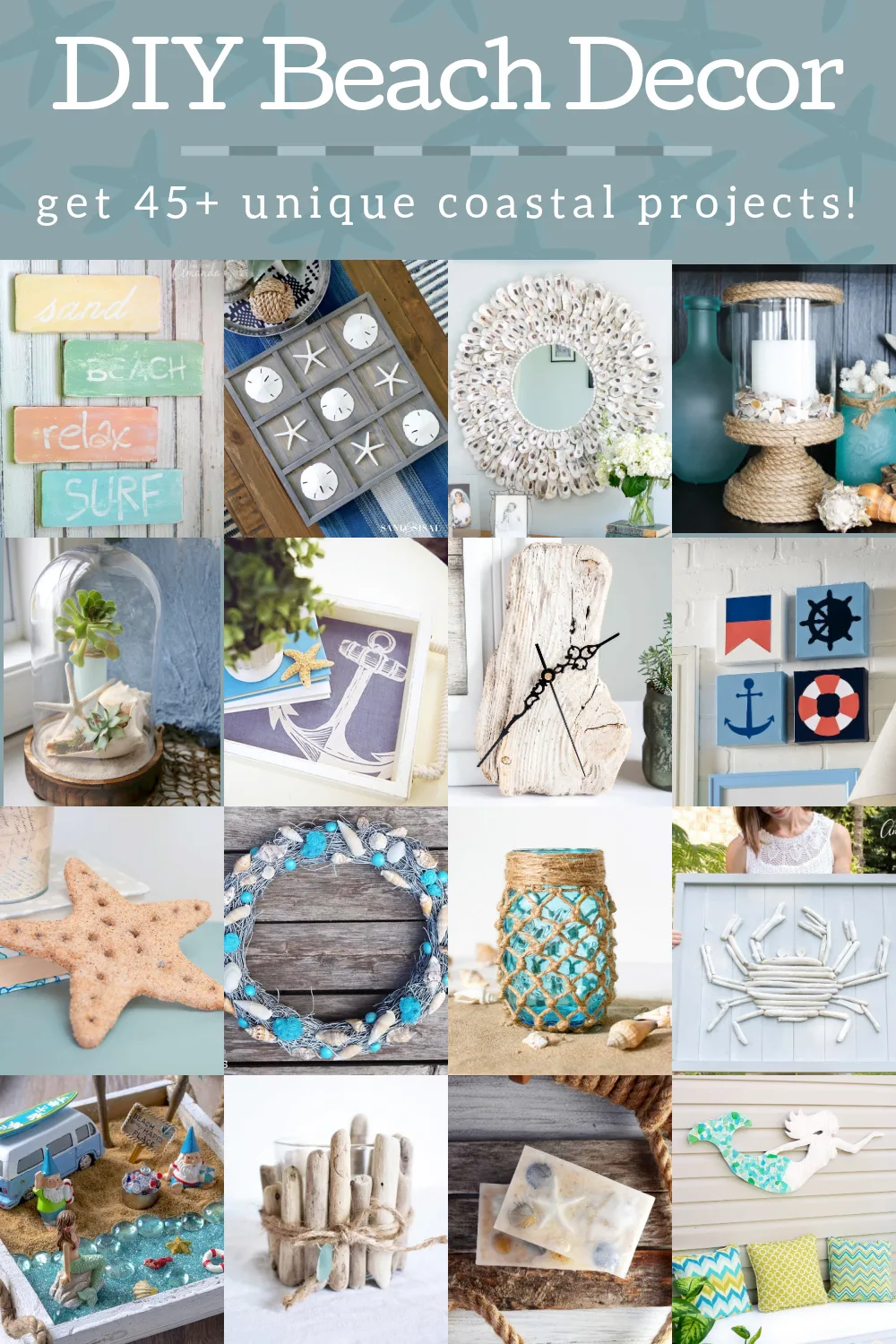 Do you have a beach house? Do you live in a coastal area? Or do you just appreciate nautical decor? No matter what your living situation, there's always room for DIY beach decor. At least in my book. I'm not even necessarily that much of a beach person, but there's something about the colors of the decor, the shells, and the driftwood (especially!) that I love.
The blues, greens, whites, and weathered grays of beach decor are really relaxing to me. I think of a nice vacation, where there's a book in one hand and a drink in the other. You know, with a cool breeze. Isn't it perfect?
That's why so many people love beach decor, regardless of where they live. This style adds some calm vibes to the bedroom, bathroom, living room, or kitchen. If you're trying to find some great projects to add a beachy feel to your home, I'm excited to show you what I've put together.
I'm sharing a list of 45+ DIY beach decor ideas I'd love for you to check out! You'll find everything from candles to wall art to accessories to wreaths. There's something for every part of your home on this list.
And let's not forget the best thing about beach decor . . . many times you can get the supplies for free! Sand, shells, and driftwood are often in copious amounts if you live near the beach. You can also get great deals on these same supplies (if you don't live near the beach) at the craft store and Dollar Tree.
You should also be sure to check the dollar store for some of the base surfaces as well. They have great prices on unfinished wood, glass, plates, and candle holders. Shopping the dollar store and your local beach can seriously reduce the cost of these projects. Some could even be free depending on what you have in your stash!
If you're ready, check out these cool decor projects inspired by the coast. Let me know what you think of them (or which ones you've tried) in the comments.
DIY Beach Decor
Learn how to make all sorts of DIY beach decor for your coastal home! Get all sorts of ideas ranging from wall art to candles to wreaths and more.
---
If you enjoyed this beach decor, you should definitely check these other related posts: