Learn how to make a clothespin cross in four easy steps! It's a simple home decor craft, even if you've never made anything before.
Skills Required: None. Even if you've never crafted in your life, you'll be able to make a cross out of clothespins. You'll be pulling clothespins apart, staining them, and then gluing back together. I promise it's easy!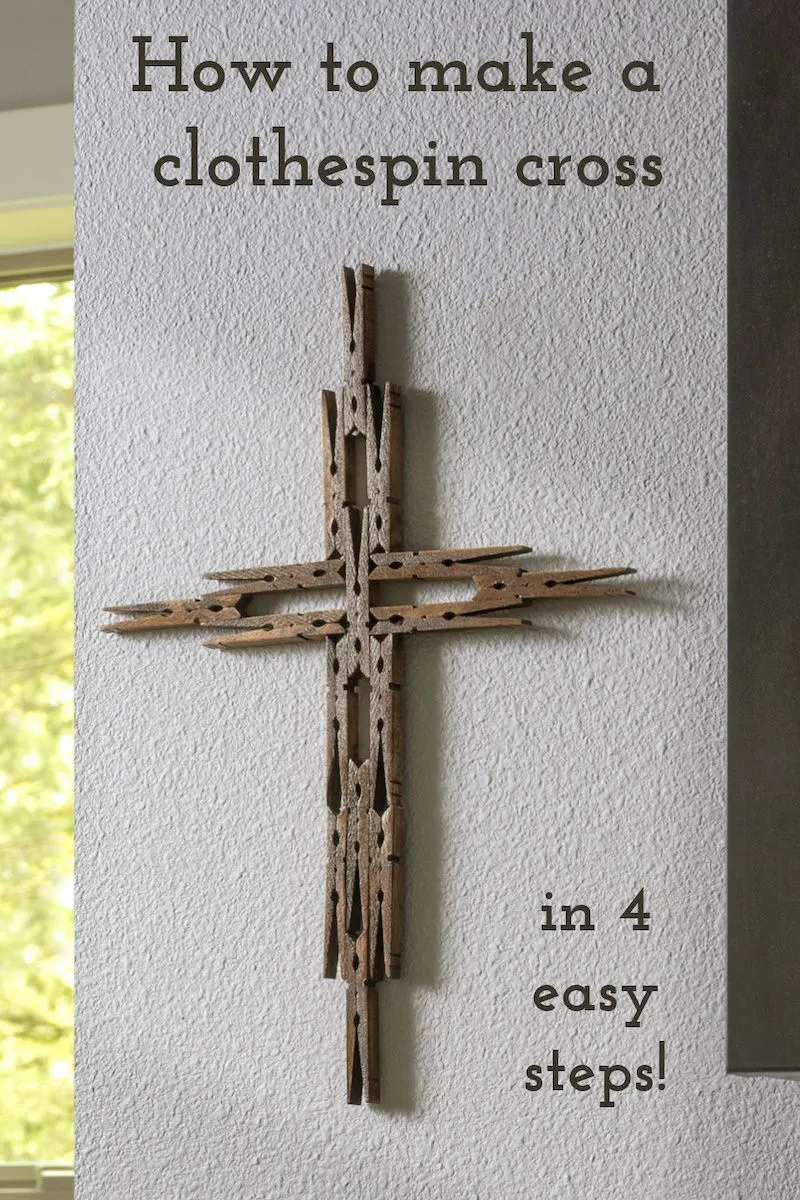 Do you ever craft with clothespins? I feel like I don't do it enough, and there are so many cool projects to make! I've done a clothespin wreath and then some chip clips, but it was time to expand my horizons.
When you buy a bag of clothespins, they usually come in 50 – meaning that you're going to have a lot left over to make some other stuff. For example, a bag of 50 makes three of this project.
Having some clothespins left over, I knew it was time to try something a little different, so I decided to go for a cross next. There are a few variations, but I decided to try a very simple method to make mine. I'm going to show you what I did!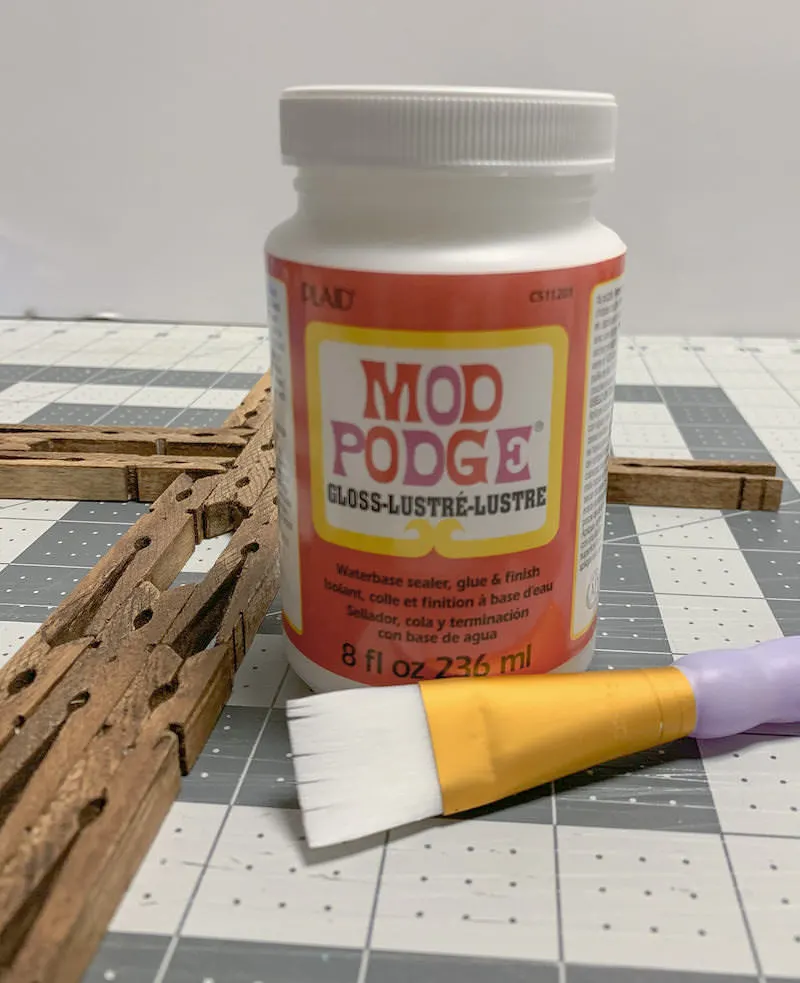 Clothespin Cross
Before we get started I wanted to answer a few questions for you about this craft. If you don't need an FAQ, simply scroll down to get the tutorial! Otherwise, here are the most commonly asked questions about this project.
What kind of clothespins should I get?
If you want to make a clothespin cross like mine, you should use basic wood ones with metal clips. I don't know what the pioneers used, but it's the type of clothespin developed after that.
If you want to experiment with other types, just make sure that there is a flat surface for gluing the clips. That is how the whole thing comes together.
Why do I need craft glue and Mod Podge?
Mod Podge is a decoupage medium and a sealer. While this isn't a decoupage project, the Podge is used for its sealing properties here.
Yes, you can technically use Mod Podge to glue the clothespins together, but honestly for me it's a matter of application. The craft glue is just really easy to squeeze out of the bottle, while I'd have to brush it on with Mod Podge!
What kind of paint can I use on this cross?
Any type of paint works, just make sure it's acrylic based if you are going to seal it like I did. You can use chalk paint, craft paint, stain, milk paint, or something along those lines.
What kind of Mod Podge should I use to seal?
You can use any type of Mod Podge (check out the formula guide), but you'll probably want to choose Gloss, Matte, or Satin depending on the finish you desire. But if you want Sparkle, go for the bling . . . the world is your oyster.
---
Are you ready to dive in? Learn how this DIY cross made of clothespins was done below.
Gather These Supplies
Clothespins – 16
Acrylic paint or stain
Paintbrush
Craft glue
Small nail
Hammer
Break Apart the Clothespins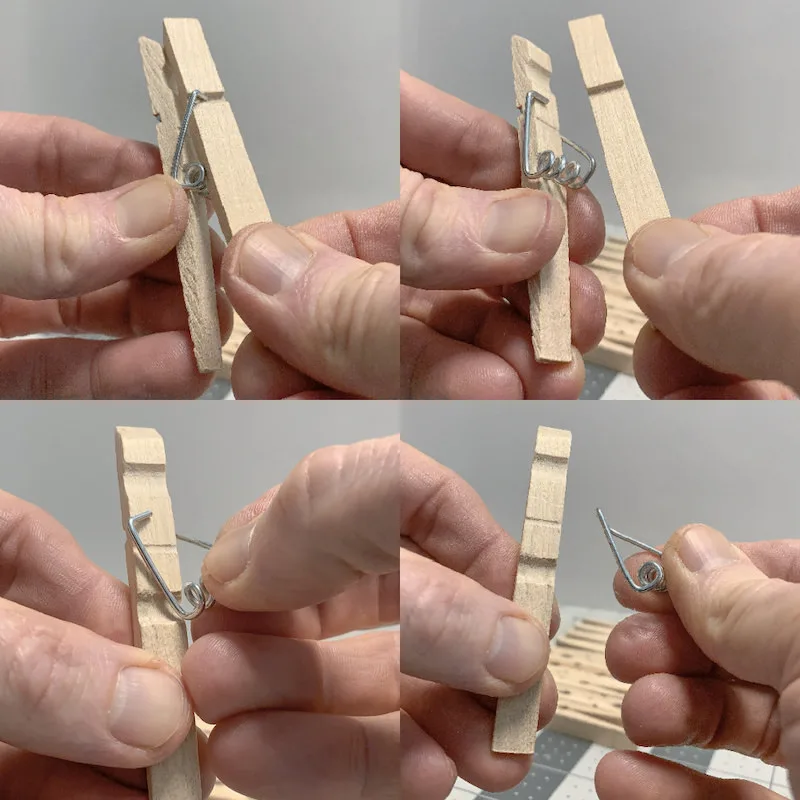 Start making your clothespin cross by removing the "hardware" from 16 clothespins. You're going to do this by twisting out the top piece, and the bottom piece and clip will be left behind.
Then you will simply remove the metal clip from the bottom piece. You will not use the clip, just the two wood pieces left behind.
There's also a video of this method in the how-to card below if you scroll down to the bottom of the page, just in case you need a visual.
Glue the Clothespins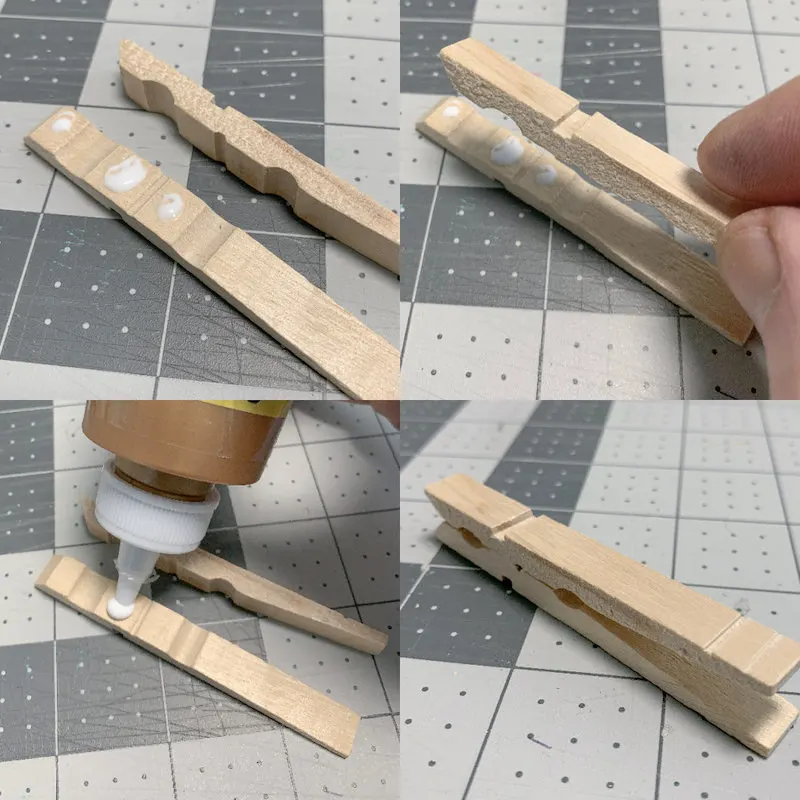 You're going to use three drops of glue to attach the sixteen clothespins together. You can see that I'm placing glue in three areas, and then sandwiching the clip together. I've basically re-assembled the pin, but without the metal clip.
Do this with all your clothespins and let dry.
Assemble the Clothespin Cross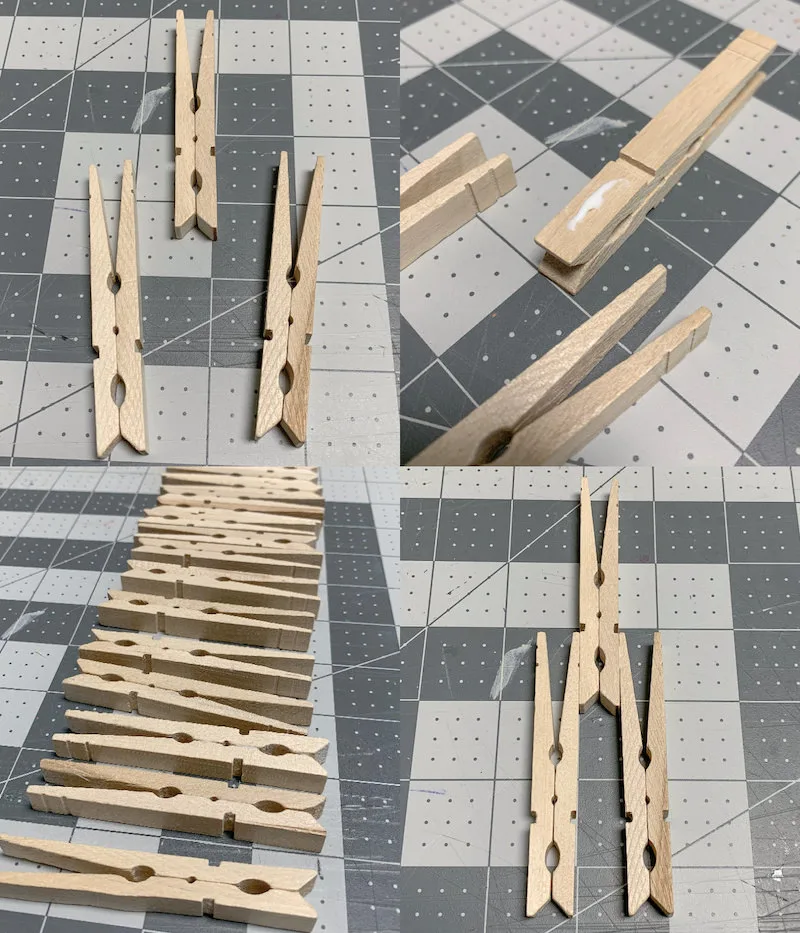 Now you can begin to assemble the cross shape. You're going to lay out the pins in a cross configuration.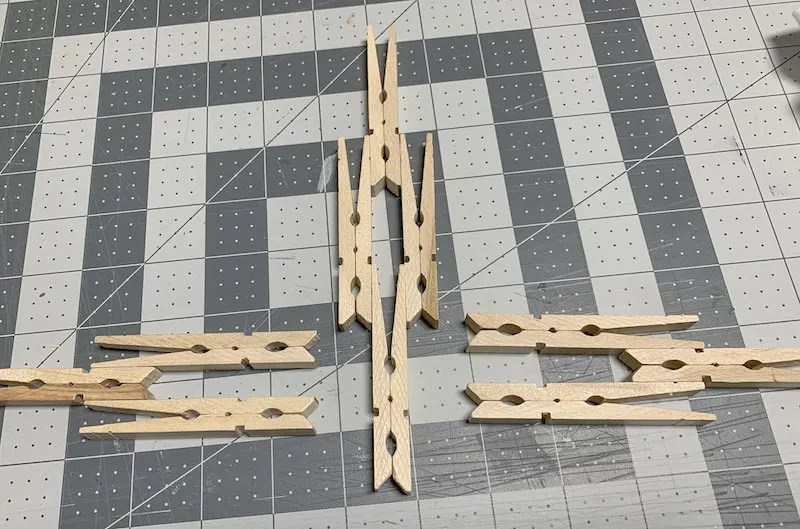 I've actually put together a diagram below so that you can see where all the pins go. Lay your cross out in this formation below: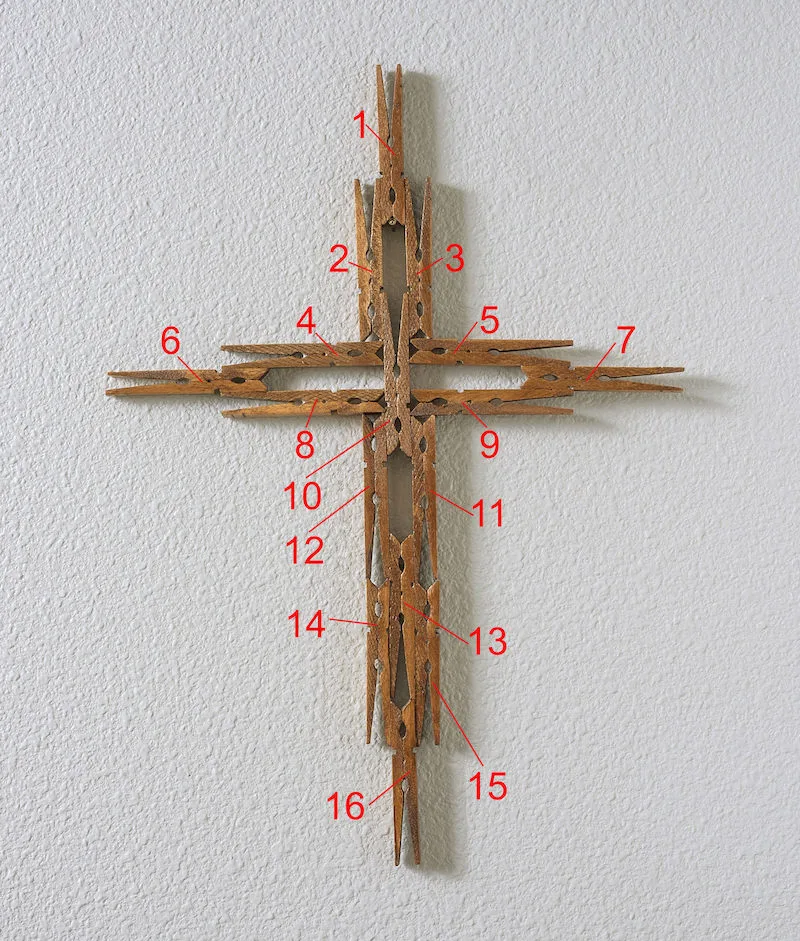 Glue all the clothespins together in a cross formation and let dry. You're almost done.
Stain and Seal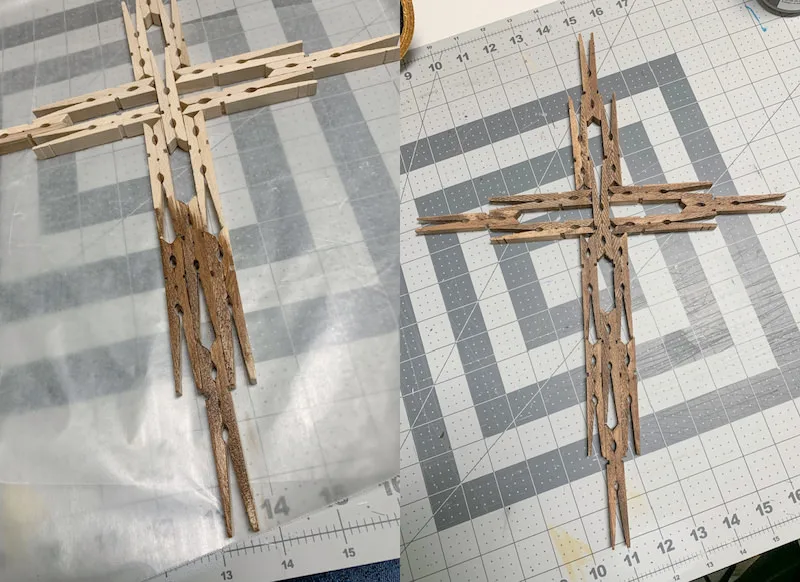 The last step will be to stain and seal the cross. I put brown acrylic paint in a small container and added a bit of water to create a stain. Stir and then apply to the cross with a paintbrush until the whole project is covered.
Let dry and then repeat on the other side. Use a smaller brush to get into the smaller areas if necessary.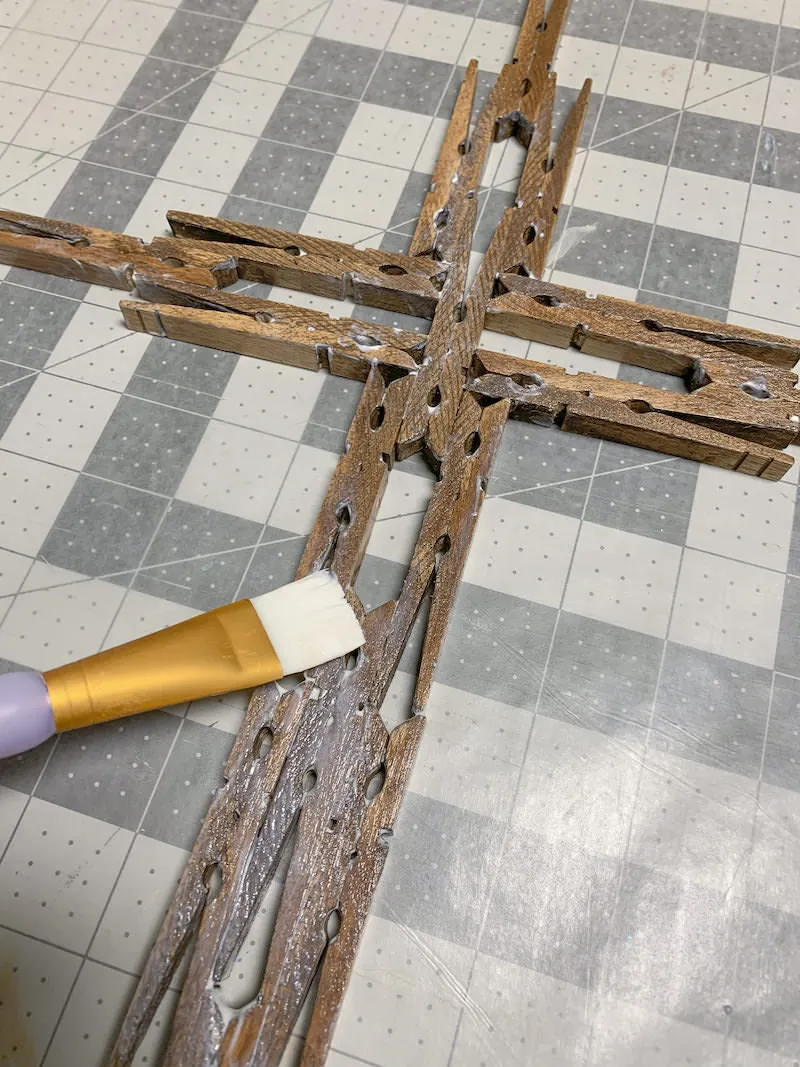 To finish your cross, give the entire thing a coat of Mod Podge to seal. I used glossy so that my clothespin cross would have a delightful shine when hanging. You can use any formula you like depending on the look you are going for!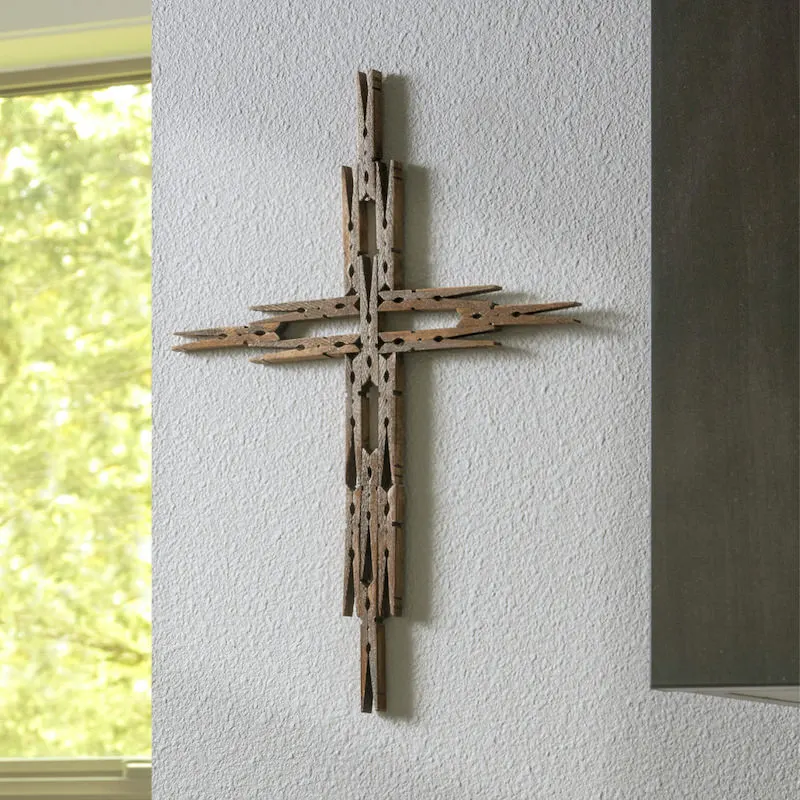 Once your clothespin cross is dry, you can hang it on the wall with a small finishing nail. It's very lightweight! And you can't see the nail when it's hanging.
Yield: 1 cross
Clothespin Cross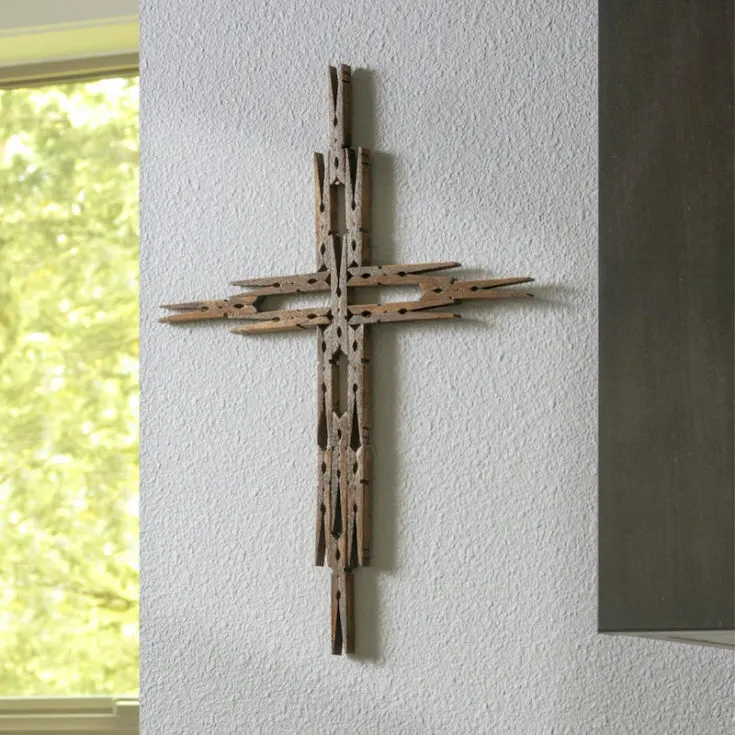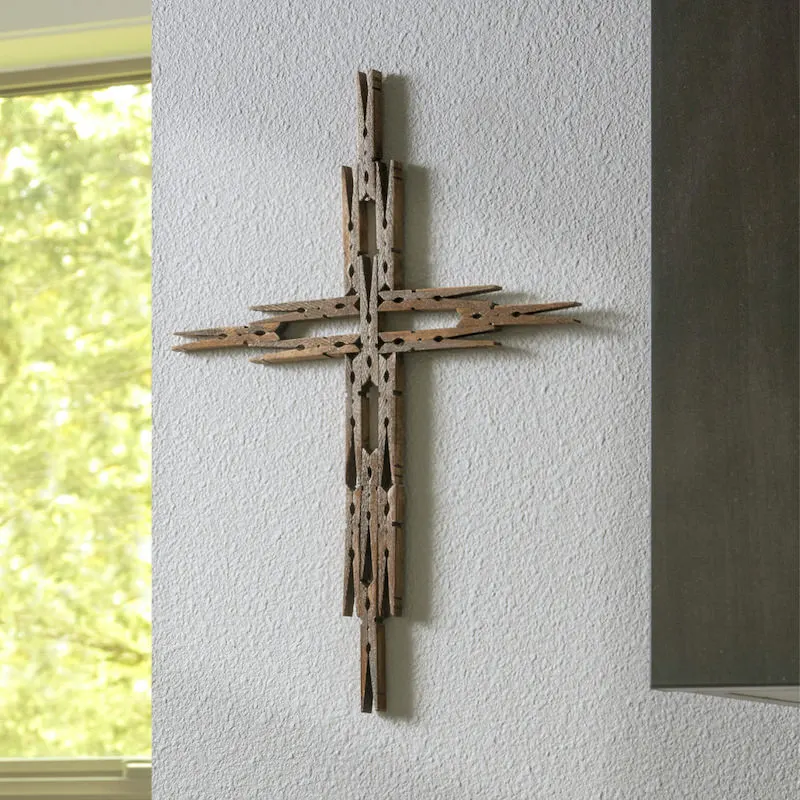 This cross made from clothespins is such a simple and budget friendly home decor project! Learn how to make it here.
Total Time
2 hours
15 minutes
Materials
Wooden clothespins - 16
Mod Podge
Acrylic paint or stain
Small nail
Tools
Paintbrush
Silicone mat
Hammer
Instructions
Pull apart sixteen clothespins and remove the metal clips.
Use craft glue to attach the clothespins together and let dry.
Assemble the clothespins in a cross formation and glue. Let dry.
Use acrylic paint diluted with a little bit of water to stain the cross. Let dry, turn over, and repeat on the other side. Use a smaller paintbrush to access smaller areas.
Once the paint is dry, give the cross a coat of Mod Podge to seal. Let dry and repeat on the other side. Let dry completely.
Hang on the wall using a small nail.
---
Did you enjoy this project? Let me know in the comments! I'd love for you to check out these other ideas: