Try an upcycled furniture project with a Goodwill find – this table was made over with paint, Mod Podge photo transfer, and a vintage graphic!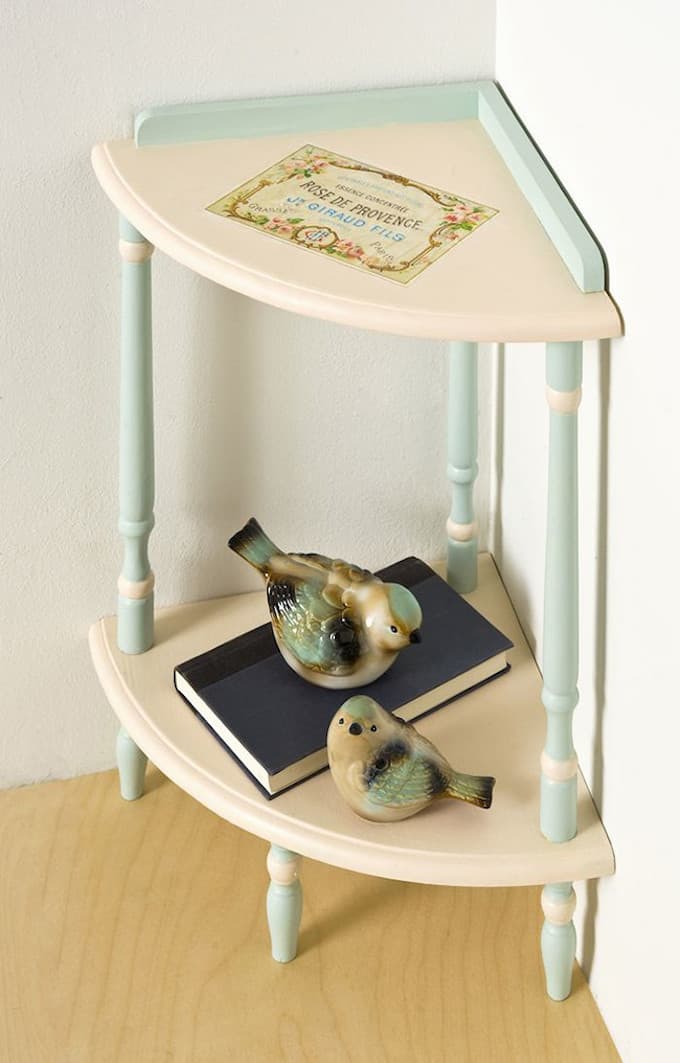 Have you ever found a piece at the thrift store that you felt needed a new life? I just love a good upcycled furniture project! I found the cutest little corner table at my local Goodwill recently and felt so sorry for it.
This table had an old, worn out paint job and several stains on it from plant pots. Despite it's surface troubles, the wood was in tact and it was solid.
I knew that with a little bit of paint and some help from an image transfer, I could give this piece a new lease on life! Read on to learn how I did it, as well as to see the full transformation.
Upcycled Table
Gather These Supplies
HP printer (inkjet)
Vintage graphics – I always get mine are from The Graphics Fairy (you can download for free!)
Acrylic paint – your choice of colors
Mod Podge Gloss
Mod Podge Photo Transfer Medium
Foam brush
Paintbrush
Scissors
Sandpaper (optional)
Directions: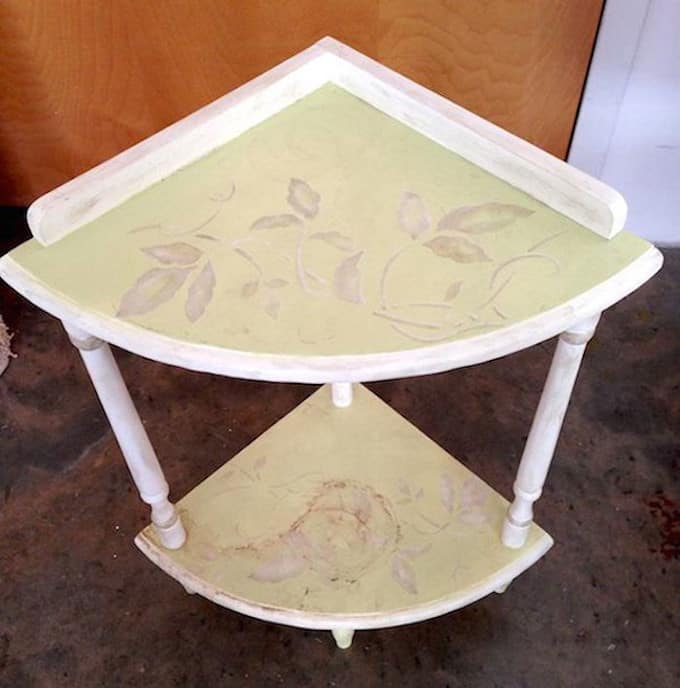 Here's an image of the table when I first brought it home. Can you believe how sad it is?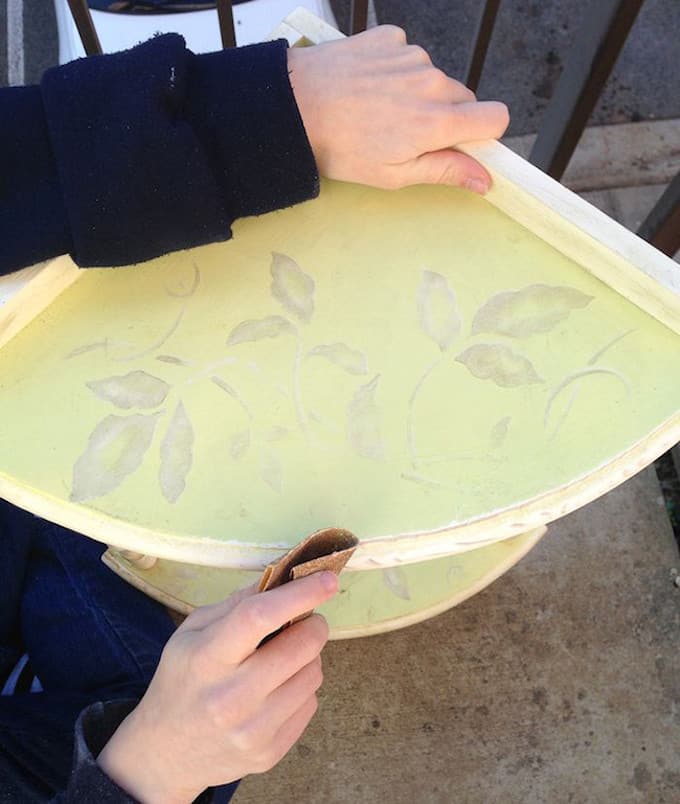 This step is optional, but I highly recommend it, even if your furniture is unfinished. Use sandpaper to smooth out your surface and/or rough up the old paint (read my article on how to prep furniture for decoupage).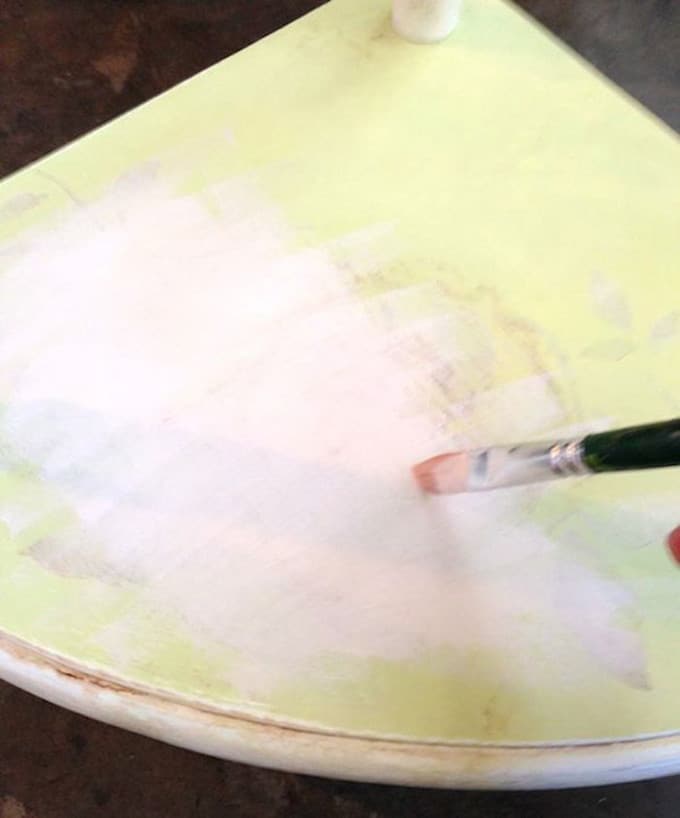 Choose your main color and paint your table. You'll want to paint several coats – I did three. Let the paint dry between coats, and let it dry completely when finished.
Paint your second color on the legs or other portions of the furniture project that you would like to accent. Give these areas at least two coats of paint and let them dry.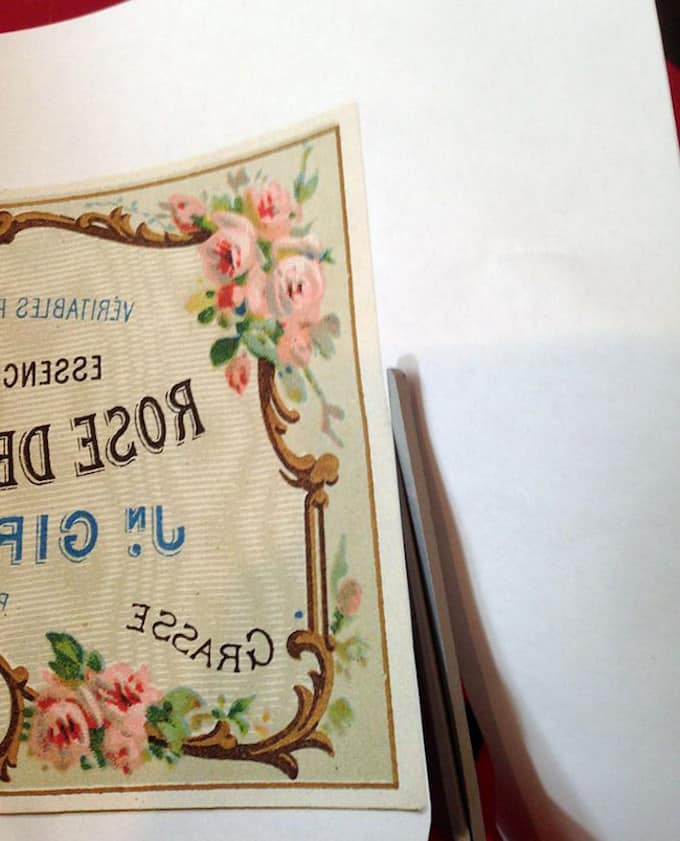 While your table is drying, print out the image of your choice on an inkjet printer. Make sure it fits your table (or other piece of furniture) and then cut out completely. Don't leave any white areas around the edges as those will transfer along with the image.
Tip #1: If you select an image with words on it, you need to reverse the images before printing, so that when the image is transferred, the words will be going in the right direction.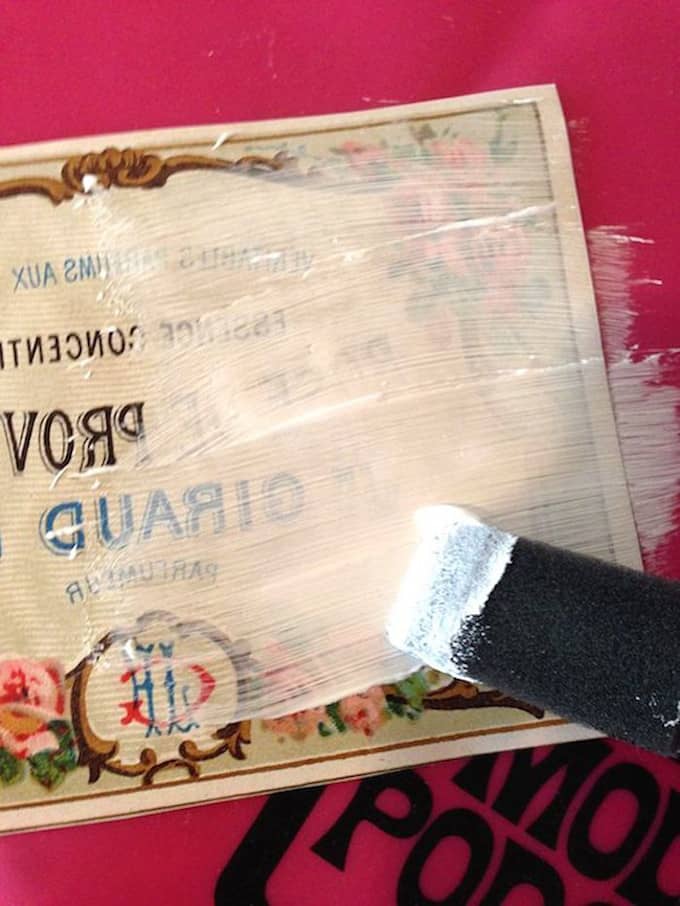 Use the foam brush to spread photo transfer medium completely over the front of the image – you want to spread enough so that you can no longer see the image.
Once the image is covered, flip it over and smooth onto your table or other piece of furniture. Smooth thoroughly and leave to dry for 24 hours.
Tip #2: If any photo transfer medium comes out from under the edges of the image as you are smoothing, simply wipe it away with a wet cloth.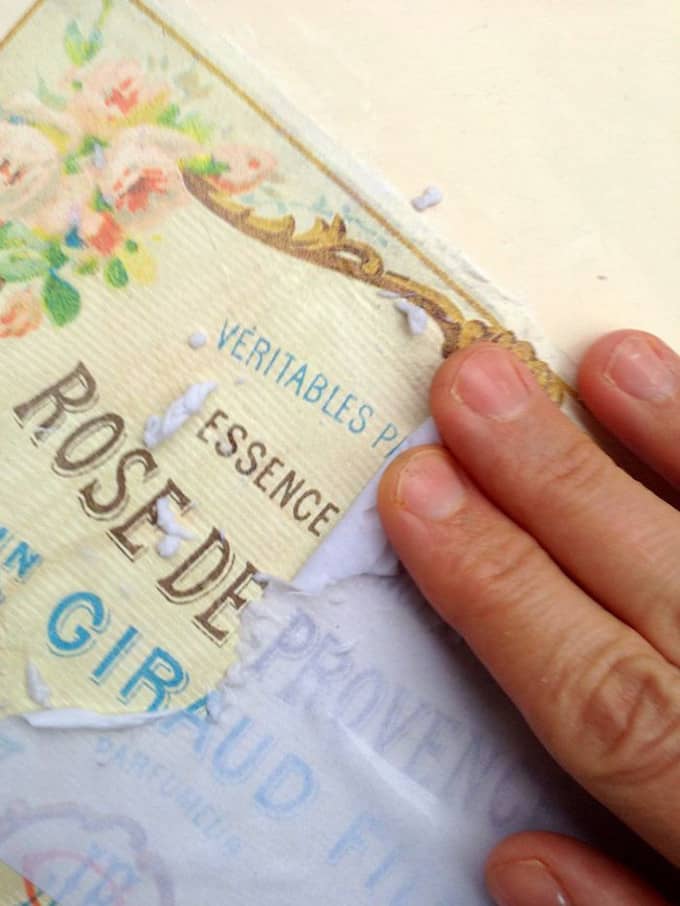 Use water to dampen the image and start rubbing. Keep rubbing portions of the paper away and the image beneath will be revealed!
Use medium pressure when rubbing – you want to use enough pressure so that the top layer of paper is removed, but not too hard. You don't want to rub off the image underneath! Once you are done removing the top layer, let it dry.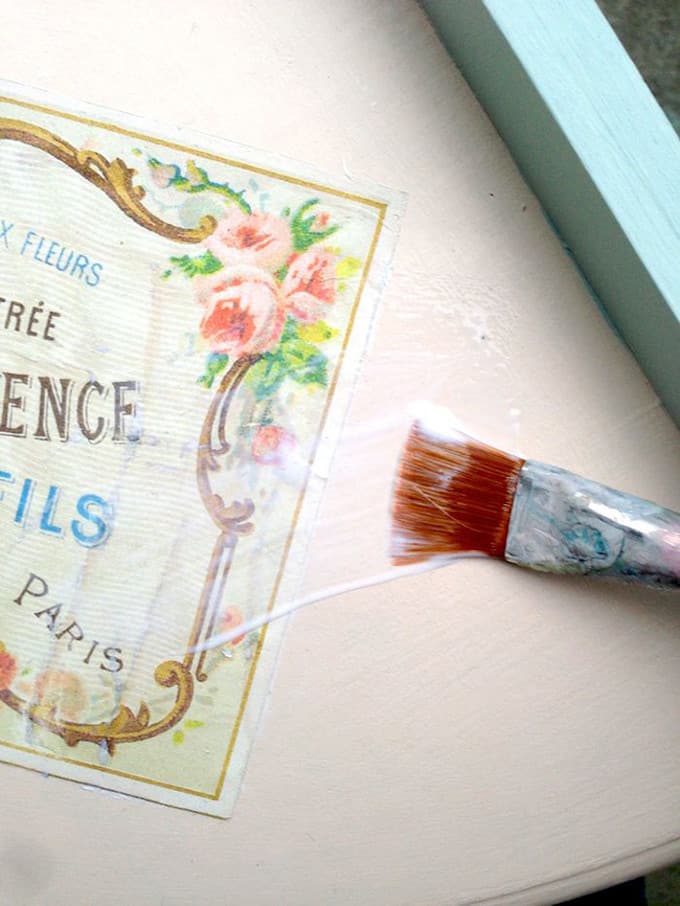 Use Mod Podge to seal the table. Add at least three coats and let dry.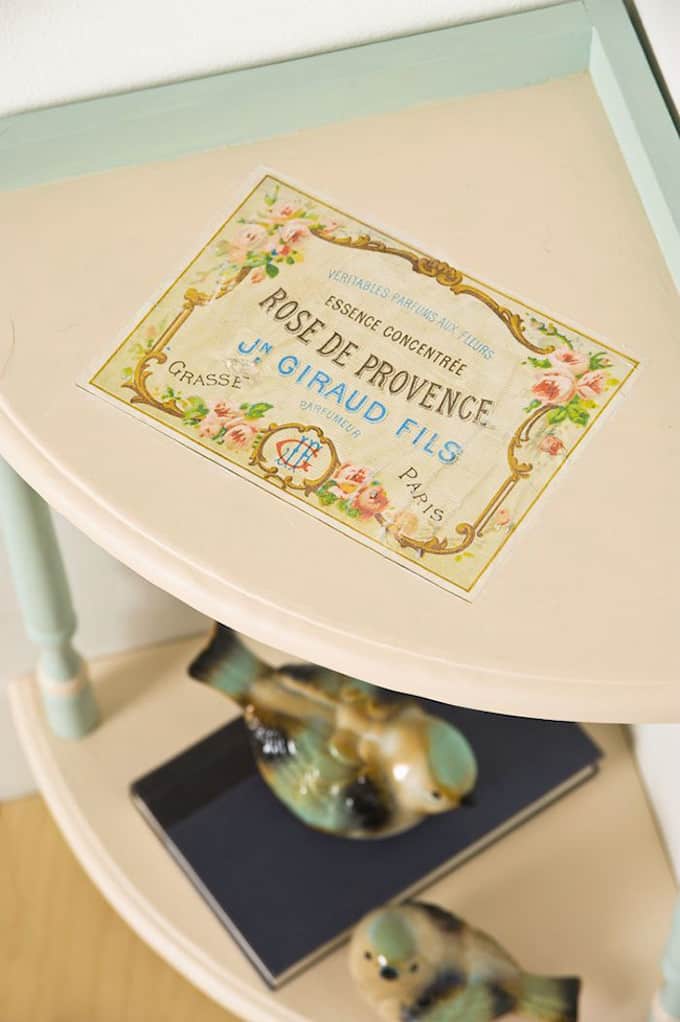 Your upcycled furniture project is complete.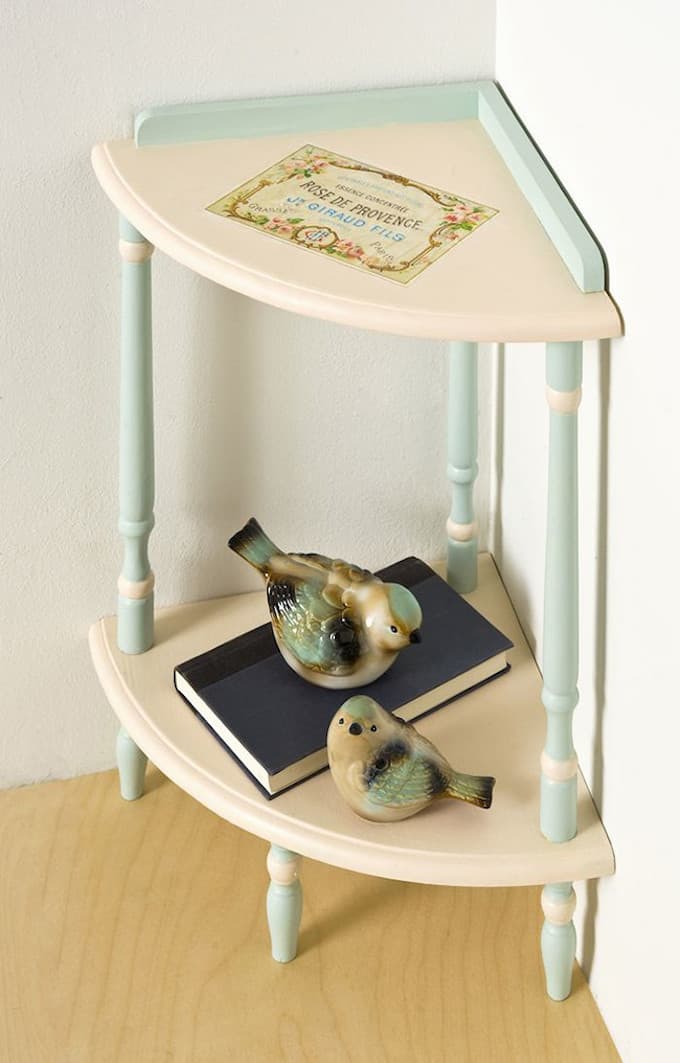 Display your upcycled table in a corner of your home and pat yourself on the back for a job well done.
---
For more Mod Podge furniture projects click here – you can also get Mod Podge table ideas by clicking below!