In less than 30 minutes you can have a DIY Halloween wreath that will put others to shame. It's so simple – only four steps.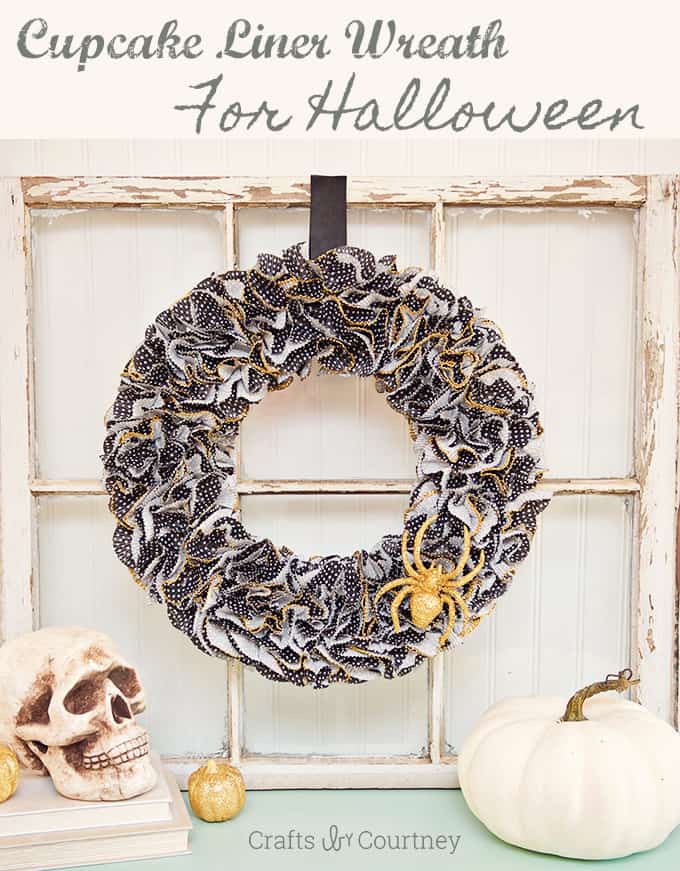 Halloween is just around the corner and I wanted to get started on a couple projects for the house early. My first project was a cupcake liner Halloween wreath!
Halloween is one of my favorite holidays to decorate around. I try not to go too spooky since I have three little boys. But I do add some spiders and bats around the house (maybe even a skull or two). I wanted to make a new cupcake liner wreath, last year I attempted my first and I LOVED it.
These wreaths are so easy to make (about 30 minutes), since then I've made one for every holiday but giving each one a new spin.
This time I pulled out my "trusty" Mod Podge to give it a cool glittery effect.
Make a DIY Halloween Wreath
Gather These Supplies
Glitter
Foam Wreath
Push Pins
Ribbon
Cupcake Liners
Getting Started
I rounded up all my materials. A couple months ago I found these awesome polka dot cupcake liners for $1.00 each and I knew exactly what I wanted to use them for. The hard part was waiting until Halloween to use them.
Let's get crafting shall we!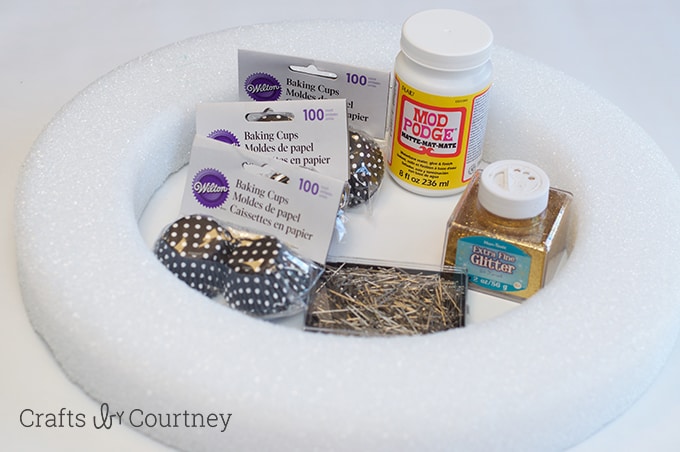 Step 1 – Add Cupcake Liners
Flip your cupcake liners inside out and then put your push pin through the middle.  Fold up your sides and then place it on the foam wreath.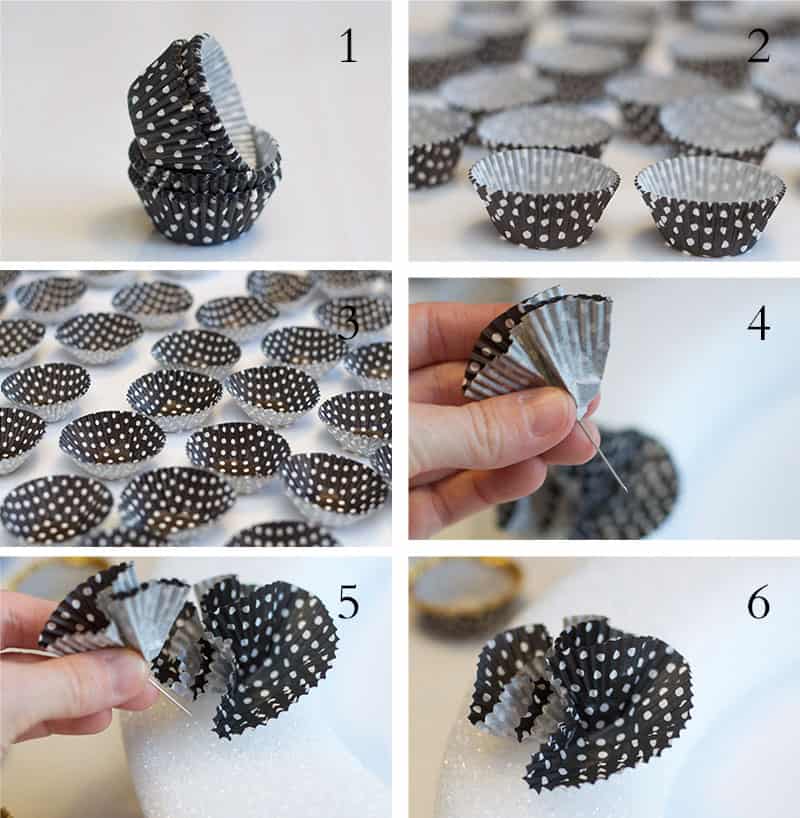 Step 2 – Add Glittered Cupcake Liners
I also wanted to add glitter to the edges of some of the cupcake liners. I filled a bowl with some Mod Podge and another with glitter.  I gently placed the edge into the Mod Podge and then into the glitter. Since the Mod Podge dries pretty fast I only needed to let them dry for about 10 minutes.
I flipped them inside out as well. Then I stared working my way around the whole wreath, mixing the glittered and non glittered cupcake liners.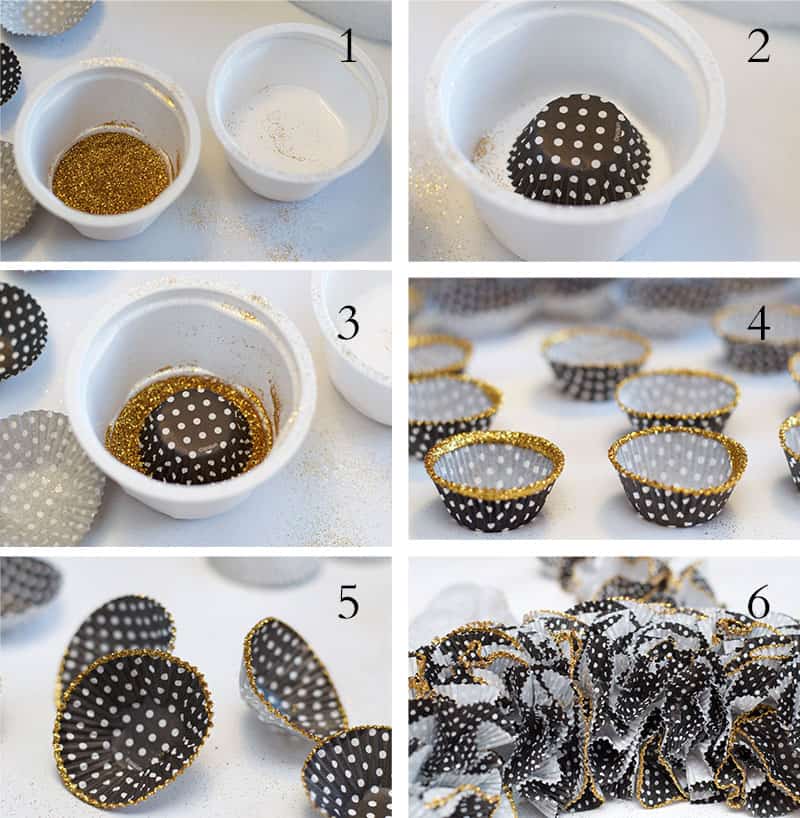 Step 3 – Add Your Ribbon
I left a little space to add my ribbon using some more push pins. Then I started adding my liners over top of the ribbon filling in any bare spots.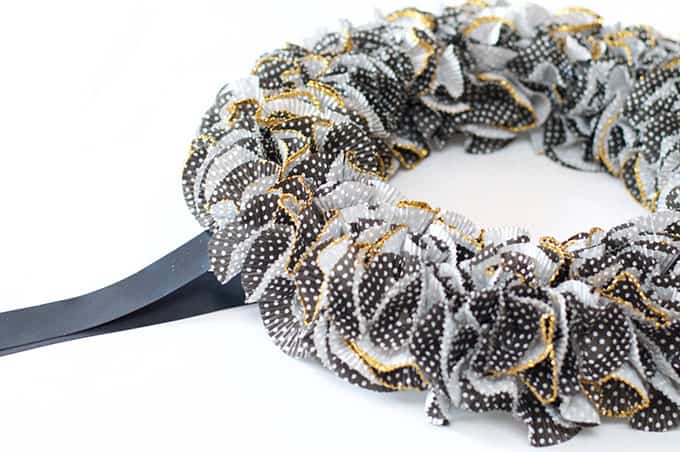 Step 4 – Add Spooky Spider
I wanted to add something extra to this wreath. I already had some spiders on hand that I got from the Dollar Tree. I covered the entire spider with my "trusty" Mod Podge then added some extra fine gold glitter.
I knew the spider wouldn't stay on if I just glued it to the cupcake liners. So I added a little glue to the inside of the spider and then placed a small piece of foam on top. Once the glue was dry I used a wooden skewer and placed it into the foam, then placed my spider on the wreath!!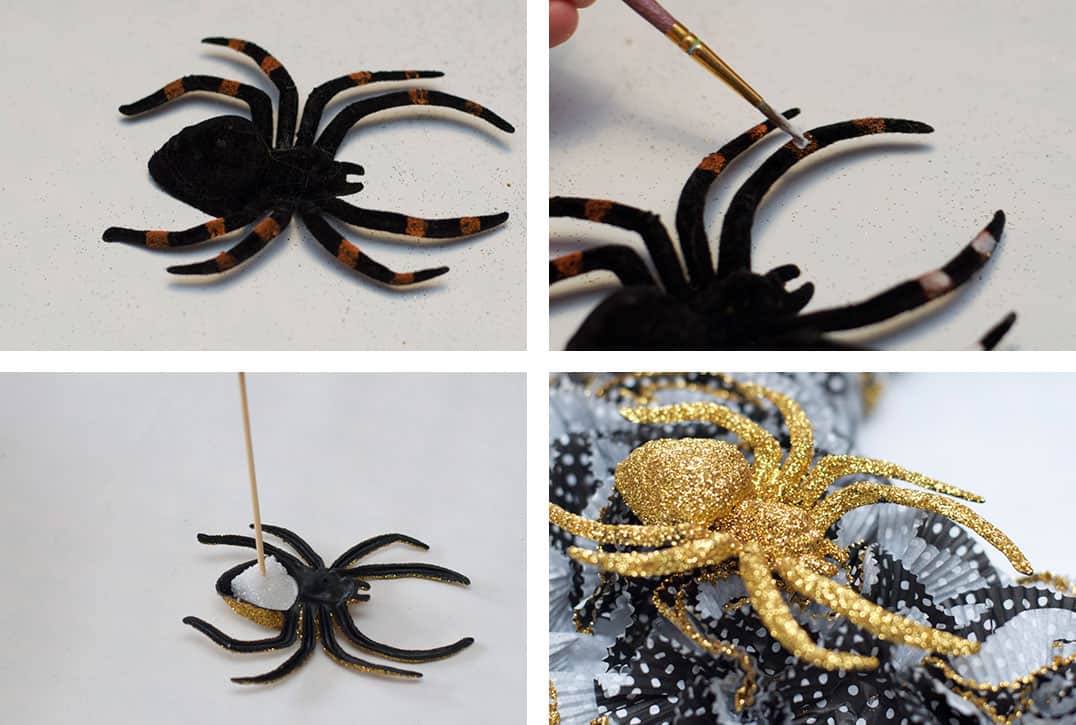 Finishing Touches
Ok, I think this DIY Halloween wreath is pretty cool!! Don't you??!! I love how the glitter turned out, I'm so glad I decided to use it. Plus I think that spider is a perfect touch.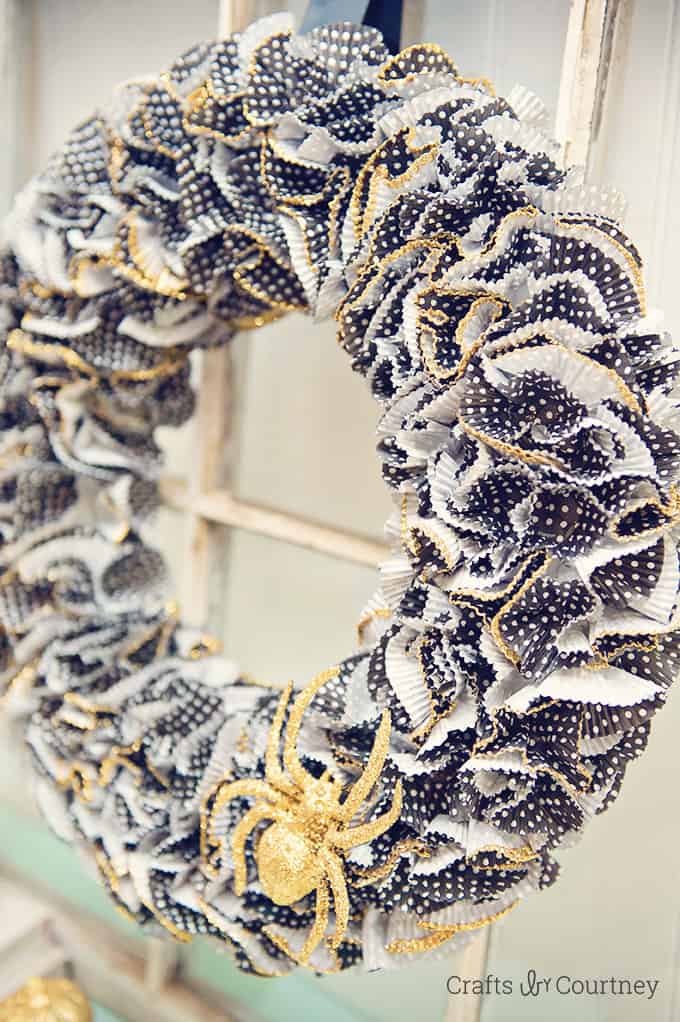 On a side note I did try only using glittered cupcake liners, but it was a little much. My motto has always been go big or go home. But It was too big, so I went small and I'm so glad I did.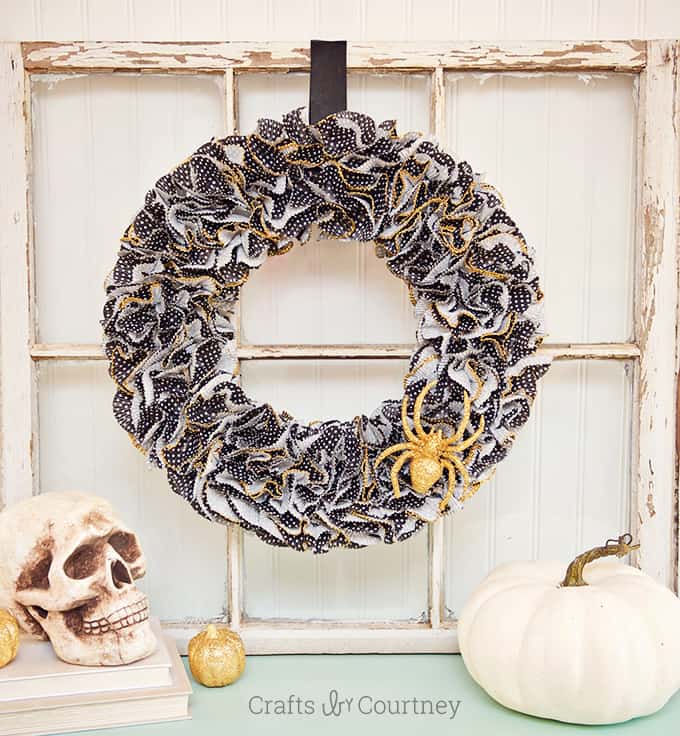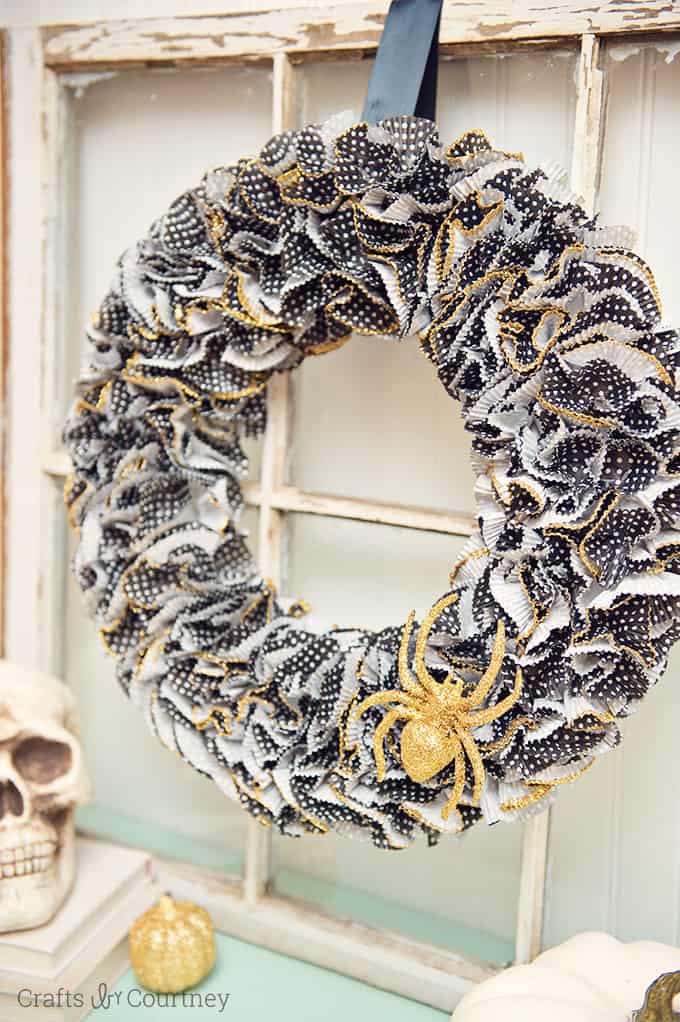 This Halloween wreath looks perfect on my entertainment center. I added a couple more spooky touches to the area and now I'm one step closer to finishing my Halloween decor early.
One of my favorite parts about making these wreaths is that it's a pretty inexpensive project. I usually find my packs of cupcake liners on sale for $1.00 each. Each package has 100 liners and I always use about 300 liners for my wreaths. Not too bad for a holiday wreath! Way cheaper then going out and buying one new.
I hope you loved this craft. If you'd like to get more craft project ideas and inspiration, be sure to sign up for my newsletter! Get my best ideas, right to your inbox.
Wanna' keep up with all my craftiness, follow me!