Gnomes live outdoors – so it only makes sense that they would turn a regular birdhouse into a gnome birdhouse. Done with Mod Podge Outdoor!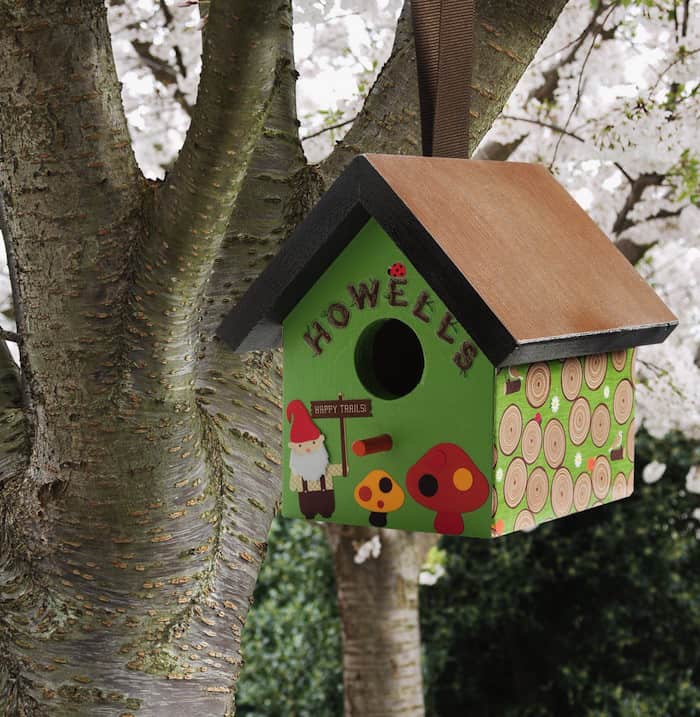 So . . . who here likes garden gnomes? Raise your hand!! Me mee meee! Am I the only one raising my hand? Gnomes are so fun and remind me of spring – as do birdhouses.
So to celebrate, I created a birdhouse for some of my family members with spring colors and a happy gnome. You'll need a birdhouse to start, and the rest is fun.
This project goes well with the fairy garden and painted rocks I've also done. You've got lots to make for the out-of-doors this year, so you'd better get crackin'!
DIY Gnome Birdhouse
Gather These Supplies
Wood birdhouse
FolkArt Outdoor acrylic paint – Burnt Umber, Fresh Foliage, Pure Orange
Woodland themed scrapbook paper
Martha Stewart Gnome and Woodland stickers
Martha Stewart Log Alphabet stickers
Cardstock – yellow, brown, orange
Craft knife
Ruler
Paintbrush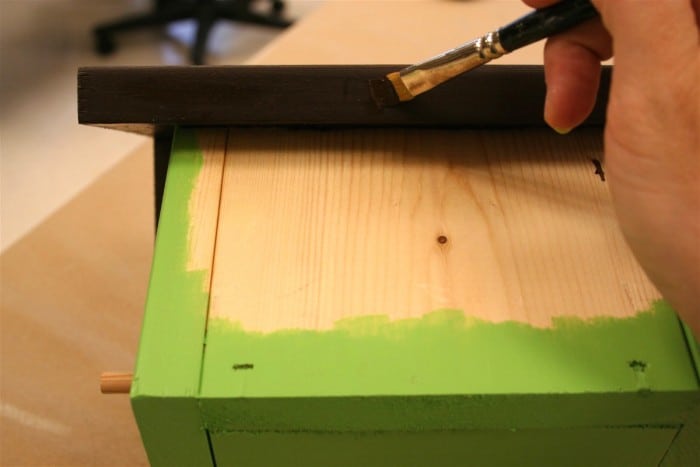 Paint your birdhouse with the FolkArt colors. I used Fresh Foliage for the sides, Burnt Umber for the roof and Pure Orange for the perch.
This Outdoor paint is self-sealing and really durable, so you are good to put it outside. (PS – I just did the edges of the sides where I would be covering with paper).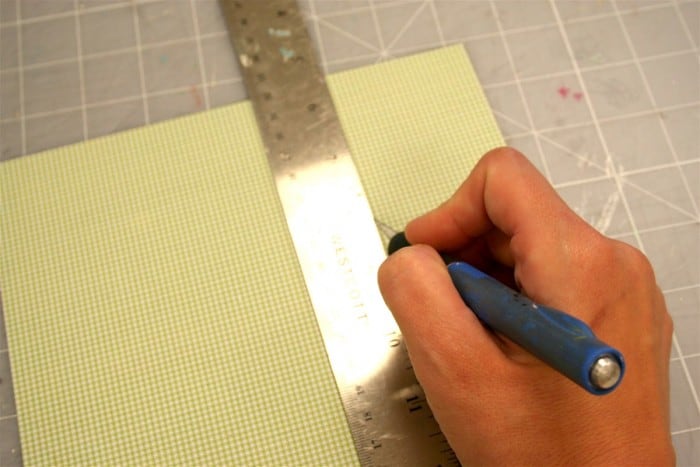 While waiting for that to dry, I cut the papers to fit my birdhouse. I used one design around three sides, and another (woodgrain) design on the roof.
It takes a minute, but it's really about measuring and cutting carefully to get the exact fit – so it's not hard, just time consuming.
At this time I also used my Sizzix Big Shot to cut the mushroom shapes. You don't have to do that though – you can draw and cut by hand just as easily.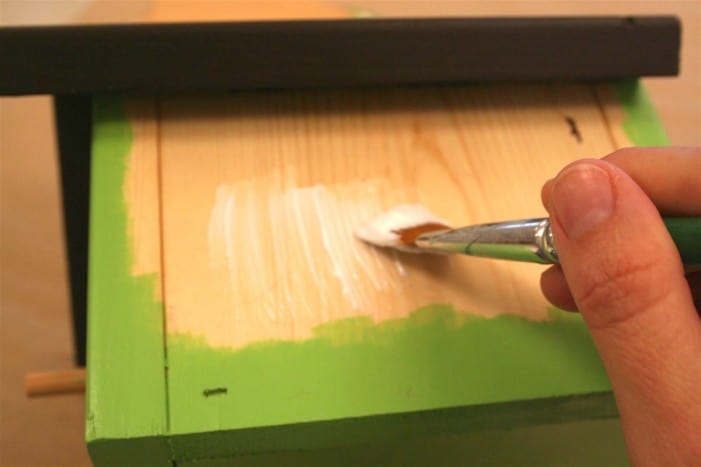 Paint a medium layer of Outdoor Mod Podge on one side of the birdhouse.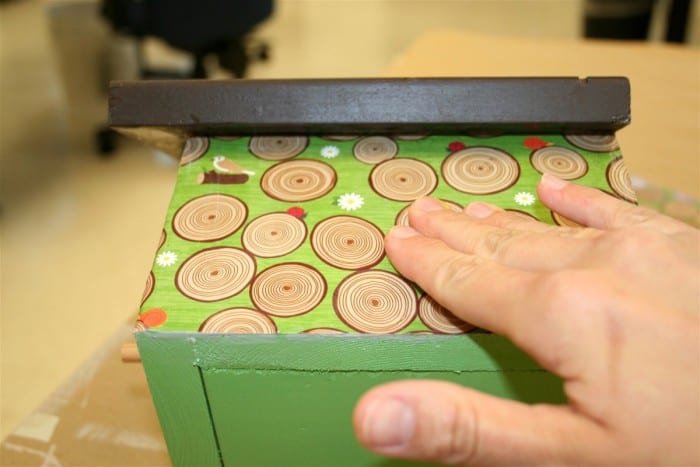 Adhere the (nicely) trimmed paper and smooth thoroughly. Let it dry for 15 – 20 minutes and repeat on all sides.
Once dry, paint a coat of Outdoor Mod Podge over the whole birdhouse. Let dry and repeat.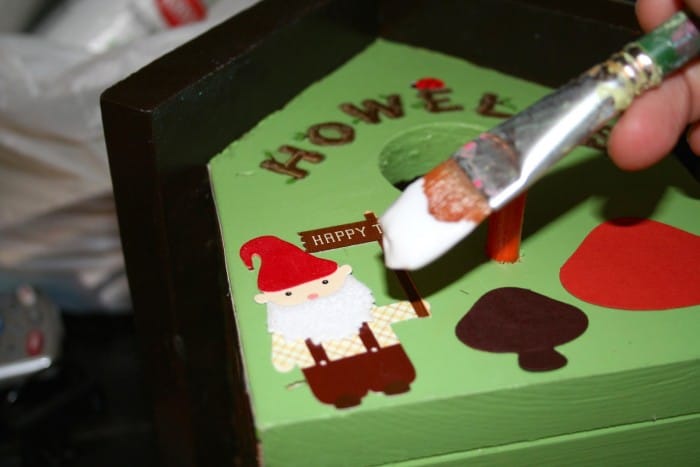 I attached all of the embellishments with craft glue, then gave the entire birdhouse a third coat of Outdoor Mod Podge (including over the embellishments).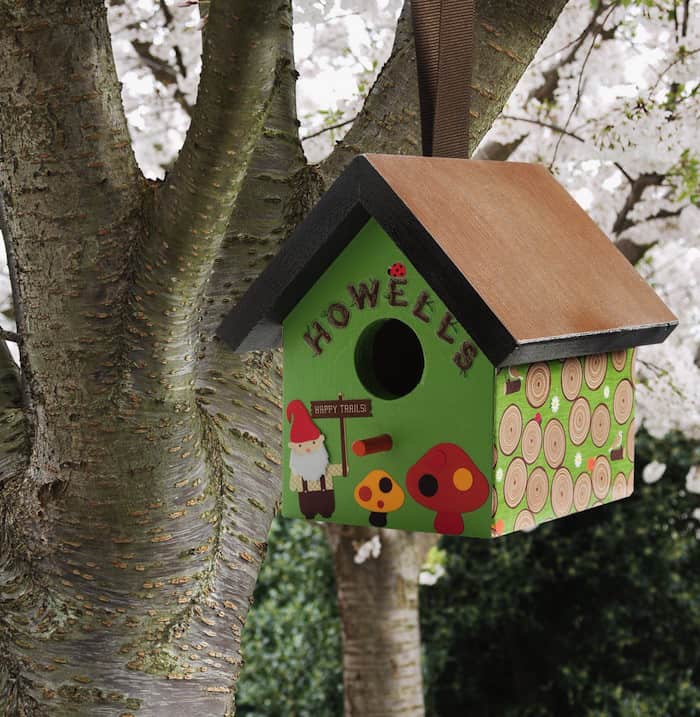 To finish and make sure it's extra durable, add an Enamel outdoor sealer (this is optional). Now you can enjoy your happy gnome birdhouse.
---
If you enjoyed this outdoor project, I'd love for you to check out these other ideas: