These spooky Halloween candle holders made with vintage photos and Mod Podge are fun holiday decor – and you can make them in minutes!
Skills Required: Beginner. You should have experience with decoupage if you want to try this project – especially to prevent wrinkles in the printed photos.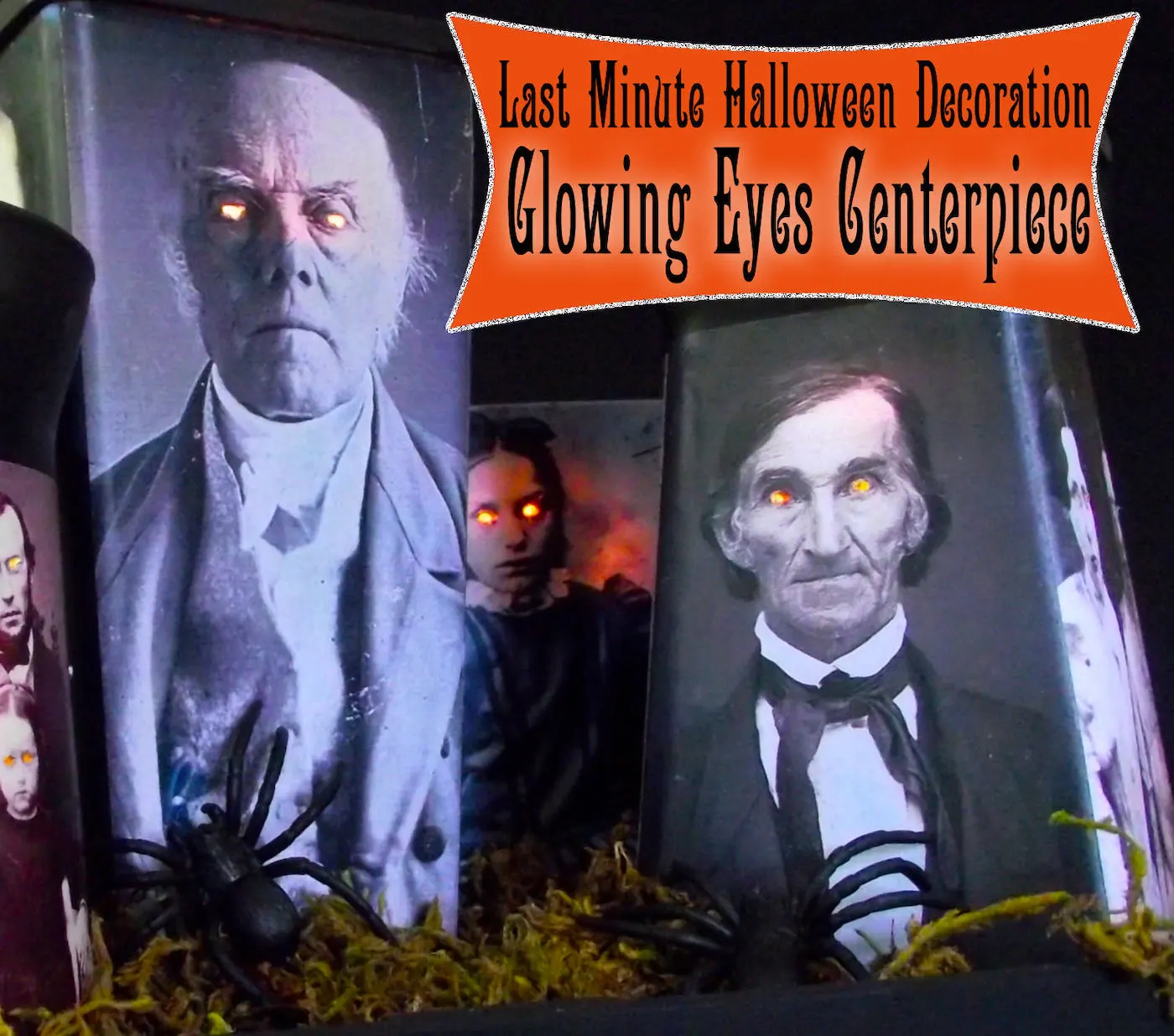 Somehow an unexpected Halloween party is going to occur at my house this coming weekend. It was one of those conversations with friends that went from "yeah, that sounds like fun," to "ack! now I have to actually do it!" in a matter of minutes.
Although I make some (I think) fun Halloween decor items (candles, coasters, signs) for my Etsy shop, to be honest, I don't usually decorate for Halloween. So I needed to pull some stuff together and thought I'd share my first project.
I was looking for something for the center of the table. Whatever it was going to be it needed to be inexpensive, easy and quick. I wandered the thrift store aisles and came up with this idea.
Here's how I made these glowing Halloween lanterns!
Halloween Candle Holders
Gather These Supplies
Glass jars or vases
Vintage photos printed on laserjet
An awl (I believe that's the official name – I tend to call it "that pointy thing that I don't know why I have or where it came from.") – a toothpick, craft knife or anything sharp would work
Black spray paint
Electric tea lights
Scrap wood
Paintbrush
Scissors
I found these four containers ($.99 each!) while thrifting, and I liked their varied shapes and heights.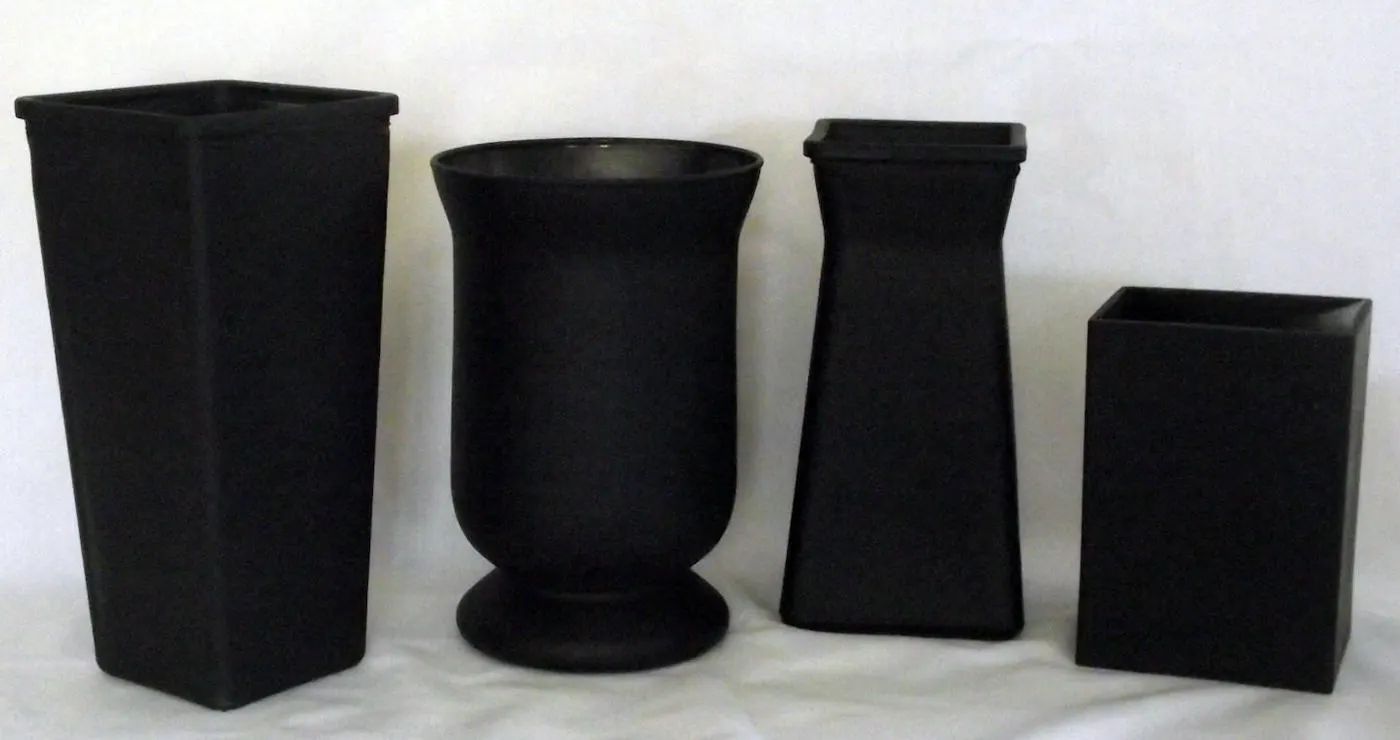 I wanted my candle holders to be opaque, so I gave each a quick coat of black, matte spray paint. While they dried, I set about finding some antique photos to use.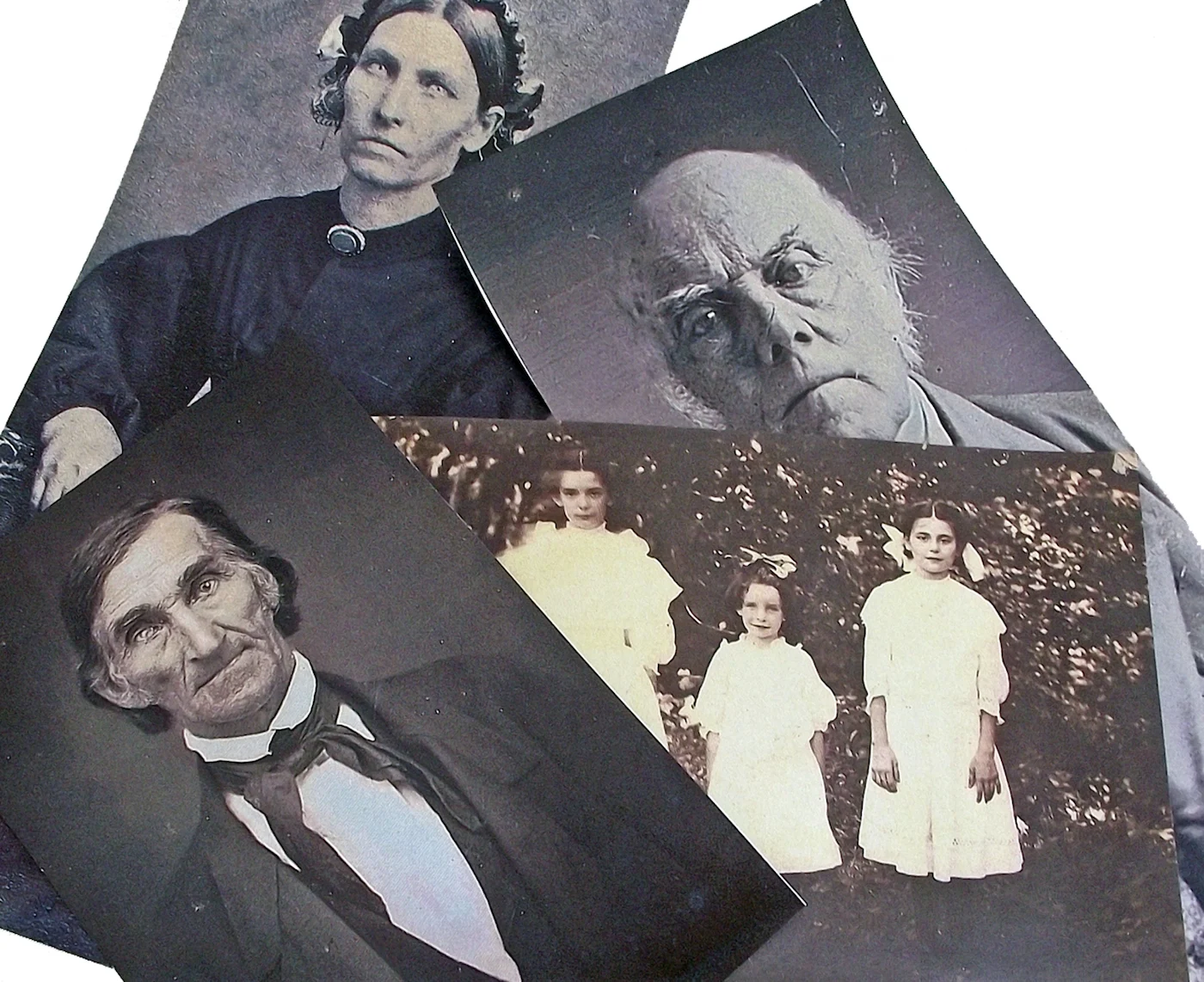 A quick Google search for "Spooky Victorian Photos" quickly provided tons of possibilities. I downloaded a good selection and resized them to fit my black vases.
Then I printed them out with a laserjet printer so they wouldn't bleed when Mod Podged. This took some measuring and trimming, but it was quick work.
Before attaching the photos to the vases I used my awl to . . . poke out their eyes! Which, though it seems silly, honestly made me feel kinda bad.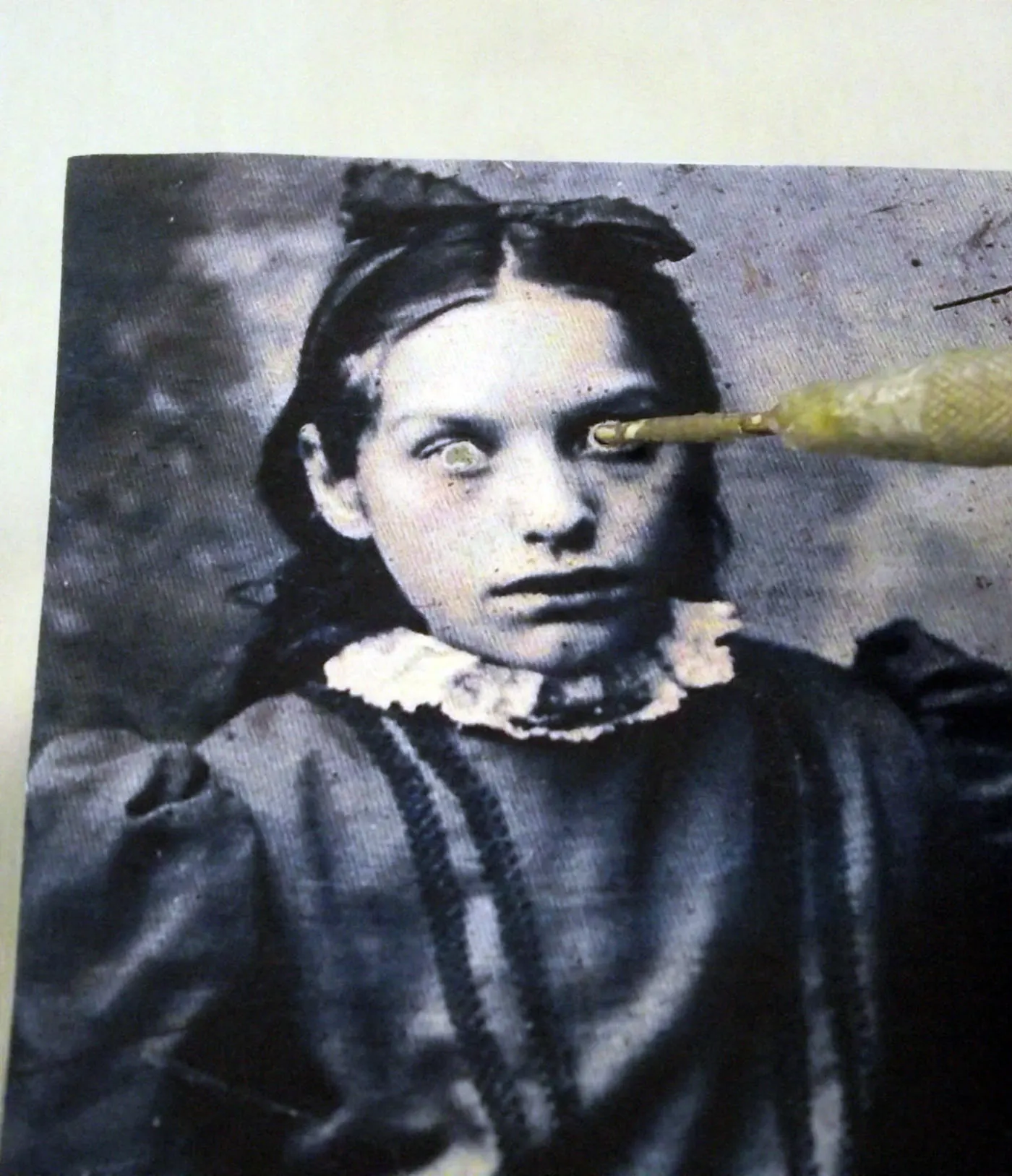 So, my apologies to the Victorian people in these photos. I'm sure you were very nice and it's just the long exposure times and a distinct lack of moisturizer that makes you look a bit scary these days.
I used Matte Mod Podge to attach the pics to my Halloween candle holders. I spread the Podge on the vase, a thin layer on the back of the picture, and then smoothed them together.
To keep things moving, I did one side of each vase at a time. By the time I'd done the fourth vase, the first one was dry enough to do another side without risking messing up the part I'd already done.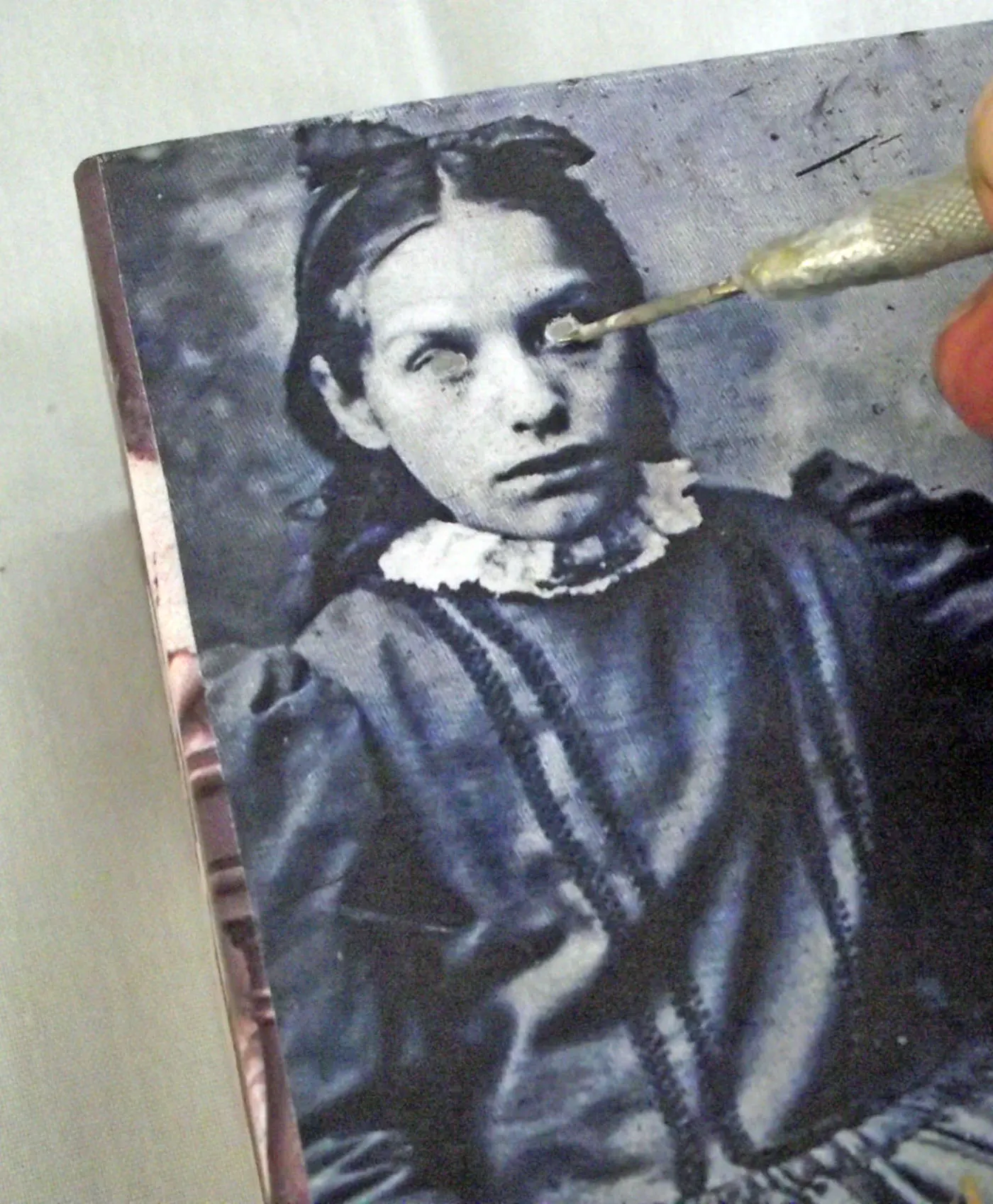 Once they had all dried completely, I went back in with my awl and cleaned up the eye sockets a bit. While I did this, I simultaneously scratched off the black paint underneath.
A quick coat of Mod Podge sealed everything on my Halloween candle holders in place.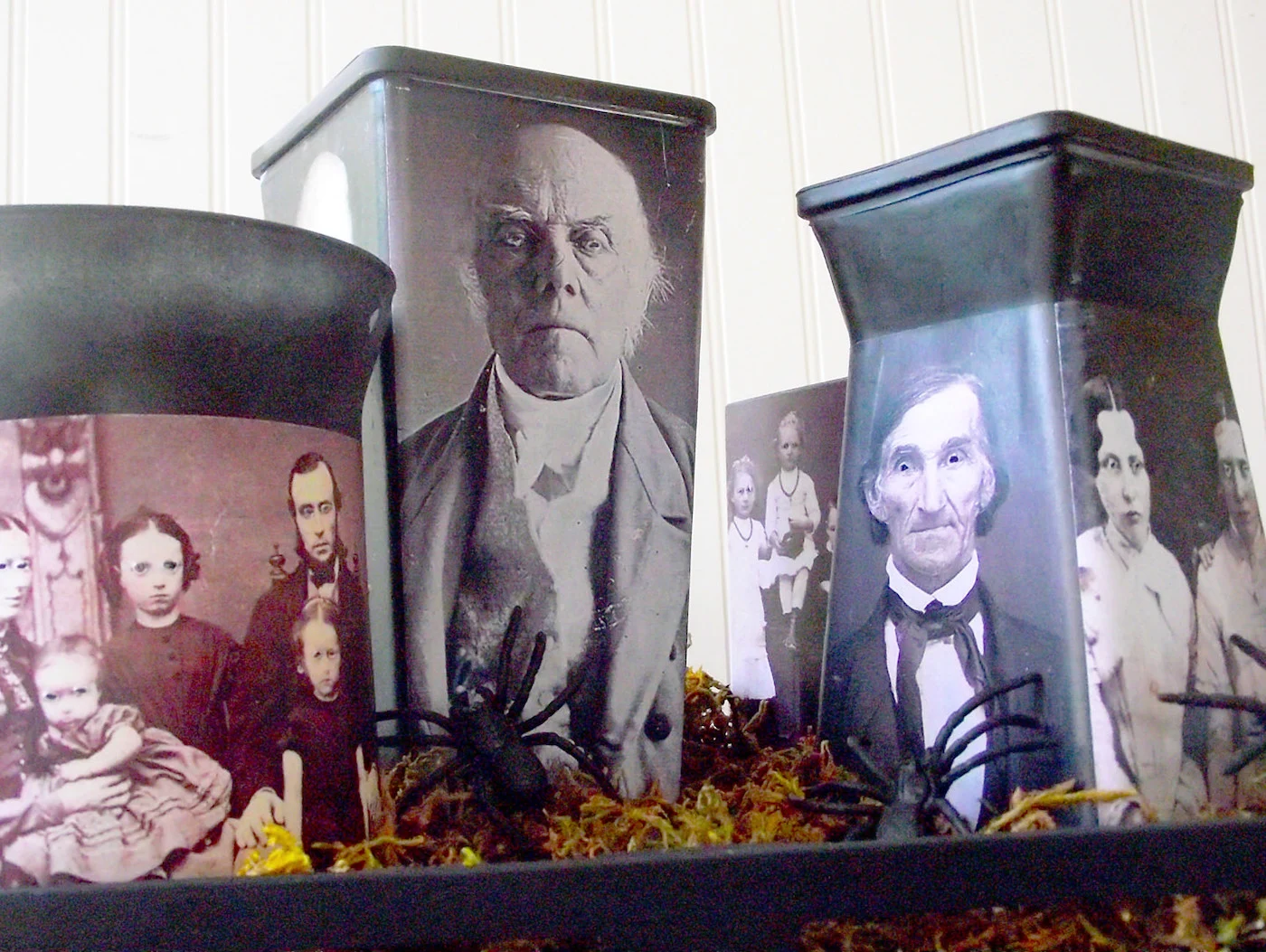 Here are my Halloween candle holders in the daylight. Kinda gloomy but fairly benign.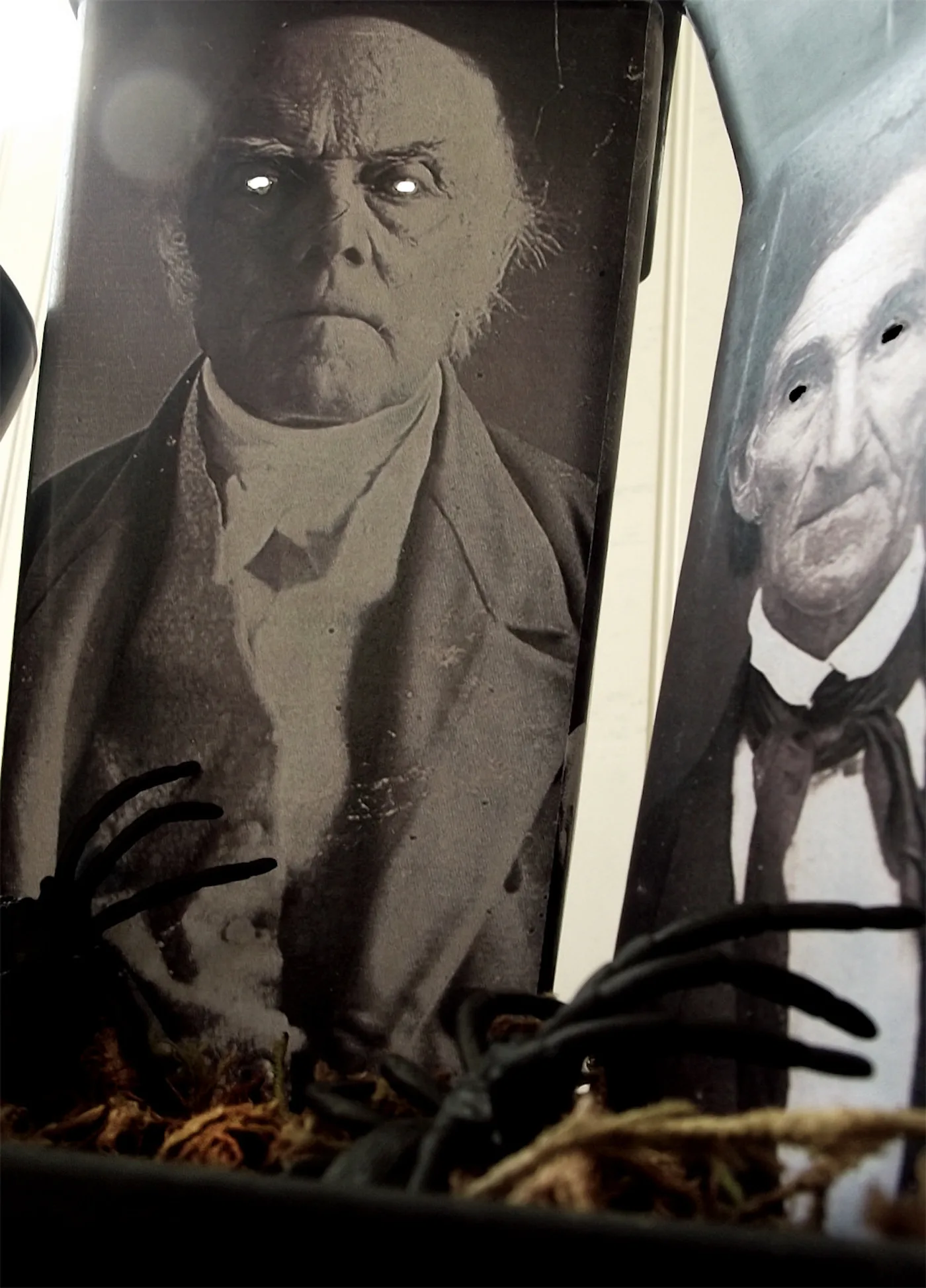 Now here they are with the lights lowered for a party: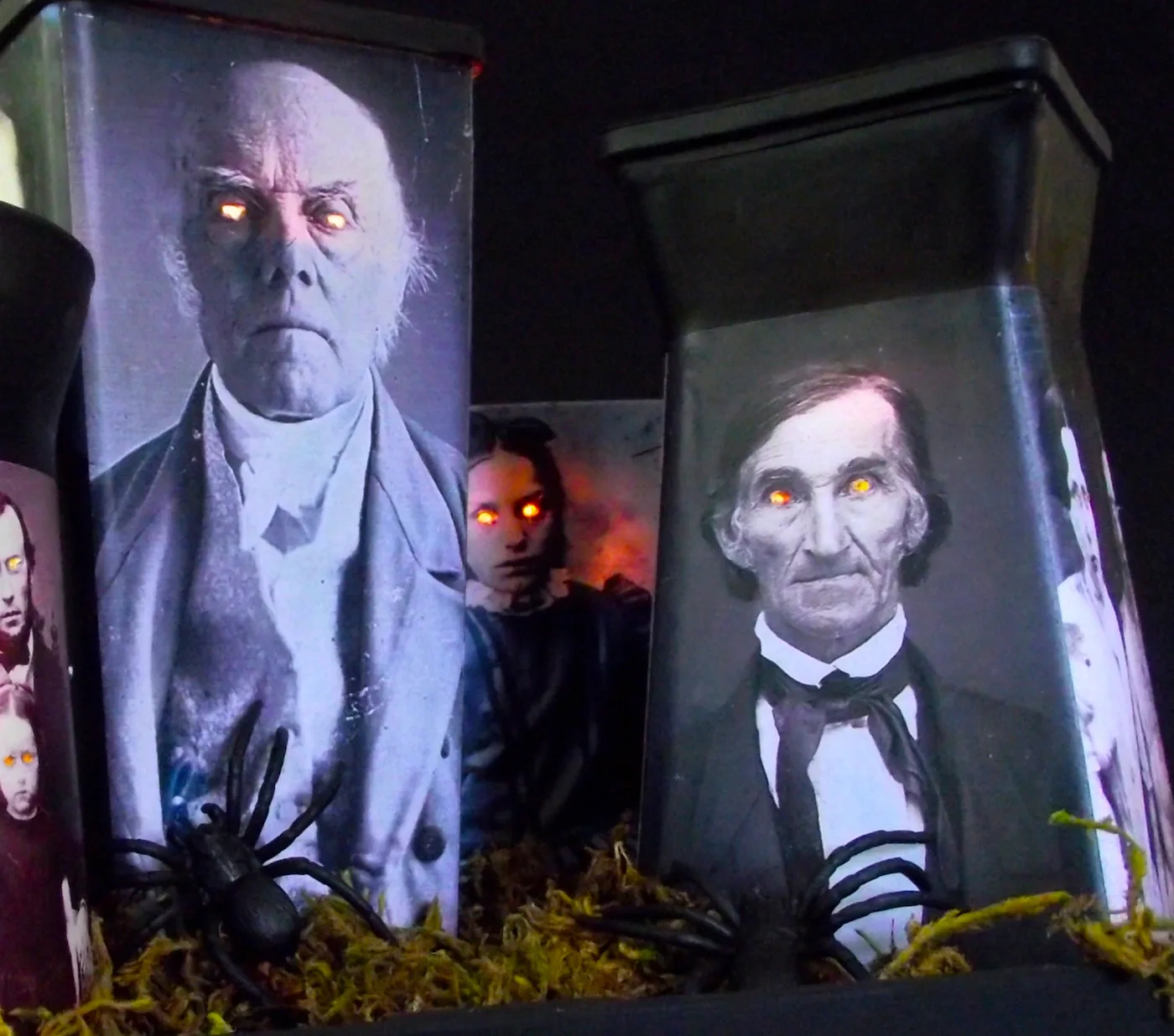 I did discover that on a few of them I needed to elevate my tealight just a bit to get the maximum glowing eye effect – a chunk of wood did the trick (painted black of course).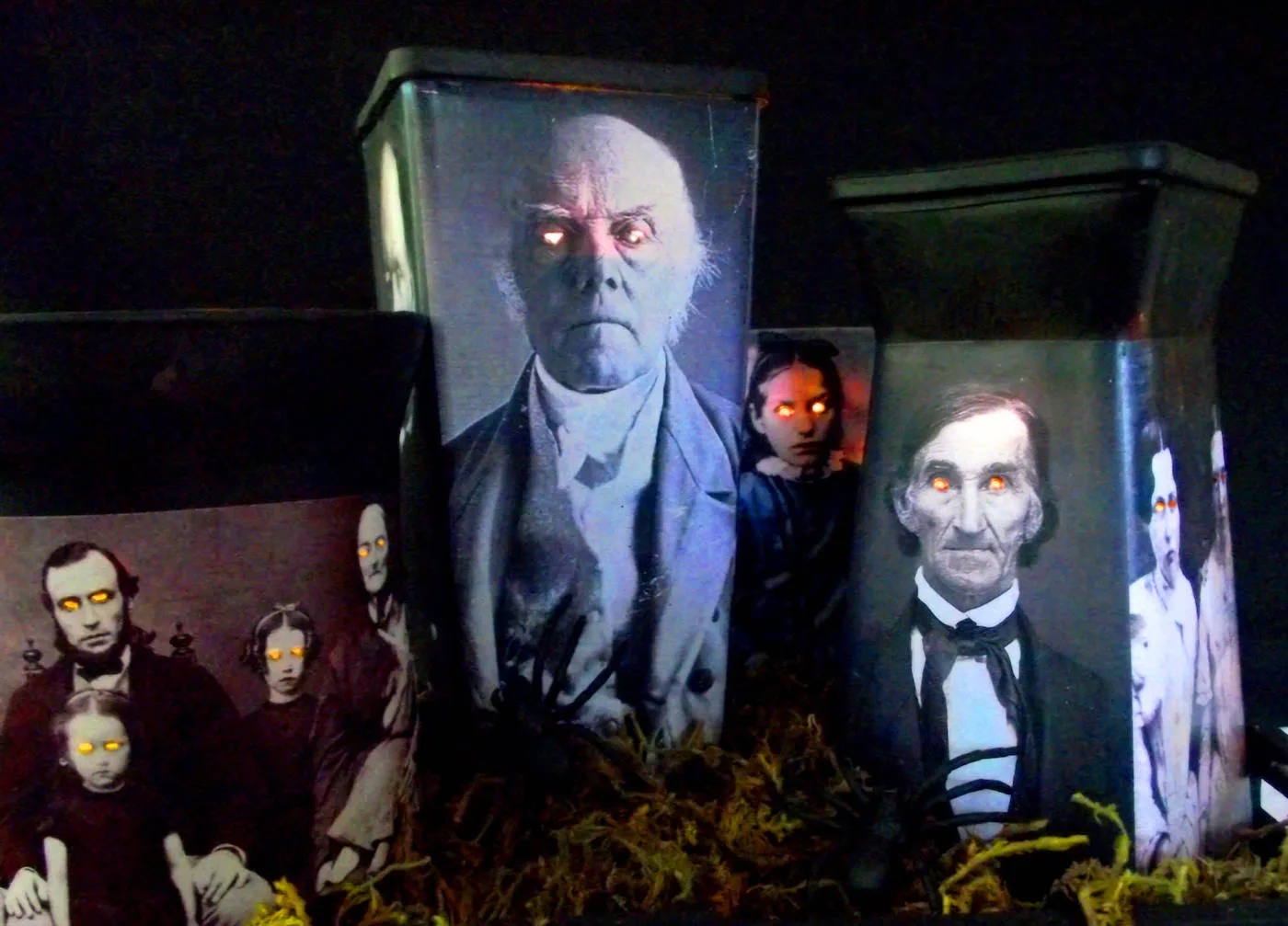 Now I just need a few other things, some mood lighting, food . . . oh! and a costume. Then I'm good to go.
Final Thoughts on the Project
If you're in a hurry, stick with straight sided vases. I like the tapered shapes I used, but trimming things to fit slowed me down a bit
Glass vases are easy because of the varied sizes and shapes, but you could use PVC pipe, cardboard tubes – pretty much anything.
I think electric lights are a must for this. Not because it's much of a fire or heat danger just because you don't have to think about them as the evening goes on.
For maximum glowy eye effect, try to keep all the eyes on roughly the same level for each jar. I got lucky and did it by accident. If you have some pics where the eyes are down low and some where they eyes are up high, they won't glow evenly.
These could also be fun spread out on a mantle or a bookshelf.
Get the printable how to card for this Halloween craft for adults below.
Yield: 4 holders
Halloween Candle Holders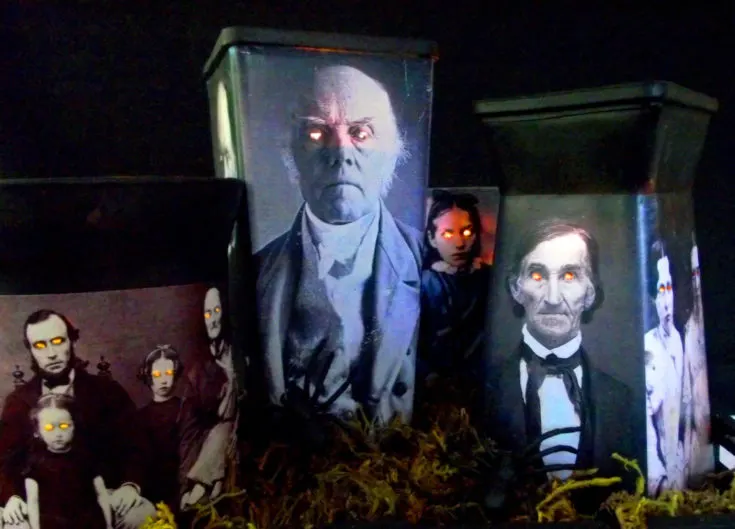 Learn how to make spooky candle holders using vintage photos and Mod Podge! Make these for a Halloween mantle.
Active Time
1 hour
45 minutes
Total Time
2 hours
30 minutes
Materials
Glass jars or vases
Vintage photos printed on laserjet
Black spray paint
Matte Mod Podge
Electric tea lights
Scrap wood
Instructions
Choose four jars of varying sizes and styles. Wash with mild soap and water or rubbing alcohol and let dry.
Spray paint each glass jar with a coat of black spray paint and let dry.
Choose vintage photos to fit the containers and resize to fit. Print and cut with the scissors to fit the vases.
Before attaching the photos to the vases, use the awl to poke out the eyes.
Use Mod Podge to attach the pictures to the candle holders. Spread the Podge on the vase, a thin layer on the back of the picture, and then smooth them together.
Repeat until all holders are covered and let dry.
Use the awl to clean up the eye sockets on each image, simultaneously scratching the paint off underneath so the light can shine through.
Apply a coat of Mod Podge to each container and let dry completely before using.
---
Have a great Halloween, everyone! Let me know what you think of this idea in the comments. I'd also love for you to visit these other posts: