Learn how to make pretty family photo ornaments using crystal pendants from a chandelier! Perfect for Christmas, a wedding, or baby gift idea.
Skills Required: Beginner. The Mod Podging is simple enough if you don't have any experience – the only thing that you might want to know is how to use jewelry tools.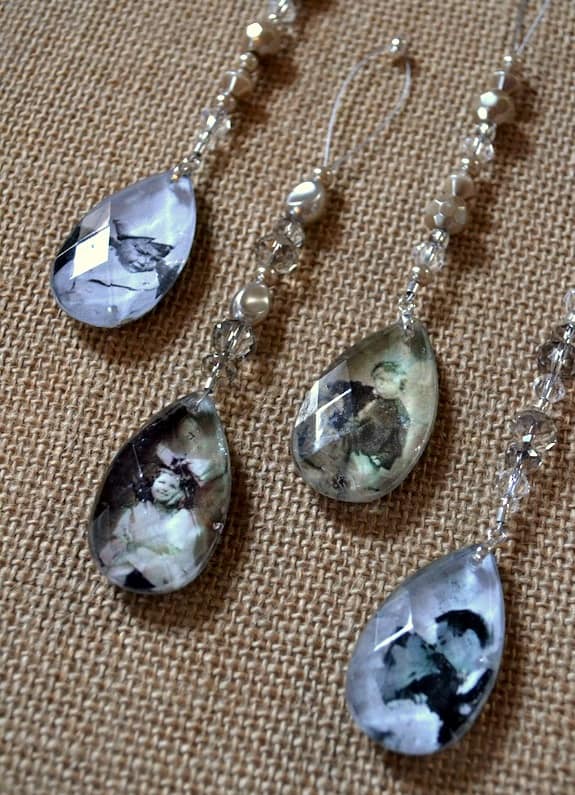 Dimensional Magic is just about the most awesome Mod Podge formula ever, at least today. It seems like every day I have a different favorite formula, and today is definitely Dimensional Magic.
These ornaments made by Jenn are great because they are not just for Christmas – they can be used as home decor any time of the year. Or how about turning something like this into a bookmark? Or a piece of jewelry?
There are so many possibilities! I love Jenn's personalized ornaments and I think you will, too. Continue below to learn how she made them.
---
I treasure my collection of family photos that have been passed down through the generations. Rather than keeping them hidden from the world in a stuffy old trunk or shoebox, I love to have them out where they can be enjoyed.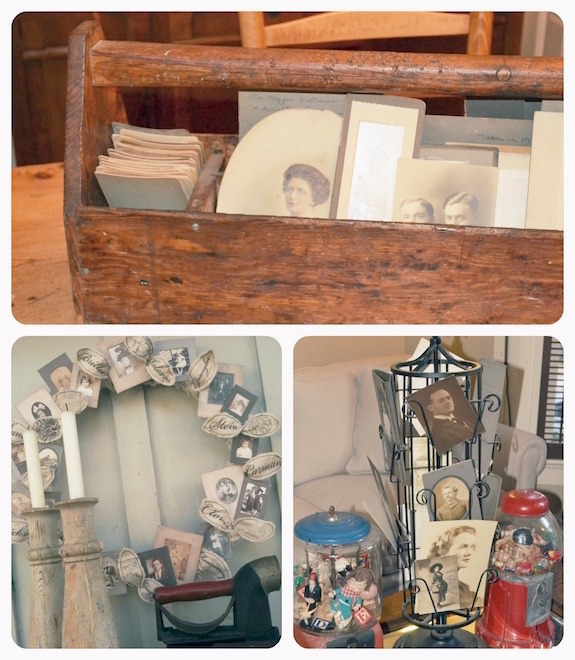 My dining table is graced by an oversized vintage wooden tool caddy that is filled with photos for the family to enjoy. In my living room, you'll find a vintage-style postcard rack stocked with old photo cards of our ancestors.
And on the front door, guests are greeted by a wreath circled by tiny portraits, family surnames and crests. It's part of our decor and how we remember those before us!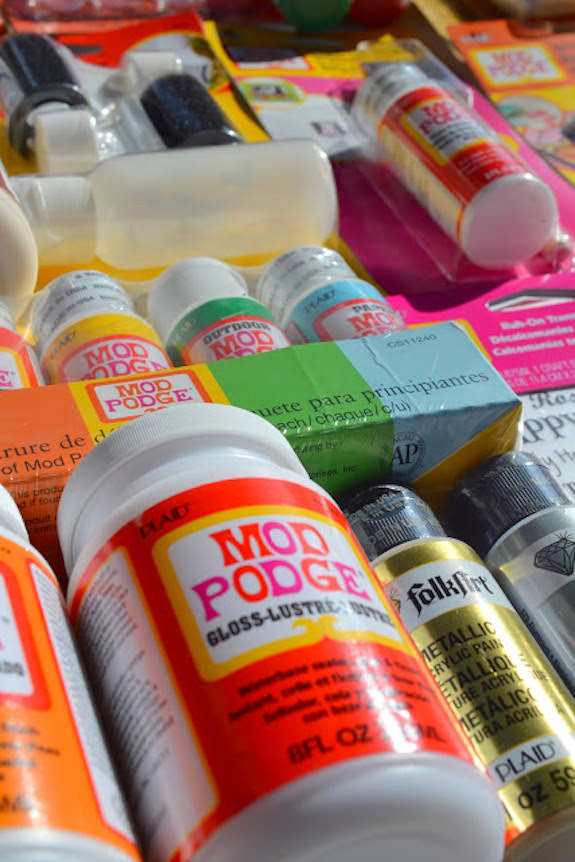 I'd been dying to try Dimensional Magic, so I developed a project based around the formula using some of my favorite family photos. Using inexpensive chandelier crystals, beads, and beading supplies, I was able to create easy and elegant pendant Christmas ornaments in minutes!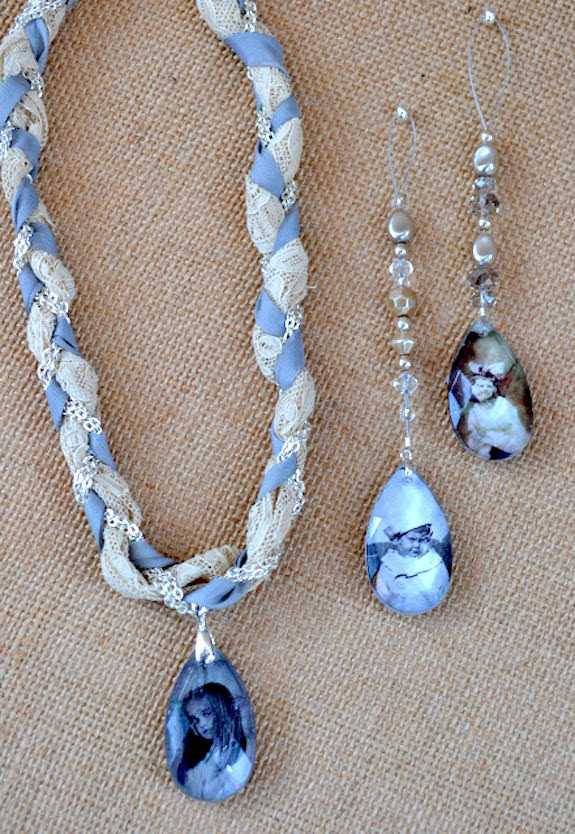 Just imagine an entire tree trimmed with these nostalgic family photo ornaments! Commemorate a wedding, baby's first year, or pay homage to generations past.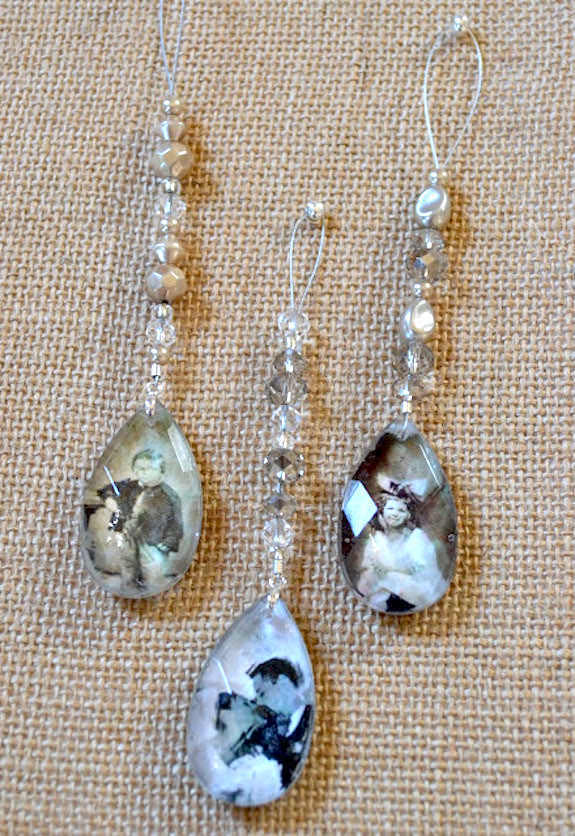 Whether shimmering from evergreen branches or wrapped up in a gift, these ornaments are sure to sparkle with meaning for all that behold them. Learn how to make below.
Family Photo Ornaments
FolkArt acrylic paint — Metallic Silver or Gold
Chandelier crystals (from the craft store or home improvement store)
Family photos, scanned and reduced to fit the dimensions of the crystal
Pencil
Scissors
Paper towel
Paint brush
Pinch bails (from the beading section of the craft store — silver or gold depending on your preference)
Beads of your choice
Crimp tubes
Crimp bead covers
All-in-one jewelry pliers
Silver or gold beading wire (thin enough to pass through the beads when doubled-up)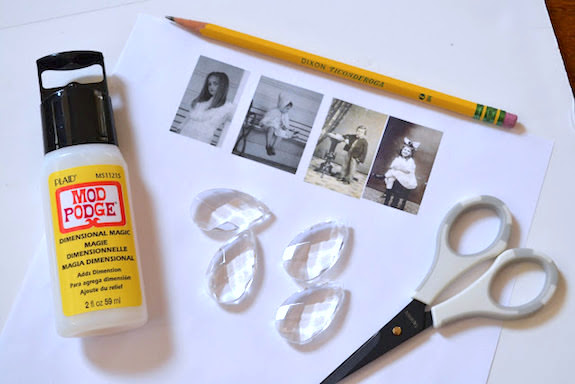 Step 1: Print out photos in high quality on regular printer paper. Lay crystal on top of photo and trace with a pencil. Cut along the inside of the pencil marks.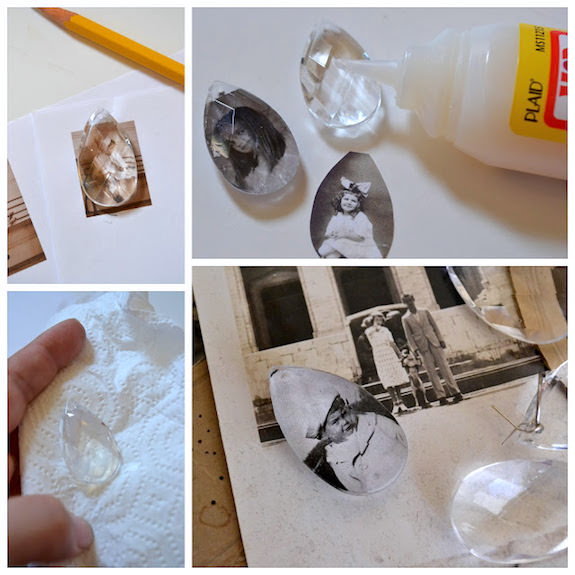 Step 2: Set crystal on piece of paper towel. Apply a thin coat of Dimensional Magic to the back of the crystal, leaving a 1/8″ border. Gently set the photo (face down) on top of the Dimensional Magic. Using a finger, press the photo into place.
The paper towel will prevent the Dimensional Magic from running to the front of the crystal. You can apply firm pressure without getting your other hand sticky. Work out any wrinkles, then set aside to dry for a few minutes.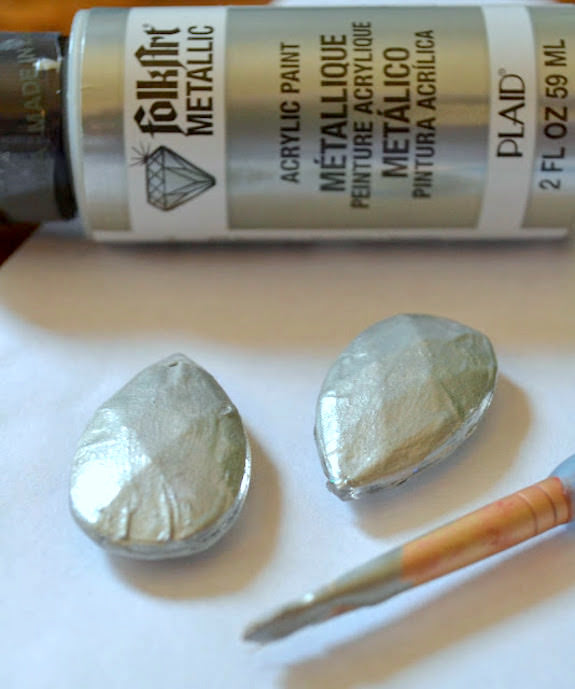 Step 3: When Dimensional Magic is dry, paint the back of the paper with the metallic paint. Allow to dry for a few minutes, then brush on a second coat.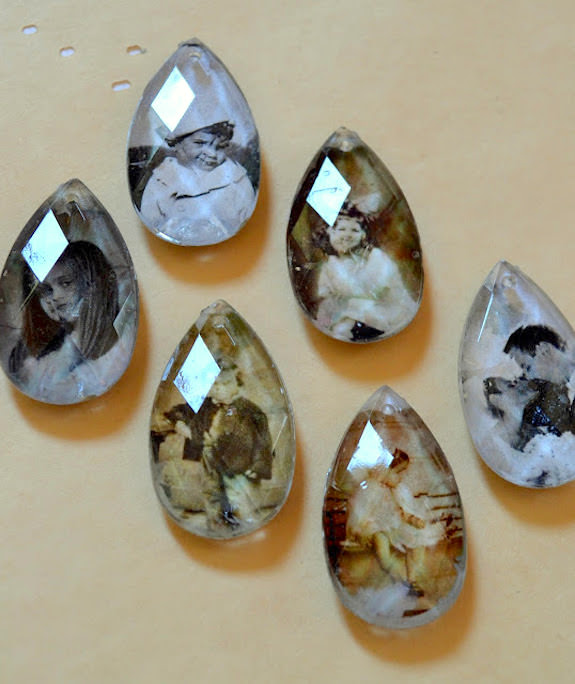 Step 4: When the second coat of paint is dry, you're ready to start beading.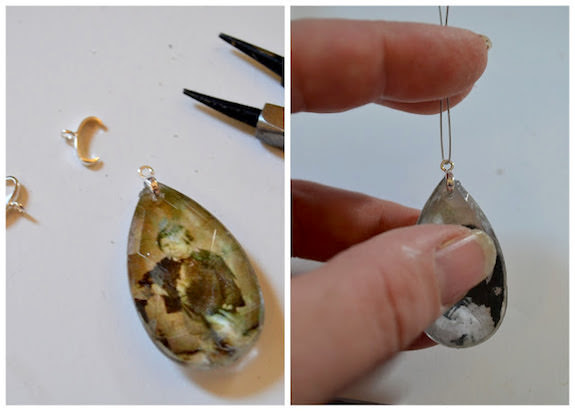 To bead:
Pinch a bail into place with your all-in-one tool. If the hole in the crystal has been sealed by the photo, use a pin or needle to open it back up.
Thread an 9″- 10″ piece of wire through the bail. Lock into place by threading a small bead through both ends of the wire (length will depend on how long you would like the finished ornament to be).
Continue adding beads by threading both ends of the wire through the hole.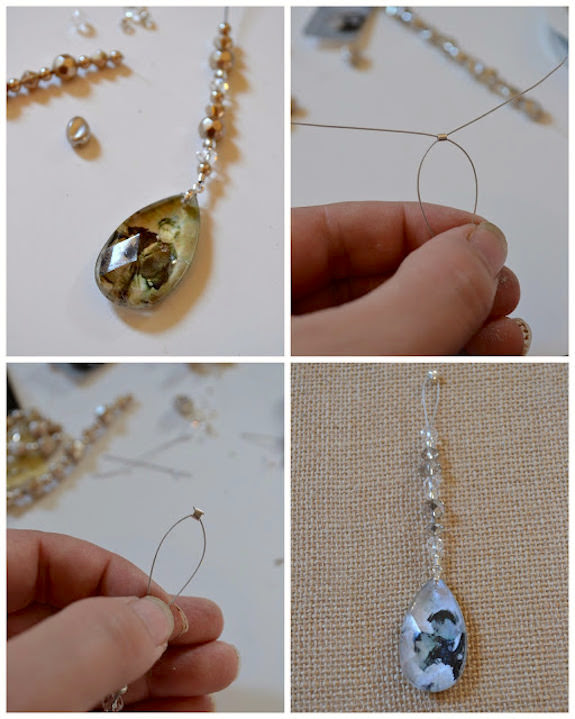 When you've achieved the desired length, thread the ends of the wire through a crimp tube, in opposite directions, to create a loop. Pinch crimp tube in place with your all-in-one tool. Then use the tool to trim the loose ends of the wire.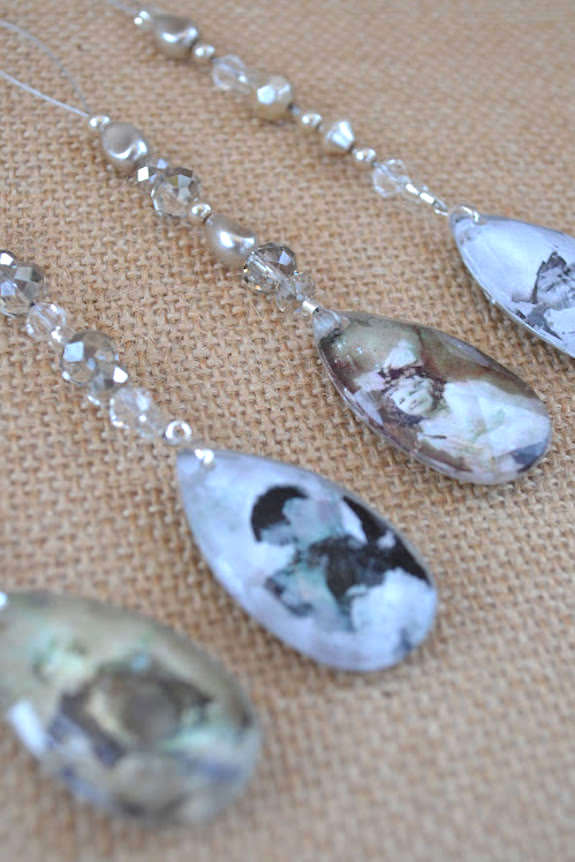 Your crystal pendant ornaments are ready to hang from the tree or wrap as a gift.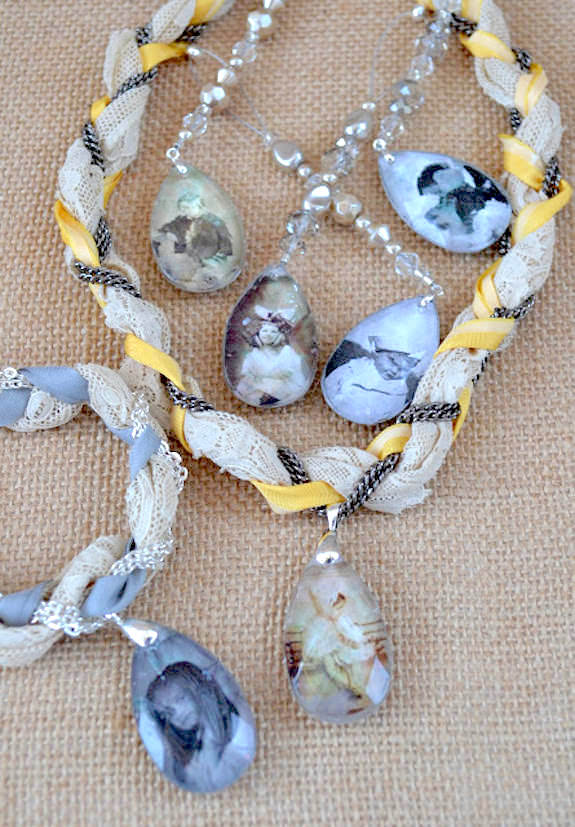 The family photo ornaments can also be attached to a larger bail and hung from a necklace. Let me know what you think in the comments!