Learn how to make a magazine collage the easy way! You can use this decoupage collage on canvas method to create any design you like. Perfect for new crafters.
Skills Required: None. Even if you've never decoupaged before, you'll be able to do this project. The scraps are small, so you don't really have to worry about wrinkles.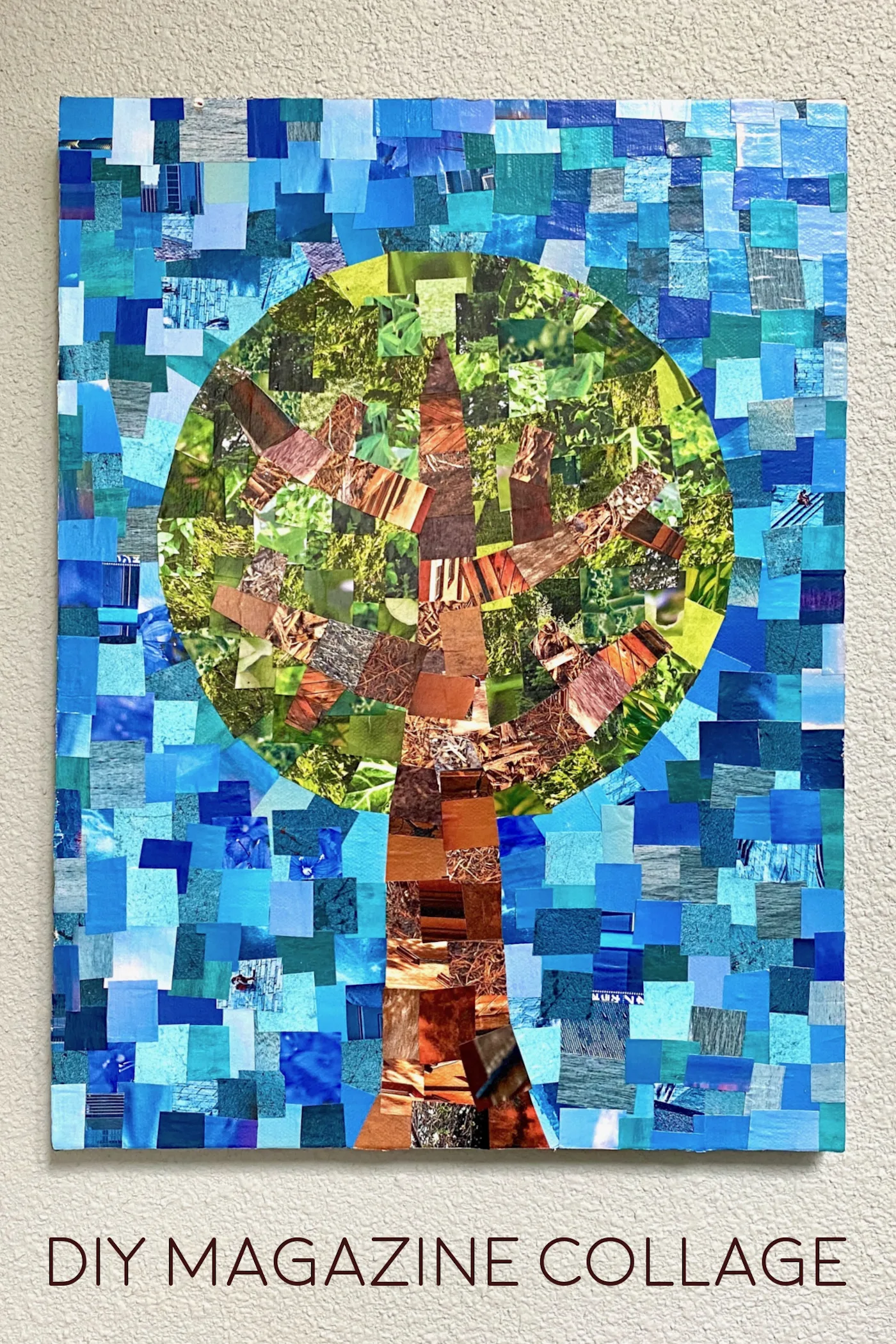 Orange you glad we found this wall art tutorial? Heh heh. If you are anything like me you struggle to find new things to decorate your house with.
Also, if you are anything like me you have a million old magazines that you have just sitting around collecting dust. You'd like to try a recycled craft with the mags perhaps, but you aren't sure what to do.
Thanks to this Mod Podge tutorial, we can solve both of our decorating problems with a fun magazine collage. This canvas idea is part of our easy crafts for adults collection as well as our crafts for teens, if that tells you anything. It's going to be easy to put together!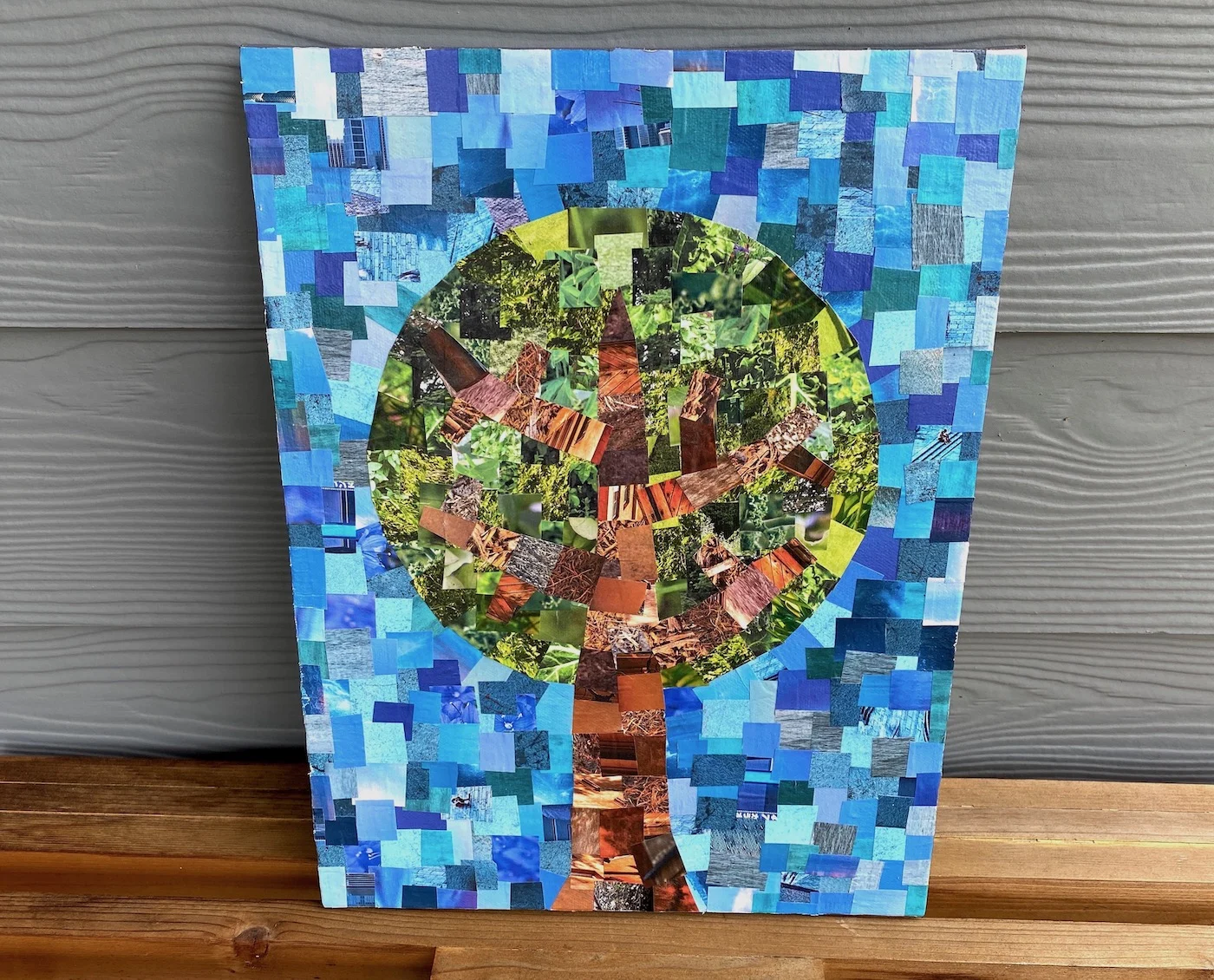 Magazine Collage Art
Before we dive in, let's answer a few commonly questions you might have about this project. If you'd like to skip this FAQ and get to the how-to, scroll down past this section. Otherwise, this is what people want to know.
Will the magazine ink bleed?
If you're using a regular magazine like Cosmopolitan or People or Better Homes & Gardens, there shouldn't be any bleeding. There's typically a coating on magazine pages. Actually, just so you know – newspaper works fine too. And book pages!
Will the magazine pages wrinkle?
The larger the cut pieces are, the more susceptible they are to wrinkles. It's really easy to do a Mod Podge collage with smaller pieces like you'll see in this project. Don't be afraid to use enough Mod Podge. It will dry clear and you can wipe the excess away.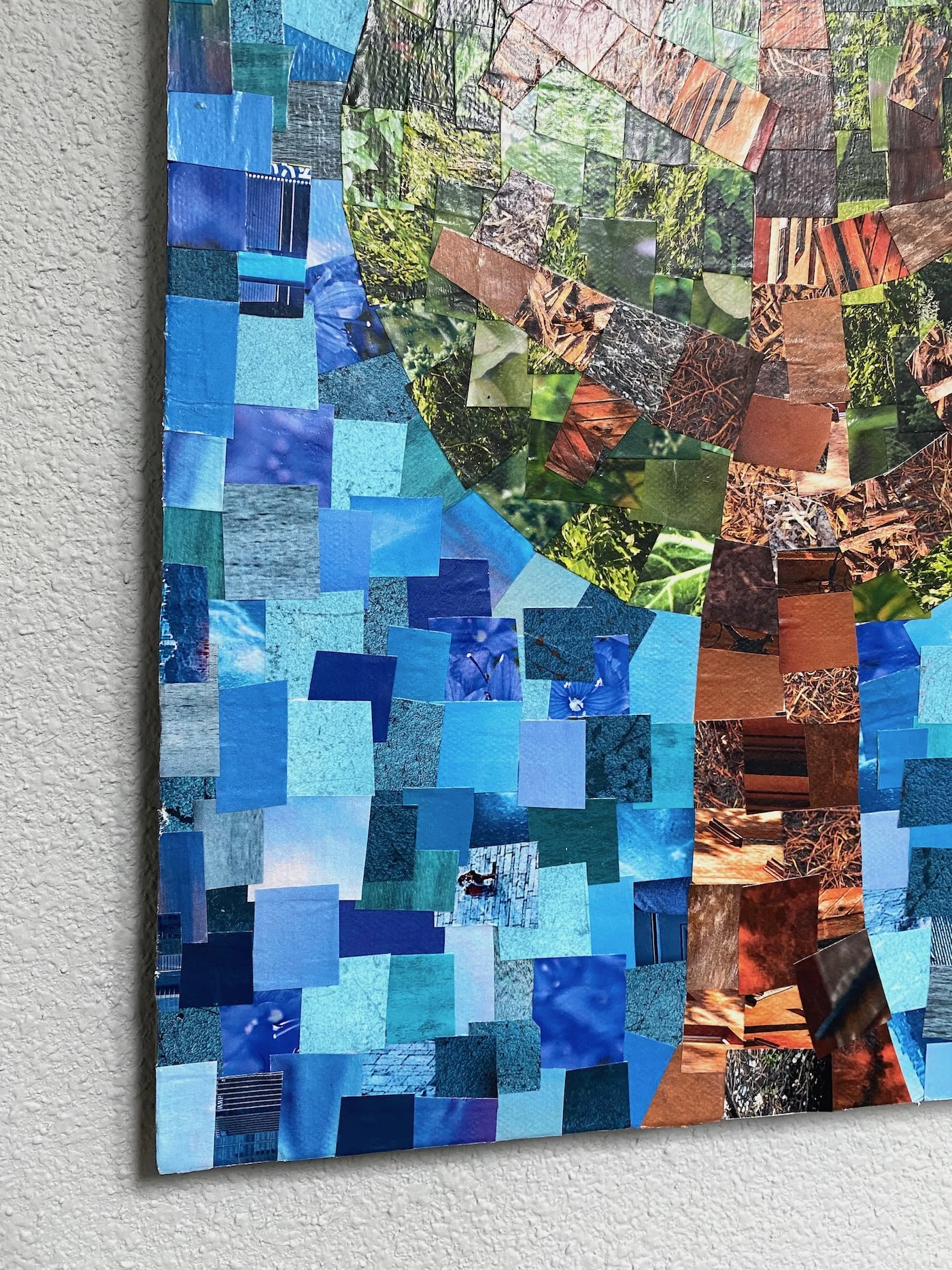 What should I paint the canvas with?
Use acrylic craft paint. You can also use chalk paint, or spray paint. The only paint you really need to avoid is latex paint. It bubbles when Mod Podge is applied in a lot of cases.
What other surfaces can I do this collage art on?
This decoupage collage can be done on canvas as you see here – but it can also be done on wood, metal, terra cotta, glass. You can even do a collage on fabric with small bits of fabric. I'd love to see what you decide to collage with and on what surfaces!
Which Mod Podge formula should I use?
Any of them will work, it just depends on what you're looking for in terms of finish. See what the finishes look like here. I'd use Gloss, Matte, or Satin.
---
Are you ready to try a decoupage collage with magazines? Make an orange, some other fruit, vegetable, or animal – I can't wait to see. Learn how to do it using the tutorial below.
Yield: 1 canvas
Magazine Collage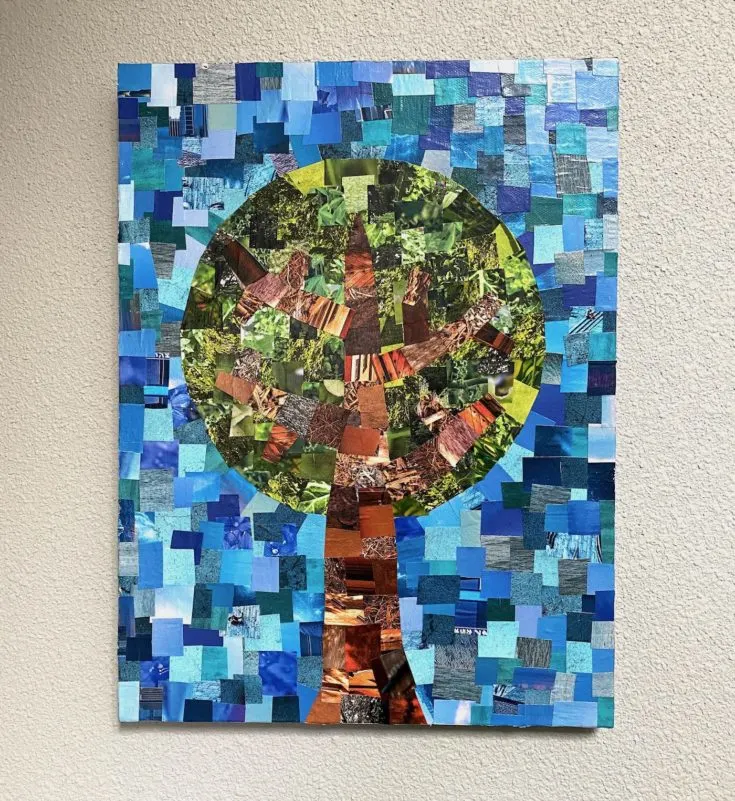 Learn how to make a collage with Mod Podge on canvas! This magazine collage art is easy enough for anyone to make, and it can be personalized.
Materials
Canvas - 12" x 16"
Acrylic paint
Mod Podge Gloss
Magazines - several with colorful pages
Tools
Scissors
Paintbrushes
Pencil
Craft knife
Bowl or object for tracing
Instructions
Place the canvas on your work surface and draw your design. To create the tree, place a bowl or other round object in the center of the canvas and trace with a pencil.
Draw additional details, like a trunk and branches. Keep the details rather large so that it is easy to cut the magazine pieces to fit the area.
Once the design is prepared, decide on a color palette. Go through the magazines and choose the pages that reflect your color palette – in this case, blues, browns, and greens.
Cut squares and rectangles from ½" to 1" width using the scissors. Start piles of the different colors. You don't need to cut a ton because you won't know quite how many you'll need, so just do enough to get started.
Choose an area on the canvas to start. Begin decoupaging the magazine pieces to the canvas using a three step method. Apply Mod Podge to the canvas, place down the piece and smooth, then wipe away the excess Mod Podge with the brush.
Work your way around the main design, adding pieces of magazine in various shades of blue. Space them out and overlap in various ways so the pieces don't look like shingles.
Once you are finished outlining the main shape, let dry for a few minutes.
Continue adding paper pieces in the sky area on the canvas with decoupage medium. Space the pieces out randomly.
Finish the sky by adding more pieces until you have filled in the entire white sky area of the canvas. Let dry. Then apply a coat of Mod Podge over the top of the sky area. Let dry.
Grab the green magazine squares and begin decoupaging the top of the tree. Place Mod Podge down, place down the squares, and work your way around the circle.
Note where the tree branches are or take a picture with your phone. Cover up the green area (the top of the tree) with magazine pieces. Let dry completely.
Use the brown pieces to fill the tree trunk area in. Apply Mod Podge, put down the piece and smooth, then wipe away the excess.
Choose the places on your collage canvas to start your branches, and apply brown squares or rectangles at these points.
Choose some pieces for the branches, and trim them down on the sides with scissors so that they progressively get smaller as you apply them to the collage.
Continue adding the branches until they are the desired length. Wipe away excess Mod Podge with the brush and let dry.
When all the areas of the magazine collage are filled in, apply a layer of Mod Podge over the entire top of the canvas and let dry.
Turn the canvas over and trim the edges of the pages off with a craft knife.
Your canvas is ready to hang!
Notes
Time is just an estimate and varies greatly depending on a variety of factors. like the size of pieces you cut as well your design! Estimate about one Lifetime movie worth of cutting.
---
If you enjoyed this collage on canvas, I'd love for you to check out these other ideas: