Want to personalize your big day? How about save a little money? Check out these 20 decoupaged wedding crafts for some great inspiration.
When does wedding season start? I'm not really sure – or if "wedding season" is really a thing anymore. But I do get asked about wedding crafts quite often, since a lot of people like to DIY their own weddings.
Mod Podge Wedding Ideas
I decided to put together a collection of ideas for wedding decoupage to help those of you that have inquired! Not only do decoupaged wedding crafts add a personalized touch to your big day, but they can save big bucks as well.
So bust out the Mod Podge and get creative. Take a peek at the 20 ideas below to get inspired. Which of these wedding crafts is your favorite?
Glitter Initials
These letters would look amazingly perfect on the bride and groom table at the reception.
Find out how to do it at Kiss My Tulle
Card Case
Collect all of the cards at your wedding in a mini personalized suitcase.
Learn to do it at Polka Dot Bride
Sheet Music Mason Jars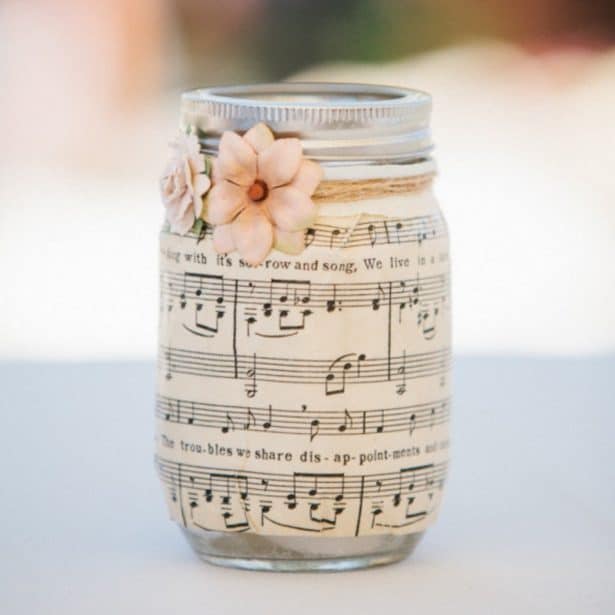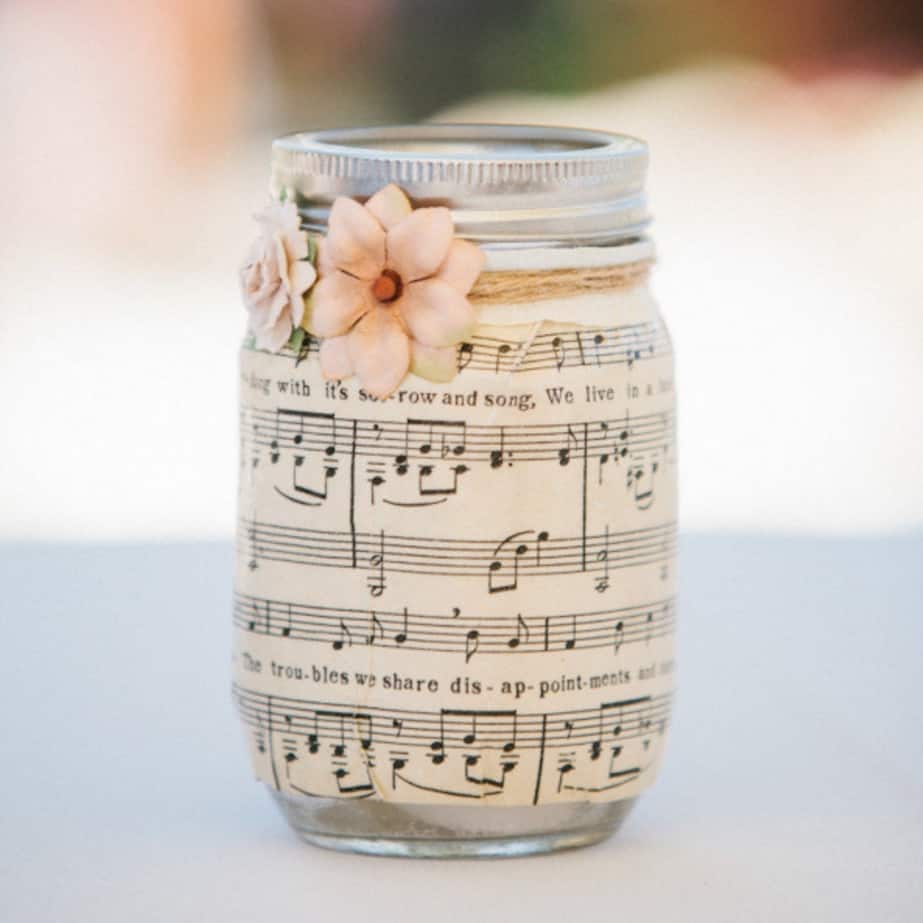 If you need wedding decor or a centerpiece on a budget – these sheet music mason jars are a win!
Sheet music mason jar centerpieces
Photo Blocks
Use these awesome Instagram blocks as table decor, place cards or favors.
Get the instructions at Intimate Weddings
Wedding Shadowbox
Save your cake topper in a special shadowbox that you can display on a mantel.
Bubble Magnets
These magnets make the perfect favors – select images that go with your theme.
Find out how to do it at Intimate Weddings
Glitter Shoes
These would look perfect underneath a long wedding dress – and if you are feeling really bold, make them blue.
Learn how to make them at Brazos Valley Bride
Paper Lanterns
Personalize paper lanterns using fabric, paint and Mod Podge.
See how they were made at Green Wedding Shoes
Mr and Mrs Blocks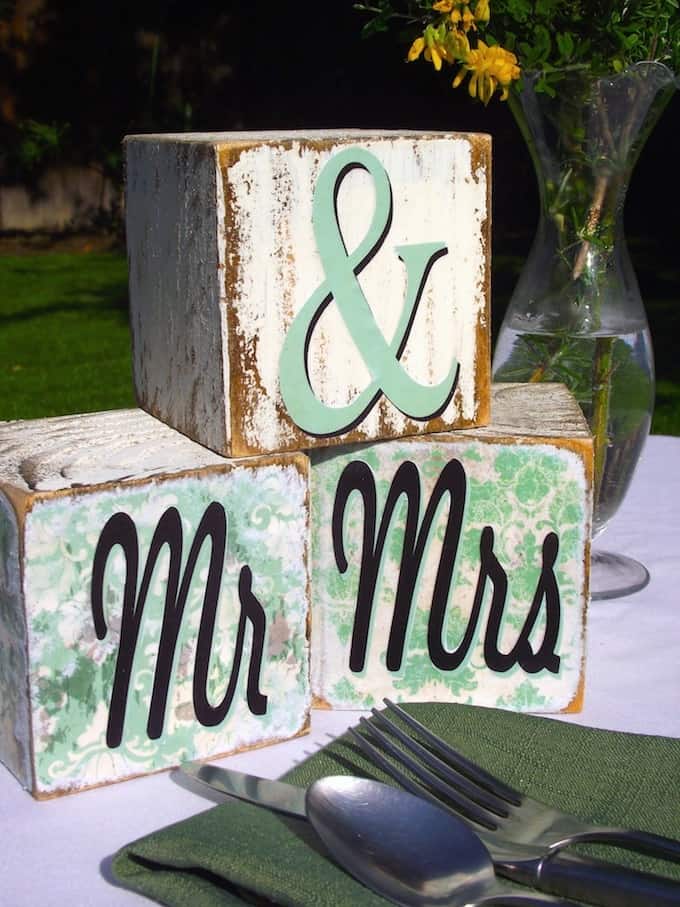 You can customize these pretty blocks with any theme – rustic, modern, traditional – they are great table decor.
See how they were made here at Mod Podge Rocks
Table Numbers
Learn how to do an inkjet photo transfer with Mod Podge on wood slices! This is perfect for a rustic or vintage wedding.
Find the step-by-step at Green Wedding Shoes
Card Collage
Don't keep your wedding cards in a trunk, never to be seen again – make a unique canvas to display them!
Find out how at The Domesticated Diva
Wine Glasses
These bling-y glasses are perfect for the toast at the reception – use the new Dishwasher Safe formula to make them washable!
Escort Cards
Use vintage children books to make interesting escort cards, place cards, or even magnet favors for the guests.
Get the how-to Intimate Weddings
Fabric Boutonnieres
Add a little handmade touch to the wedding party's attire with fabric scraps, wire and Mod Podge.
Learn how to do it at Wedding Clan
Forever Garland
This would look great at an engagement party or the reception – great for a photo booth too!
Find the how-to at Polka Dot Bride
Black and Gold
Heidi spray painted these mason jars for table lanterns, and then added a little sparkle using Mod Podge.
See how they were made at Hands Occupied
Tinted Jars
These tinted mason jars make the perfect display for floral centerpieces – add any embellishments that you like.
Get the how-to at DIY kinda girl
Love Letters
You can incorporate any images you like into these letters – baby pics, engagement photos and more.
See how they were made at A Subtle Revelry
Metallic Chargers
Plain chargers are made beautiful and wedding-like with Mod Podge and glitter.
Get the step-by-step at The Sweetest Occasion
Favor Bags
Use Mod Podge mixed with glitter to decorate small favor bags, giving them an extra special touch.
See how they were made at Style Me Pretty
Keepsake Box
You can turn any old box into a beautiful wedding keepsake box using gorgeous papers and embellishments.
Learn more about the project at GCD Studios
---
What are your favorite wedding crafts? I'd love to hear in the comments!