Use cool cork letters and scraps of pretty vintage wallpaper to make these fun alphabet magnets – they make such great, personalized gifts!
Hi everyone! This is Ashlee from My So Called Crafty Life, and I am so excited to be here at Mod Podge Rocks today to share a fun and easy tutorial with you all!
I am going to show you how to make these fun vintage wallpaper alphabet magnets. I was at Michaels the other day and picked up a pack of their wonderful little cork letters.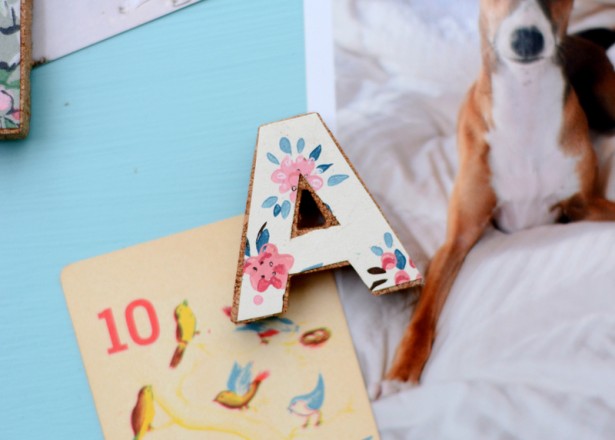 I thought they would make fun magnets. Since I love to decoupage, I thought I'd cover them with something fabulous. My hoard of vintage wallpaper scraps did the trick, and now I have the cutest fridge on the block!
DIY Alphabet Magnets
Materials:
Cork Letters (I bought mine at Michaels)
Mod Podge Matte Medium
Vintage Wallpaper Scraps
Pencil
Precision Scissors or a craft knife and self healing mat
Tiny Extra Strong Magnets (I bought mine at Michaels)
Instructions:
The first thing you will need to do is trace your letters onto your scraps.
Place your cork letter face down onto the back side of your wallpaper scrap. Trace the letter with a pencil.
Next, cut out your letter with either precision (fine tip) scissors or a craft knife. Cut a little bit inside the lines so the edges will not be extending over the edge of the cork.
Now, flip your wallpaper letter over and brush a thin layer of Mod Podge Matte onto the back side with a brush. Smooth your wallpaper letter onto the face of the cork letter. Smooth out and bubbles or wrinkles.
Seal the wallpaper front of each letter by brushing on a layer of your Mod Podge Matte.
Once the letters are dry, you can add the magnets. Flip over all of your letters. Dab a bit of E6000 to the back of each letter where you would like to place the magnet.
To finish, press each magnet into your bit of glue on each letter. Let the glue cure for at least 24 hours. Then you are ready to play!
I just adore my little magnet set! Apparently my hubby does too, since every time I walk by the fridge there is something new and snarky spelled out.
I think these little alphabet magnets are great to just keep on the fridge as they are for your kids (or big kids) to play with. They would also be super sweet on a vintage tin magnet board.
I like the chunk of them, but if you would like a more streamlined look you could always use the little wood letters you can get at the craft store that are thin. Vintage wallpaper is one of my favorite things in the whole world.
Etsy is a great place to find scrap packs, and even the occasional roll. I do hope some of you all will decoupage your own magnet set sometime!
A big Thank You to Amy for having me over today! If you all would like to see more of my work you can find me on my blog, My So Called Crafty Life, here.