This DIY breakfast in bed tray was created with a $2 thrift store find! You can make this vintage inspired tray using this simple tutorial.
When I saw this breakfast in bed tray marked down to $2.00 at a local thrift store, I knew I had to get it.
Furthermore, in a rare moment of clarity, I knew exactly what I wanted to do with it and it involved Mod Podge Transfer Medium. There was also going to be a red theme to go along with my kitchen tool shadow box, rolling pin bookends, and kitchen cabinet hardware.
Did I mention that croissants and coffee were in my vision as well? Here's what I did to revamp this breakfast in bed tray.
DIY Breakfast in Bed Tray
For this project I used: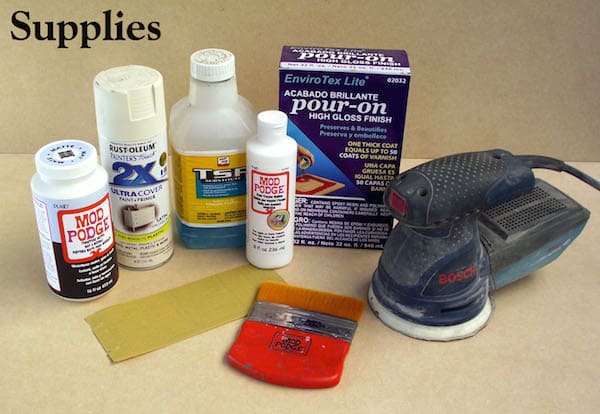 Heirloom White Spray Paint
Envirotex Lite
Sander
An old candle (not pictured)
Sandpaper (220 grit and 100 grit)
Mod Podge Furniture (you can use Hard Coat as well)
Brush
Rags
Printed design
Trisodium Phosphate (TSP) (optional)
To get rid of any dirt or oils that would mess up my paint job, I cleaned the entire tray with TSP.
I wanted an antique look for my tray with wear and tear on the edges, but I didn't want the original bright blue color to show.
I sanded the entire tray using a 220-grit sandpaper (the sanding roughs up the surface giving it "teeth" which allow the next layer of paint to stick better).
Then, using my power sander, I sanded all the way down to the wood along the edges and corners.
A quick rub with the candle on those sanded edges creates a barrier that prevents the spray paint from sticking in those spots.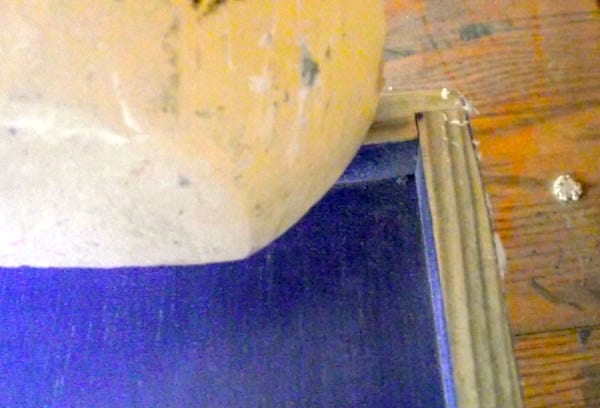 I gave the tray two light coats of the Antique White spray paint and set it aside to dry thoroughly. The spray paint dries quickly, but I needed to give the waxed sections a little more time to harden up. By "thoroughly" I mean let your tray dry overnight.
Next I ran the 100-grit sandpaper over those waxed edges to remove some paint here and there and leave me with an antiqued tray.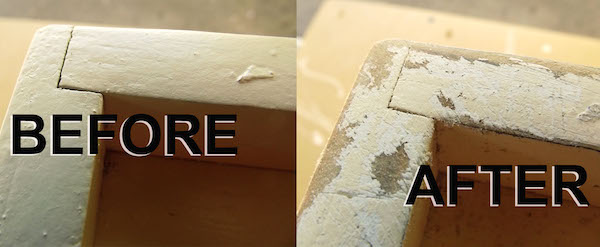 It was time for the Mod Podging. I'd been eager to try the Mod Podge Transfer Medium. It's actually designed to work with photos, but I had a different idea and I was really happy with how it worked out.
Mod Podge Transfer Medium requires you to use a "dry toner" (laser) copy of your graphics, which is available at any Kinkos or Staples if you don't have access to a laser printer.

I came up with a design that I liked – just some simple text on a red band. I work in Adobe Illustrator when I'm designing, but the same look can be achieved in basic MSWord using shapes from the graphics bar and the built in Word Art function.
I created a mirror of my image before I printed out and trimmed it down to the edges (if you're using MSWord). Here is a tutorial of how to create mirrored text in Word.

The Mod Podge Transfer Medium was easy to use. I followed the instructions and applied it to the printed side of the graphic and laid it down on the tray.
Working quickly, I smoothed out any bumps using a brush and my damp fingers and cleaned up any excess medium that had been squeezed out in the process. I then left it to dry overnight.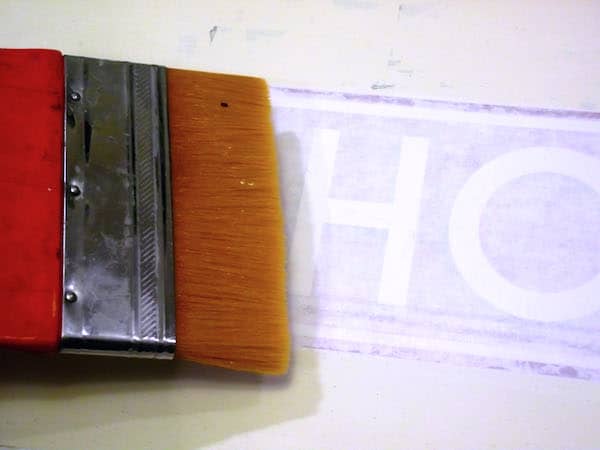 The next morning I took a very wet towel and laid it over the image for a few minutes. Then I began to gently rub away the layers of paper.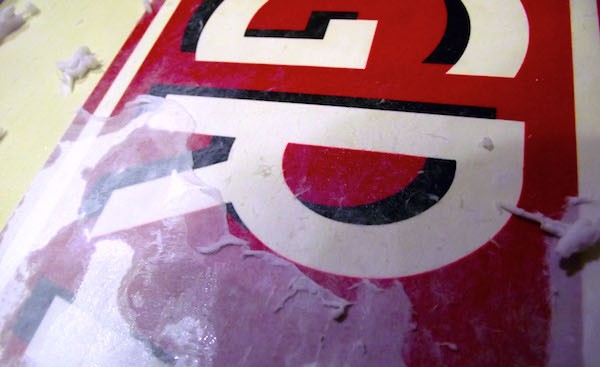 It was quite easy and I was happy with the results, but I wanted a little bit more distressing. So once it had dried, I went back in with a 220-grit sandpaper and distressed it a bit more. Then I sealed the graphic with a coat of regular Mod Podge.
After giving that a few hours to dry, I mixed and poured the Envirotex following the directions on the box. You'll have to give it several hours of cure time.
Here's my finished BREAKFAST IN BED TRAY!
There's my CROISSANT! (and coffee . . . I really needed some coffee).
Please do swing by my blog Cheltenham Road to catch up on my various crafting adventures and latest tutorials. Or you can always find me via my Etsy store filled with my vintage styled projects.
Also, if you have any questions about this tutorial, please don't hesitate to ask – I'll monitor the site and try to get back to you as quickly as possible.
Notes and Tips and thoughts for next time:
You don't *have* to use the Envirotex. A brush on waterproof sealer or Engine Enamel (which comes in a spray) are also options. It depends on if you want the resin or not.
I used the Transfer Medium because I wanted a vintage look. Next time, to create even more distressing (without the sanding), I think I'll be less thorough about pressing the graphic into the Transfer Medium. Or I may just try crumpling the graphic up before smoothing it out and sticking it down.
I used the font called "Market Deco" which is available for free at DaFont.com (an amazing resource for free fonts)
What do you think of my DIY breakfast in bed tray? I'd love to know in the comments!