This DIY travel mug was assembled with a dollar store item, paper scraps, and Dishwasher Safe Mod Podge. It's so easy and inexpensive to make!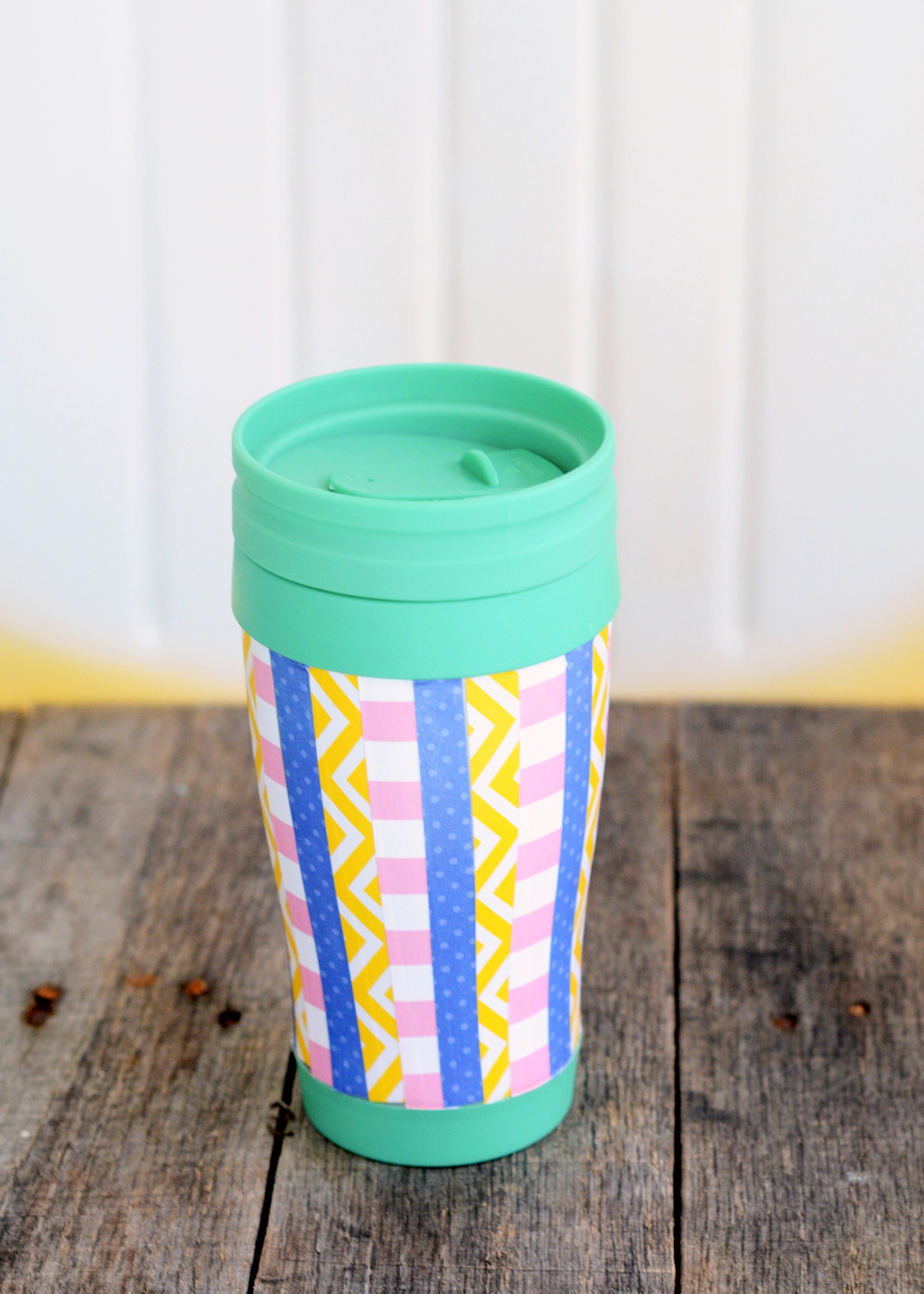 Hi guys! It's Ashlee from My So Called Crafty Life, and I am back to share a fun and easy DIY travel mug craft with you all today! A couple of weeks ago I saw these cute stainless mugs at Target in their "dollar" section.
I thought they would be really fun to decoupage. I have been itching to try out the Mod Podge Dishwasher Safe formula for a while now, so I thought this was a perfect project to try it out on!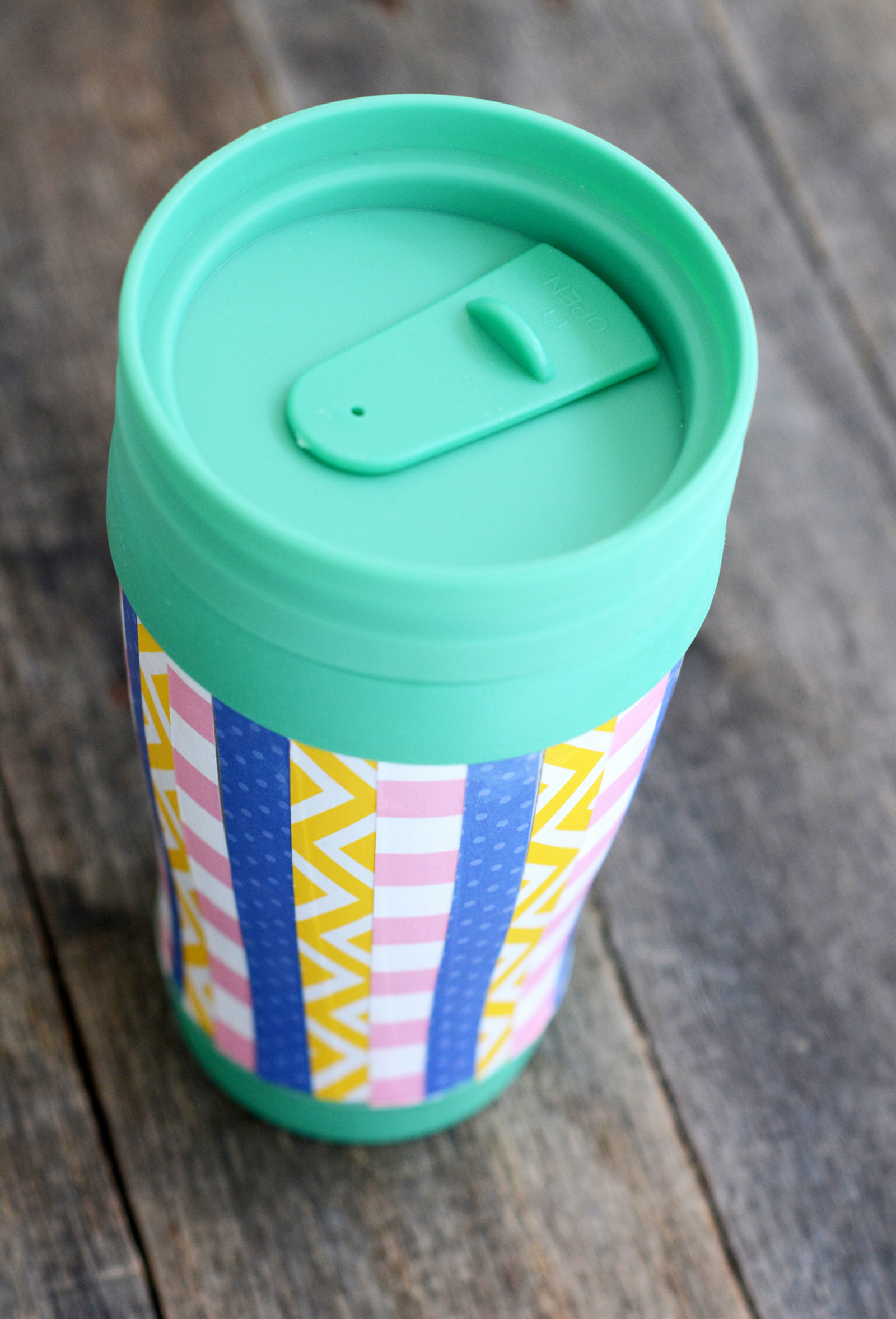 DIY Travel Mug
Here's What You Need:
Travel Mug
Rubbing Alcohol
Scrapbook Paper
Scissors or Paper Cutter
Ruler
Paint Brush
Instructions: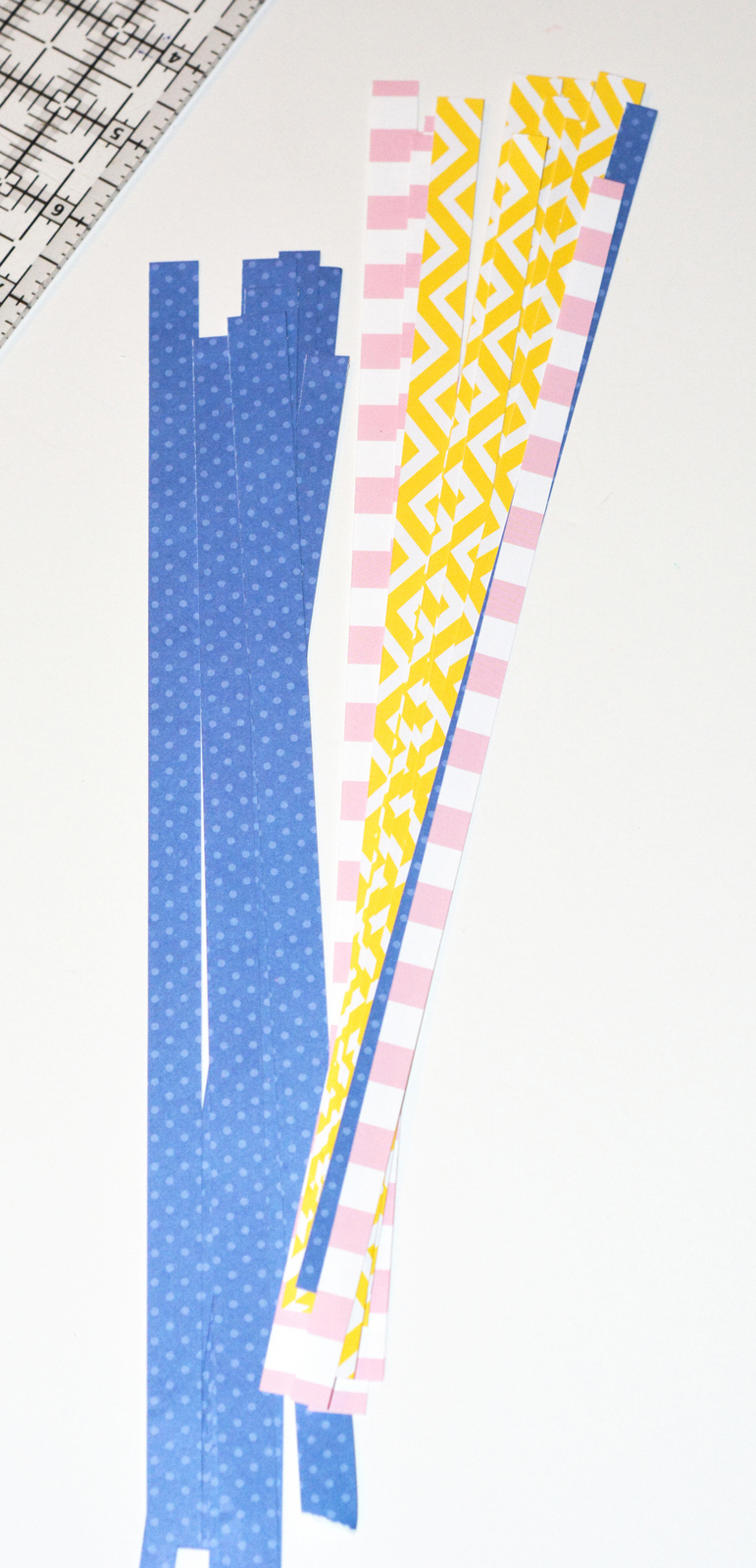 The first thing you need to do is measure the space between the top and bottom plastic lips of your mug. Now, cut strips of your scrapbook paper with either scissors or a paper cutter.
Cut them to be about 1/4″ wide. Mine were not all uniform, cause my paper cutter is a little off, so don't worry if they are not all perfect. Then cut all the pieces to the length you measured on your mug.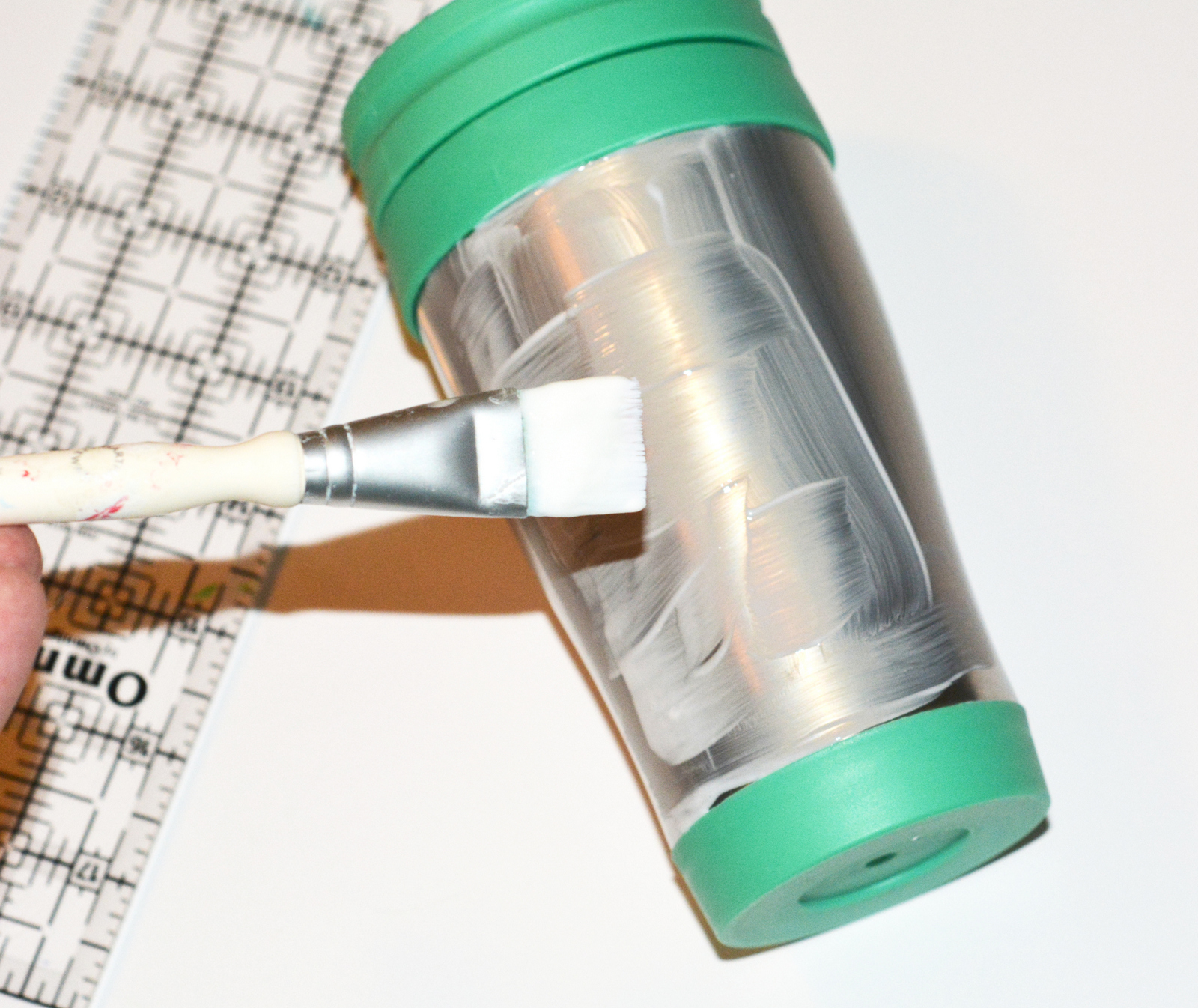 Clean your mug with the rubbing alcohol and dry. Grab a little of the Mod Podge Dishwasher Safe medium onto your paint brush and brush a little on your mug down the length of the mug.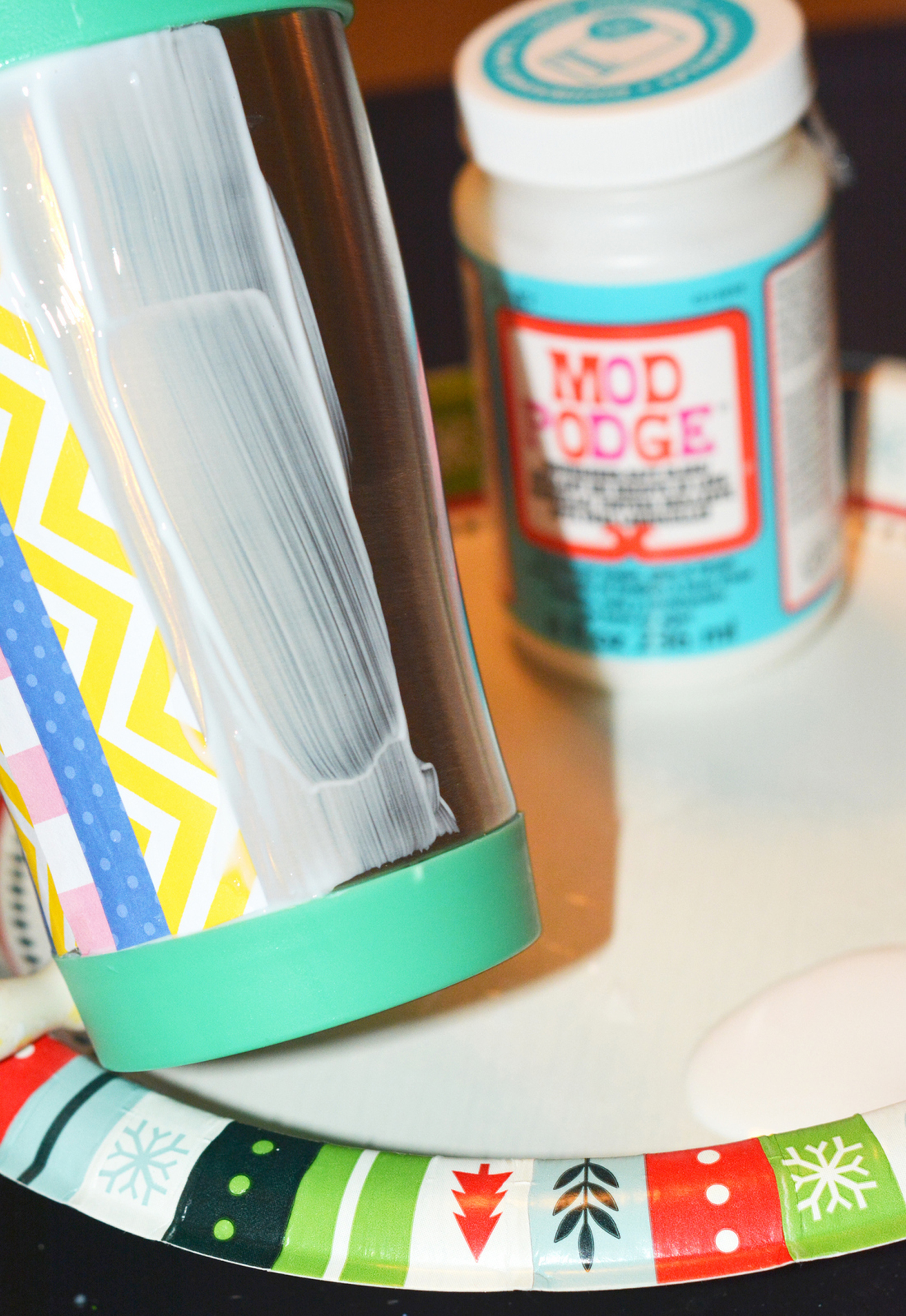 Now take a strip and lay it on the mug in the medium painted area. Lay it as straight as you can and smooth it out so that there are no wrinkles or bubbles.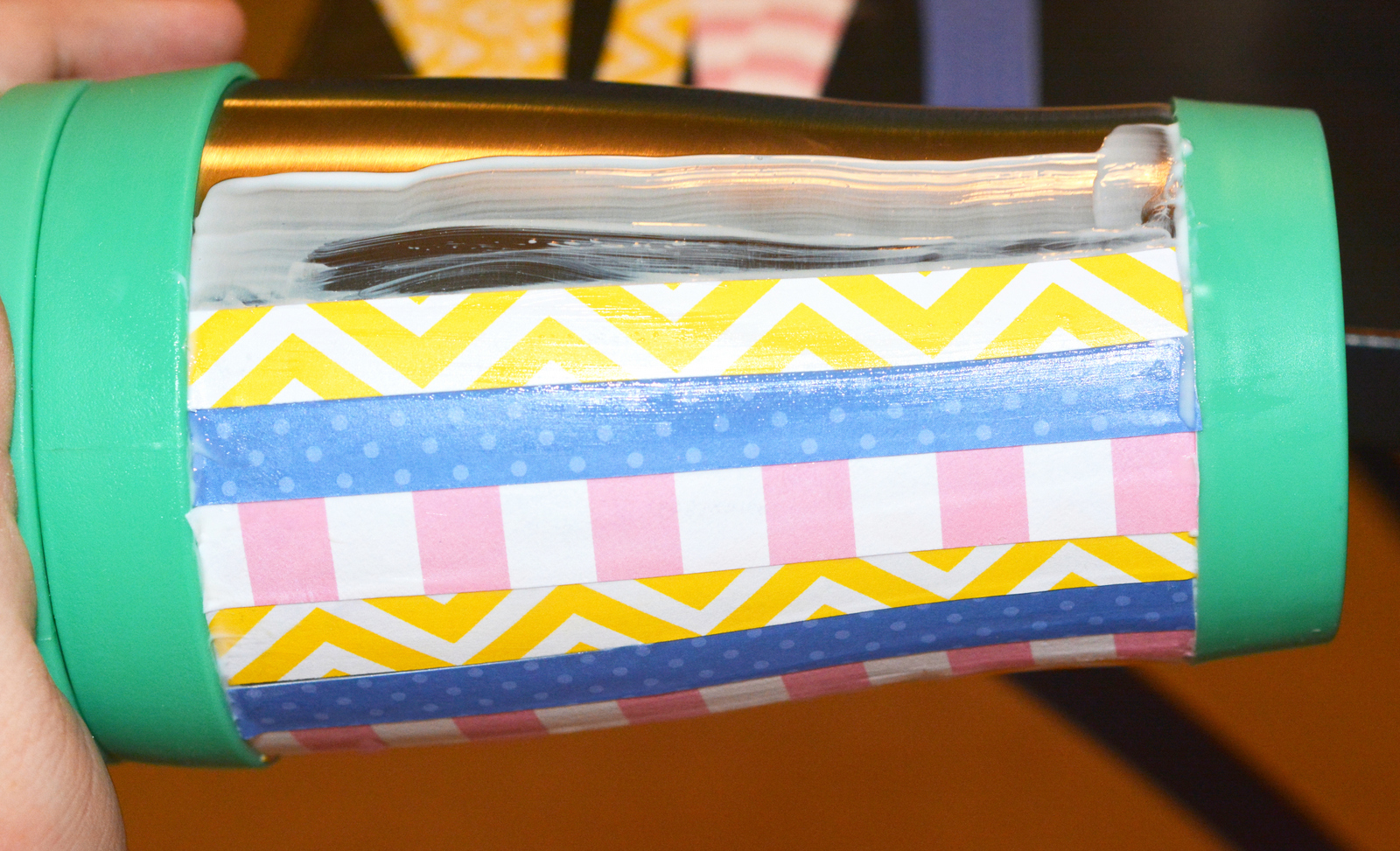 Repeat with another strip, then another and so on until you have covered the space with the medium you had brushed on.
Then brush on some more medium and keep smoothing on strips of your paper. Do this all the way around your mug. Set aside to dry.
If you have any funky edges on the top or bottom of any of your strips you can cut them off with a sharp craft knife.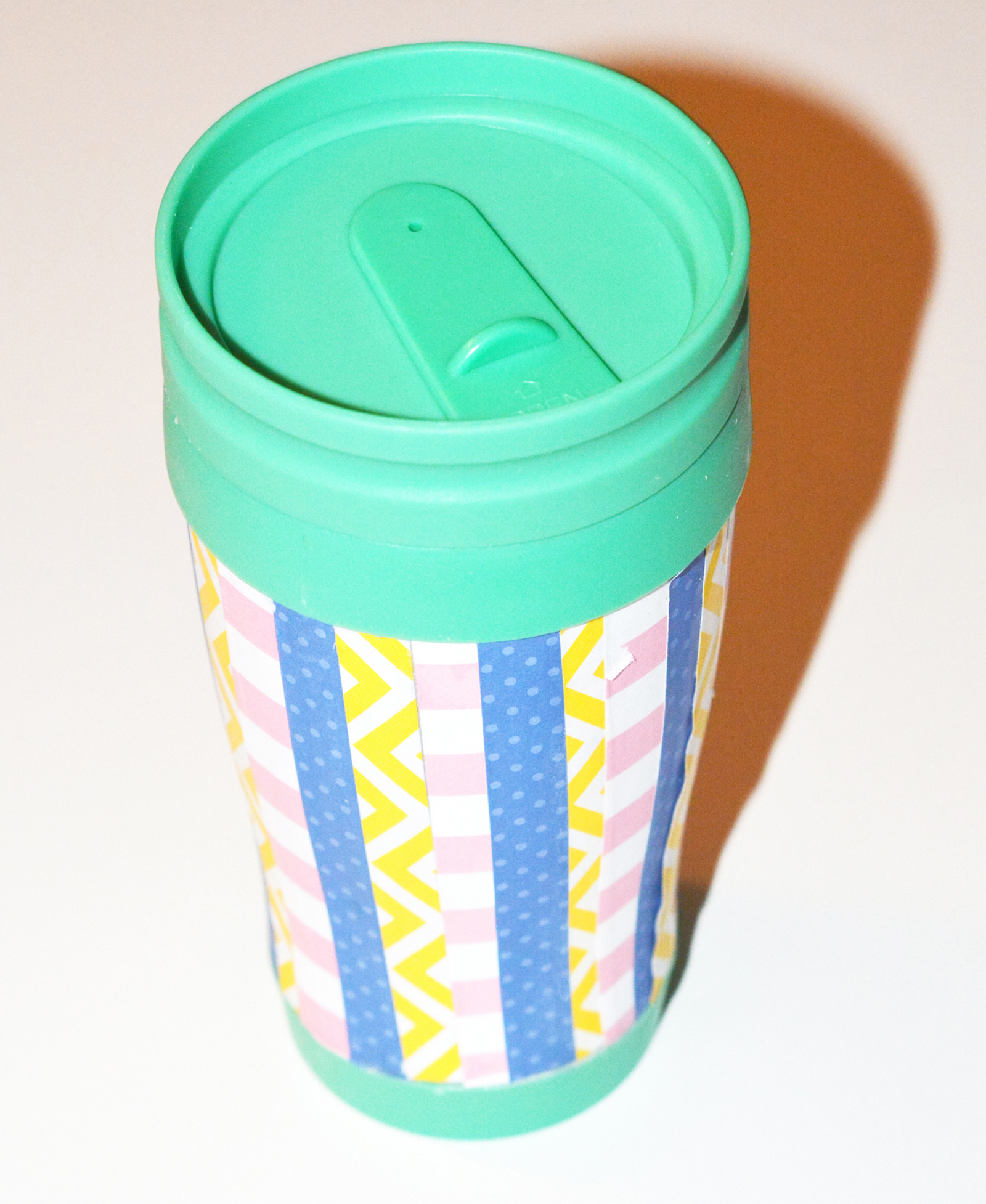 Once your mug is dry, you will need to seal it. Brush on a layer of the dishwasher safe medium. Let it dry. Add another one to two coats letting the mug dry one hour in between coats. Let cure for 28 days before washing. I love my DIY travel mug!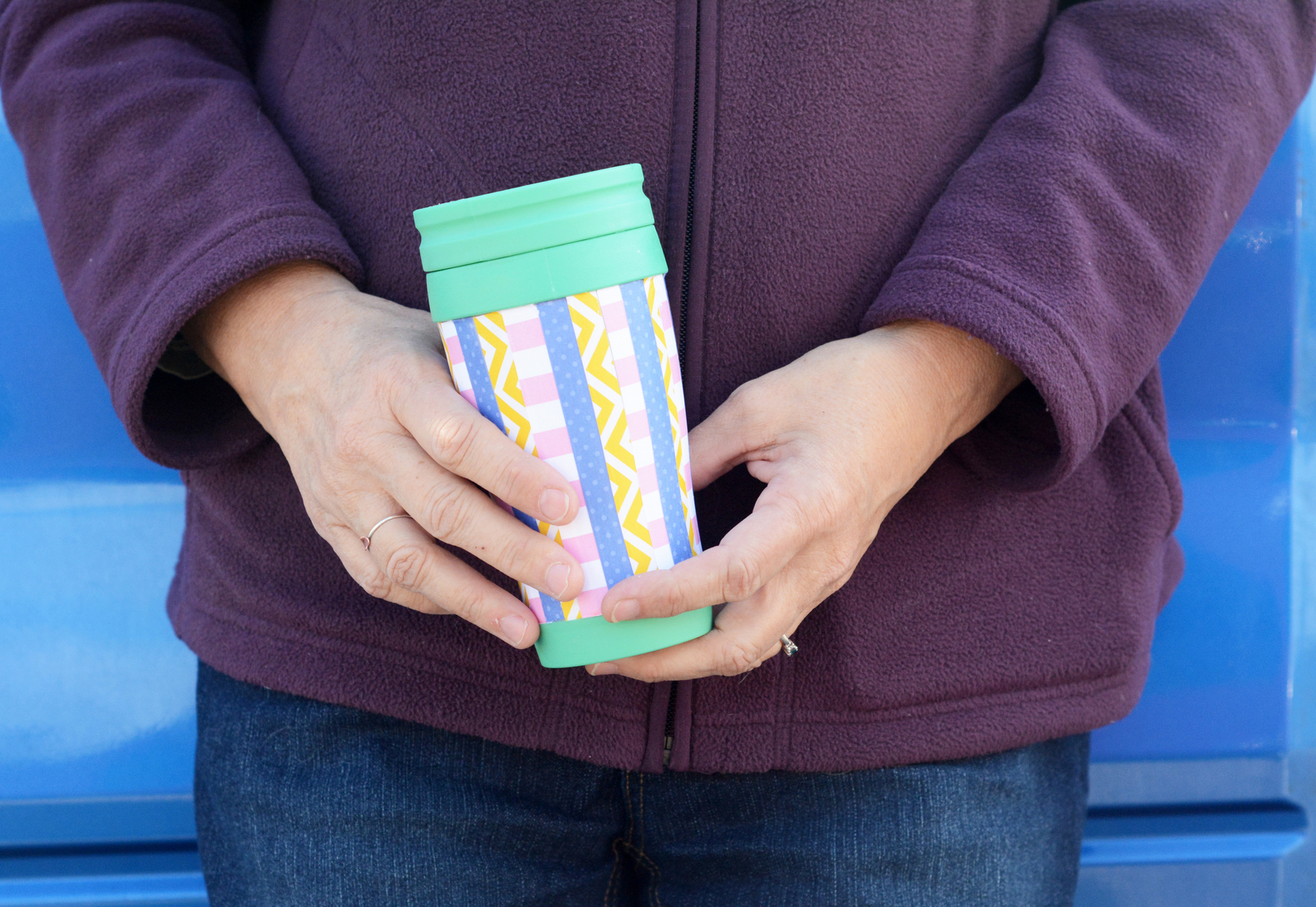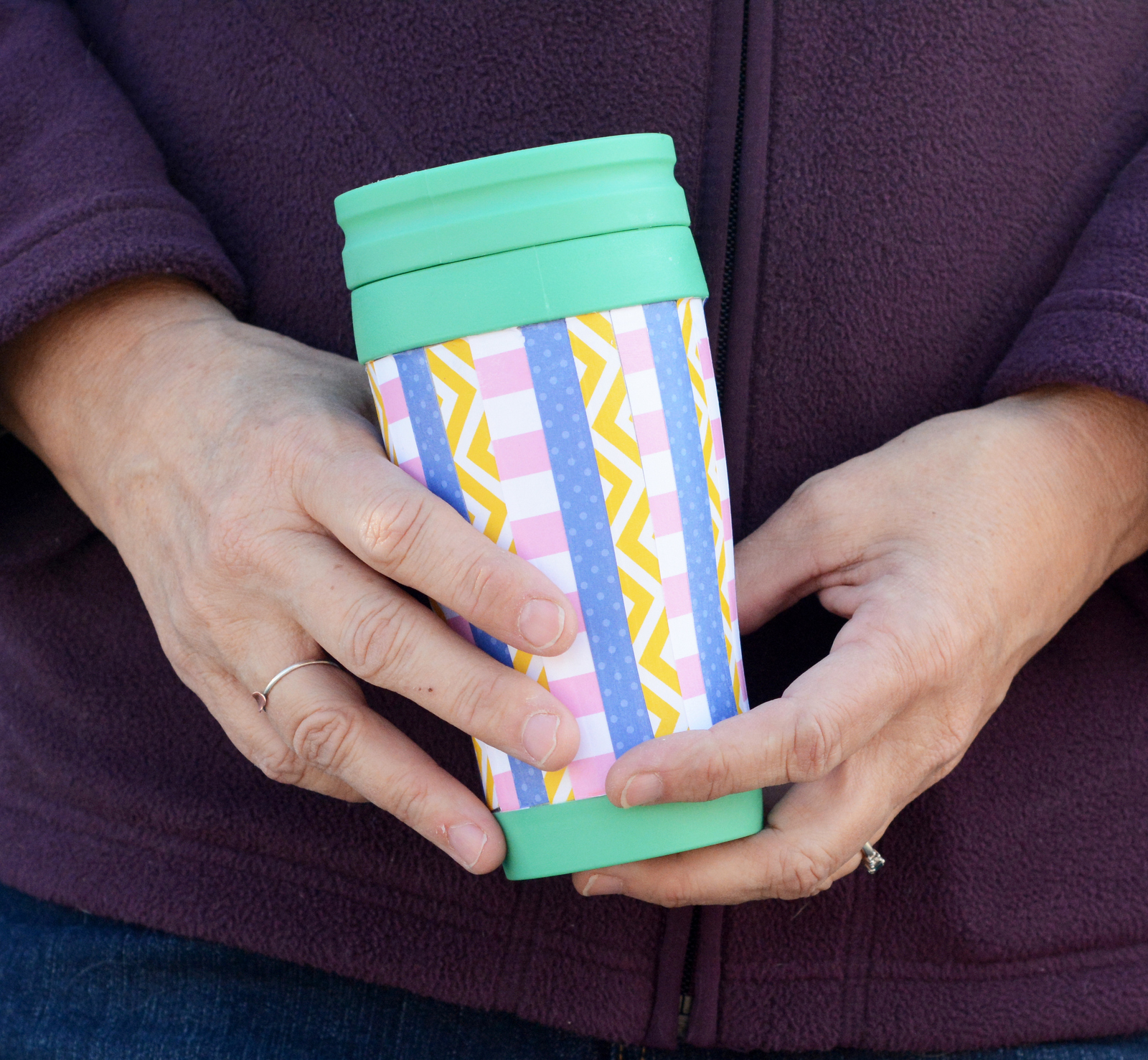 I think my DIY travel mug turned out super cute! I can't wait to use it. I think this would make a fun gift for anyone you know that loves taking their favorite drinks on the go.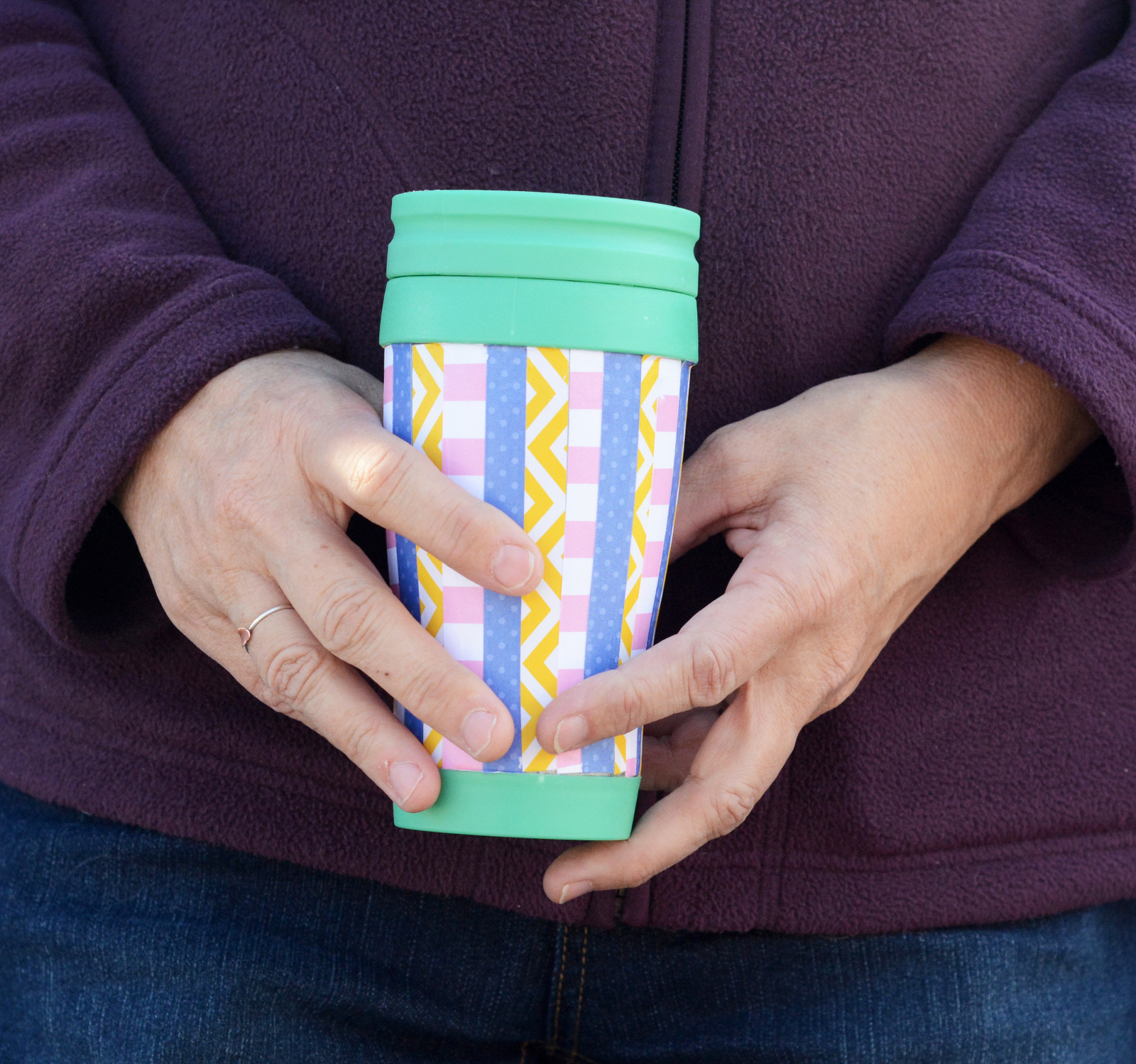 This craft was really easy, fun, and took me less than an hour to whip up! I love how versatile it is too as you can easily make it your own just by the paper you use. I hope you all will give it a try sometime!
If you all would like to see more of my work you can find me on my blog, My So Called Crafty Life, here.