Have you heard of Mod Podge Melts? They are the new Mod Podge product that you use to make your own embellishments. Get 20 craft ideas!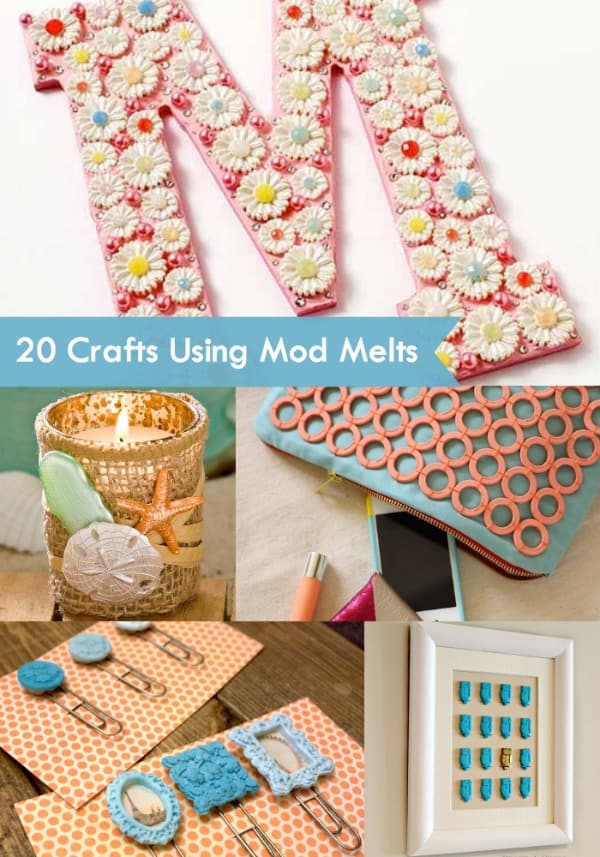 Have you heard of Mod Podge Melts? If not, let me introduce them to you. You can make these fun little embellishments with Mod Podge Molds and then special sticks called Mod Melts.
They do just what they sound like they do – melt into the shape of your choice depending on the mold you use!
The nice thing about these little guys is that once you purchase the molds, you can make unlimited embellishments – no more paying $5 for one pack at the craft store.
Mod Melts and Molds were developed by my friends Cathie and Steve for Plaid, and there's no limit to the number of projects you can make with them: home decor, jewelry, accessories, and more
In fact, I've put together a collection to inspire you – so if you are wondering how to use the Mod Podge Melts, all you need to do is scroll down to find out. So check out these ideas and let me know . . . which one is your favorite?
Crafts with Mod Melts
Add painted Mod Podge Melts to paper clips to make the fanciest office supplies ever.
Embellished paper clips at 52 Mantels
Cathie used Mod Podge charms and the bird nest melt to create a fun little birdie pendant.
Bird and nest pendant at Plaid
Organize your bathroom with a small container – and painted frames/labels on the front.
DIY labels and Mod Melts at My Sister's Suitcase
These decorative votives are perfect for a date night by the beach – or even a wedding! You would never guess these were Mod Podge Melts turned seashells.
Shell and burlap votive candles at Plaid
Cover a plain wood monogram with tons of different sized flowers and rhinestones.
Mod melt floral monogram at Plaid
Don't want to forget which wine glass is yours? Use the butterfly melts (or any other shape) to make charms.
Mod Melts wine charms at Craft A Spell
Use the Mod Melts alphabet with Collage Clay to create a corkboard inspired by the outdoors.
Wanderlust cork board at Plaid
This menu board is accented by a small pennant with Mod Melts letters at the top.
Framed menu board at Plaid
A clear glass vase gets a pretty upgrade with painted Mod Melt flowers.
Embellish a vase at DIY on the Cheap
Katie made the sweetest mother-daughter ring set using the frames and cabochons mold.
Mother & daughter jewelry at Sweet Rose Studio
Decorate a plain white headband with ribbon, then add nature inspired melts on top.
Birds & butterfly headband at Plaid
One of these things is not like the other. . . and that's what I love about this owl specimen art.
Mod Melts specimen art at Craft a Spell
Want to make your dollar store sunglasses stand out from the pack? Just add flowers.
DIY rose sunglasses at Cathie Filian
I like the addition of Mod Melts to these pots to give them a whimsical touch.
Bumble bee pots at 2 Little Superheroes
This wall art is both cute and inspirational – use the saying of your choice.
Spread your wings and fly wall art at Plaid
Use the basic circle design along with thread and paint to embellish a simple clutch.
Mod Melts embellished clutch at Fabric Paper Glue
The shapes in the steampunk Mod Mold are perfect to decorate a themed cell phone case.
Steampunk cell phone case at Plaid
The rose melts make a perfect necklace, especially when you add your own vintage brooch.
DIY Mod Melts necklace at Rain on a Tin Roof
Both kids and adults will love this craft! Mod Podge Melts are an easy way to personalize a journal with names and shapes.
How to personalize your journal at Feels Like Home
Using Mod Melts along with embroidery adds a pretty touch to a plain lampshade.
DIY embroidered lampshade at Miss Information
---
If you enjoyed these crafts with Mod Podge Melts and Mod Podge Molds, I'd love for you to check out these other ideas: