Create your own decoupage jewelry the easy way using Mod Podge Molds and Melts! This tutorial is for a cute floral necklace and ring.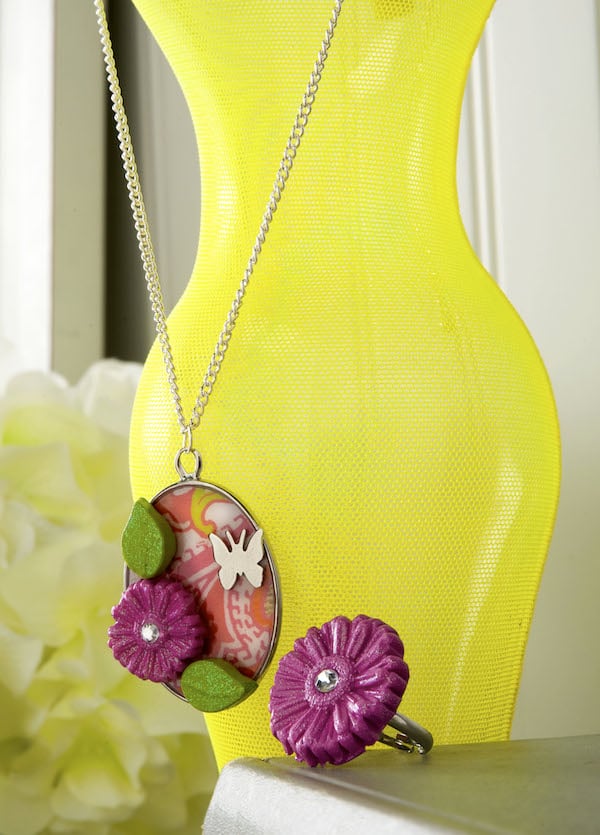 By now I'm hoping that you've heard of the Mod Melts and Molds program by my friends Cathie and Steve, but if you haven't, let me introduce you! You can make all sorts of things with these products, like decoupage jewelry that you see above.
Mod Podge Molds & Melts
Basically the jist is that you use Mod Melts sticks in your hot glue gun and melt them into Mod Molds – creating your own embellishments. Cool, right?
These embellishments can be painted, decoupaged, crackled, glittered . . . pretty much anything you want to do with them.
It's pretty amazing. You can reuse the molds over and over, too. I want to show you how I used the Mold Melts and Molds to make a necklace and ring. Read on to learn how I did it!
DIY Jewelry with Mod Molds
Gather These Supplies
FolkArt Acrylic Paint – Citrus Green, Parisian Pink
Scrapbook paper – patterns of your choice
Jewelry glue
Jewelry findings – necklace chain and one jump ring
Rhinestones – two small
Tracing paper
Pencil
Scissors
Hot glue gun
Paintbrush
Jewelry tools – optional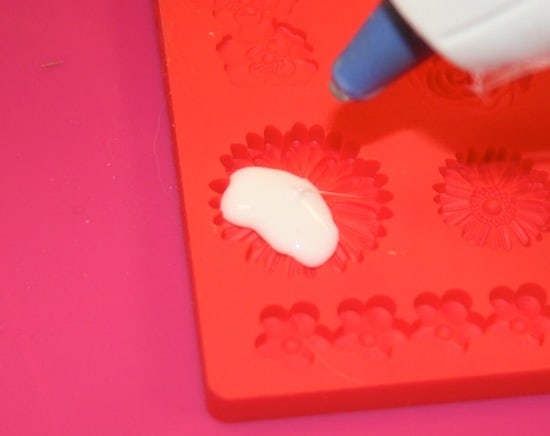 Choose the shapes you would like to use from your Mod Podge Molds. I chose a larger flower, a smaller flower and two leaves.
Then, using a warmed up hot glue gun, spread the milk glass melts into the Mod Mold shapes of your choice (read the package if you need to). Fill the entire mold and let cool.
You can easily pop the embellishment out of the mold and trim if you need to!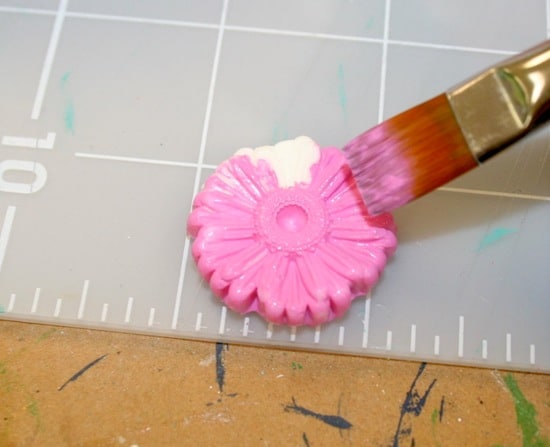 Paint the shapes using the FolkArt colors of your choice. Once they are dry, add Extreme Glitter to the top. I then made them really fun by gluing rhinestones in the center of both flowers with the jewel glue.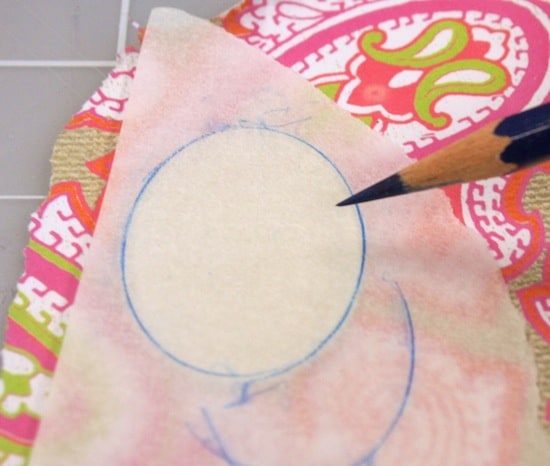 To decorate your pendant, first trace your blank with tracing paper and a pencil. You can even use a piece of computer paper if you want, but the tracing paper is a little nicer because it's thinner.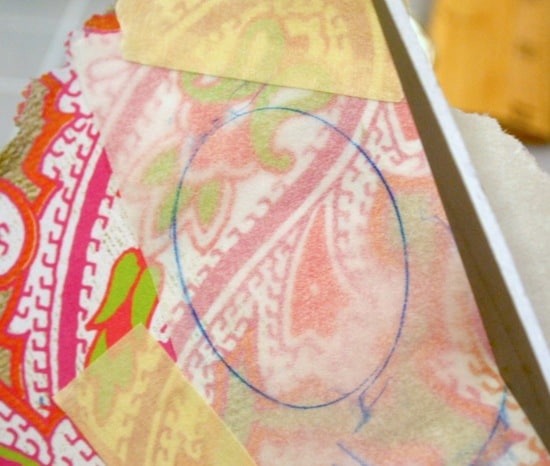 Use the tracing paper shape you created to cut the scrapbook paper to fit inside the pendant. If it doesn't fit, trim until it does.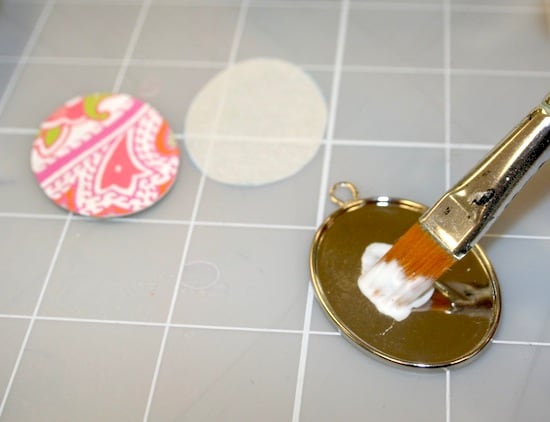 Decoupage your scrapbook paper on the inside of the pendant. Let dry. Paint a top coat of Mod Podge onto the paper and let dry again.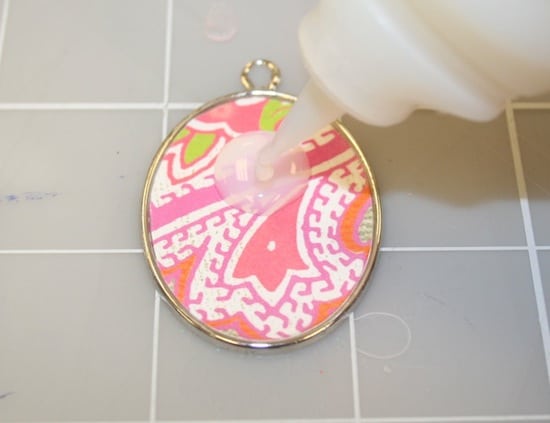 Add Dimensional Magic to your pendant. Place Mod Podge Designer Charms in the wet Dimensional Magic and let dry.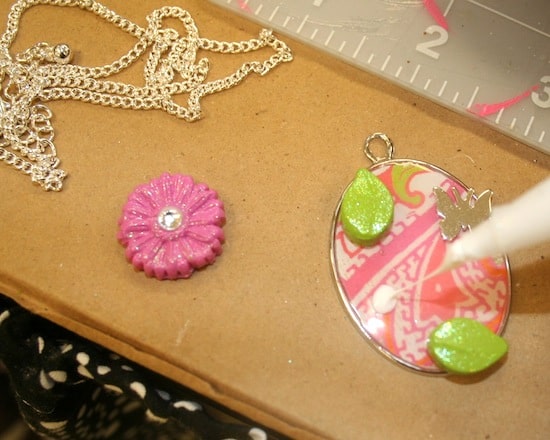 Glue your smaller flower to the lower left hand corner of the pendant with Mod Podge Jewel Glue – add a leaf on either side, too. Glue your larger flower to the ring blank.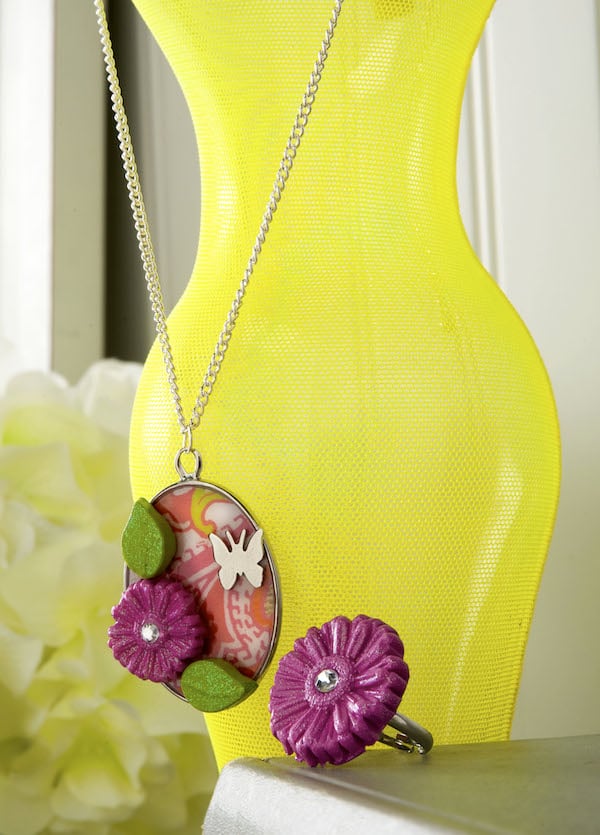 I LOVE the Mod Melts and Molds for jewelry. Even I'm surprised how quickly I made these projects. Amazing, yay!
I hope you enjoy your DIY necklace and ring. Personalize using any scrapbook papers or paint colors of your choice – that is the fun part.
---
If you love this project, I've got some other crafts with Mod Podge Molds and Melts that you might be interested in: