I never know what to do with old holiday cards. With a little Mod Podge, you can turn them into recycled holiday Christmas card decor!
Hi, I'm Becky from Liberate Creativity, and honored that Amy asked me to make a guest appearance on Mod Podge Rocks.
The truth is, Amy has it right, Mod Podge certainly does rock . . . here's a recent project to show you why . . .
We get a LOT of Chrimstas cards each year! I love reading them and hanging them up . . . yadda, yadda, yadda. But the question is . . . what do you do with them with the holiday season is over????
Ummm . . .why not make ALL of them a holiday decor piece for the next years to come???? Recycled holiday Christmas card decor!
What to Do with Old Christmas Cards
Supplies Needed
Canvas (I used 18 x 24)
Mod Podge Matte
Recycled Holiday Cards
Scissors (Optional)
Printer (and access to the internet)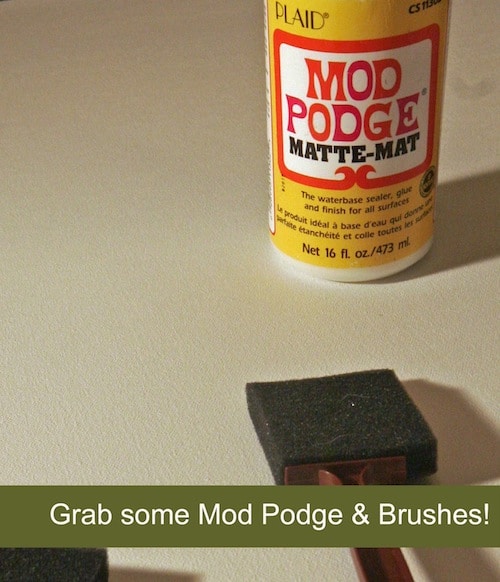 Grab some Mod Podge and brushes.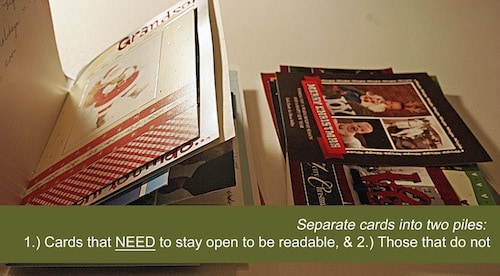 Separate your holiday cards into two piles: those that need to stay open to be readable, and those that do not. You can also just have one pile of cards if you only want to keep the fronts and not the messages inside. I'll leave that up to you!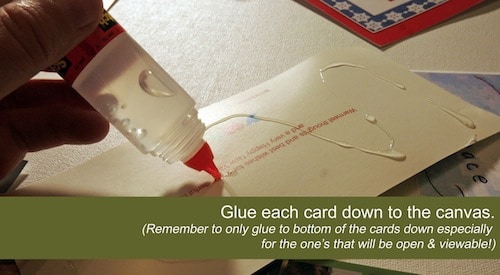 Glue each card down to the canvas. Remember to only glue to the bottom of the cards down if you want the cards to be open and viewable.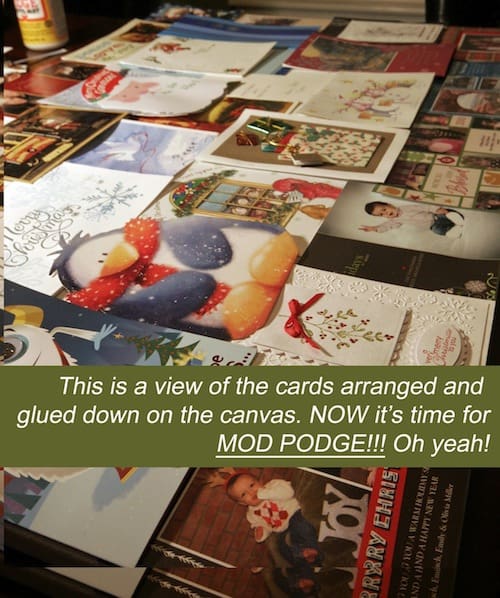 Once all the cards are glued down, it's time to Mod Podge the cards.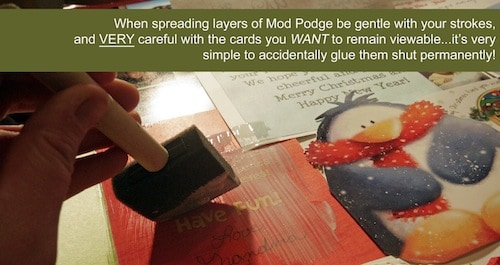 When spreading layers of Mod Podge, be gentle with your strokes and careful with the cards you want to remain viewable. If you're sealing everything closed, brush a few layers of Mod Podge over the canvas and let dry between coats.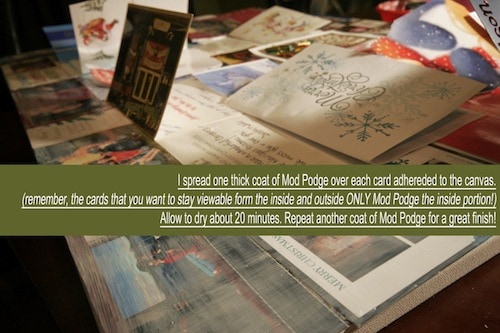 I spread one thick coat of Mod Podge over each card, let dry 20 minutes, and then applied a second coat.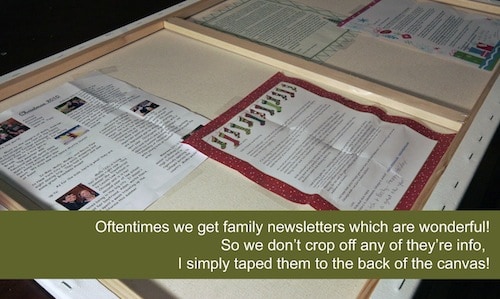 Oftentimes we get family newsletters, and since I don't want to throw those away either – I tape them into the back of the canvas!
Make a new piece of Christmas card decor each year! What a cool memory for the holidays. Let me know if you try this in the comments!
---
For more recycled and budget friendly Christmas ideas, visit the following projects: