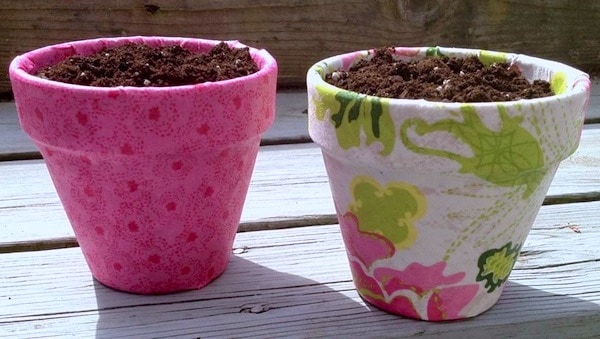 I love planting – I find it very therapeutic. I have no yard at my apartment, but I do love container gardens, so that is how I satisfy my green thumb urge! The nice thing about container gardens is that they are, well, contained. The thing I don't like is that sometimes the clay pots are boring, and the nicer looking pots can get pricey. So how do you remedy the situation? With Mod Podge terra cotta pots, of course! This tutorial on decorating pots from Dig.Drop.Done will show you how. Not only that, but it's a great way to present a plant gift to someone. Mother's Day, anyone? Here's how these Mod Podge flower pots were done.
Mod Podge Terra Cotta Pots
Gather These Supplies:
5 inch wide terra cotta pot (4.5 inch high)
Fabric in the patterns of your choice
Mod Podge Satin (or Mod Podge Outdoor if they are going to be exposed to the elements)
Brush or Sponge
Scotch Tape
Soil & Water
3 Ixia Bulbs (African Corn Lily)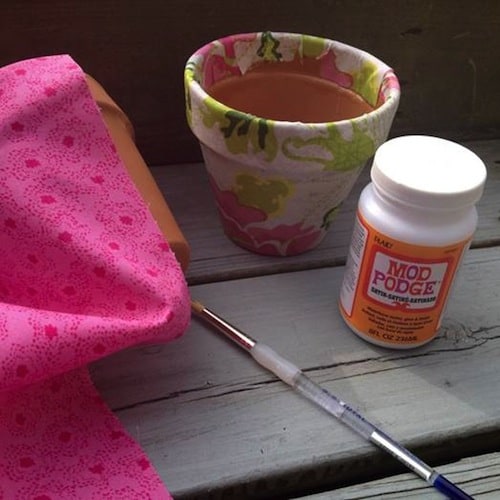 Place a piece of scotch tape over the drainage hole to prevent soil from leaking while working. Cut a length of fabric that will wrap around the pot completely. Leave extra room for folding the top and bottom.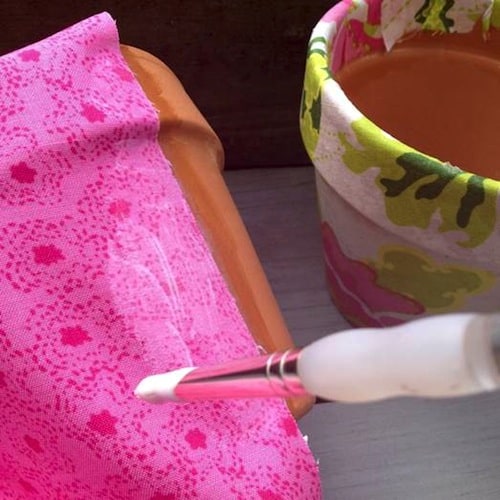 Dab a bit of Mod Podge onto the pot with a brush or sponge and adhere fabric edge. Lay the fabric onto the pot and continue covering the pot (with fabric) and coating with Mod Podge, all the way around the entire "body" of the pot.
Cut slits in the fabric on the top and bottom to prevent the fabric from overlapping. Trim the fabric on the top and bottom so that there is approximately 1 inch of extra fabric hanging over. At the top, fold the fabric into the pot. Coat the fabric with Mod Podge so it stays in place. Continue to do so all around the top. Then follow with the same instructions on the bottom.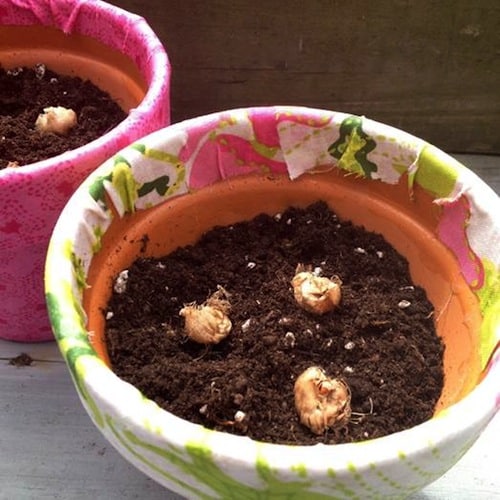 Let pot dry (Approximately 15 minutes). Fill pot 2/3 full with potting soil.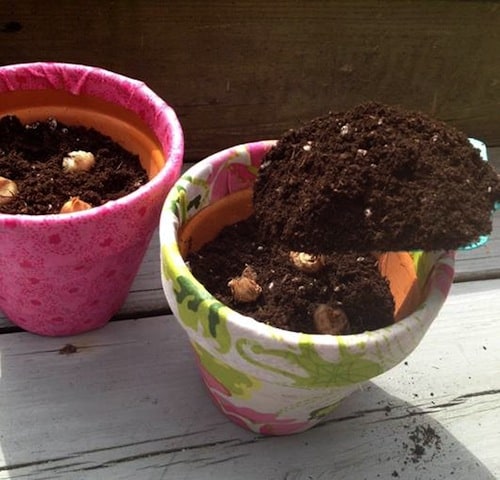 Plant Ixia bulbs 2 inches deep and cover with soil. Water very sparingly (1/4 cup) until the pot is placed outside in a sunny location. (Don't forget to remove the scotch tape from the bottom of the pot.)
Water throughout the flowering season, but don't overwater. Ixia like to be kept on the dry side. Keep containers out of the rain, as the decoupage medium will wash off (unless you use Outdoor Mod Podge). Place under a covered location outside for best results.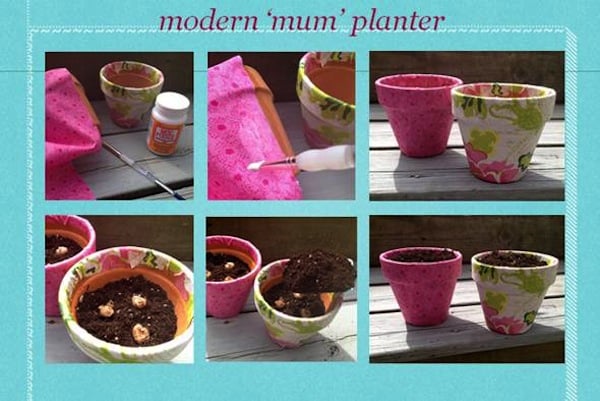 Mod Podge terra cotta pots tutorial courtesy of and images credited to Dig.Drop.Done. If you're interested in decorating clay pots, you might also love these tutorials: