Learn how to decorate a notebook with a laser cut overlay and Mod Podge. Keep all of your notes, calendar, or journal inside. So cute!
Skills Required: Beginner. Using a thicker paper in this project (scrapbook paper thickness) prevents wrinkles. It's a simple project even for someone who has never Mod Podged before.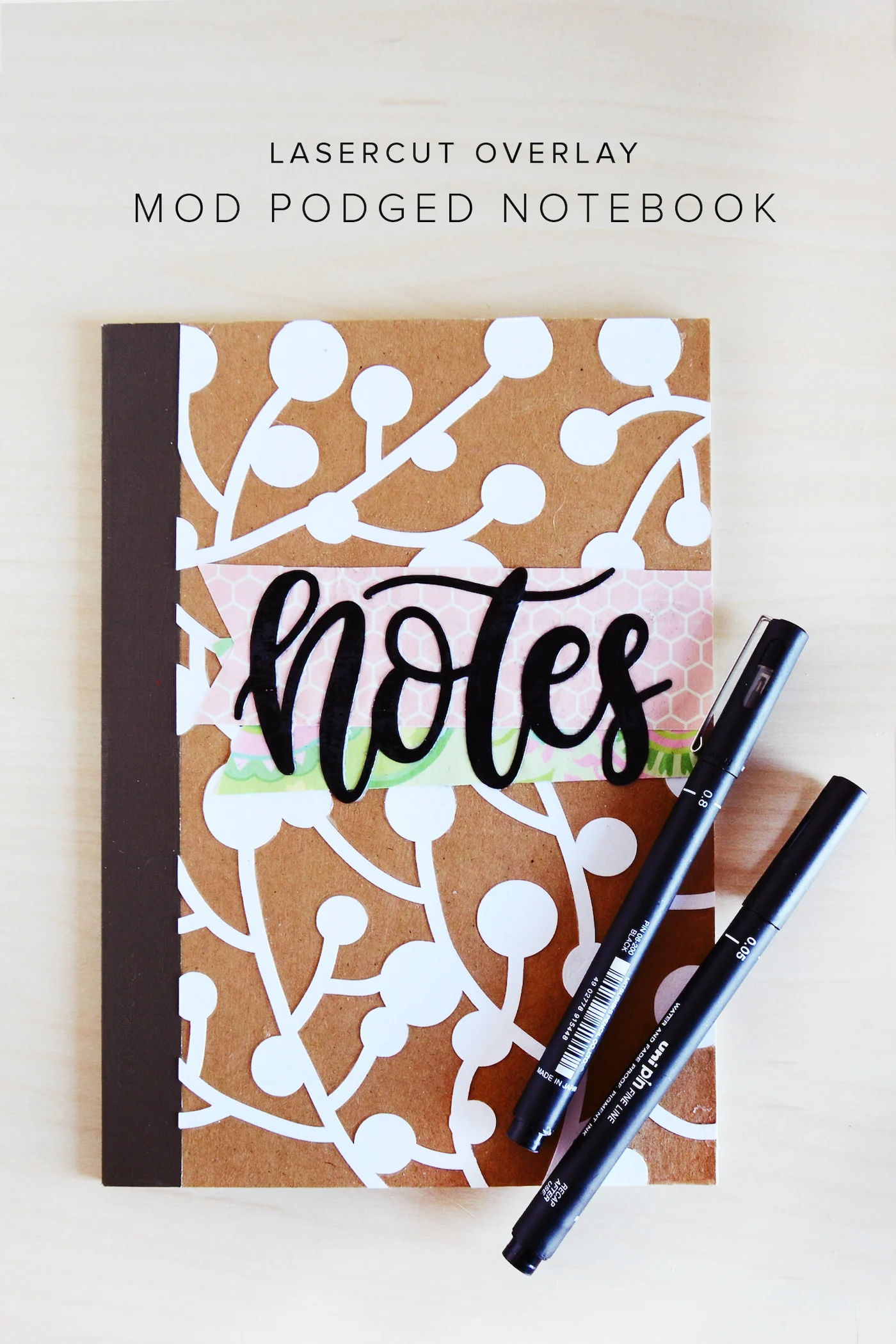 I am probably not the only one who loves die-cut embellishments – specially die cut overlays. They're perfect for decorating not only scrapbooks, but notebooks and other surfaces too. Teens will love this craft for back to school or gifts. But hey . . . adults love it too!
This die-cut overlay notebook came together easily and you can definitely customize it according to your tastes. This is a great idea for a handmade gift for someone who loves to write (or a teacher appreciation gift!). Learn how to decorate your notebook cover below.
DIY Notebook Cover
Gather These Supplies
Brush
Die-cut overlay
Scissors
Cling wrap
Here are some thoughts on this project:
I really love the notebooks from Muji, but you can definitely get a simple blank one from any craft or book store.
You can get the die-cut overlays at your local craft store OR if you have a die-cutter such as a Cricut or Silhouette Cameo, you can create one yourself.
You can paint the notebook cover before Mod Podging the die cut, if desired. Let the paint dry completely before decoupaging.
You can use any Mod Podge formula for this craft depending on the finish you like. I used Matte, but Gloss and Satin also work great. Don't be afraid to use Sparkle too!
You can download the hand-lettered cut file for the word "NOTES" on the supply list and cut it with your die-cutter if you have one! Otherwise, you can purchase inexpensive die-cut words or letters at the craft store.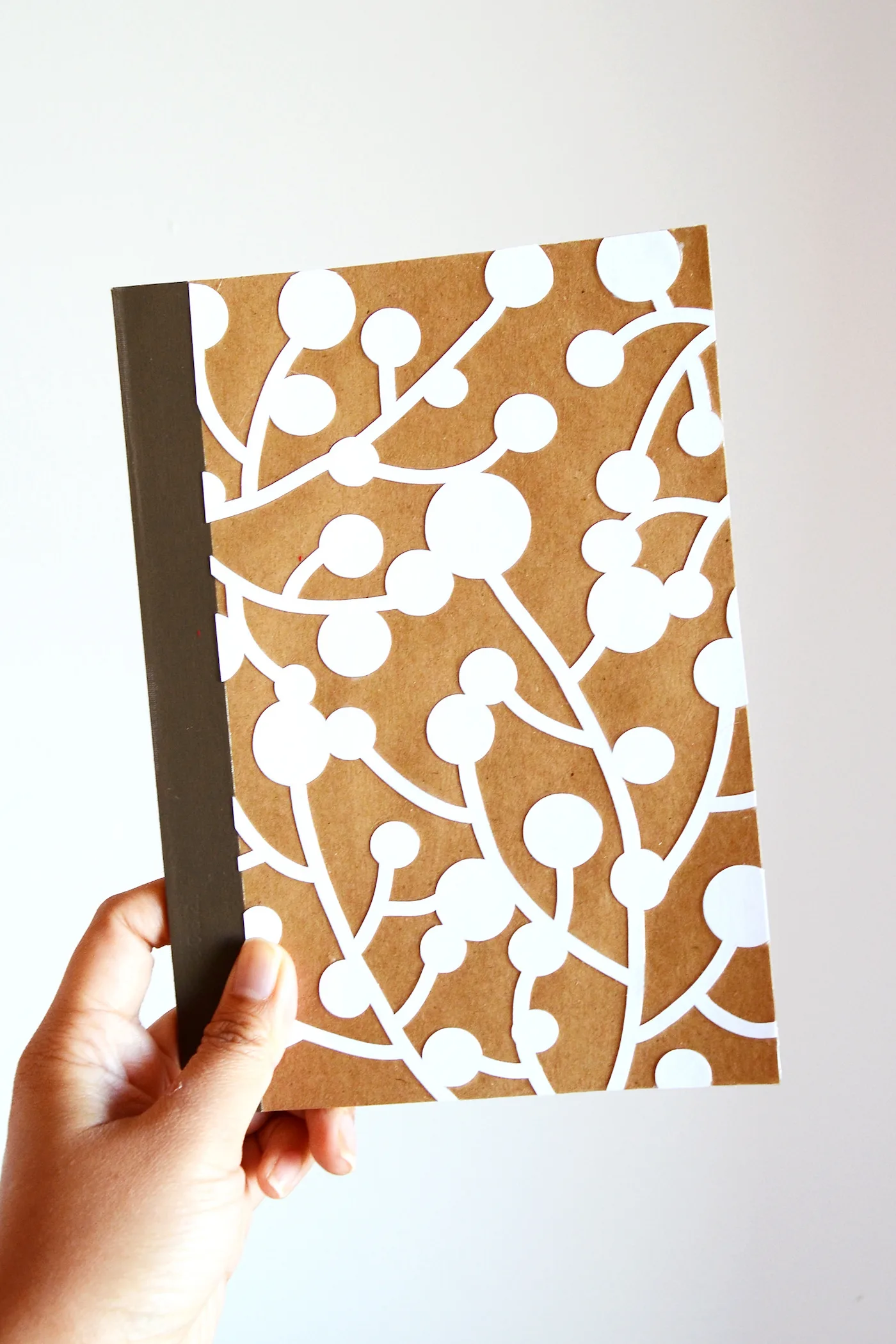 Now you know how to decorate a notebook the easiest way possible!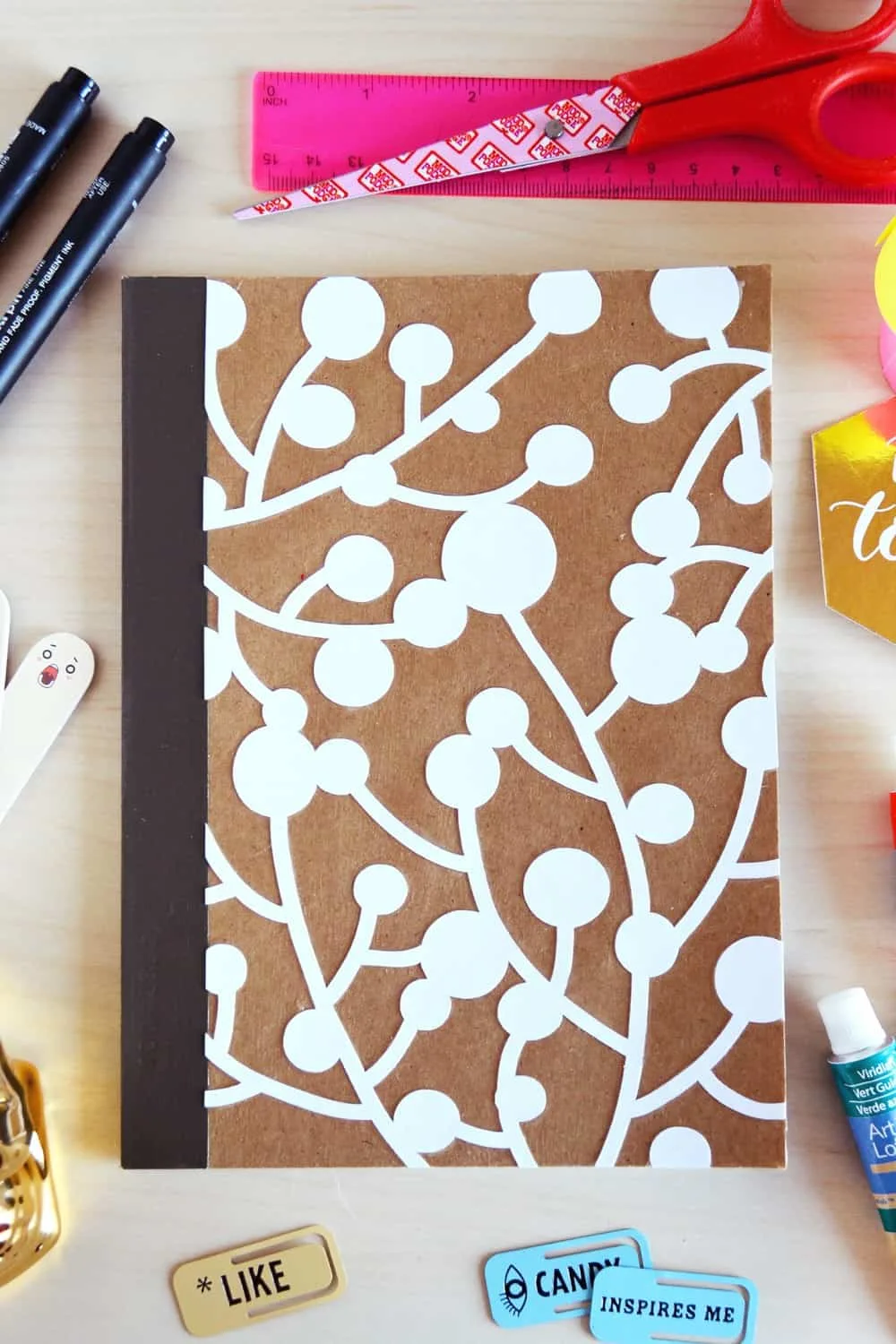 I created both a simple notebook as well as a second one to embellish a bit more. You can get the how to card for this craft below!
Yield: 1 notebook
Decorate a Notebook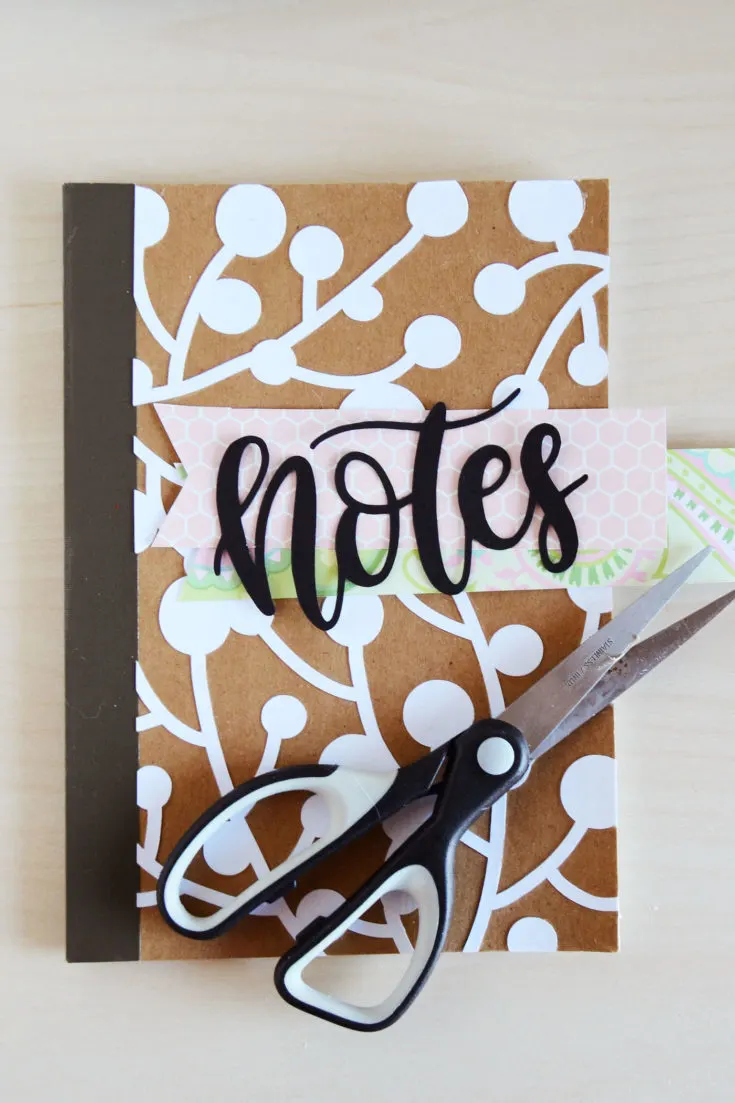 This DIY notebook cover is easy to do, with decoupage medium and scrapbook paper! Both kids and adults can complete this craft.
Materials
Blank notebook
Mod Podge
Die cut overlay
Scrapbook paper
Cling wrap
Instructions
Choose a die cut overlay sheet and a notebook.
Spread a medium layer of Mod Podge onto the front of the notebook.
Adhere the die cut paper, using cling wrap to press the overlay onto the notebook to adhere it. Remove the cling wrap, and then apply another layer of Mod Podge. Let dry.
Cut off the excess paper around the edges with the scissors.
Add a final layer of Mod Podge to the front of the notebook and the die cut. Let dry.
Add additional embellishments, words, or letters as desired. You can use either Mod Podge or craft glue to adhere. Let dry completely before using.
---
Which one do you prefer – the simple one or the embellished one? Either way, they're very easy to make and makes a really fun and simple craft for kids and adults alike!
Did you enjoy this project? Let me know in the comments. Then I'd love for you to check out these other notebook makeovers: