Looking for EASY valentine decoupage crafts? Here are 15+ Valentine's Day crafts you'll love, made with Mod Podge. Gifts and decor are included.
Scroll down to the bottom of the post to get a bonus video with a Valentine's Day tutorial from Cathie and Steve!
Do you love Mod Podge? And do you love Valentine's Day crafts? Of course you do – that's why you're here! Valentine's Day is the perfect time to show your love of everybody and everything, including decoupage.
Mod Podge Valentine's Day Crafts
I'm all about Mod Podging homemade gifts for your loved ones . . . or for home decor for the 14th. If you decorate for Valentine's Day, you're going to love this collection of sweet decoupage Valentine's Day crafts.
Which Mod Podge Formula?
You can use the standard issue Gloss, Matte, or Satin formulas for these projects, and those will work just fine. However, since these are holiday projects, I always encourage people to think outside of the box!
If it's me, I'm going to incorporate some Extreme Glitter or Mega Glitter into some of these projects. I think gold glitter looks especially fantastic with red.
A lot of these projects also use Dimensional Magic, which is another favorite of mine. These formulas give your crafts a little something extra above and beyond the day to day. Just something to consider!
Are you ready to see the easy craft ideas?? There are all kinds of cute ideas in this roundup, ranging from gift tags to frames to wall art! You could even make these as crafts to sell. Scroll down to see 15 awesome Mod Podge valentine crafts!
Decoupage Valentine's Day Crafts
I can't believe this cookie gift tag isn't real – it looks good enough to eat! This cute valentine craft was made with salt dough and Dimensional Magic.
These valentine decorations are SO easy! Use fabric and Mod Podge to create wall art with embroidery hoops. Hang anywhere you like.
This one is for the ladies! Show your besties how much you love and appreciate them with these gold heart charms for Galentine's Day. If you want to, you could modify for your sweetie as well.
Use a wood heart, bottle cap and Dimensional Magic to make a pretty pin. Don't just display Valentine's Day crafts – wear them!
This XOXO sign is the perfect addition to your holiday decor! This is one of those valentine crafts that can be customized with the Valentine's Day saying or symbols of your choice. It's SO easy and just requires a few simple supplies.
Use Mod Podge with coloring in it to make these cute candy jars. Wrap them with Duck Tape and give them to neighbors, teachers, or co-workers.
Amie made this fun love notes suitcase using an old cereal box! This is sweet to make for the kids – put love notes in them all week leading up to Valentine's Day.
These wood letters are one of my favorite Valentine's Day crafts! They are perfect for a holiday mantel display.
Embellish candy boxes for your sweetheart using Mod Podge and Extreme Glitter. I love how sparkly these are!
All you need is one single sheet of paper and a $1 frame to make this cute Valentine's Day craft! It's perfect for a gift, and you can add sparkle heart embellishments if you like.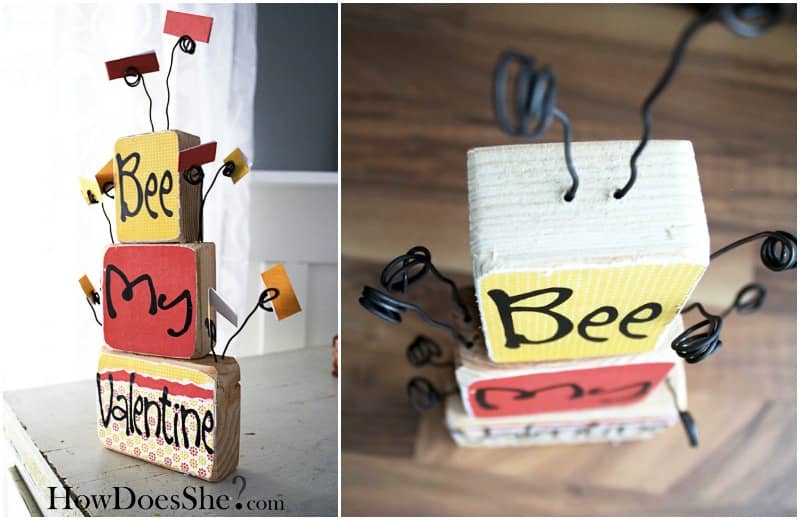 You can make valentine crafts with 2 x 4s! Use wood scraps, papers, and Mod Podge to make these sweet love notes display for your family.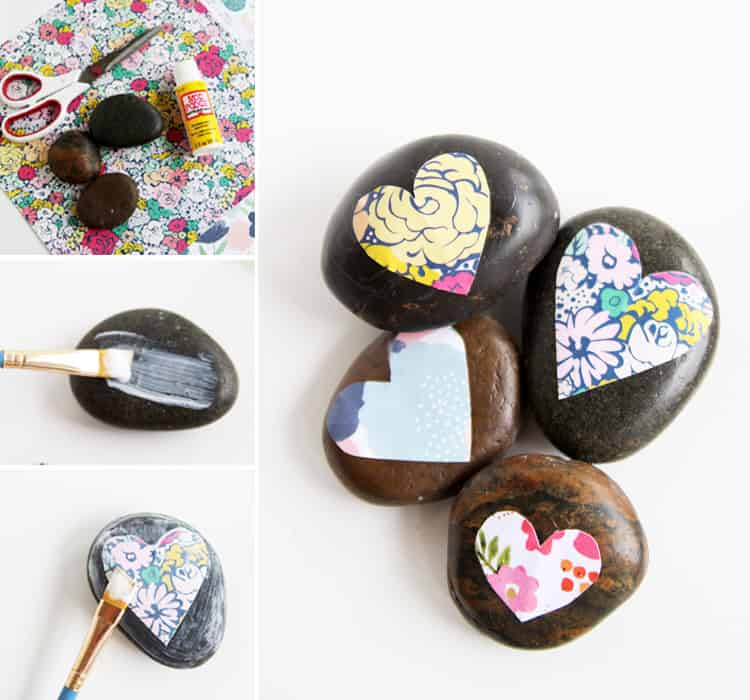 Valentine's Day crafts can be made of natural materials too. These sweet rocks send a lovely message to the recipient – or would look great in a vase/mantel decor.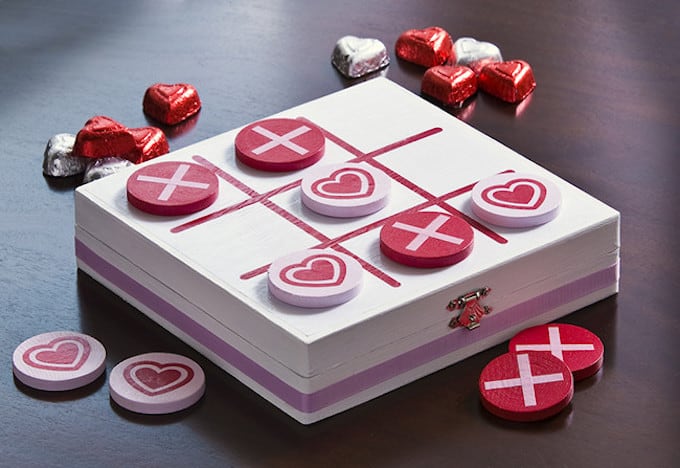 Can you turn valentine crafts into games or vice versa? Absolutely! That's what I did with this tic tac toe game! You'll see what I put inside in the post . . . and after you use it, simply store the game pieces inside.
Laura made this pretty decorative box using Sparkle Mod Podge – and you can keep it out way past Valentine's Day.
Love Mod Podge photo transfer medium? You can use this tutorial to add a heart graphic to a pillow! And guess what . . . you get a free geometric heart printable in the blog post.
Use Sparkle Mod Podge to make these blingy treat bag toppers. Hand them out at parties and the guests will LOVE them! Perfect for Valentine's Day.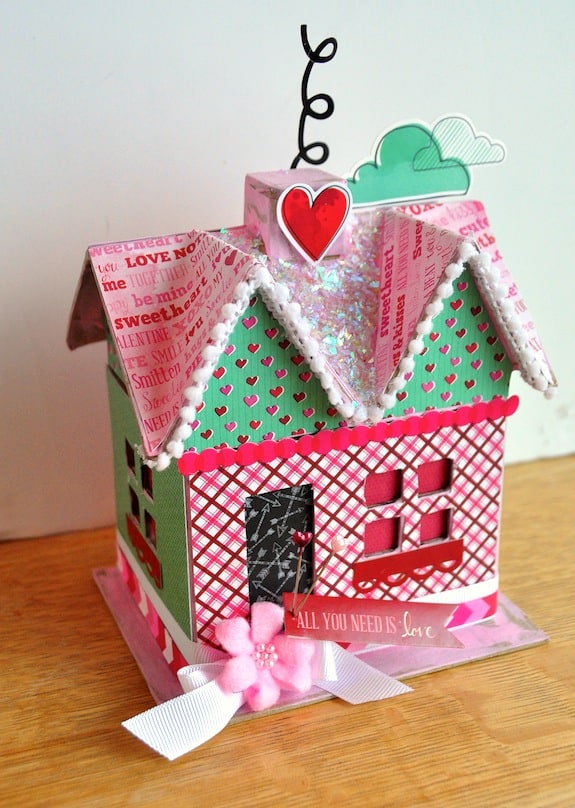 Add some love to your holiday decor with this DIY Valentine's Day paper mache house! Alter with all sorts of pretty embellishments.
This little mixed fabric hoop valentine decor features a little heart and is cute enough to stay up all year! It's easy to make with Fabric Mod Podge.
---
What are your favorite valentine crafts? Let me know in the comments!