If you have never tried to decoupage jewelry, it's easy and fun! Learn how to create cute necklaces that you'll love to keep AND gift.
I'm always thinking of projects to make with Mod Podge. I mean, I have a blog about it, right? I find that one recurring theme when I'm brainstorming projects is decoupage jewelry. I really love making necklaces!
They are so satisfying, easy and make great gifts. I can't tell you how many times I've Mod Podged a necklace and given it as a gift.
Trust me on this one! If you want to a DIY a necklace, I've got a collection of ideas here that you are going to love.
Decoupage Jewelry
They are all simple – you might need a few supplies, but I always encourage you to branch out and make your own version. Check out the 16 decoupage jewelry ideas below. Which one would you try first?
String Feather
Make a pretty feather necklace using Mod Podge and embroidery thread.
See how it was made at Oh So Pretty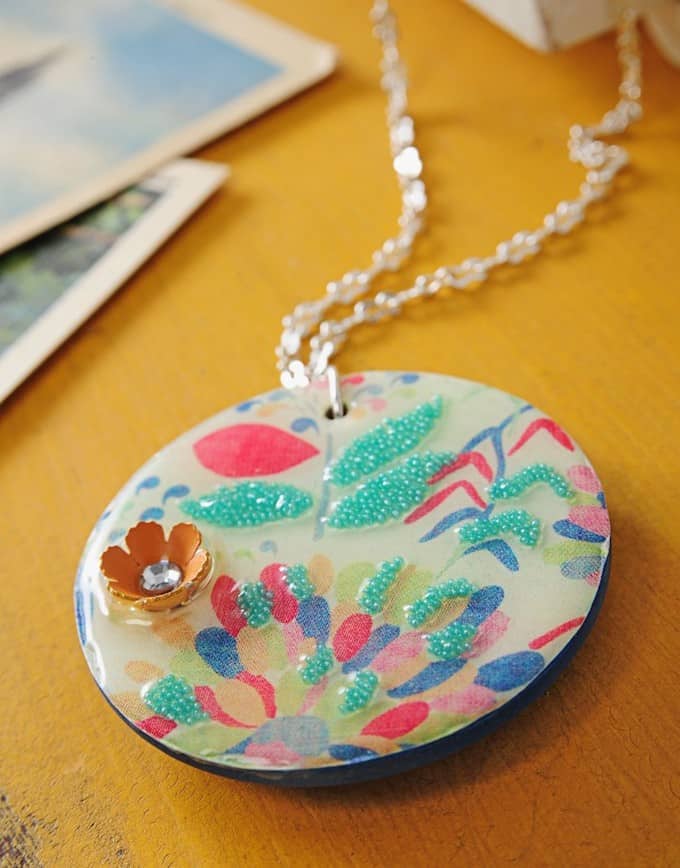 Floral & Beaded
Use a catalog page to decoupage the necklace, then Dimensional Magic and microbeads to finish.
Get instructions here at Mod Podge Rocks
Monogram Pendant
In this fun tutorial, Bethany adds a monogram with a rub-on – and also adds Dimensional Magic.
Learn how to make it at Pitter and Glink
Seed Packet
Don't throw those dollar store seed packets away after they are planted – make them into necklaces!
See how it was done here at Mod Podge Rocks
Glitter Bow
No sewing is required to make this amazing glitter necklace – what a statement!
Find out how to do it at Prudent Baby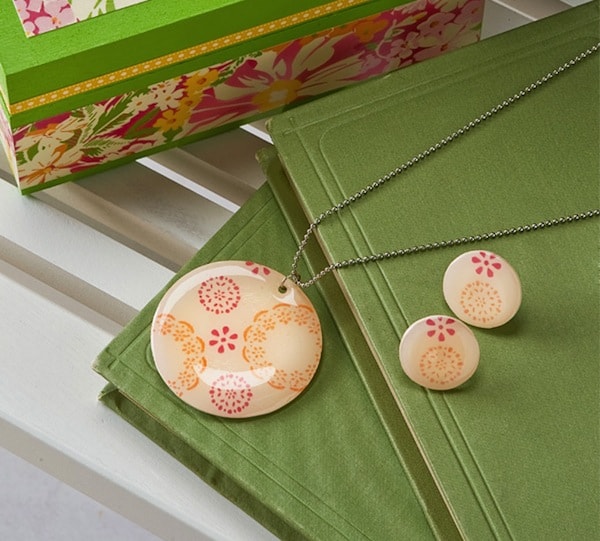 Fair Isle
I used Shrinky Dinks, stencils and markers to make this pretty earring and necklace set.
Get the how-to here at Mod Podge Rocks
Southwest Style
Cathie use a rose Mod Mold and a strand of turquoise beads to make a simple but fashionable necklace.
Learn how to do it at Handmade Happy Hour
DIY Instagram
If you are addicted to Instagram like me, learn how to make this necklace using a wood pendant.
Find out how here at Mod Podge Rocks
If you're read to get started with decoupage jewelry, metal blanks are going to be your favorite. Such an inexpensive price and makes 10 pieces! Get metal jewelry blanks here. Now keep scrolling down to see even more projects.
Mini Polaroid
Megan turned a printout of a family picture into a faux Polaroid, using a small glass tile and Mod Podge.
The original project is no longer available so use the photo as inspiration!
Pressed Leaves
Any foliage will work to make these pretty pendants – use red and orange for a little variety.
See how it was made at Lark Crafts
Mini Photo Blocks
Use mini wood blocks and tiny photos to make this personalized necklace. So cute!
Find out how to do it at bugaboo, mini, mr & me
Lots of Glitter
This glitter necklace is SO blingy and easy to make with Dimensional Magic.
See how it was done at Clumsy Crafter
Scrabble Tiles
Buy these tiles online, then make a ton of scrabble necklaces for gifts – this is the perfect craft for groups.
Get instructions at One Artsy Mama
Vintage Pendants
The beautiful chandelier crystals give a pretty dimensional look to the finished project.
Simple Washers
Can you believe that this is an item from the hardware store? Washer necklaces are so easy to make!
Learn how to make it at Handmade Happy Hour
---