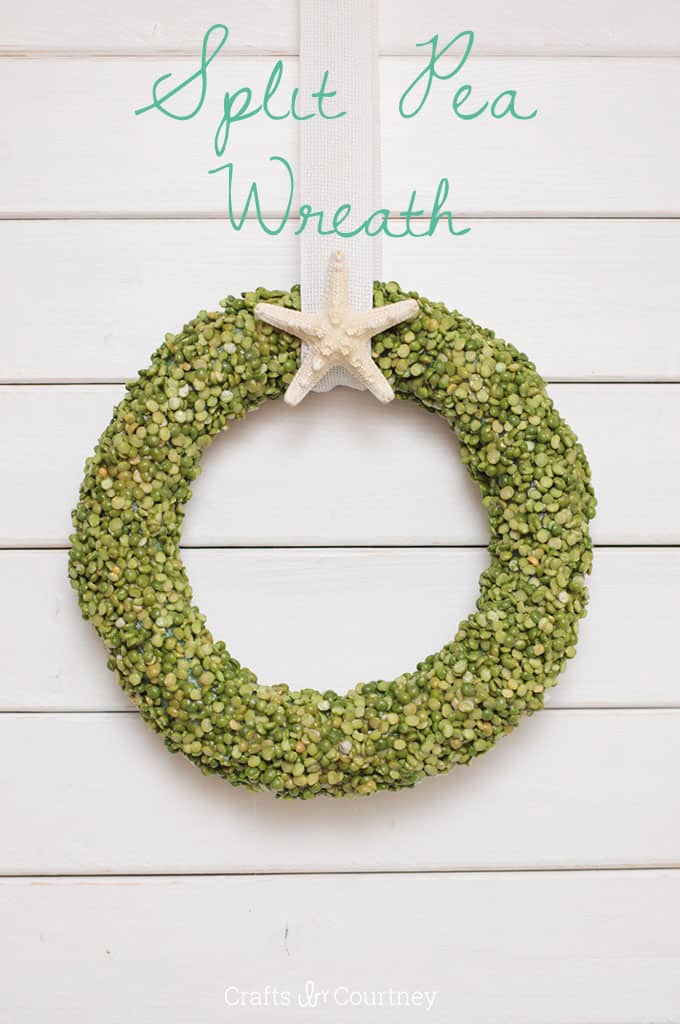 I'm really excited to share today's craft with you guys! I made a split pea wreath for my back door an I'm LOVING it! This was a pretty easy project to make, but it does take time. If you're looking for a pretty DIY wreath that is budget friendly, this is your wreath. So if you're ready, let's get started!!
For this craft you're going to need:
Supplies
Foam Wreath
Split Peas
Paint Brush
Ribbon
Getting Started
I found my foam wreath at the Dollar Tree. Total bargain I know!! I have to stock up on more asap.
I grabbed some split peas from the store and of course my "handy dandy" Mod Podge!! At this point I hadn't decided what color ribbon I planned to use. But you'll find out soon!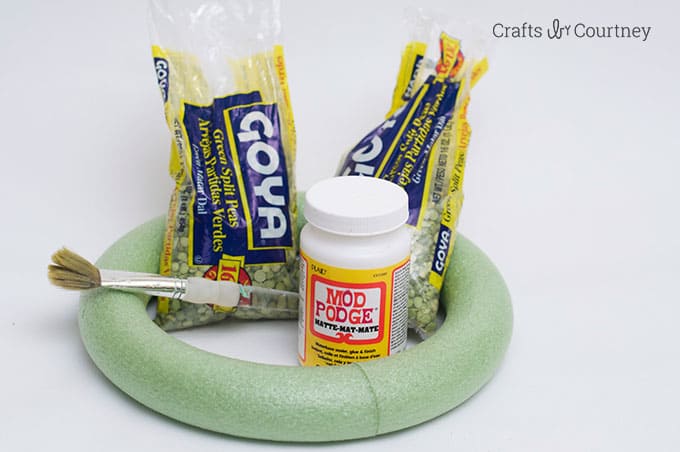 Step 1 – Add Mod Podge
I found at perfect container to put my split peas in. I just set my wreath inside and started painting on the Mod Podge. Once I painted on a section, I started sprinkling on my split peas. Pushing the peas into the wreath.
Once the wreath was covered as best as I could get, I let dry 30 minutes.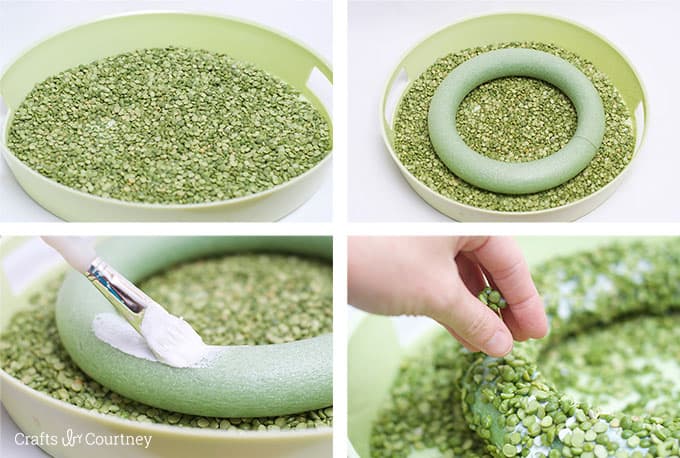 Step 2 – Fill in Bare Spots
Now that the wreath has dried I started filling in the bare spots.  Adding my Mod Podge and peas again.
See how nice and full the wreath is!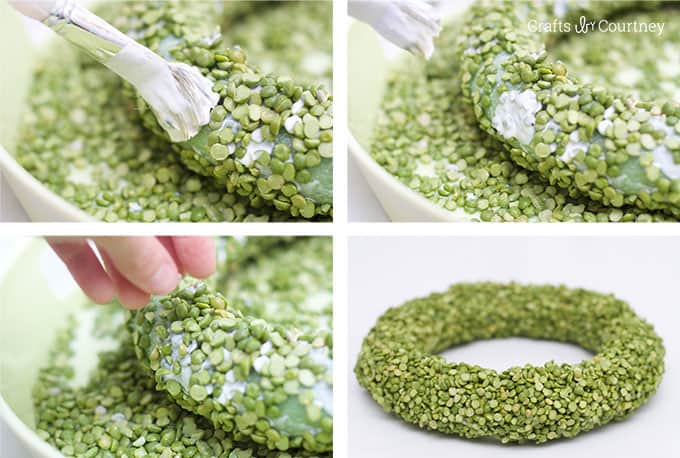 Step 3 – Seal in Split Peas
So this last step is important. When I would pick the wreath up the split peas would start falling on the ground, I couldn't have that.
Since the Mod Podge dries clear I thought covering the entire wreath now would work perfectly, and guess what . . . it did!!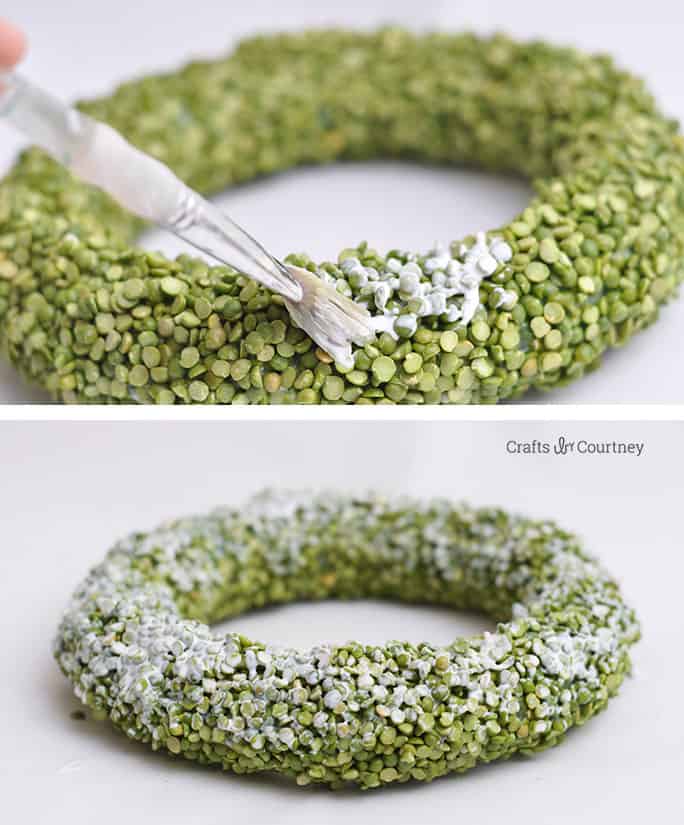 Finishing Touches
Now I don't have to worry about any of the split peas falling off. I've shaken the wreath and nothing. I decided on some white burlap ribbon and of course I had to add a coastal feel to it with a shell. I think the shell looks perfect on it.
Very simple and clean.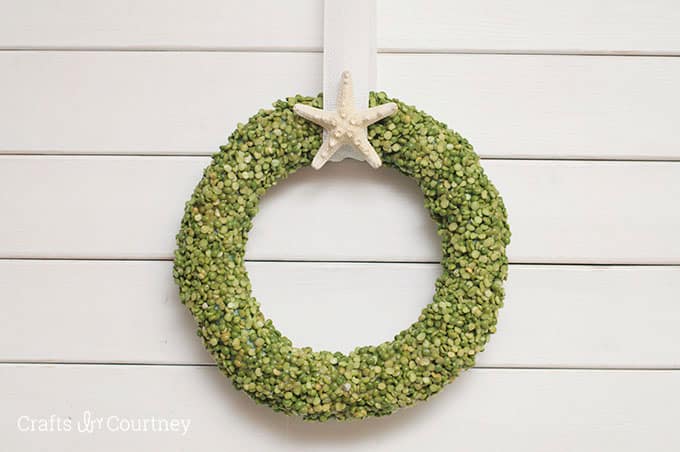 I will be making another one and adding them to my french doors in the kitchen. They will look perfect there.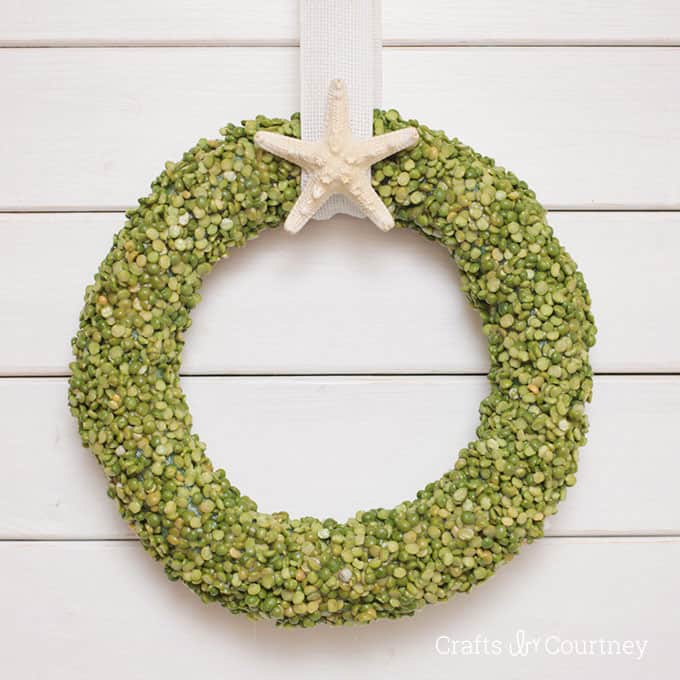 I think what made this craft easier was that I used a green foam wreath. So if there are any spots that are missing some split peas it won't be as noticeable.
I hope you enjoy making one yourself. There will be a time that you think what did I get myself into. But take a "woosa" moment and continue on, believe me it's worth it at the end!
I hope you loved this craft. If you'd like to get more craft project ideas and inspiration, be sure to sign up for my newsletter! Get my best ideas, right to your inbox.
Wanna' keep up with all my craftiness, follow me!
Facebook | Pinterest | Google+ | Twitter | Newsletter