Do you love cute and EASY 4th of July crafts? Grab your Mod Podge and make one of these 20+ Fourth of July crafts for the upcoming holiday.
Do you love Fourth of July crafts?? Me too. Mod Podge is made in the USA, which means that it's pretty patriotic all by itself. But since you can't really put out a bottle of Mod Podge on display for the 4th and have it make sense to people,
4th of July Crafts
I've pulled together a collection of 22 Fourth of July crafts that use decoupage as a part of the finished project. Most of these are very easy, which means that you can pull together a craft in just a few hours. And who doesn't love that?
Scroll down to get inspired by these Fourth of July crafts!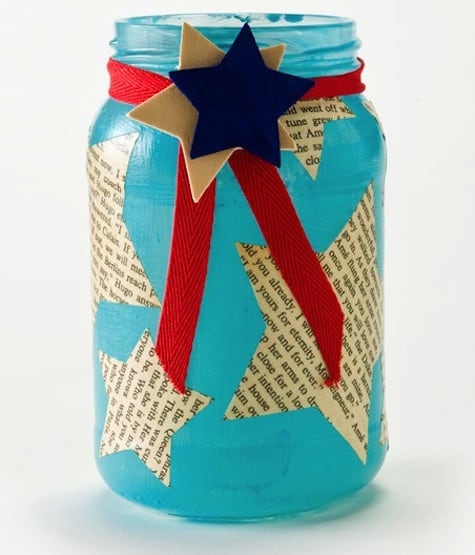 You can use old book pages (or copies of book pages) to make these cute luminaries! So fun, even kids will love trying this project.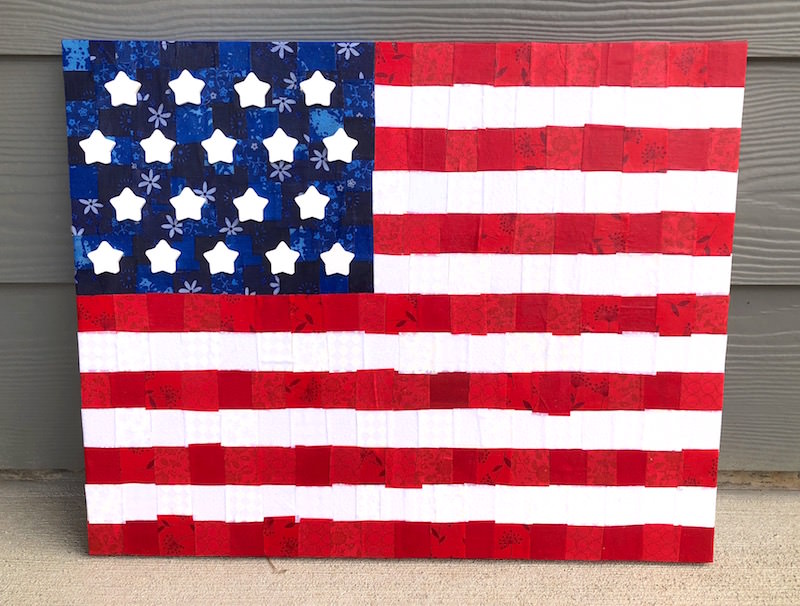 Make a 4th of July flag canvas using paint chips or fabric scraps – either way, you're going to use Mod Podge! This would be awesome with the Sparkle formula.
Use scrapbook paper and napkins to cover the back of a glass plate and make it perfect for a Fourth of July picnic or party! Use Dishwasher Safe Mod Podge if you'd like to be able to wash them.
Have you ever thought about using pool noodles for Fourth of July crafts? Grab some from the Dollar Tree and make this unique "firecracker" display!
Use a vinyl sticker as a resist in this unique Fourth of July wall art! I love the wood grain pattern of the United States – this would look great with farmhouse decor.
Grab some styrofoam balls, fabric strips, and Mod Podge! You can make this awesome ball filler in just a few minutes.
I love surprises, and with Mod Podge and paper, you can add some to the bottoms of patriotic party glasses! It's a great way to identify glasses as well.
Use Sparkle Mod Podge and tissue paper to decorate a candy dish! This is perfect for older children, or for younger children to decorate with their parents.
I've made many a clothespin wreath over the course of time and they are so fun to put together! Love that you can keep this one out all summer.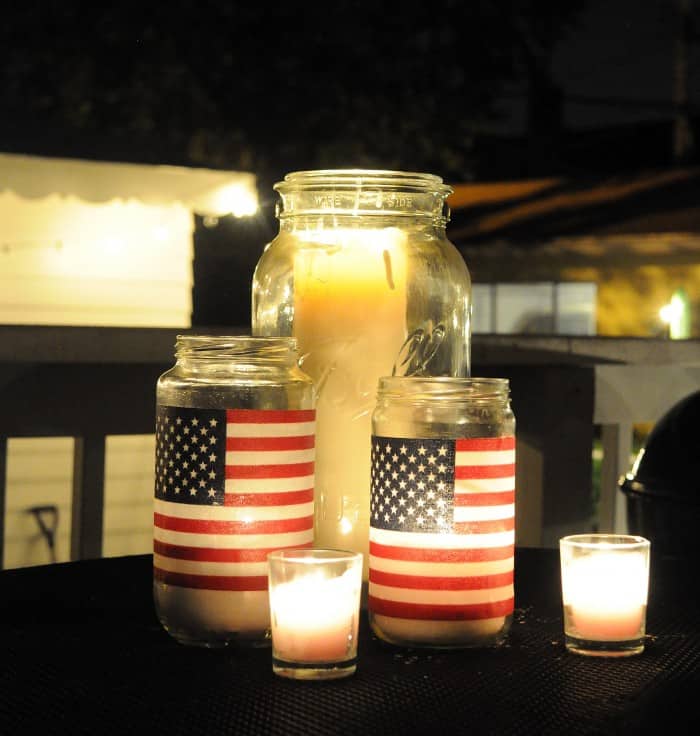 Hit the dollar store and grab some mini flags – then use some Mod Podge to attach them to recycled jars. It's so easy and with make a big impact this Fourth of July!
Paper doilies aren't just for hold dessert! You can also use them in various colors to create a 4th of July banner. This comes together in minutes.
Use Mod Podge to glitter the edges of your scrapbook paper, then learn how to fold into a pinwheel! Makes a perfect fourth of July display, and you probably already have the supplies.
If you have a Cricut, you can easily create this 4th of July craft. Pick your favorite scrapbook papers and patriotic themed sayings!
Completely makeover a dollar store bowl with Mod Podge and book pages! Use it to serve your favorite treats at a 4th of July party.
Decorating dollar store votive candles for Independence Day is really fun and easy to do! This is a good opportunity to use the red, white, and blue supplies you have on hand.
Trick out a plain paper lantern with cut tissue paper and Mod Podge! I think the Sparkle or Extreme Glitter formulas would be so fun with this project.
Debbie used tissue paper and Sparkle Mod Podge to decorate the top of this large glass – then use FolkArt Enamels paint to strips and dot the bottom. Makes a great Fourth of July centerpiece.
If you like candles on your table as a centerpiece, these Americana themed options by Angie are perfect for farmhouse or rustic decor.
Use pieces of fabric in patriotic colors to make this 4th of July craft! It's such a great addition to your home decor.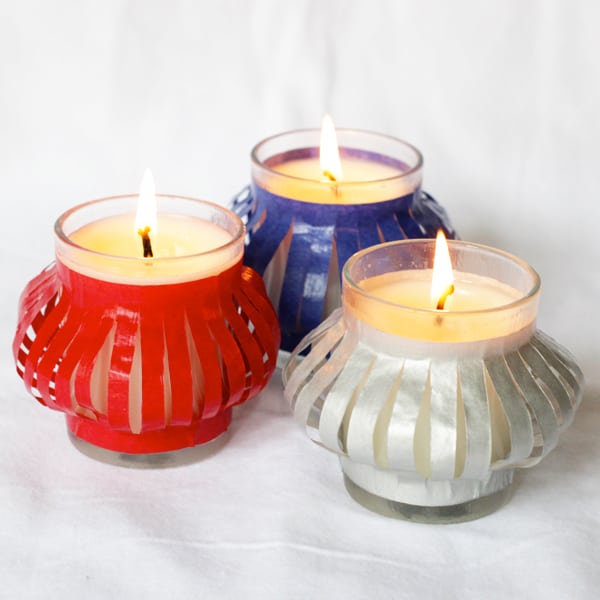 This is one of those 4th of July crafts you can make in ten minutes! Perfect for home decorating or an Independence Day party.
Create a place to put your used sparklers so you never have to worry about catching fire or burning a surface! Great for kids' safety.
---
If you enjoyed these 4th of July crafts, you going to also enjoy 20 free 4th of July printables!