Use dollar store supplies to make these pretty Mod Podge candles! We added a tropical flair to ours, making them perfect for parties.
Skills Required: Beginner. You don't need to have a ton of Mod Podge experience to make these, but I do recommend having prior craft experiencing because the napkins are fragile.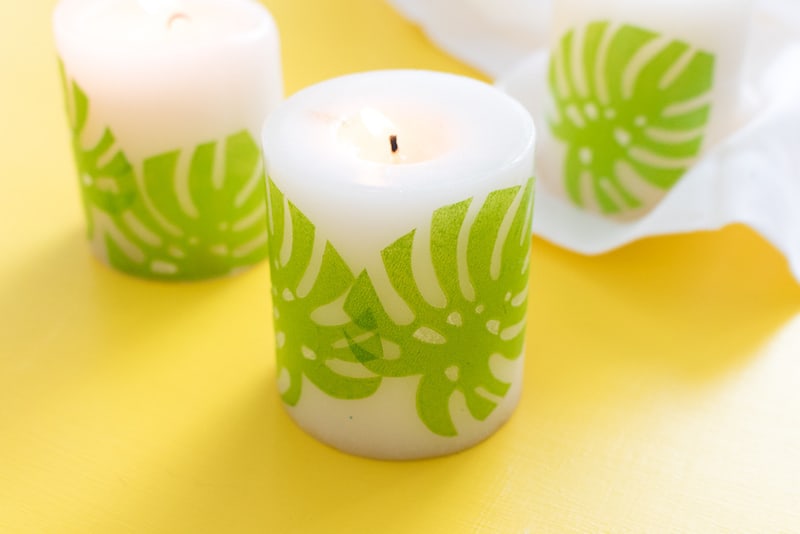 Hi there! Holly here from Club Crafted again with one last summer craft – decoupage candles! This is a quick tip for dressing up your plain candles with a tropical flair. They're a great addition to your home decorating.
I'm a BIG FAN of the Dollar Store, and it's the perfect place to shop for plain white candles (which I always have in the house) that make the perfect base for DIYs, including this simple napkin decoupage technique.
Since Amy mentioned that decoupage with napkins was "in" right now, I thought decorating my plain white candles with a tropical monstera leaf pattern was the perfect choice. Because I'm a Dollar Store fan, it's probably no surprise that I also LOVE the Michaels and Target dollar sections.
I picked up these cute yellow and green tropical leaf napkins at Michaels at the beginning of summer because I loved the pattern, and the size was perfect for my candles. I made these Mod Podge candles in less than 15 minutes!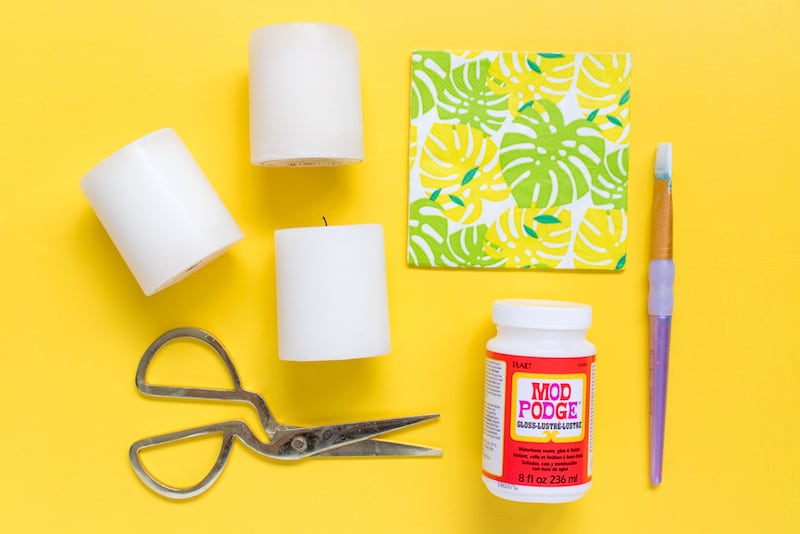 Decoupage Candles with Napkins
Gather These Supplies
Plain white candles
Paint brush
Tropical leaf napkins
Scissors
Step 1: Unfold the napkins and cut out the leaves. I managed to get 3 – 4 leaves out of a single napkin, but it depends on the pattern and how it overlaps on your Mod Podge candles.
Step 2: If the napkin has clear layers, carefully peel them away so that you are only left with the thin top layer with the actual pattern on it. This makes for a cleaner decoupage.
Step 3: Paint a thin layer of Mod Podge (I used Gloss) on the area of the candle where you want to place the pattern.
Then press the cut-out leaf in place and smooth carefully. If they are small enough pieces, there should be minimal creasing.
Step 4: Repeat with additional leaves/patterns as desired on your Mod Podge candles, and feel free to overlap. Then paint a thin layer of Mod Podge over the napkins and let dry completely before using.
Now, light 'em up! I love how the green leaf pattern looks against the white, and they seem like the perfect decoration to have around the house this summer. You can try a leaves version of these decoupage candles for autumn!
---
If you're interested in more decoupage candles or napkins or stuff I think you like, check out these projects: