Display fresh flowers and herbs in your home this summer with an easy-to-make wall vase using a recycled bottle.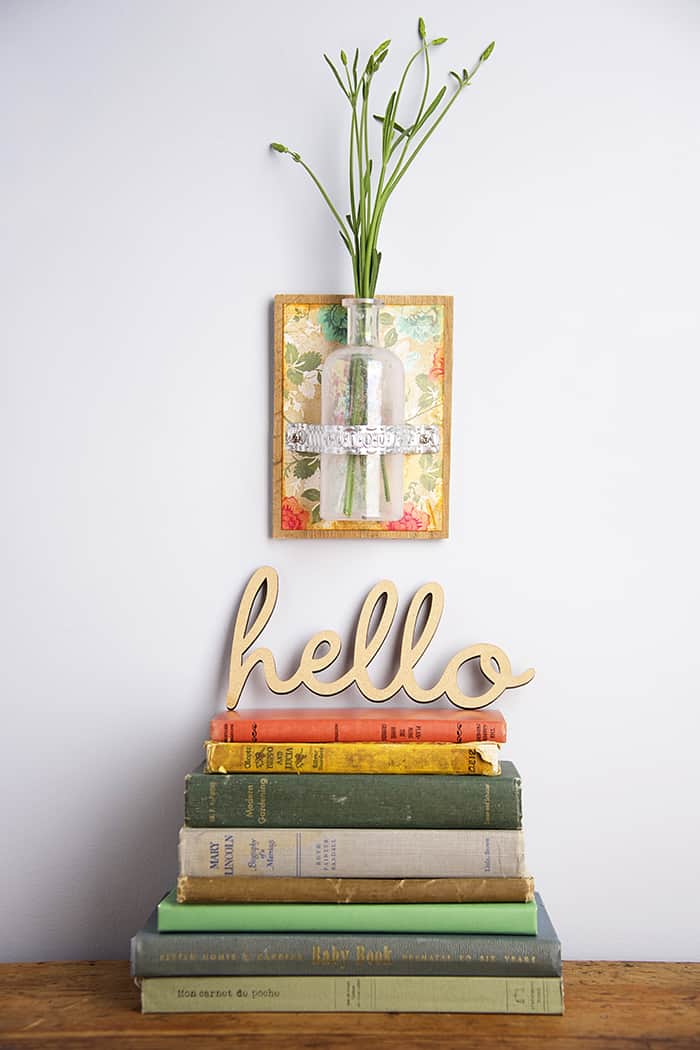 Hello friends!
Does it finally feel like summer at your house too? One of my favorite things about summer, is having all the fresh home grown flowers in my yard.
I am totally not an expert grower, but I do have a few plants that seem to bloom beautifully all summer long.
Since I am always looking at lovely ways to display them inside the house, I thought I would share this simple flower wall vase tutorial with you!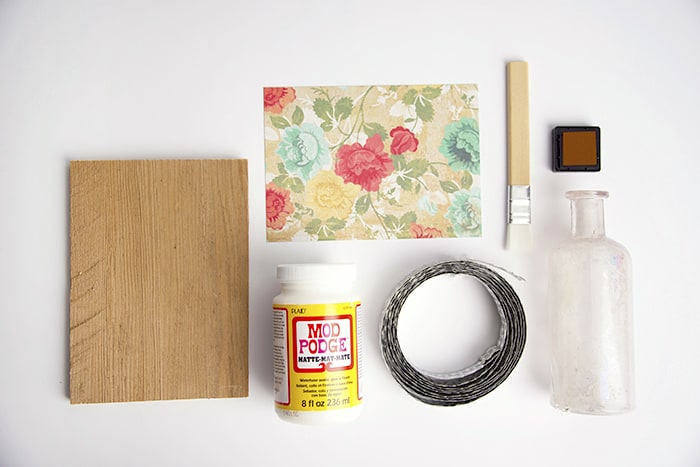 DIY Wall Vase
All you need to get started is a scrap of wood, Mod Podge Matte, a paint brush, a scrap of decorative paper, ink, two screws and a screwdriver, metal trim, and an old bottle.
If you can't find an old bottle, a vintage inspired soda bottle would work great too! The metal trim I found at Hobby Lobby, and I noticed a lot of craft stores are now selling something similar in the craft section.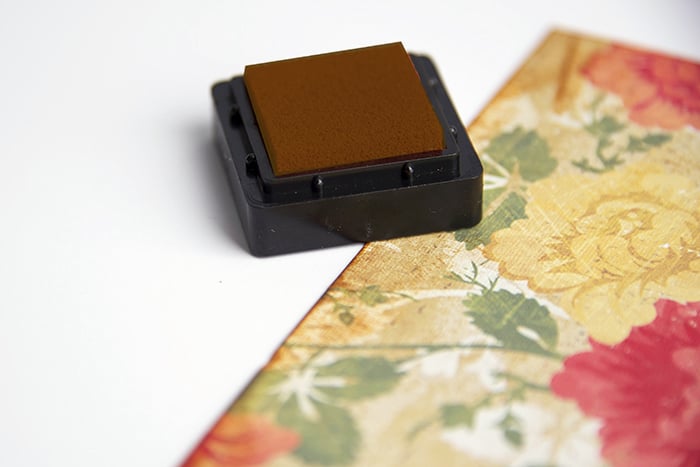 To get started, first cut your wood scrap into a 6″ x 8″ piece. Then trim your paper to fit on top, and ink the edges just to give it an old distressed look.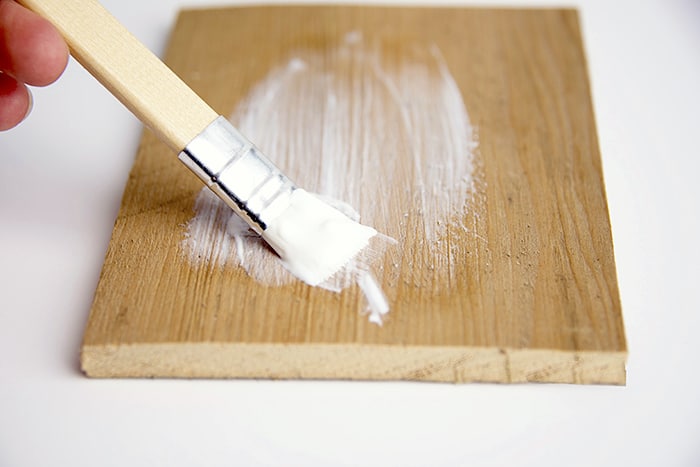 Next, coat both your paper and wood with Mod Podge, and seal them together. Apply an additional thin coat on the top of your paper. If you plan to put your vase outdoors, add a couple of extra coats.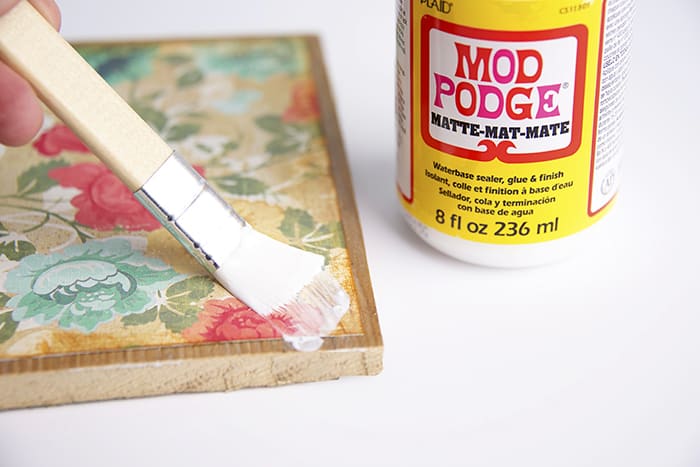 Otherwise, one coat should be plenty.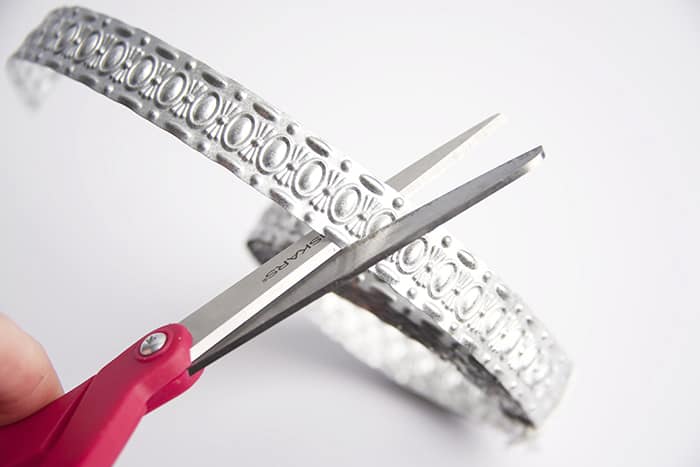 After your Mod Podge is dry, center your glass bottle on the wood board, and measure how much trim you need. The metal trim I found cuts easily with scissors, but you may need pliers depending on how thick it is.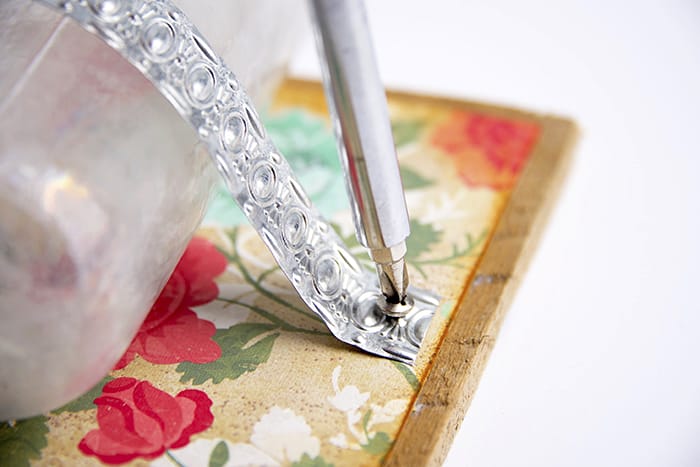 Next, take your screwdriver, and attach the metal trim with one screw on each side. Make sure you pull the trim really tight so the bottle does not move. If you are nervous that the bottle might slip out, just add a little glue on the back side of the glass.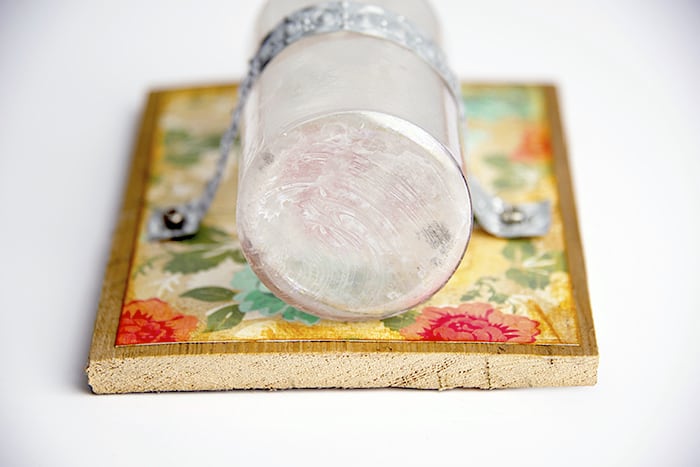 Your bottle should fit snugly inside when you are done. If you need to add water to your vase, just carefully pour it inside without getting the paper wet.
That's it! so easy. This looks lovely on a table, but can easily be hung on a wall too. Just pick up some frame hardware for the backside of the wood.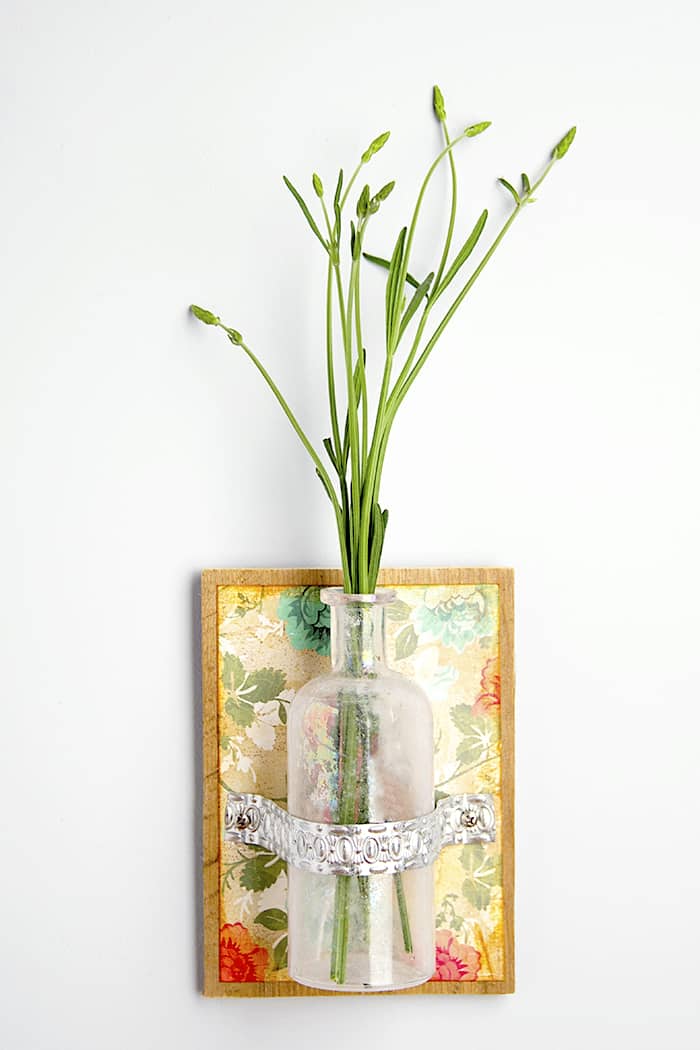 I have a lovely lavender plant in my backyard, and we have been rotating freshly cut lavender for the last few weeks It smells sooooo good! I have my wall vase hanging right in side my front door entrance, so it's easy to spot and smell right when you walk in my front door.
Goodness, I have so much lavender blooming right now, I may just have to make a few of these wall vases for neighbors too!
Happy summer friends. I hope you are enjoying sunshine, cool breezes, and hone grown flowers too! Don't forget to visit me on my blog, Facebook, Pinterest, Twitter, and Instagram too.
XOXOXO,
Natalie