Glitter up a funkin to make this house number pumpkin! So easy to do with Mod Podge – customize with your favorite glitter color.
Skills Required: None. Even if you've never crafted before, you'll be able to accomplish this project. You'll be applying Mod Podge and sprinkling glitter.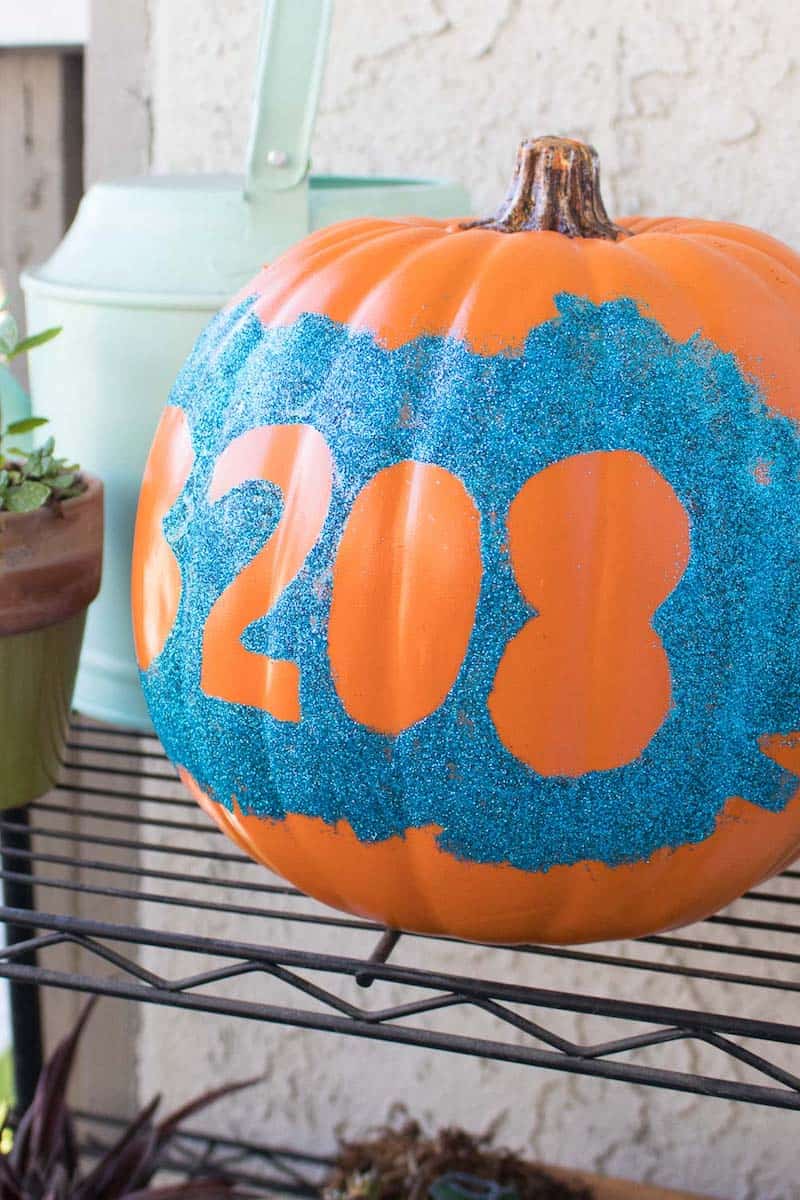 Fall is in full swing (though I can't tell here in California)! I, Holly, love incorporating pumpkins into my fall decor, so this year, I turned a craft pumpkin into a simple glittery house number pumpkin to display by my door throughout the season.
To make our apartment number pop, I outlined the outside of our numbers with Mod Podge and adhered brightly colored glitter. No one will ever get confused which number we are!
Display inside or outside your home (in a covered area) and use any colors you'd like to display your house or unit number for the season.
House Number Pumpkin
Gather These Supplies
Step 1: Lightly draw large bubble letters/numbers of your house or unit number in the middle of the pumpkin.
Step 2: Apply Mod Podge around the outside of the letters with a paint brush, outlining the letters. Sprinkle with glitter and tap to remove excess.
For best results, work on one section at a time. You can repeat any areas necessary by adding more Mod Podge and sprinkling more glitter.
Tip: if you are trying to cover an area where glitter has already been applied, go lightly with the Mod Podge. You don't want it to look clumpy!
Step 3: Let the first layer dry completely before applying a sealant layer of Mod Podge on top of the glitter to keep it in place. Let dry before displaying.
Note: Yes, the Mod Podge is going to dull the glitter slightly when you apply it on top. In my opinion, it's not that bad. However, you don't have to paint the Mod Podge on top. You can leave the glitter "free range." Just be advised that it might flake off. Onto your floor.
Let the fall season commence with a sparkly house number pumpkin that everyone is going to notice!
---
Want another great idea for decorating pumpkins? Try these colorful confetti pumpkins! I'd also love for you to check out these other posts: