If I had to choose the one thing I love most about crafting, it would have to be the process of taking familiar products and materials and experimenting with them in new and different ways. I love to think outside the box and have fun crafting while creating something new. Therefore, I was intrigued about the process of DIY screen printing with Mod Podge.
Amy shared her take on Mod Podge screen printing here, and now I'm going to share my experiences. Read on for the how-to!
Mod Podge DIY Screen Printing
Materials:
sheer fabric
Speedball screen printing ink
paint brushes (I used a wide, flat brush and a smaller detail brush)
item(s) to screenprint on (I used onesies and dish towels)
Step 1: First, you're going to need to decide what image you want to screen print. I found that, at least for my first attempts, simpler images worked better than more intricate ones. Once you decide on your image, find the image online that you can resize and print out. Alternatively, you can hand draw your image. Take your fabric (I used a double layer of tulle fabric, Amy, in her post, used a sheer curtain that she found for a dollar, and I've even seen pantyhose used for this step), insert it into your hoop, and pull (very!) taut.
Place your hoop over your image, and trace. I used a Sharpie so that it would show up well.
Step 2: Flip your hoop over, take your paintbrush and apply Mod Podge around your design. I used Mod Podge gloss for this, though, after doing some research, I'd probably use Fabric Mod Podge if I were to do it again. When you rinse off your fabric after screen printing, Fabric Mod Podge will be less likely to rinse off along with your screen printing ink (meaning, you'd be able to reuse your hoop!) Let dry thoroughly, and recoat (I actually did three coats total). The holes of my tulle were fairly large, and I wanted to make sure that they were sealed well so the screen printing ink didn't seep through.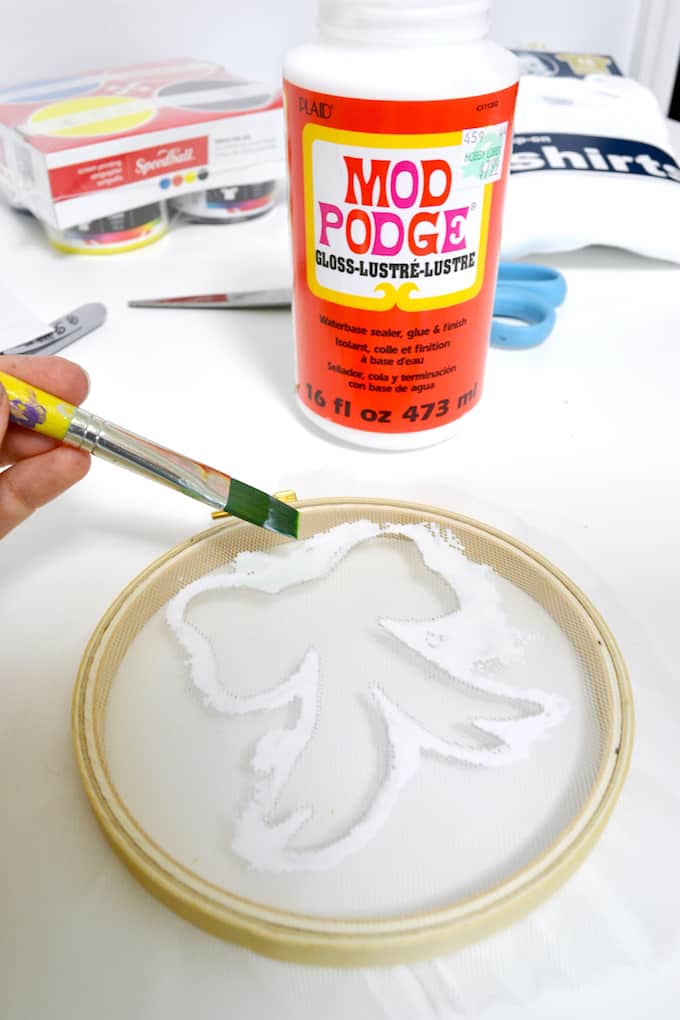 Step 3: This is where it gets fun! Turn your hoop back over and place onto your (pre washed) fabric. Take a paintbrush and ink, and paint over your fabric. I used Speedball screen printing ink, which I picked up from Amazon. The quality is great and the price is fairly reasonable. Let dry completely.
And you're done!
I also decided to screen print some dish towels . . . here's the design I started with:
And here's the finished DIY screen printing product . . . I love the uneven and organic nature of the rectangles, but if you're looking for something more precise, you can always take your small paintbrush and ink and go back and touch up your designs.
Wouldn't a set of the screen printed dish towels make a wonderful wedding or housewarming gift? And the onesies! So many possibilities, and I know any momma would just love them!
Thank you so much for letting me share my DIY screen printing with you today! You can find lots of other tutorials and inspiration on my blog, my facebook page, on pinterest or on twitter! Have a lovely day!