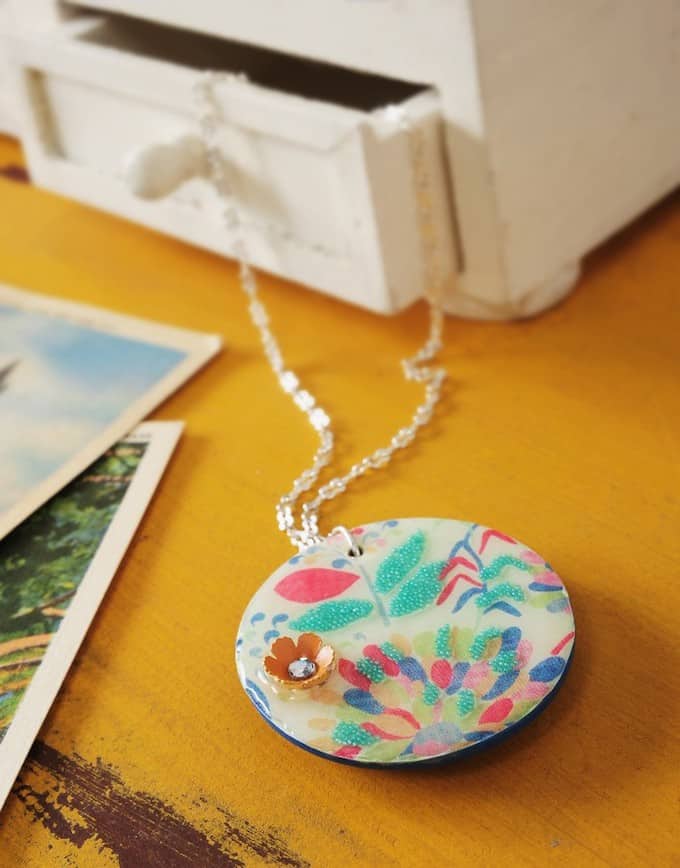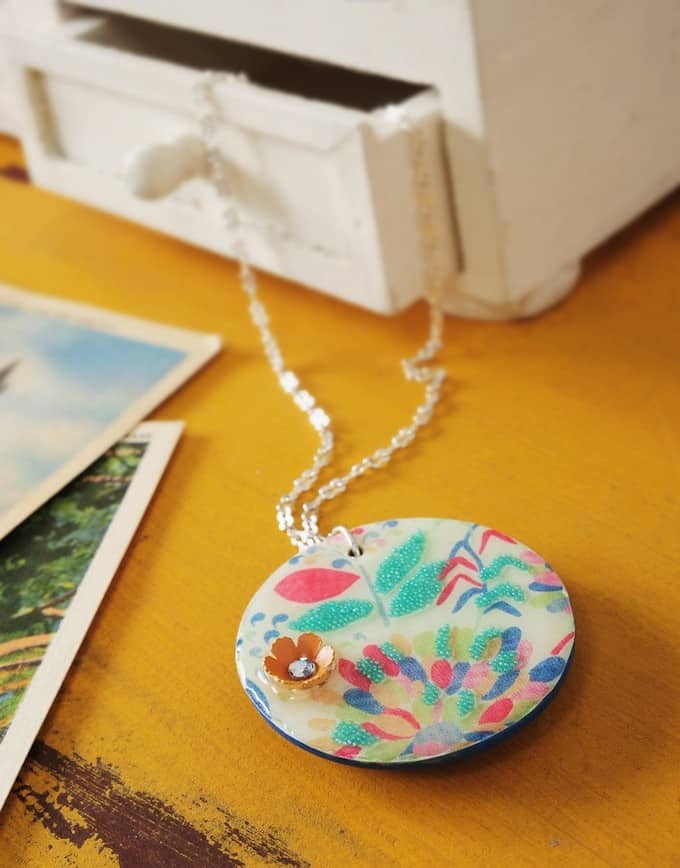 It's the last week of the Flip-Pal mobile scanner blog hop, and I got smart in making this Dimensional Magic pendant. I realized that with the size of the scanner I could bring it anywhere – so last week, off to work it went with me. You didn't know it was "Bring Your Scanner to Work Day," did you? I have an enormous purse; maybe you do too. My little scanner fits inside my enormous purse. I was able to bring it to work (and on my lunch hour, of course) flip through some catalogs I liked and find some images. Turns out I love the cover of the latest Boden catalog, so that became the background of my necklace. It wasn't my catalog to cut up, so I scanned it. Just in case you need a reminder, here is my little helper friend: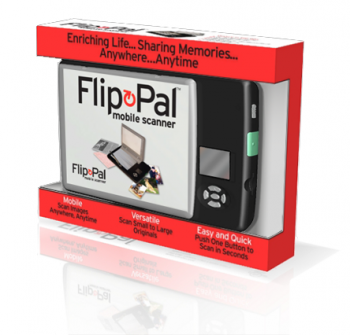 Back to the pendant. I've been so into jewelry making lately (what's come over me?) that I decided I needed a necklace. If I'm going to wear something around my neck, I want it to be a statement piece. I go bold with nearly everything, so why not jewelry? I also love it that I can now, with my handy dandy scanner, turn any pattern I like into something to be Mod Podged. Here's how to make my pendant necklace.
Gather These Supplies
Computer and printer
Image to scan
FolkArt acrylic paint – Blue Ribbon (or coordinating colors)
Making Memories Metal Flowers
Jewelry making stuff – loop, chain, clasp
Scissors
Pencil or pen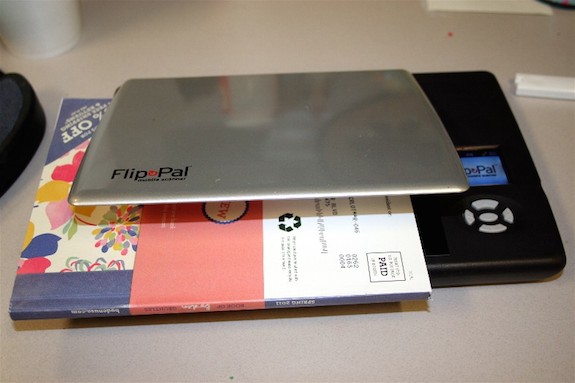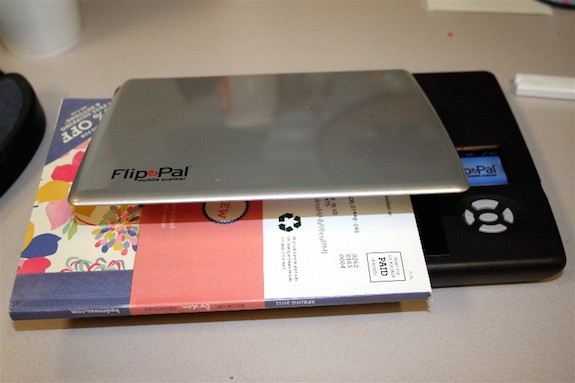 Scan your catalog on your Flip-Pal. I have a secret – I'm at work but NOT on my lunch break. Mwahahahaha! I love the portability of my scanner. And it's so small that I can cover it with a spreadsheet if someone walks up.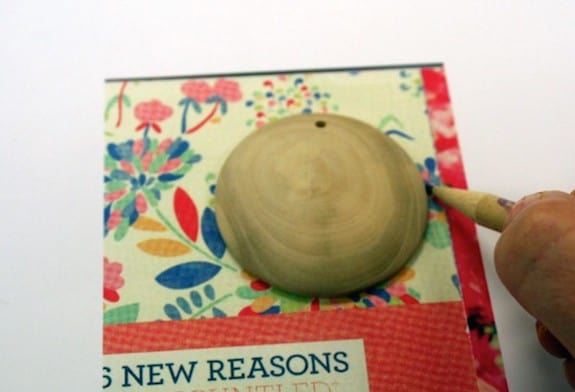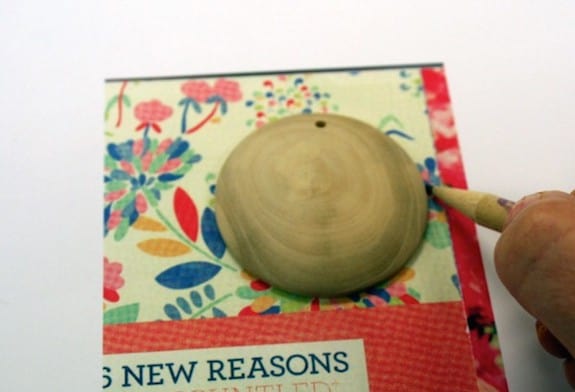 Print out the design onto a piece of copy paper. If you have a laserjet printer, you can cut out and decoupage as is. If you have an inkjet printer, you'll need to seal the paper with clear acrylic spray sealer before decoupaging, or it will smear. Trace your pendant flat side down onto your design.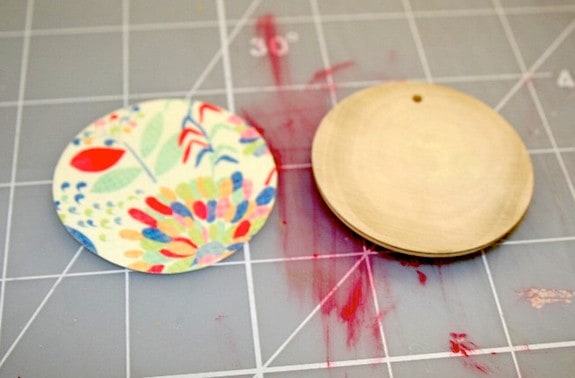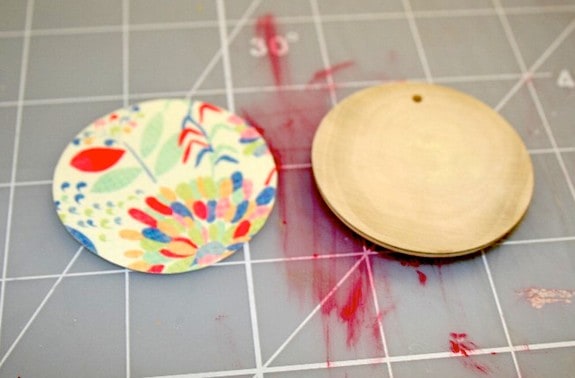 Cut the paper out and make sure that it fits your pendant. Adjust if you need to. Set the paper aside.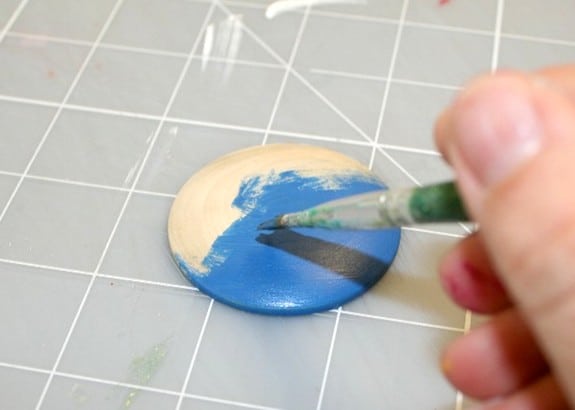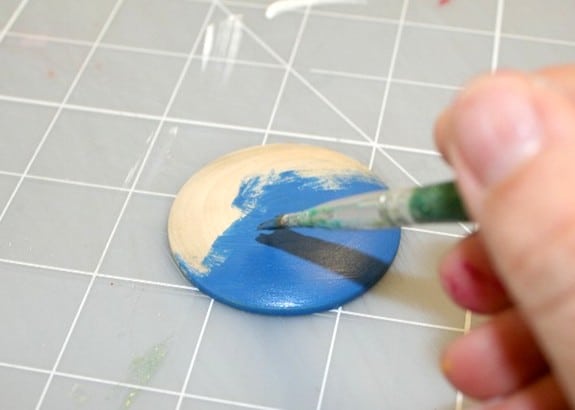 Paint your pendant with Blue Ribbon (or your coordinating color). Give several coats and allow to dry.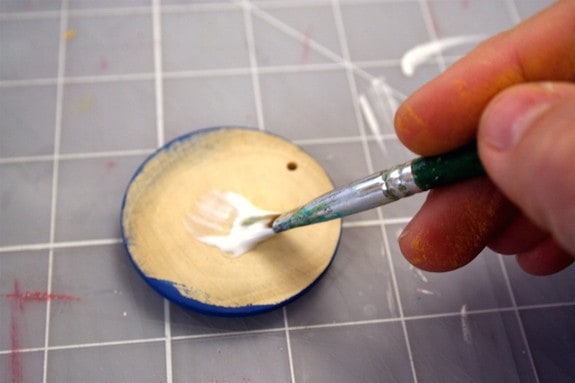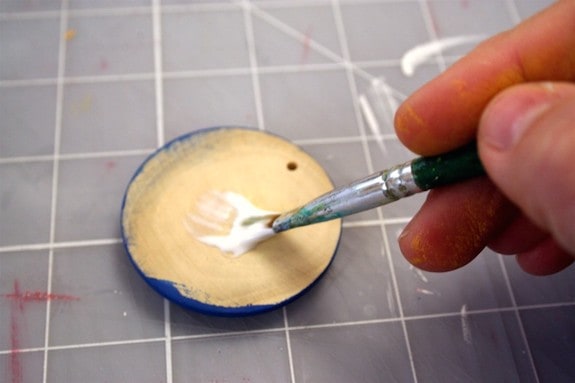 Add a medium layer of Mod Podge to the top of the pendant. Place the paper on top and smooth throughly. Wipe away any Mod Podge that squeezes out the sides. Let the pendant dry for 15 – 20 minutes.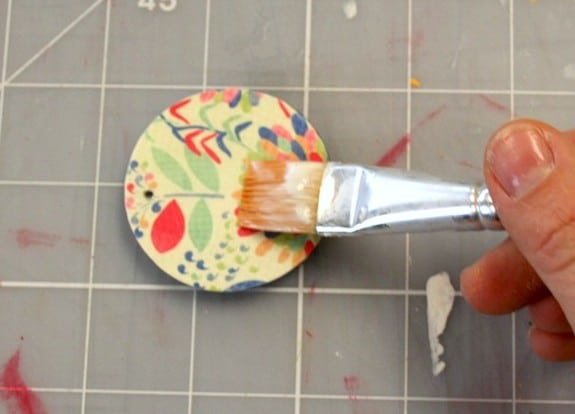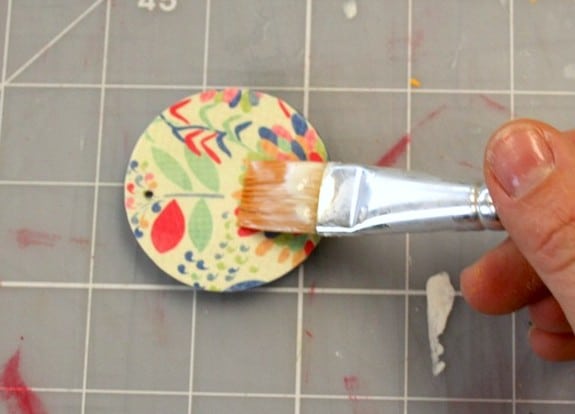 Mod Podge over the top of the paper seal. Allow to dry and then add another coat of Mod Podge. At this time I poked a hole where the pendant hole was – I used some random sharp object. I forget what, but a paper clip or pin will work.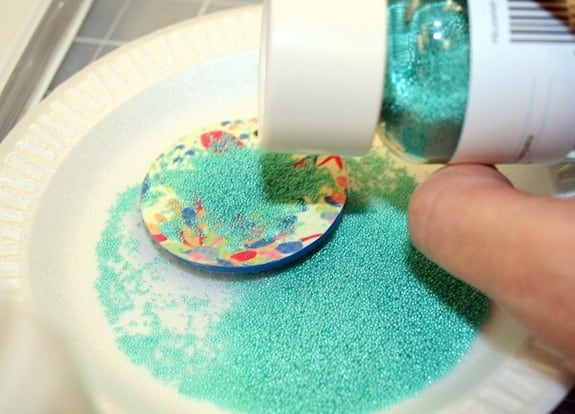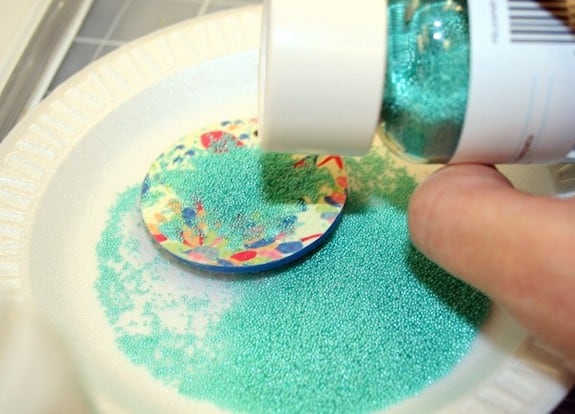 I had some coordianting Martha Stewart microbreads so I added them to give the project a little texture. Add some Mod Podge in the areas you want the beads and sprinkle directly on top (works just like glitter). Allow to dry.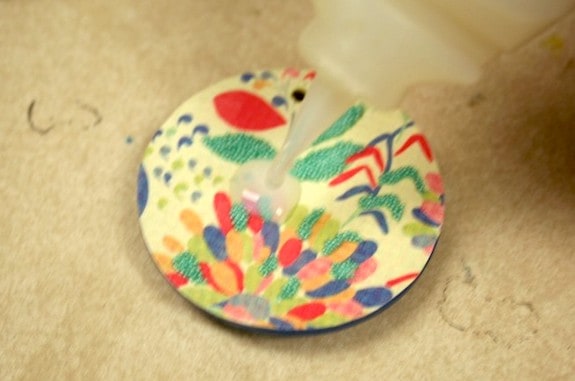 Finally, add Dimensional Magic to the top of the pendant, right over the beads. Right after I applied the DM I stuck the metal flower directly onto the pendant. The DM will dry and it will be held in place. It takes several hours for DM to dry, so be patient – also leave it in a relatively warm area. It cracks if it's in a cold room.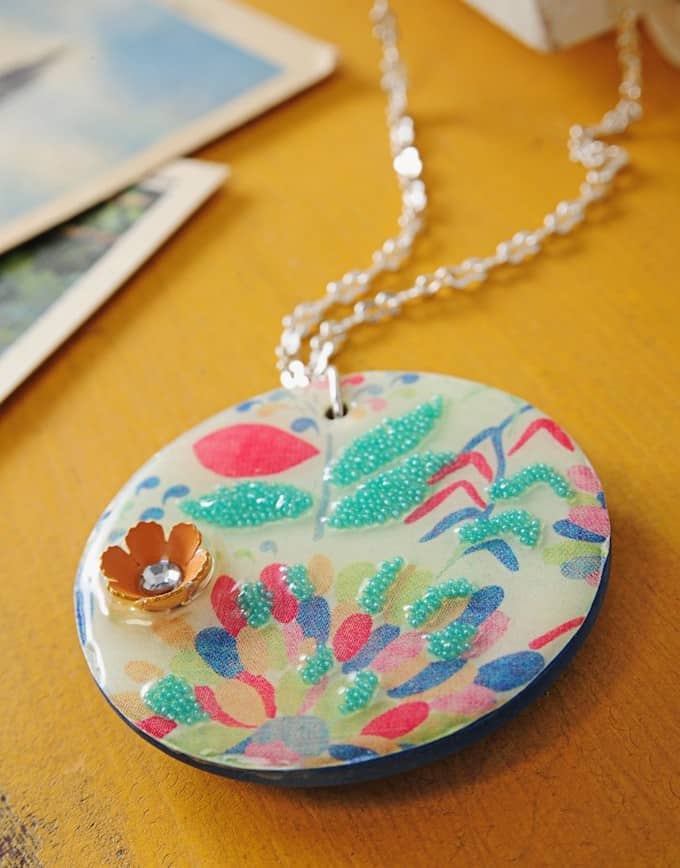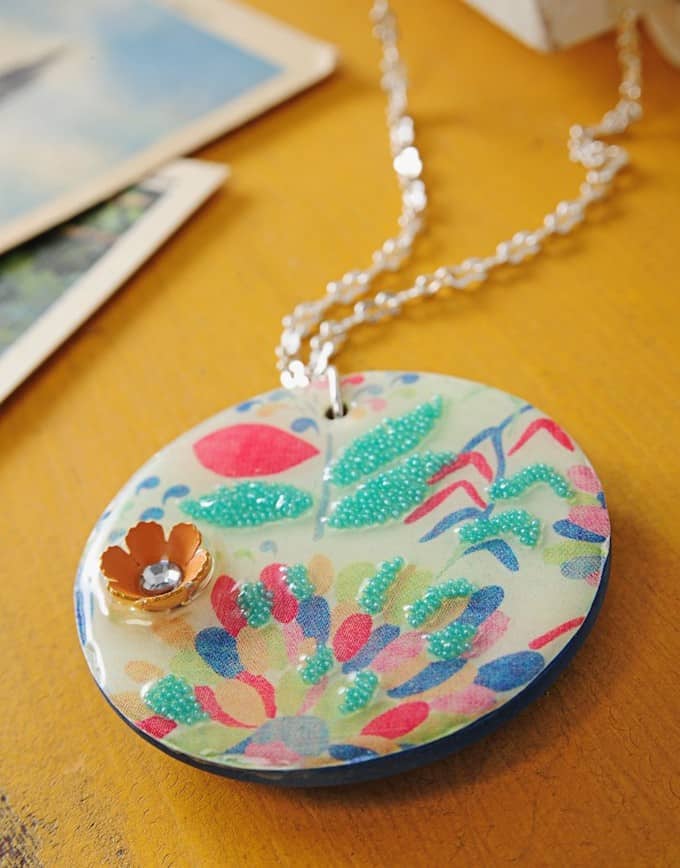 To make your pendant a necklace, add the jewelry stuff. Or if you are like me and are completely spent from Mod Podging, find someone like Candie Cooper to do it for you. I'm pleased with the finished piece, especially the texture I got with the beads and metal flowers. What do you think?