Learn how to decorate flameless candles with Mod Podge and napkins. These decoupage candles are easy and make great gifts!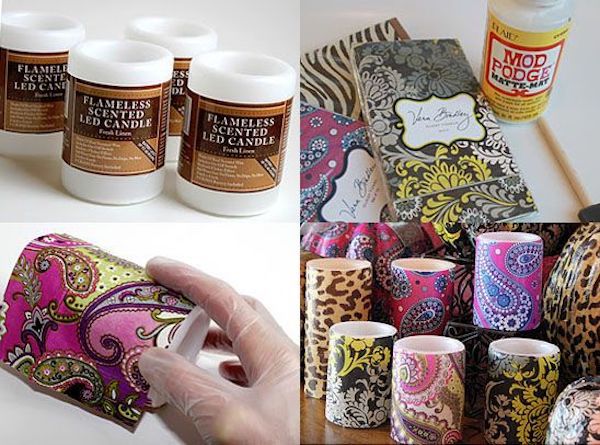 The one thing I love about this time of year and the whole "getting dark early thing" is candles. I like them a lot. I'm also afraid to burn them, because I'm absent-minded and I don't want Mod Podge Command Central to go up in flames.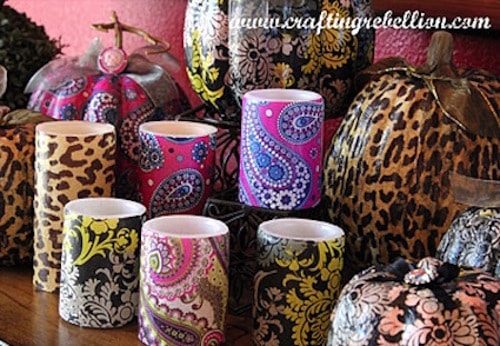 Lisa from Crafting Rebellion has a great solution: LED flameless candles. She bought them from the dollar store AND she made them pretty with some Vera Bradley napkins.
It's not going to cost much to make a whole bunch of these, and then you can give some as gifts. Find the how-to below.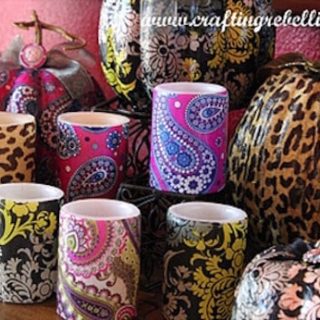 How to Decoupage Flameless Candles
Learn how to Mod Podge flameless candles from the dollar store using napkins.
Materials
Battery Operated Candles in White or Ivory
Decorative Paper Guest Towels or Napkins
Mod Podge
Plastic Wrap
Tools
Scissors
Foam Brush
Pencil
Instructions
Trim off the border and any perforated edges of the napkins using the scissors.
Lay a candle on one napkin. Roll the napkin around the candle to know how long to cut, leaving a little extra for overlap.
Use a pencil on the backside of the napkin to trace how wide to cut the napkin piece, or measure the height of the candle with a ruler. Cut out a rectangle shape from the napkin.
Peel the inside white liner off of the decorative tissue or napkin.
Cover about 1/3 of the candle with Mod Podge. Line up the napkin to the top of the candle and carefully roll the paper onto the candle. The tissue is delicate, so smooth out any bubbles very gently.
Continue adding Mod Podge and rolling the napkin out while smoothing, making sure the paper stays even at the top of the candle. Smooth and pull it gently and rub your finger along creases and bubbles.
Roll until the tissue meets. Trim the excess to prevent overlap.
When you get to where the tissue meets you will want to trim your extra tissue to join the seams as close as possible. Try to have very little overlap. Let dry.
Trim any excess length on the bottom and top of the candle, or add Mod Podge and fold over. Let dry.
Add a layer of Mod Podge over the entire candle. Let dry and repeat. Let dry completely before using.
Notes
Use plastic wrap to help smooth out bubbles as you wrap the napkin around the candle. It will help prevent tearing. The more you roll and smooth with your fingers before it dries, the less lines and wrinkles you will have. Be careful not to touch with sticky fingers or it will lift the napkin off.
---
If you love learning how to decoupage candles with napkins, I encourage you to check out these other posts: