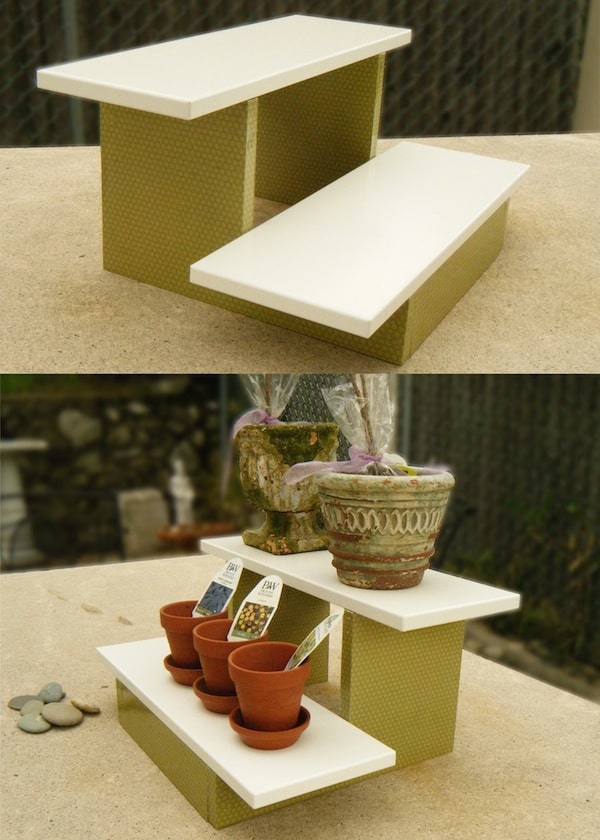 If you went on vacation and haven't been keeping up with my Man Podge series, then you are in for a treat! I've got two gentleman (gentlepodgers I should say) giving you the "man's perspective" of Mod Podge on a weekly basis. They are Walter Silva and David Cheney – both unique, both highly talented! Up this week is Mod Podge Walter with a mini wood plant stand.
What I love about this project is that you can use it at size to grow small items in a small space (like herbs/spices in your apartment) or you can make it larger to fill a bigger space. As you know, Mod Podge Command Central is not large, so this is the perfect size for me. Read further for Walter's awesome tutorial.
DIY Wood Plant Stand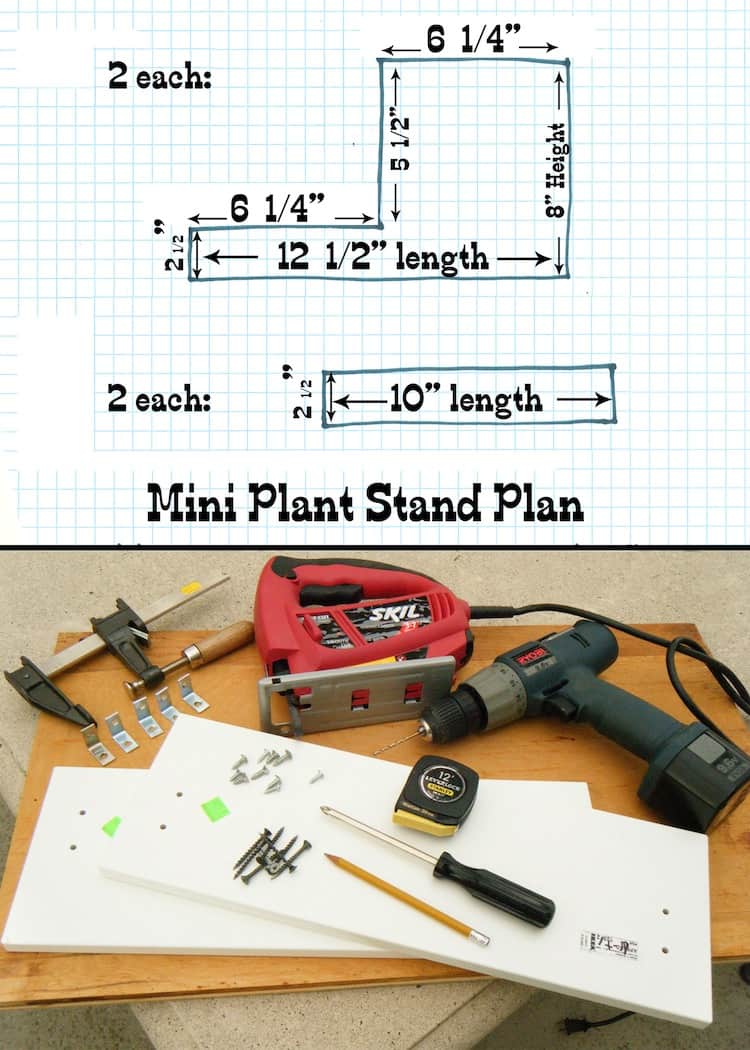 Step 1:
Mini Wood Plant Stand Plan / cutting list with measurements
I purchased two (2) white kitchen draw fronts (6 1/4″W X 18″L) in the "As Is" section at IKEA for a dollar each and they are very sturdy with a nice baked on finish! These will be the tops of each step (you can use plywood in this step too).
This is what you will need:
5 "L" brackets with screws
8 screws
Tape measure
Pencil
Small piece of plywood. (I used a recycled plywood Kitchen Cabinet door that measured 14″ W x 26″L)
Tools: Jig Saw, Power Drill, Table Saw, Clamp and Screwdriver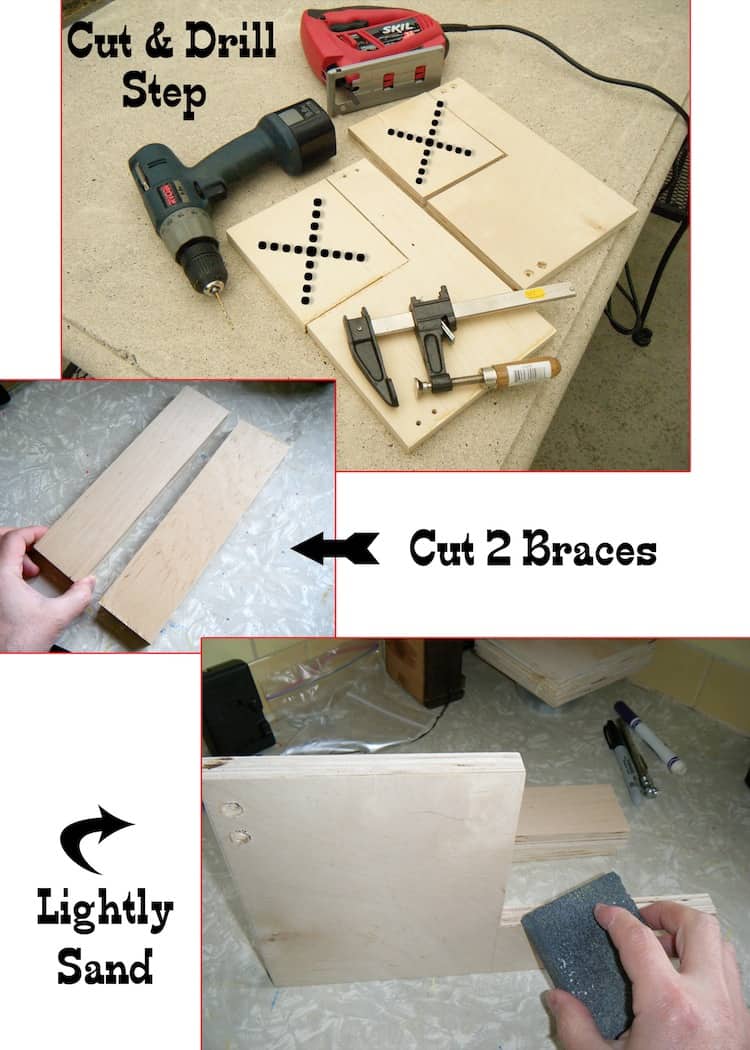 Step 2:
Cut List: (see plan) Use a table saw to cut two pieces for the sides @ 8″ H X 12 1/2″ L and 2 Braces @ 2 1/2″ X 10″ .
If you don't have access to a table saw, a home improvement center may cut them for a small fee.
For the sides: Use a pencil and mark the measurements for both pieces to make sure it is right!
TIP: Measure twice, cut once!
Then clamp down the sides and cut out the section (5 1/2″ X 6 1/4″) with a jig saw.
Next, sand lightly all the CUT out areas and make them smooth, I used a 100 grit sanding block.
Then pre-drill the holes with a drill @ about 1″ from the top and another 1 " from your 1st drilled hole. This step is done!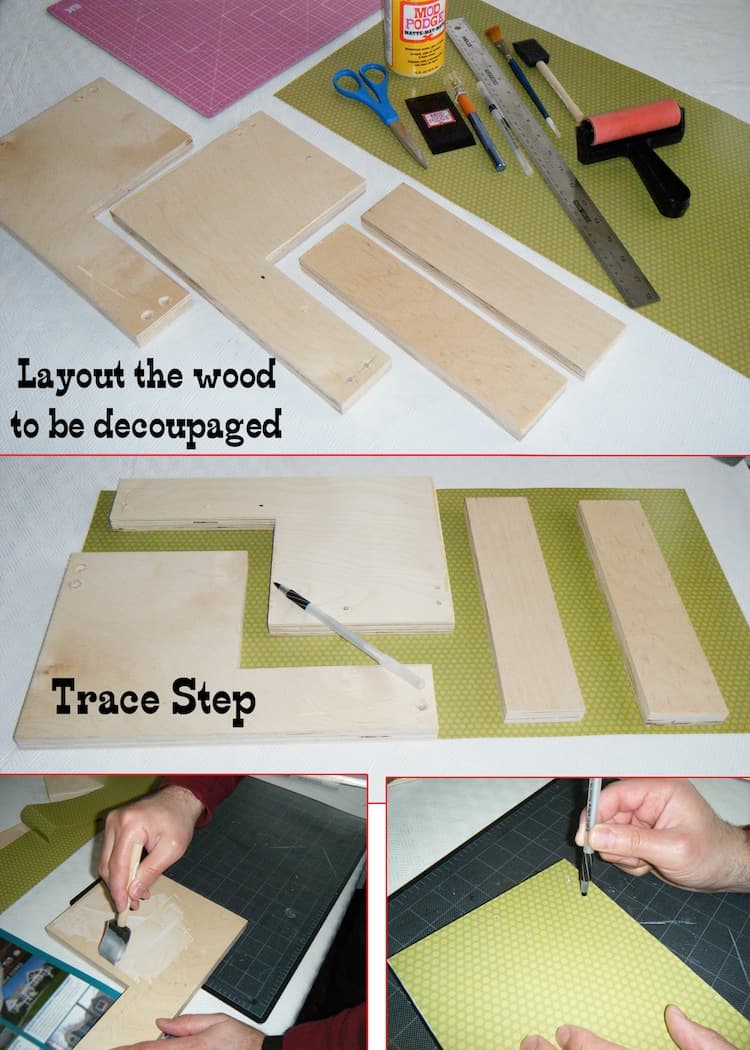 Step 3:
Move all pieces for the Carcass (shop talk for main structure, aka Base) to a table and layout the 2 sides and 2 braces.
Gather tools needed for cutting and decoupaging.
Place each piece over some big paper, I used 2 sheets. Trace with a pen and then cut. I also cut 3/4 strips for the thickness of the plywood.
Now you're ready to decoupage your wood plant stand.
I applied a generous coat of Mod Podge to the wood and paper and then used a Mod Podge Brayer to smooth out the paper.
Wipe off any excess Mod Podge.
Tip: I used the pen tip to puncture the paper where the pre drilled holes are.
Let dry for 15 minutes. This step is completed!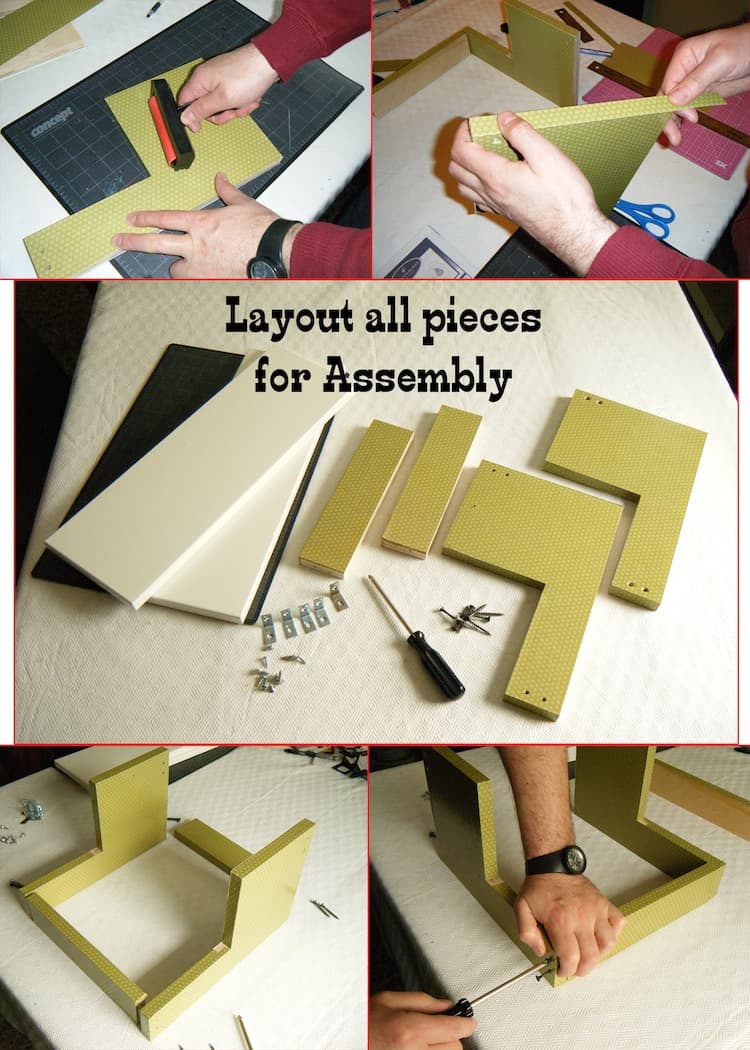 Step 4:
For this step you want to layout all the decoupaged pieces, 5 "L" brackets, screws and screwdriver.
Lets do a dry fit (see photo) and place 2 screws at each corner. Looks like I am ready to assemble.
Take one "SIDE" and screw into the bottom brace, repeat this step for the other side. (see photo)Front is assembled.
Now replicate the previous step for attaching the back top brace. The Base is now assembled!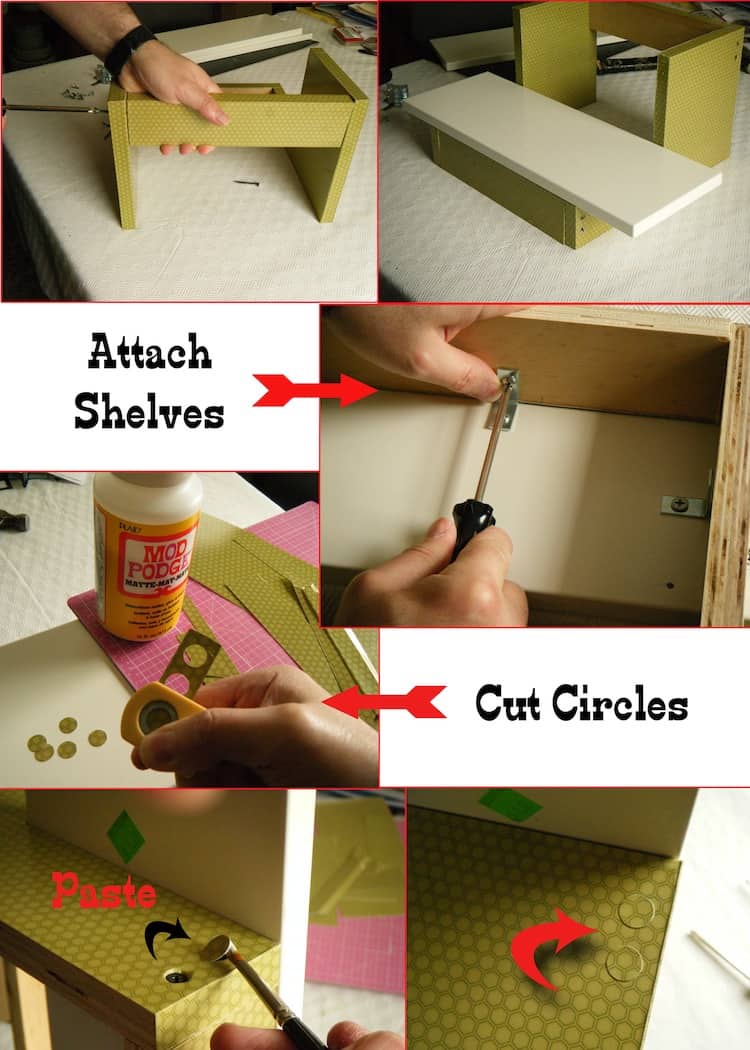 Step 5:
Now place one of the IKEA drawer fronts to the bottom step. Turn it over, place three "L" brackets, one on each side (Left & Right) and one in the middle, make a pilot hole and screw in the "L" brackets.
Repeat this step for the Top step.
I only used 2 "L" brackets for the top step, sturdy enough.
TIP: Use a small punch, (see photo) to make little circles from the paper that I used to cover the base.
Then decoupage the circles over the screw heads and then seal the whole base with Outdoor Mod Podge.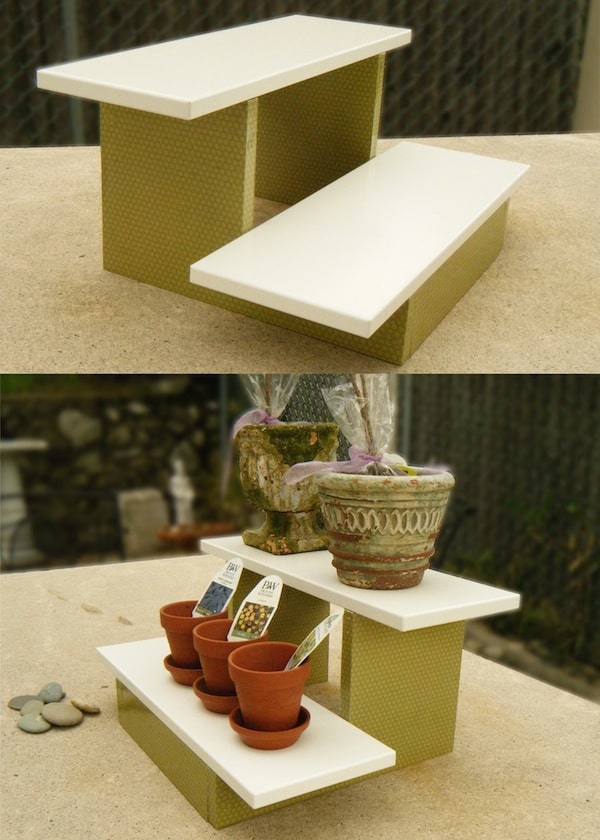 Step 6:
Project completed, this will make a nice addition to my potting table – ready to accessorize!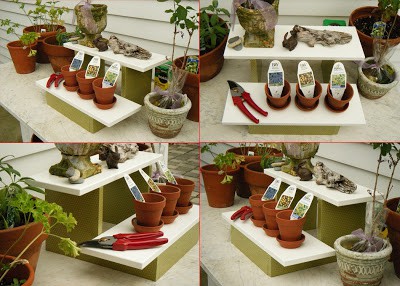 Step 7:
Plant Stands like this can be pricey at Garden shops!
This one was made for under $10.00 and with recycled materials laying around the house.
I am pleased. Looks great! This project can be altered in so many ways to fit a certain space, room, etc.