Learn how to make a fun Christmas display – and get a fun Elf on the Shelf poem too! Kids are going to love this cute printable.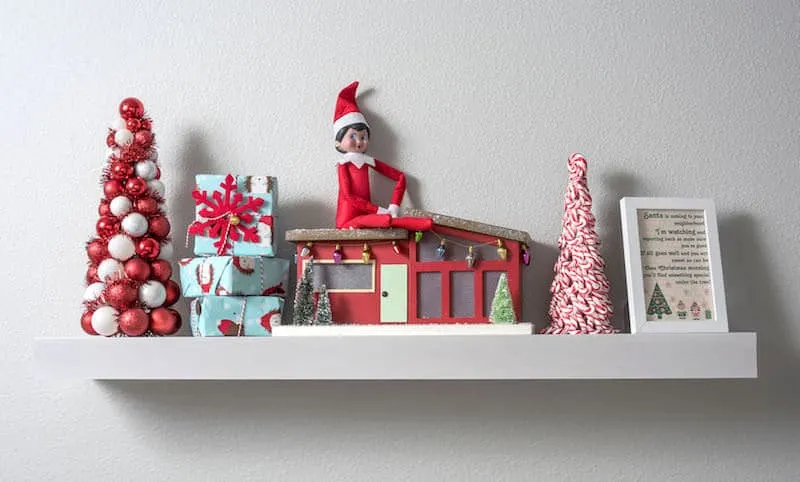 We're right in the middle of the holiday season and I'll be honest – I'm a little late decorating this year! I feel like everyone I know had the holidays sneak up on them a little more than normal in 2017.
As a result, we're all scrambling for decor solutions that are easy and quick! I've got a great décor-taining idea for you that incorporates the Elf on the Shelf. It's fast and simple, and you don't even need tools.
This project is perfect if you don't have a fireplace but you have children that want to entertain a tiny elf friend. Because where do you put him or her when you pull the elf out of the box?
The secret is High & Mighty Floating Shelves.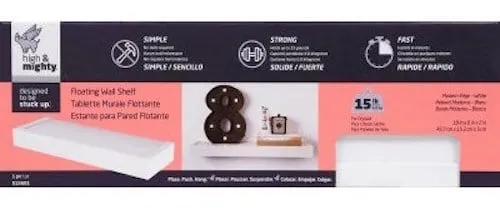 You can "Shelf Your Elf" with one of their Floating Shelves just like I did! I'm going to show you exactly how to do it. I'll also show you how to decorate it with items AND I have a free Christmas printable for you.
But first, let's do a quick tutorial for installing the shelf. It's really simple. I used the 36" White Flat Floating Shelf you can find here.
There are only three steps.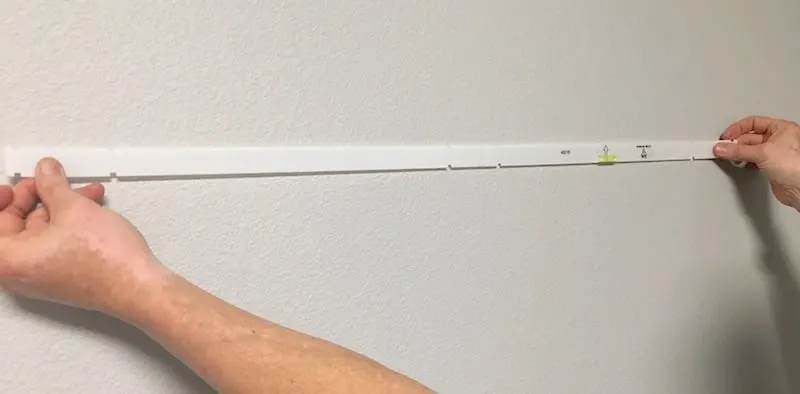 Remove the plastic level piece from the back of the shelf. Remove the adhesive tabs and place the strip on the wall where you would like your Floating Shelf to be located.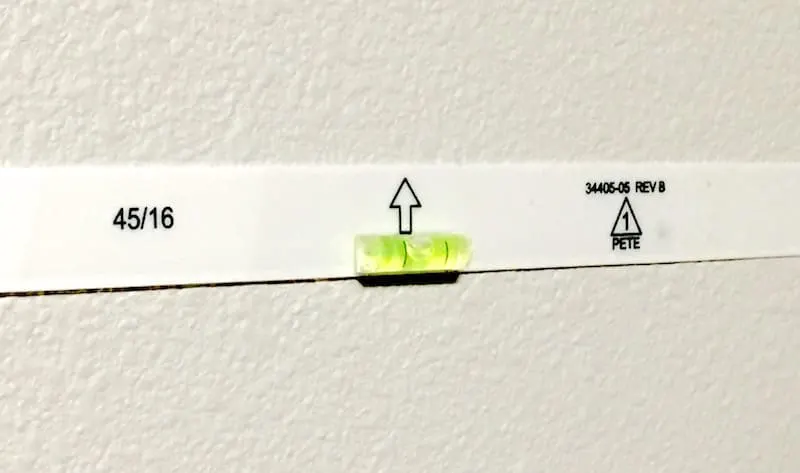 There is a handy little level on the plastic strip that will help you get it just right!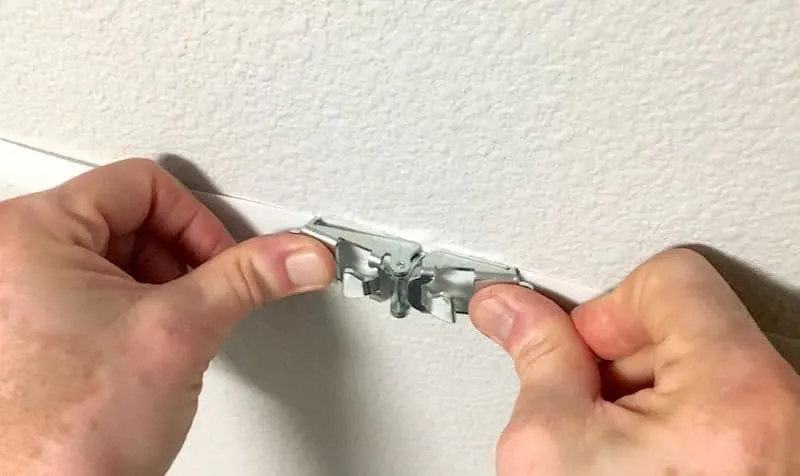 Remove the metal hangers from the back of the shelf and press into the wall as shown (the plastic strip has grooves so you know exactly where).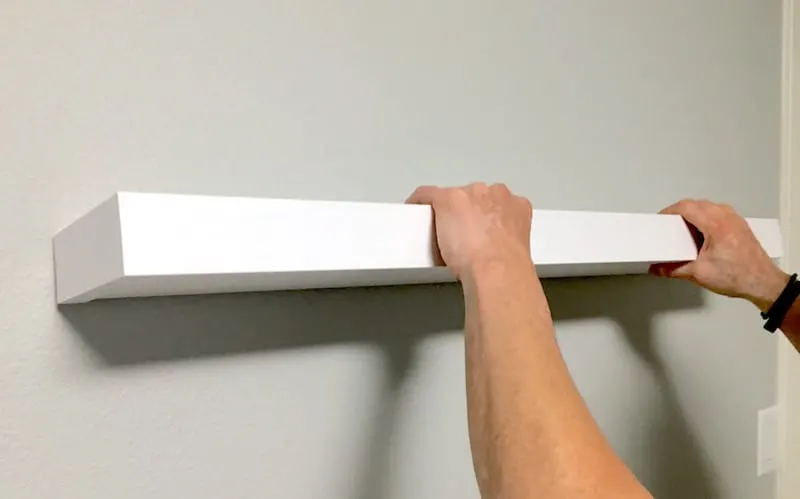 HANG the Floating Shelf in about two seconds flat! You'll simply place it on the metal brackets and snap down. And in about 60 seconds or less, I had a Floating Shelf in my living room that would hold 25 pounds!
If you haven't heard of High & Mighty Floating Shelves before, that's because they're brand new. They come in a range of styles and lengths from 18" – 36", and holding 15 – 25+ pounds! Pretty awesome.
Elf on the Shelf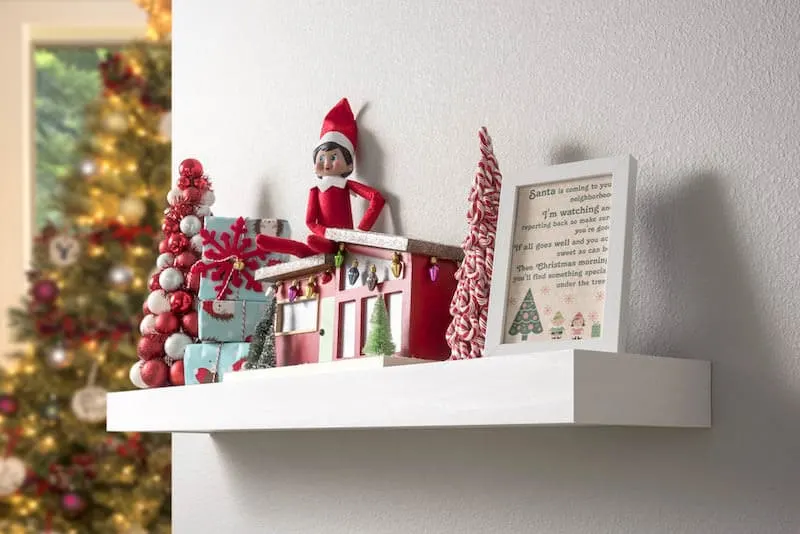 After hanging your shelf you'll do a few things to finish your décor-taining project. I used items I already had in my Christmas decorating stash. A few tips:
Use items of varying height to add interest to your shelf.
Wrap small items (like boxes) and stack them for instant decor.
Don't forget to leave a place for your elf to sit!
You might have to play with the layout a little bit, but eventually you'll get it. Then at one end of your shelf you're going to place a frame with this Elf on the Shelf poem: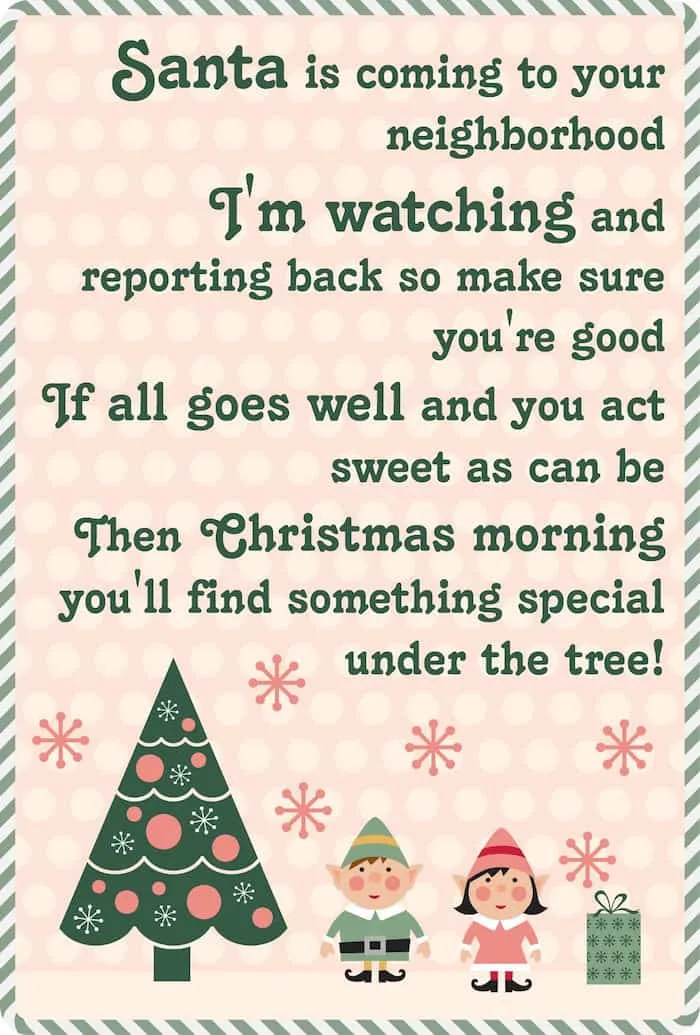 I designed this printable just for this project, and it fits into a 4″ x 6″ frame (though you can print it larger if you desire). DOWNLOAD THE PRINTABLE HERE.
I'm going to leave my Elf on the Shelf decor up for the entire Christmas season, and then you know what? I'm going to decorate my shelf for every holiday! When I'm not using it for holiday decor, I'll put regular home decor items on it.
However if I ever wanted to remove it, I'd just use a flathead screwdriver and remove the metal mounts – leaving pinholes behind. That makes High & Mighty Floating Shelves perfect for homes but also apartments where you have to worry about damage.
They come in various sizes, colors, and styles just right for you. I love these shelves!
---
If you enjoyed this Christmas post, I'd love for to check out these others as well!