Courtney moved into a new home and gave it a coastal DIY mailbox makeover with paint, Mod Podge Outdoor, and paper. It looks awesome!
Skills Required: Beginner. You'll be spray painting and applying Mod Podge to the inside of the mailbox. I have a how-to at the bottom of this close that gives tips for painting.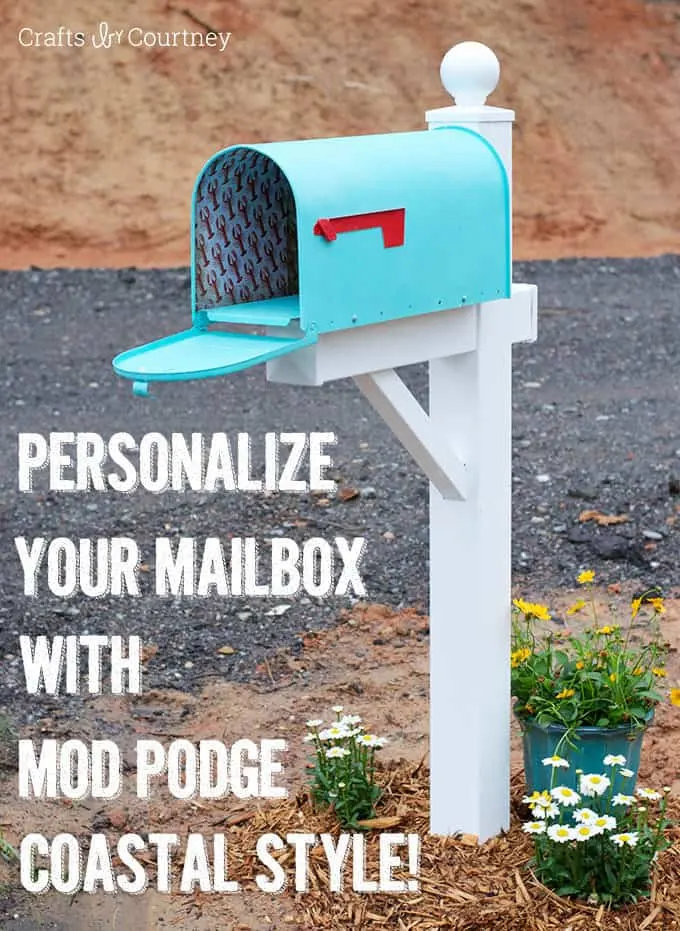 Hi, it's Courtney with Crafts by Courtney again and today I'm sharing my NEW coastal mailbox makeover. YAY, I'm so excited!
I'm moving into a new home, and one of my first projects was picking out my mailbox. I found a great post and mailbox BUT I really wanted it to match the theme of my home. I love beach decor, including outside in the yard.
Painted Mailbox Idea
I began the project by spray painting the mailbox with outdoor spray paint. The color was actually called Nautical! How cool is that? After that, I thought the mailbox still needed something extra.
My creative juices started flowing and then I came up with the idea of lining the inside. I ran to the craft store and found some Outdoor Mod Podge. And then the rest just came together.
Learn how to do your own DIY mailbox makeover using the tutorial below!
Gather These Supplies
Mailbox
12 x 12 scrapbook paper
Outdoor spray paint
Sandpaper
Painter's tape
Foam brush
Getting Started
So the hardest part was picking out what pattern I wanted to use on the inside. For some reason I just LOVE lobsters, I have no idea why. My mom thinks I'm crazy and hates my lobsters in the house. She prefers chickens . . .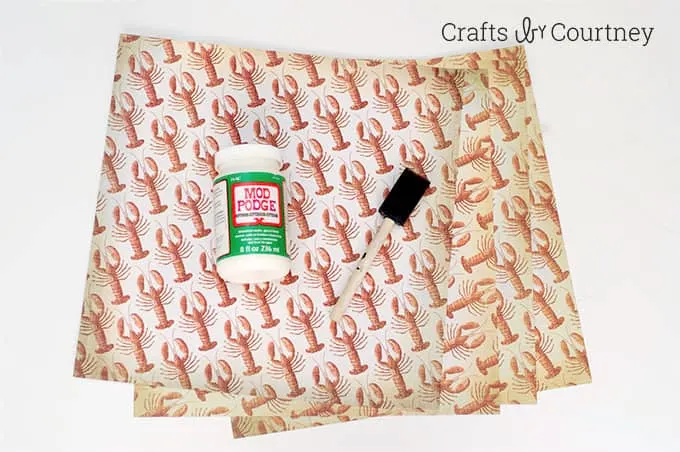 So once I decided on my pattern I thought the Outdoor Mod Podge would work perfect, especially if any water gets into the mailbox. So let's get crafting!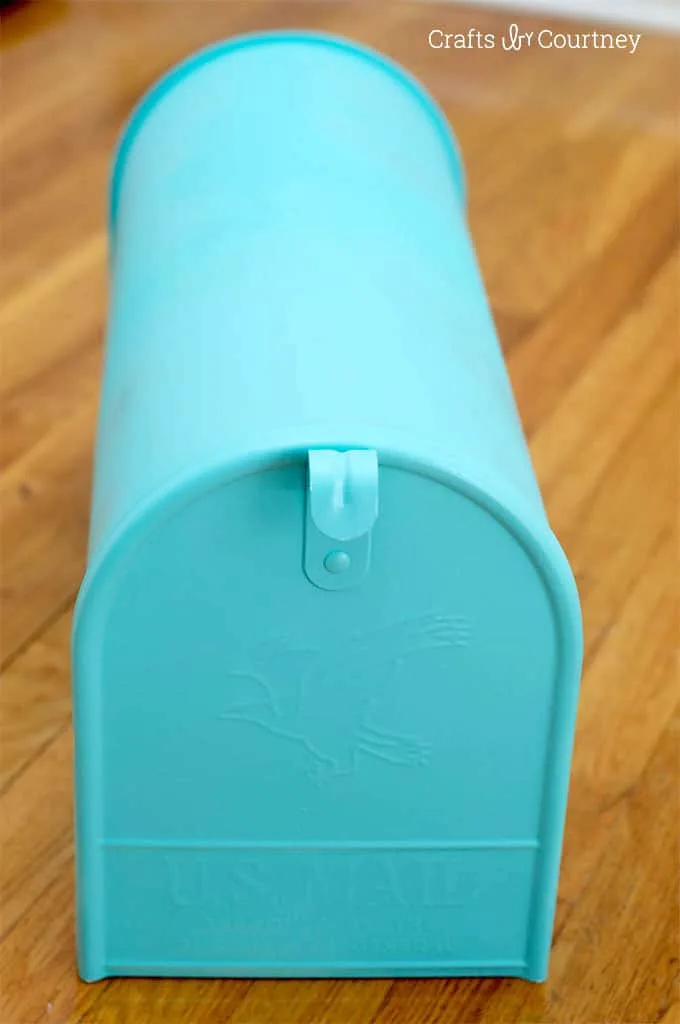 Step 1 – Spray Paint Your Mailbox
In order to paint the mailbox, you're going to go through the following steps:
If at all possible, remove the mailbox from the post. If you can't you'll have to tape paper around it to protect the post. Then you'll painter's tape the flag.
Clean the mailbox with mild soap and water. It helps to use warmer water and a scrub brush.
Smooth out an areas that need it with sandpaper. You can also remove any rust at this point as well.
If you can, spray with a white primer as a base. Hold the can 6-8 inches from the surface and use a sweeping motion. Apply several light coats, allowing to dry between coats.
Then you are ready to pick your color!
I selected a bright aqua that reminds me of sea glass. Use an outdoor spray paint for your DIY mailbox. Add a total of three coats and let stand 24 hours. Remember to keep the can 6-8 inches and the coats should be light. Use the sweeping motion.
I didn't paint the inside of the mailbox. I will be painting my front door to match my mailbox next!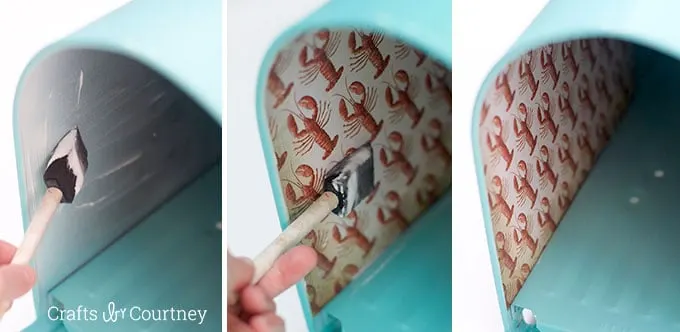 Step 2 – Add Scrapbook Paper
Now it's time to add the scrapbook paper!
I needed a total of four pieces of 12 x 12 scrapbook paper. They fit perfect. I added a layer all along the inside of the mailbox then gently placed in my scrapbook paper. Once I added my scrapbook paper I went over the inside of the mailbox again with Mod Podge.
I decided against doing the entire inside of the mailbox. I didn't want to go overboard with the lobsters. 😉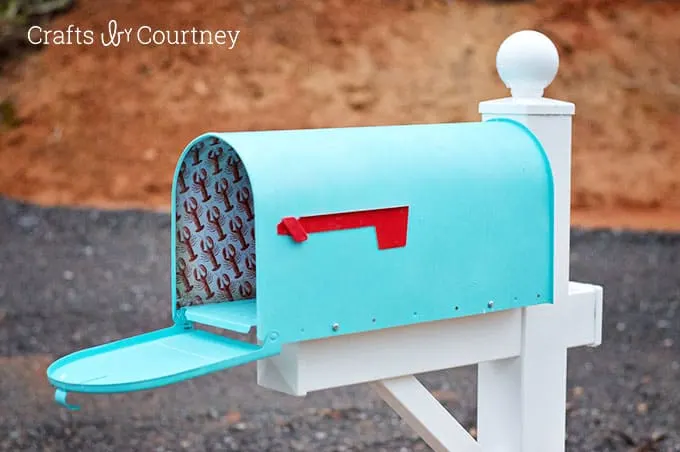 Step 3 – Finishing Touches
I let the Mod Podge dry 24 hours before putting up my mailbox outside. Oh it looks so pretty! I'm so happy about the lobsters. I think the mailman will get a kick out of it.
Now that I've taken my pictures I can add my house numbers next and finish planting my flowers around it.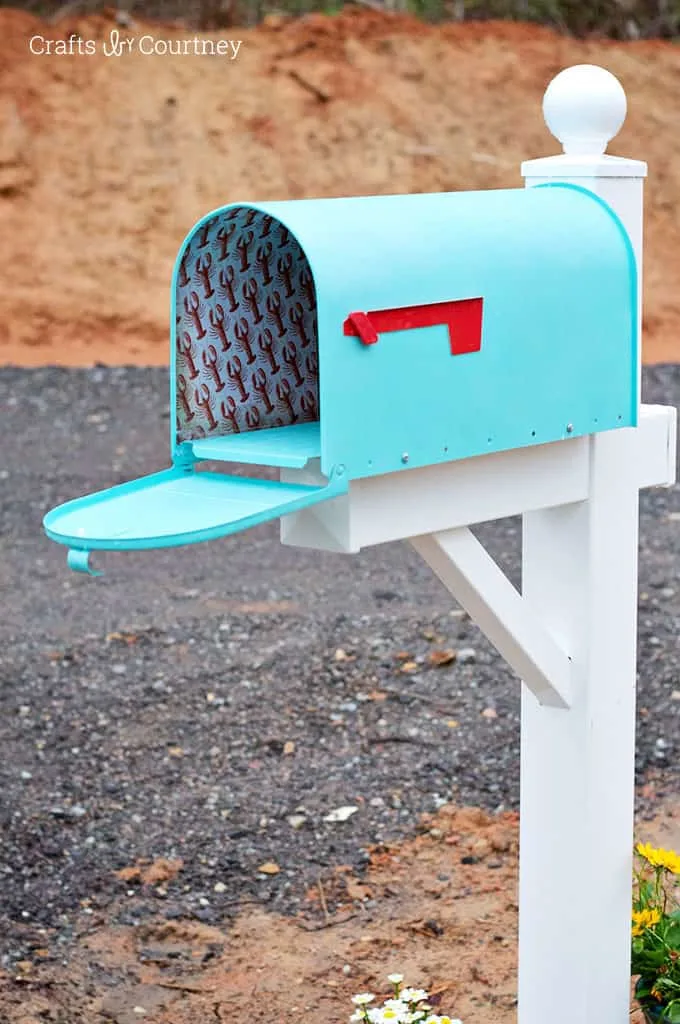 As you can see we still have to add the grass in the yard, so much to do before moving in. But we'll get it done. Now I just need to decide if I want to add brick around the bottom or just leave flowers. Any ideas??
We are out in the country so my DIY mailbox makeover really sticks out down our country road. It will be EASY giving people directions to my house. All the way down until you see the only bright mailbox . . .
Yield: 1 mailbox
Paint a Mailbox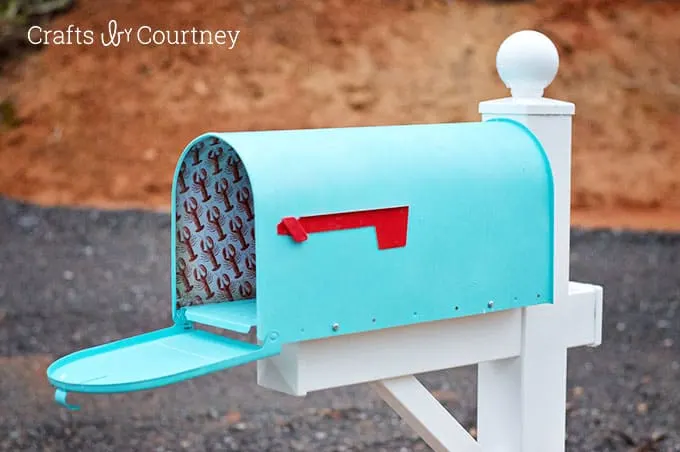 Learn how to paint a mailbox with spray paint and make it last. This is a very easy home improvement project you can complete in less than a few hours.
Total Time
1 hour
15 minutes
Materials
Mailbox
Outdoor Mod Podge
Outdoor spray paint
Outdoor primer (optional)
Instructions
Remove the mailbox from the post if possible. Otherwise, tape off using painter's tape.
Wrap the mailbox flag with painter's tape to protect it from the paint.
Use an all purpose cleaner to remove any dirt and dust from the surface. Rinse with water and let dry.
If there is any flaking paint or rust, sand smooth with sandpaper.
In a well-ventilated area, apply spray paint. Hold the can 6-8 inches from the surface and paint using a sweeping side-to-side motion with slight overlap.
Allow the spray paint to dry for 30-60 seconds.
Continue to apply light coats to the mailbox, waiting 30-60 seconds between each, until the surface is covered.
Make sure the mailbox is completely dry before you remove the painter's tape.
Notes
If the mailbox is dark, I recommend a coat of primer first.
---
If you enjoy decorating your home in a beachy or coastal theme, check out these other ideas: