Courtney moved into a new home and gave it a coastal DIY mailbox makeover with paint, Mod Podge Outdoor, and paper. It looks awesome!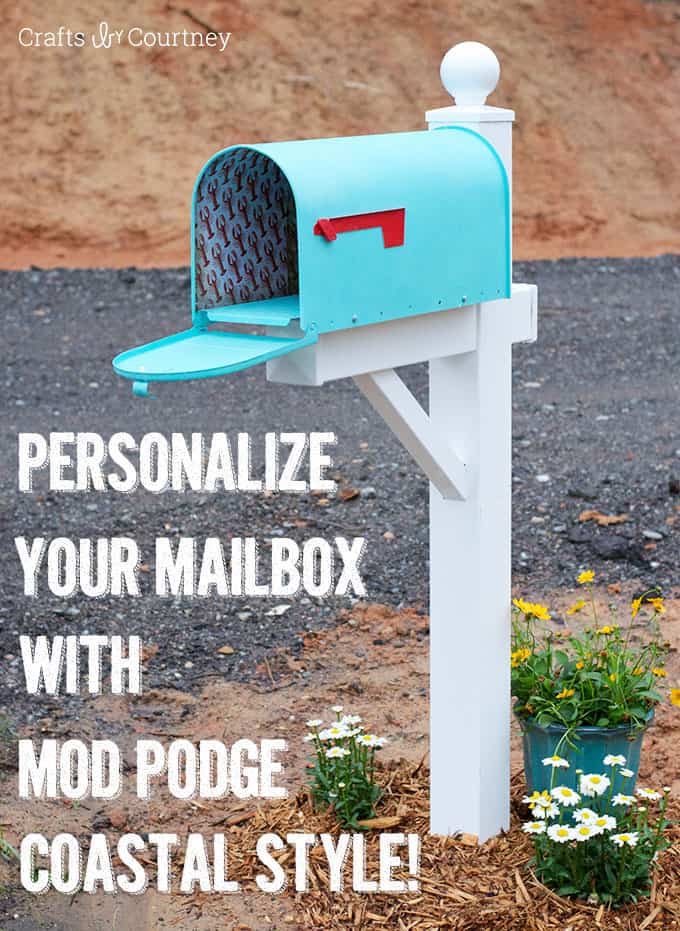 Hi, it's Courtney with Crafts by Courtney again and today I'm sharing my NEW coastal mailbox makeover. YAY, I'm so excited!
I'm moving into a new home and one of my first projects was picking out my mailbox. I found a great post and mailbox BUT I really wanted it to match the theme of my home.
So I started out by spray painting the mailbox with outdoor spray paint. The color was actually called nautical! How cool is that! So after that I thought the mailbox still needed something extra.
My creative juices started flowing and then I came up with the idea of lining the inside. I ran to the craft store and found some Outdoor Mod Podge.
DIY Mailbox Makeover
For this project you're going to need:
Supplies
12 x 12 Scrapbook Paper
Outdoor Mod Podge
Foam Brush
Mailbox
Getting Started
So the hardest part was picking out what pattern I wanted to use on the inside. For some reason I just LOVE lobsters, I have no idea why. My mom thinks I'm crazy and hates my lobsters in the house. She prefers chickens . . .
So once I decided on my pattern I thought the Outdoor Mod Podge would work perfect, especially if any water gets into the mailbox. So let's get crafting!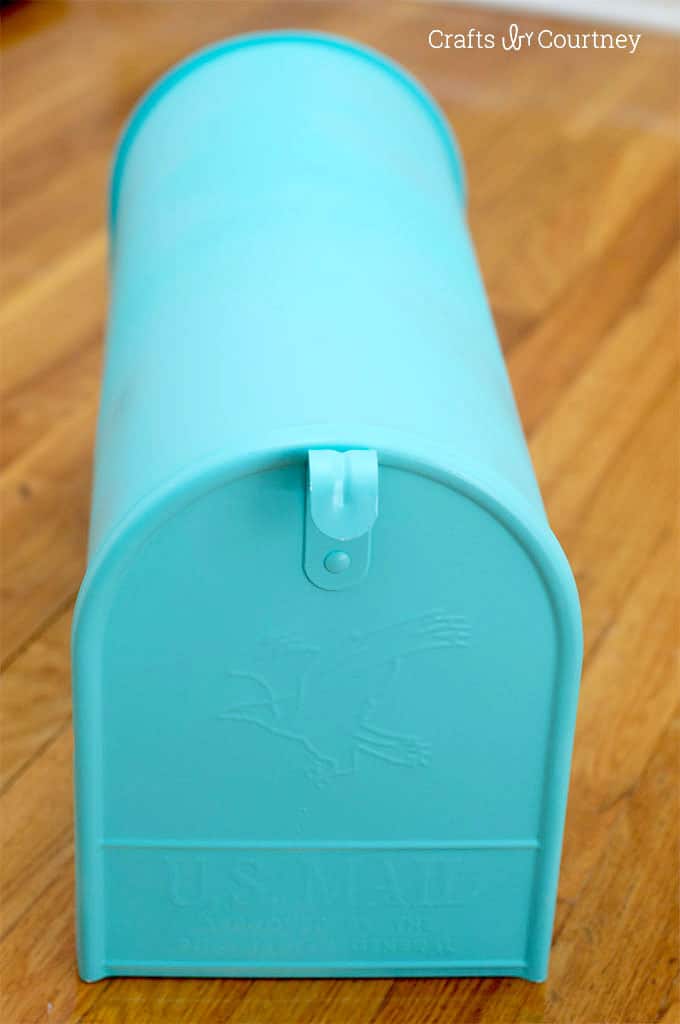 Step 1 – Spray Paint Your Mailbox
Like I said I used an outdoor spray paint for my mailbox. I add a total of 3 coats and let stand 24 hours. I didn't paint the inside of the mailbox.
I will be painting my front door to match my mailbox next!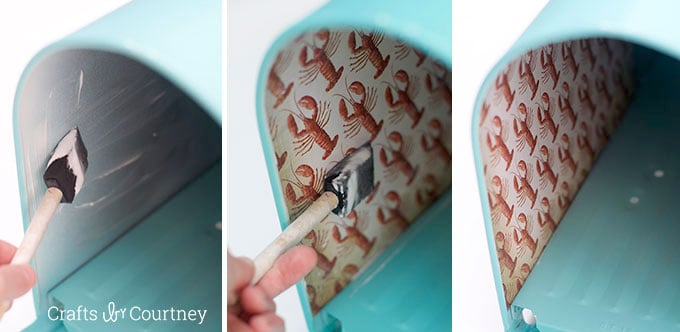 Step 2 – Add Scrapbook Paper
Now it's time to add the scrapbook paper!
I needed a total of 4 pieces of 12 x 12 scrapbook paper. They fit perfect. I added a layer all along the inside of the mailbox then gently placed in my scrapbook paper. Once I added my scrapbook paper I went over the inside of the mailbox again with Mod Podge.
I decided against doing the entire inside of the mailbox. I didn't want to go overboard with the lobsters. 😉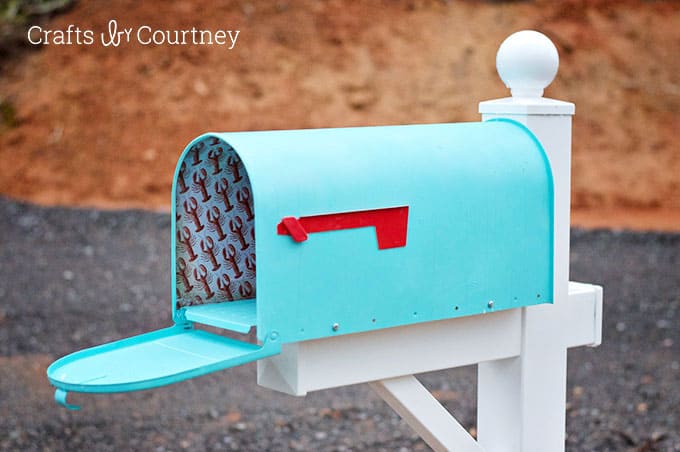 Step 3 – Finishing Touches
I let the Mod Podge dry 24 hours before putting up my mailbox outside. Oh it looks so pretty! I'm so happy about the lobsters. I think the mailman will get a kick out of it.
Now that I've taken my pictures I can add my house numbers next and finish planting my flowers around it.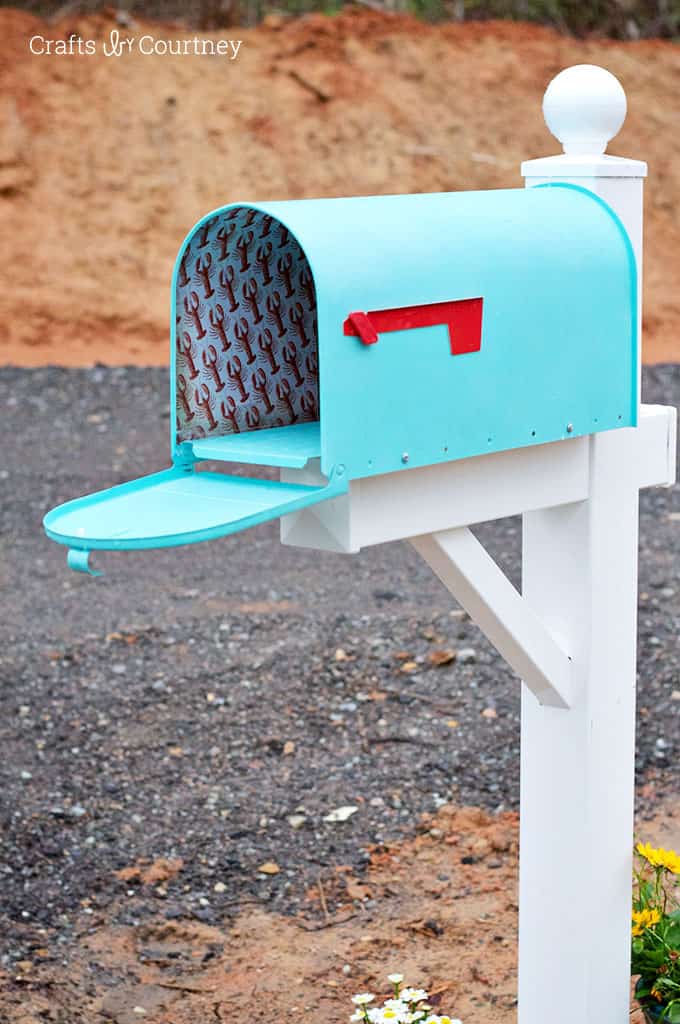 As you can see we still have to add the grass in the yard, so much to do before moving in. But we'll get it done. Now I just need to decide if I want to add brick around the bottom or just leave flowers. Any ideas??
We are out in the country so my mailbox really sticks out down our country road. It will be EASY giving people directions to my house. All the way down until you see the only bright mailbox . . .
I hope you loved this craft. If you'd like to get more craft project ideas and inspiration, be sure to sign up for my newsletter! Get my best ideas, right to your inbox.
Wanna' keep up with all my craftiness, follow me!