If you're looking for circus themed crafts, this DIY stool fits the bill. I added pennants and then glitter to really make it special.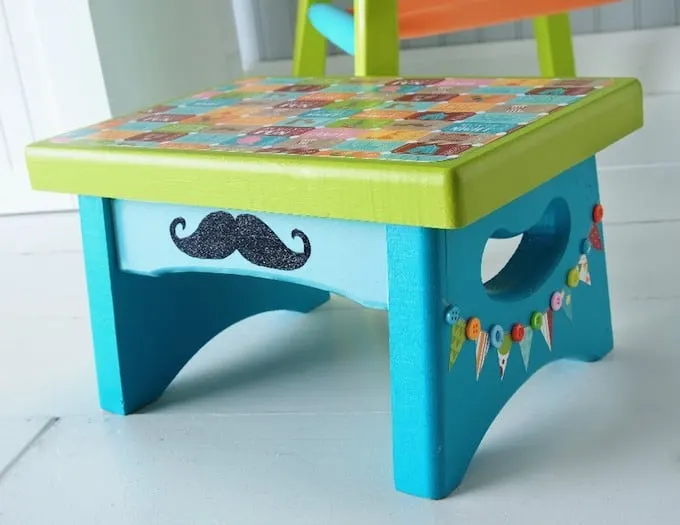 I know I'm not the only one of you who loves circus themed crafts – they always make me smile, whenever I see them.
I've been wanting to do a project incorporating one, but I wasn't quite sure what to do until I got some of Imaginisce's Animal Crackers line in the mail.
Turns out this circus-themed paper has a little koala ringleader character with a sweet 'stache, and it was a sign. As you can see I decorated this decoupage stool with a moustache and pennants, and I have an extra special secret.
I glittered the moustache. But more on that in a minute. Here's how to decorate a circus-themed stool of your very own.
Circus Themed Stool
Gather These Supplies
FolkArt Acrylic paint – Jamaican Sea, Pure Black, Turquoise, Yellow Citron
FolkArt Extreme Glitter – Black
Mod Podge Satin
Imaginisce's Animal Crackers paper – several sheets in different patterns
Buttons – coordinating, I used 18 total
Paper or styrofoam plate
Pencil or stylus
Transfer paper
Moustache image (I just printed one out from online)
Stencil tape
Ruler
Craft knife and mat
Paintbrush(es)
Craft glue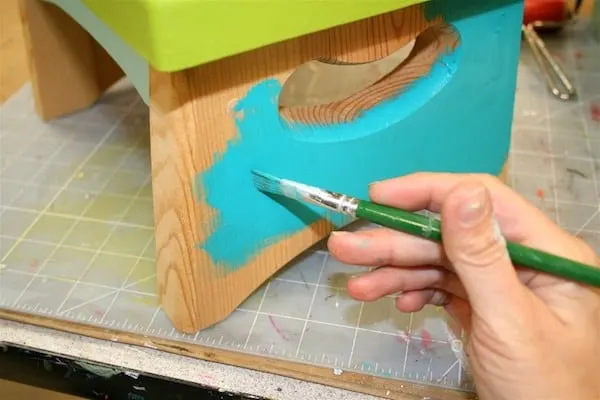 The first step is about as easy as it gets. Paint the stool in a colorblocking fashion . . . give several coats and allow to dry.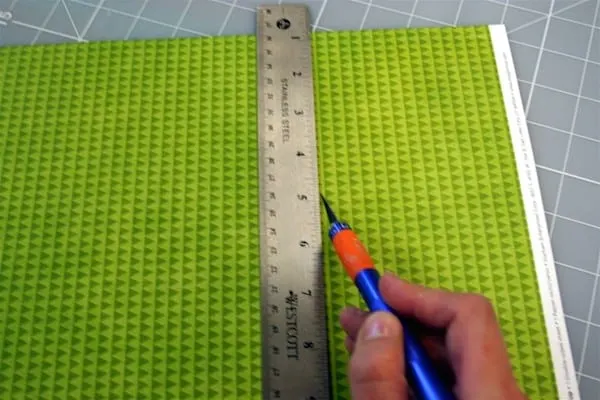 Cut your paper to fit the top of your stool. At this time you'll also want to cut out several mini-pennants for each side of the stool. I did them freehand, and cut out a total of 16 (eight for each side). Set those aside.
Mod Podge the paper to the top of the stool, allow to dry for 15 – 20 minutes and then put on a top coat. Don't Mod Podge the entire stool yet.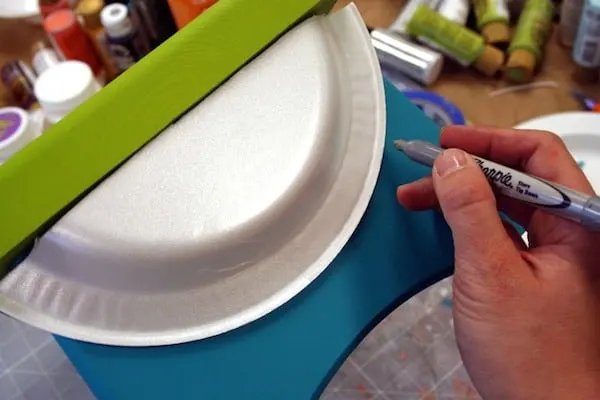 To get my pennant line, I cut off a part of a plate and used it as a template to trace with my Silver Sharpie. There's probably several other things you could use around the house to get a 1/2 circle, but that's what I came up with.
Now you can Mod Podge down the mini-pennants. Place them out evenly to make sure you like the spacing before you Mod Podge them down.
This paper is super thick and so you really don't have to worry about wrinkles with it. You can Mod Podge on top of these small flags right after you Mod Podge them down (gasp!). Let everything dry.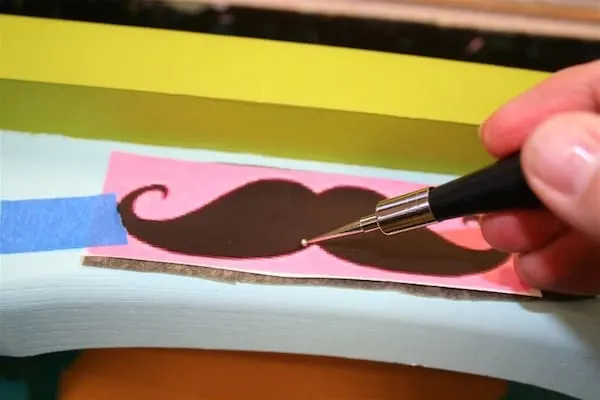 I saved the fun part for last! I had no idea how to hand draw a moustache and have it look normal, so I found a free clip art image on the internet and sized it to fit my stool front panel.
I actually printed out two since I wanted the back to match. I then taped the clip art over the top of a piece of transfer paper and used a stylus (you can also use a pencil) to trace the outline of the image. Once you remove the paper you'll have an awesome outline!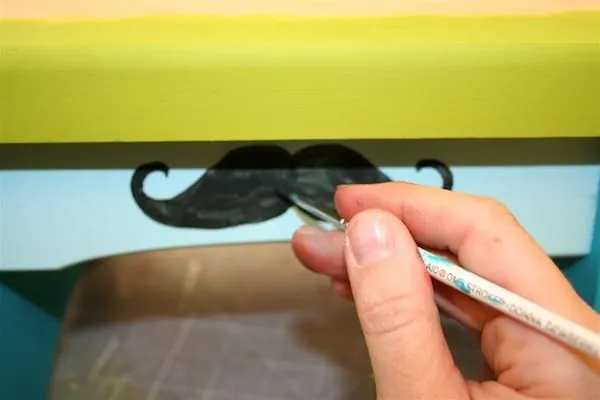 All you have to do is fill in your outline with Pure Black. I used a smaller brush for this part. You'll need several coats.
Once you are done with painting the moustaches (one on each side), let them dry and then give the whole stool two coats of Mod Podge. Allow to dry.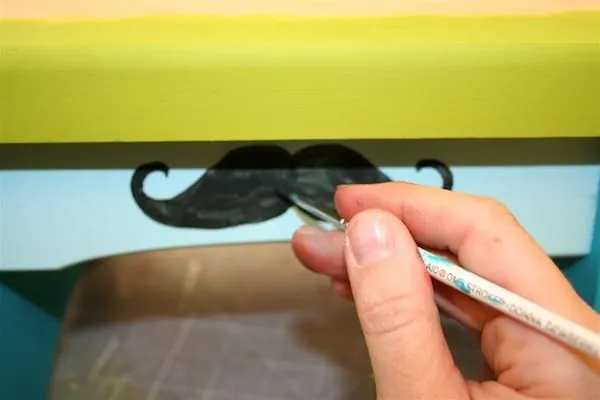 And here's when the magic happens. I was going to leave the project, but I decided my project needed a little sparkle. I added Extreme Glitter in Black to the moustaches. I'm SO glad I did. The sparkle is perfect.
Don't forget to finish up by gluing the buttons in between each mini-pennant. Let everything dry before you use the stool.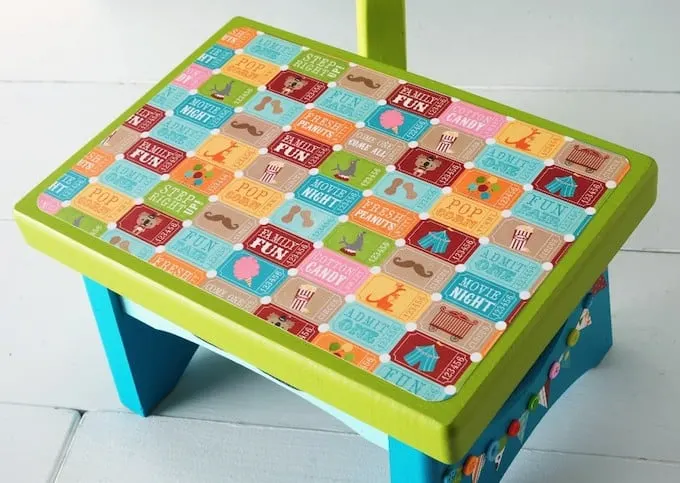 Here's a shot of the top of my decoupage stool. Don't you love the circus themed crafts??? Oh, I rounded the corners for a little something special.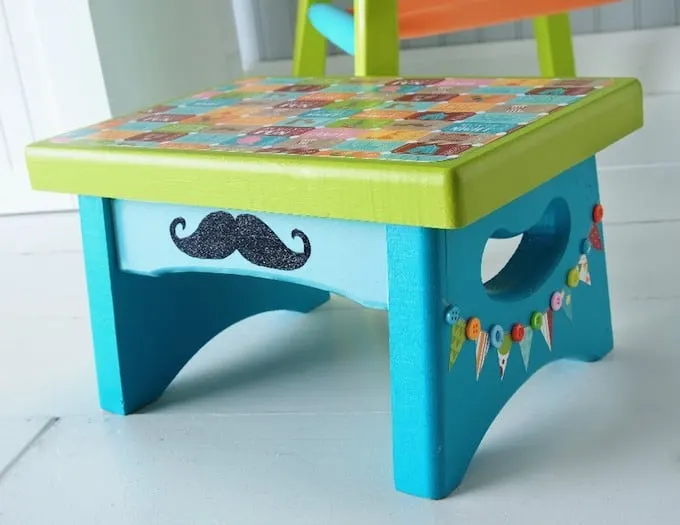 Here's another view of the decoupage stool – you can see the buttons better in this shot. I'm so excited about my circus stool. It's so cute. Now who should I give it to? Or should I keep it for myself . . . ? I'm excited for more circus themed crafts!
---
If you like decorating stools, check out this fabric stool, patchwork footstool, wooden stool, or doily stool. Okay, I'm done saying "stool" now. It's grossing me out.