Grab these free fall candy bar wrappers for your sweet holiday treats! Get six different designs for both full and bite sized bars. The download link is at the very bottom of the post!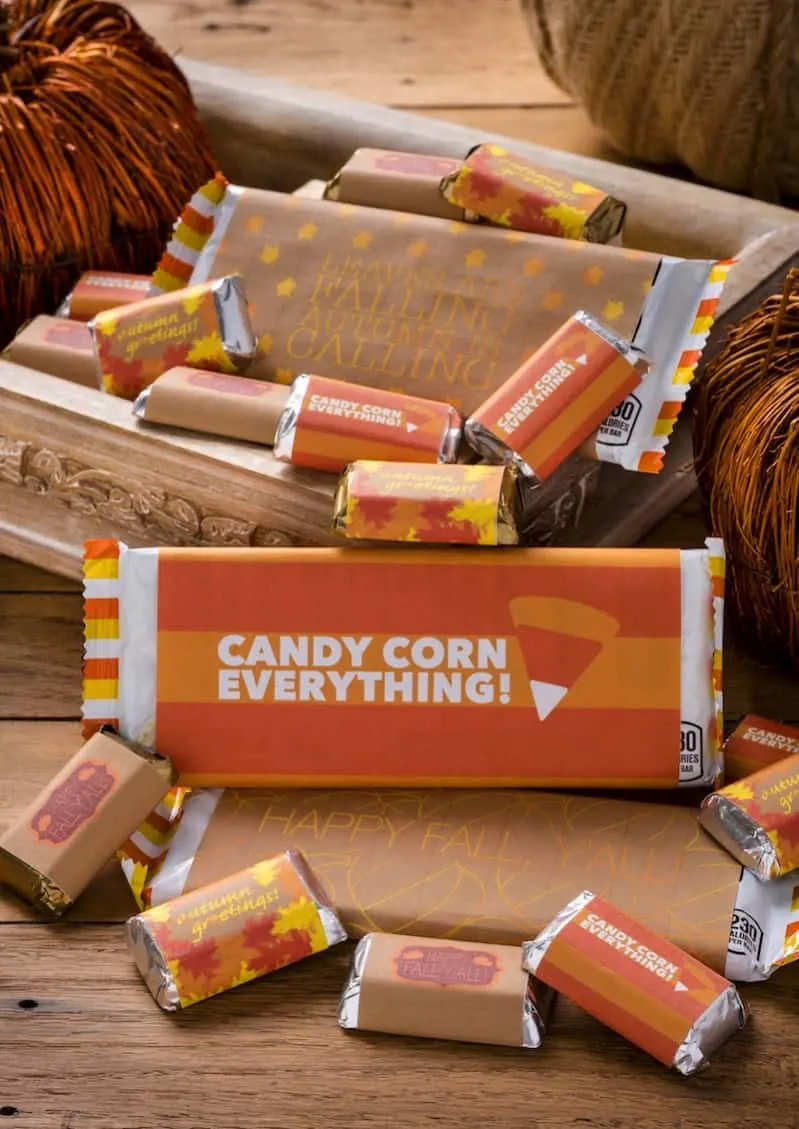 Are you ready for autumn? Because I cannot tell you HOW ready I am! It's been a really hot summer here in Atlanta, and I'm ready to celebrate fall. I decided I'm going to go ahead (even without cooler weather) and share these fun fall printables!
They are candy bar wrappers with fun autumn patterns . . . perfect for handing out to friends, at parties, or in the classroom.
The larger size is meant to fit standard Hershey bars (approximately 5 3/8″ long x 2 1/8″ wide) and the smaller size will fit the miniatures (1 3/4″ long x 1″ wide). If your candy bars are close, they'll still fit as you have some extra for the wrapping portion.
You'll simply print out these wrappers on standard 8.5″ x 11″ regular printer paper, cut out, and attach to the candy bars using double stick tape.
Free Candy Bar Wrappers for Fall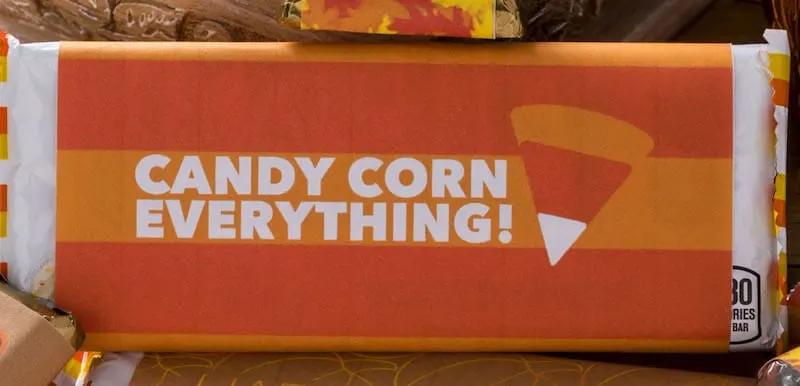 The phrases of these printables and the accompanying graphics are pretty cute:
Autumn Greetings
Candy Corn Everything
Happy Fall, Y'All! (two designs)
Hello Autumn
Leaves Are Falling, Autumn is Coming
You'll get six patterns and twelve pages total in this printable pack. These fall candy wrappers are available for your personal use; not for resale or for giving away yourself online.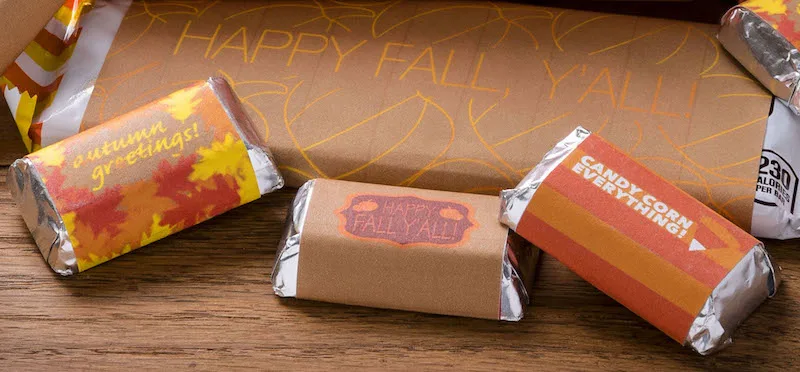 Tips for Beautiful Printables
I don't know about you, but I like my printables to look amazing when I print them – especially if I'm giving them out as gifts. If you want to make sure that your print outs look the best they can, follow my four tips.
Invest in a decent printer. If you plan to do a lot of printing, it's worth it. I've had a hard time finding a great printer, but I love my HP 8610. I've had it for several years and am very happy with it.
One thing to remember is that it's important to find a printer that can print borderless (also known as "full bleed") so that your printables can go all the way to the edge of the page and won't get cut off.
Adjust quality settings. If you're printing out a summer bucket list, you can just do it on a regular paper. But for anything home decor or more permanent, I suggest printing on "best" or "high quality." You want it to print more dots per inch so that the design is crisp and clear, not pixelated.
Use quality paper. I like to make sure my "regular" paper is on at least 20 lb. and bright white, so the colors really show. For something I want on thicker paper, I get cardstock at Michaels or a similar craft store. I purchase it in the scrapbook paper section – the white comes in 8.5″ x 11″ sheets.
Use a paper cutter. If you're going to cut out a lot of printables, I highly suggest getting a paper cutter. The cutter will give you cleaner, more exact cuts. You also won't have one of those "oops" moments where you chopped off half your printable.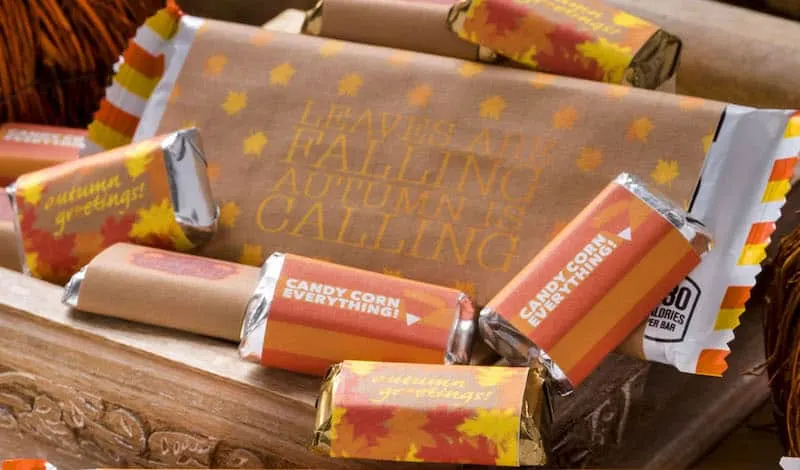 Click the link below to download the packet of printables – there are quite a few pages so it might take a moment . . . please be patient.
Note that you do NOT have to create a Box.com account to download your free fall printables. Simply click "Download" in the gray box at the top right corner (after you click the link below). Enjoy!
Download these candy bar wrapper printables here!
---
If you like these fall candy bar wrappers, check out these other posts: