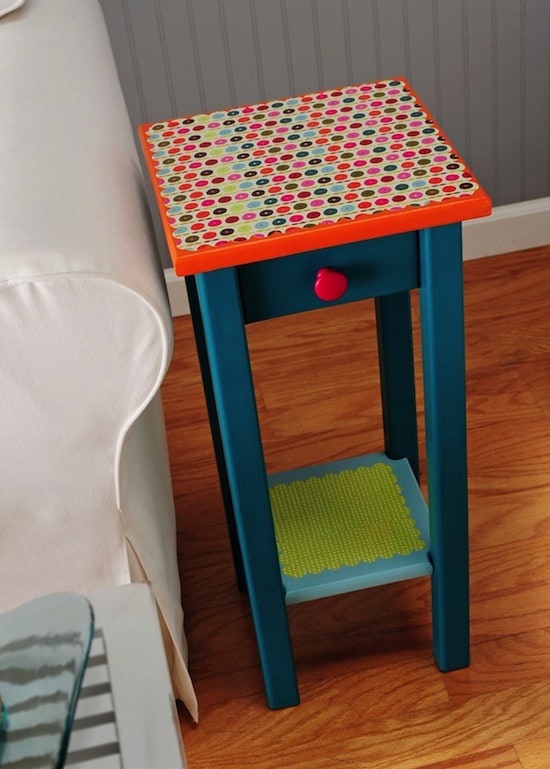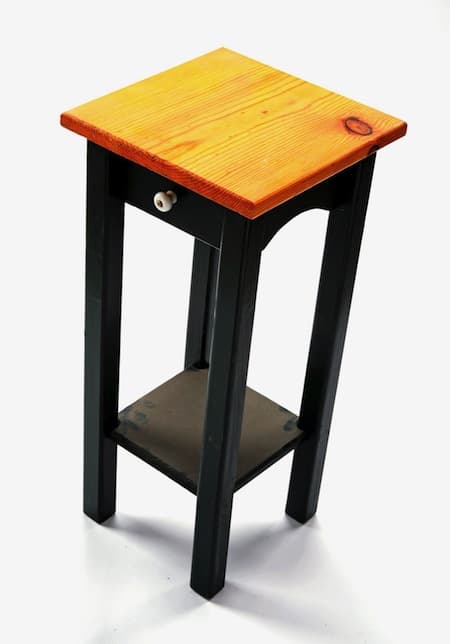 I always get the funny tingles when I get to share a decoupage furniture project that I did with you. It makes me so happy! Here's one of my latest – a Mod Podge table. I found the end table above and took a before picture – dusty, kind of boring. The first photo is what I did to it! I hope you like it. Below are the instructions. I'd love to see any of your furniture re-dos, by the way. You know how I love them!
Decoupage Furniture: Table Makeover
Gather These Supplies
FolkArt Acrylic Paint – Teal, Glazed Carrots, Magenta, Sky Blue
Scrapbook paper of your choice – 2 sheets (I used Carolyn Gavin Greenhouse papers from K and Company)
1" Flat paintbrush
Pencil
Ruler
1 ½" wood knob
Note: Correspond the paint colors to your scrapbooking papers, like I did! Also, if your table starts out really dark and you are painting with light colors, I suggest basecoating with White to limit the number of coats you have to paint.
Using the paint brush, basecoat the top of the table Glazed Carrots, the sides and legs of the table Teal and the bottom shelf Sky Blue. You will need several coats of all colors. Allow to dry.
While the table is drying, select two pieces of scrapbooking paper and measure the size you will need. Cut the correct shape and size out of two different (but coordinating) sheets of paper with the scalloped edge scissors. Set aside.
Glue the papers down to the table (top and shelf) using Mod Podge. Allow to dry at least 15 – 20 minutes.
While the paper is drying, paint the knob Magenta. Allow to dry and glue to the front of the table using craft glue. Allow knob to dry.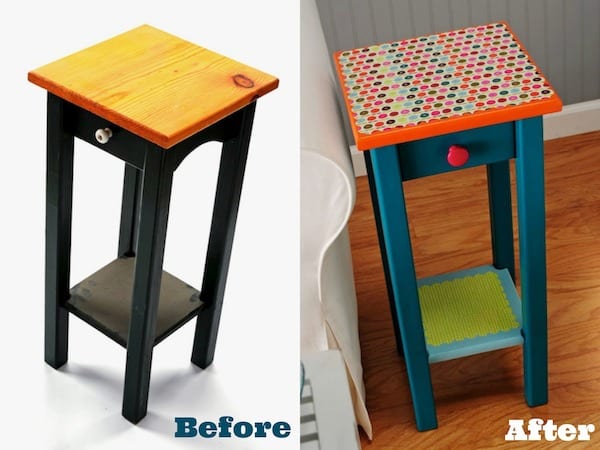 Coat the entire table with at least two coats of Mod Podge. Allow to dry for at least 48 hours before using your decoupage furniture.